Danish rice pudding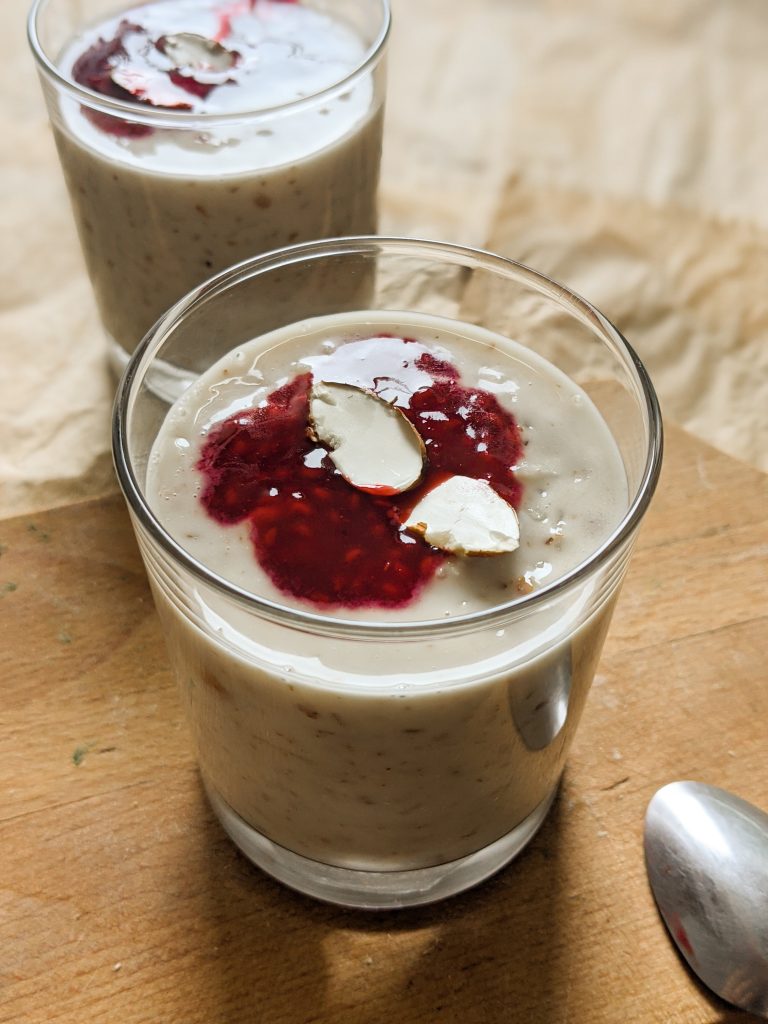 Recently I've been researching what people from other countries usually make for Christmas. I wanted my winter recipes to be as diverse as possible. And so I stumbled upon a Danish rice pudding, ris a la mande.
We have something similar in my country, and I used to love it when I was a kid. Buy this recipe is different, mainly because it contains almonds, and it is often served with raspberry or cherry sauce.
I have managed to prepare a vegan version of this dessert, and I really loved it. So today I am going to share that with you. And this may very well end up being one of my favorite holiday desserts.
Some health benefits
I may have mentioned that I will leave out this section of the post when I make these not so healthy desserts. But in case they contain some healthy ingredients, I will do my best to mention them here. And this is one of those instances.
Almonds are a great source of fiber. Eating a handful of almonds or drinking a glass of almond milk can keep your gastrointestinal tract moving and prevent constipation. Almonds can also promote healthy bacteria in your gut. This can help you digest your food and even fight off illness.
They contain a bunch of vitamins A and E, so they can be really good for your skin. In addition to giving you glowing skin, vitamin E in almonds can help your heart as well. Diets high in vitamin E are linked with lower rates of heart disease.
Almonds can help you lose weight, since eating them can eliminate your cravings for other not so healthy food. Its healthy fatty acids help strengthen hair and add texture. Not only are almonds packed with healthy fats and protein, but they're also rich in antioxidants. These plant compounds can protect your cells from oxidation and premature aging.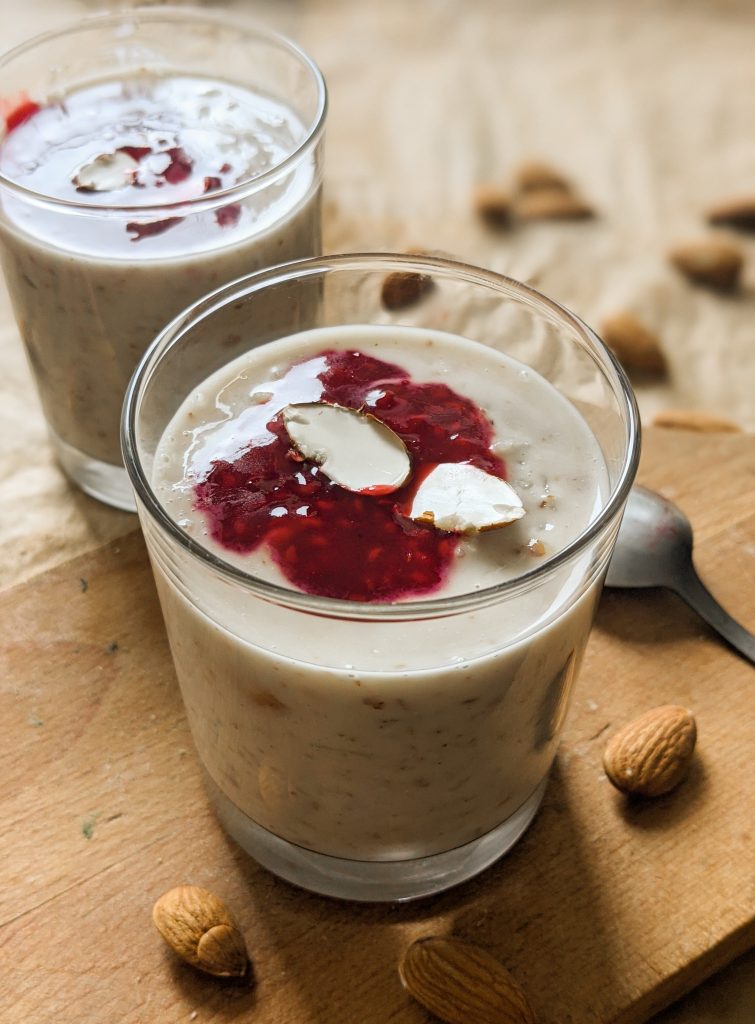 A piece of advice
This recipe is pretty simple, and all of the ingredients are easy to come by. However, there are a few key rules that you will have to follow in order to get this recipe right. And as always, I am here to help you with that.
The first thing I have to mention is – use ONLY Arborio rice. Not any other kind, just Arborio. It is sticky, and the recipe will only work with this type of rice.
When you add the rice to the milk, make sure you mix frequently. This way the rice will not stick to the bottom of the pot and burn. Remove from the stove only when the rice becomes soft. This process may take some time so be patient.
It would be ideal if you could finely chop the almonds with a knife. I was too lazy for this so I decided to pulse them a few times in a blender and remove the large chunks.
I wanted to decorate these with a few mint leaves, but unfortunately I could not find any. In any case, you can do that if you want to.
These measurements make only 2 glasses of Danish rice pudding, so in case you need more, adjust the measurements appropriately.
Danish rice pudding
Ingredients
4 tbsp of Arborio rice

260 ml of almond milk

1 + 1/2 tbsp of vanilla sugar

1 + 1/2 tbsp of sugar

65 g of almonds

200 ml of vegan whipped cream*

For the sauce:

130 g of frozen raspberries

1 tbsp of water

15 g of sugar

1 tsp of cornstarch + 1 tbsp of water
Directions
In a large pot slowly bring almond milk to boil over medium heat. Add the rice to the milk and let it cook. Stir every 2-3 minutes so it does not stick to the bottom of the pot. Cook the rice until it becomes soft. This may take a while, so be patient.
Finely chop the almonds into small pieces. You can also pulse them in a blender a few times (but not too much). Remove the large almond chunks if there are any.
When the rice is cooked remove it from the stove. Mix in the almonds, sugar and vanilla sugar. Add the vegan whipped cream to the rice pudding, mix everything. Prepare the sauce.
Put the frozen raspberries and water in a pan. Thaw them on medium heat until they are completely defrosted. Put the raspberries in a sieve over a bowl. Press them down with a spoon so that you can squeeze out the juice. The goal is to remove the pulp and the seeds. Put the juice in a sauce pan and add sugar and the starch/water mixture. Mix over medium heat until the sauce has thickened a bit.
Pour the sauce over the vegan Danish rice pudding. Serve either warm or cold.
Notes
* You can make vegan whipped cream by taking 200 g of coconut cream, 1 tbsp of powdered sugar and 1/2 tsp of vanilla extract. Leave the coconut cream in the fridge overnight. Put it in a large bowl and mix with a mixer on low speed. Gradually increase the speed until stiff peaks form. Fold in the sugar and the vanilla extract.
If you liked this recipe, make sure you check out my other recipes like:
Feel free to tell me what you think about this in the comments below, or send me the pictures of your own vegan Danish rice pudding. If you did something differently, I would also like to hear that, I'd love to see the things you come up with.
P.S. for more recipes like this and a bunch of other stuff, follow me on Instagram, @margo_drobi.
Also, I recently started a Patreon page, where you can subscribe and help me create more/better content. In return, you will get an exclusive piece of content (recipe) each month. My plan is to increase the amount of that content if I gain a few subscribers. If you are interested and you want to find out more, I will leave the link to my Patreon right – here.