Vegan stollen cake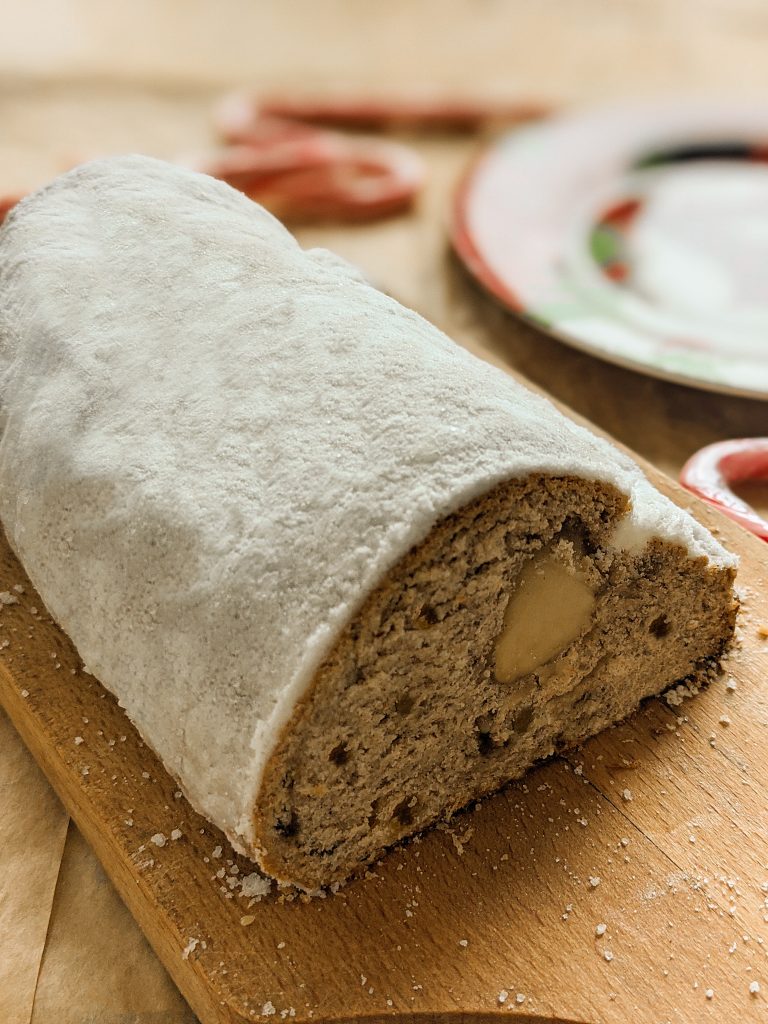 This cake is a German dessert usually made around Christmas. Since the holidays are around the corner, I have decided to make a vegan stollen cake with marzipan.
I have tried this cake before, but I did not really like it all that much. Mainly because I got it at the supermarket and it tasted too much like chemicals if that makes any sense. I understand that there are things they had to add to it, so it could stay fresh for a long time on a shelf. And even though I did not like that version, I loved the idea of a cake filled with dried fruits and marzipan.
So, I decided to give it another shot. It is safe to say that my version was far more delicious. I absolutely loved this version, and I have decided to share it with you today. These days I am mainly making dessert recipes. That means that I am going to skip the health benefits section more often than not. I really hope this will not bother you, because there are a few unhealthy vegan holiday recipes that I really want to squeeze in here in time for the holidays.
A piece of advice
This recipe is pretty simple and does not require any crazy ingredients. But if you never made anything similar, you might need some guidance. That is why I wrote down a few things you should pay attention to, especially if you are a beginner.
You do not have to use soy milk, any plant-based milk will do. Just make sure that the milk you are using is at room temperature, and not cold or hot. It is easier to mix together all of the dry dough ingredients in a bowl first, and then mix in the wet ones.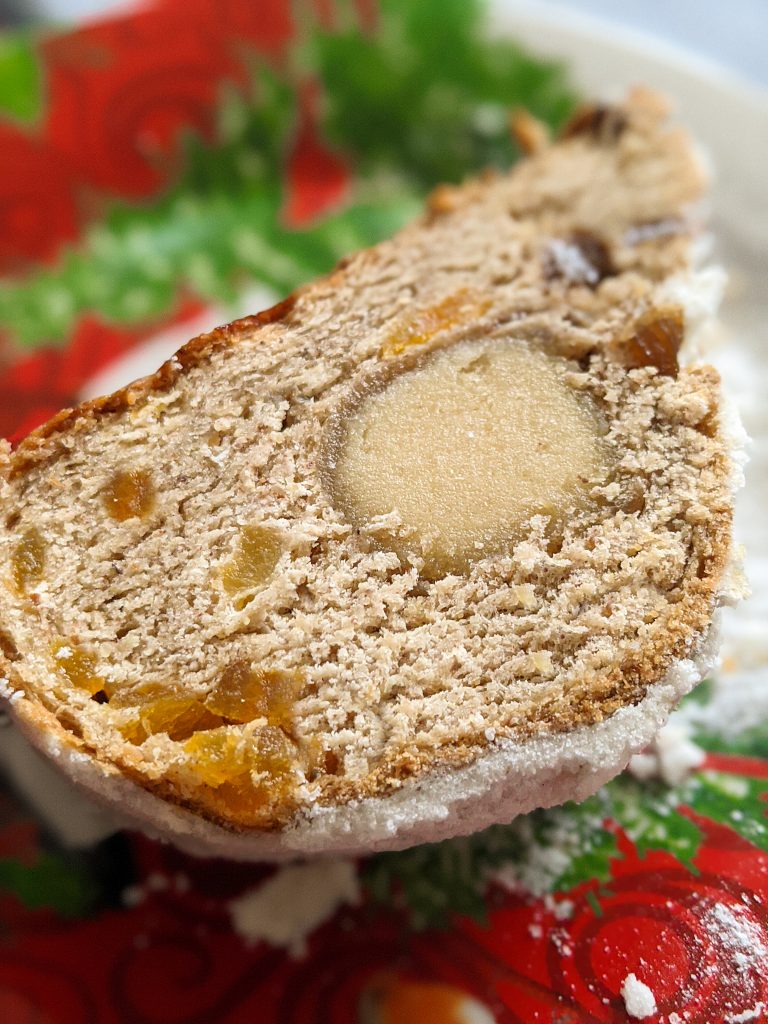 If you notice that the dough is too dry, feel free to add more plant-based milk. If it is way too sticky, add some more flour. Don't forget to leave the dough to rise in a warm place for no less than 2 hours.
If you notice that the cake is getting too brown while it is baking, you can cover it with aluminum foil towards the end. Make sure to brush it with margarine and sprinkle with a lot of powdered sugar while it is still warm. Otherwise it may not stick to the cake. I did that with mine as soon as I took it out of the oven.
You can cut it up and eat right away, but I have read somewhere that it is best when kept properly stored for a few weeks. I did not test this theory, I ate my vegan stollen cake in the matter of days. Wrap it into a plastic foil and keep it in the fridge.
I used store-bought marzipan, but you can make your own if you want to. There are instructions on how to do that in my Mozart pralines recipe that I have linked down below. You can also add some more dried or candied fruit to the dough if you want to. I prefer my cake with just raisins and dried apricots.
These measurements make a small vegan stollen cake with marzipan. If you need a bigger one, make sure to double the measurements.
Vegan stollen cake
Course: Sweet
Ingredients
295 g of all-purpose flour

45 g of brown sugar

25 g of ground almonds

8 g of active dry yeast

55 g of vegan margarine

35 ml of soy milk (room temperature)

1 tbsp of brown rum

1 tsp of cinnamon

½ tsp of ground ginger

45 g of raisins

8-10 dried apricots (chopped)

100 g of marzipan

40 g of vegan margarine

powdered sugar
Directions
Melt the vegan margarine on low temperature and set it aside to cool down a bit. In a deep bowl, mix together the all-purpose flour, yeast, spices, ground almonds, brown sugar, soy milk and rum. In the end add the melted margarine to the bowl. Mix everything well together, and when the dough starts to form, take it out on a flat surface and knead with your hands.
When a soft, smooth dough is formed, shape it into a ball, cover with a kitchen towel or a plastic wrapper, and leave it in a warm place to rise for 2 hours.
After that, gently fold in the raisins and dried apricots. Transfer the dough on a flat surface and roll it into a rectangle. Roll the marzipan into a log, as long as the stollen dough. Put it in the middle of the rectangle and fold one side of the dough over it.
You can pinch it and fix the shape with your fingers. Heat the oven to 180 degrees Celsius. Bake the vegan stollen cake for about 45 minutes.
Meanwhile, melt the 40 g of vegan margarine. When the cake is done baking, take it out of the oven, brush it with the melted margarine and sprinkle with powdered sugar.
You can serve it right away or wrap it in a plastic wrapper and store in the fridge.
If you liked this recipe, make sure you check out my other recipes like:
Feel free to tell me what you think about this in the comments below, or send me the pictures of your own vegan stollen cake. If you did something differently, I would also like to hear that, I'd love to see the things you come up with.
P.S. for more recipes like this and a bunch of other stuff, follow me on Instagram, @margo_drobi.
Also, I recently started a Patreon page, where you can subscribe and help me create more/better content. In return, you will get an exclusive piece of content (recipe) each month. My plan is to increase the amount of that content if I gain a few subscribers. If you are interested and you want to find out more, I will leave the link to my Patreon right – here.