Vegan butternut pizza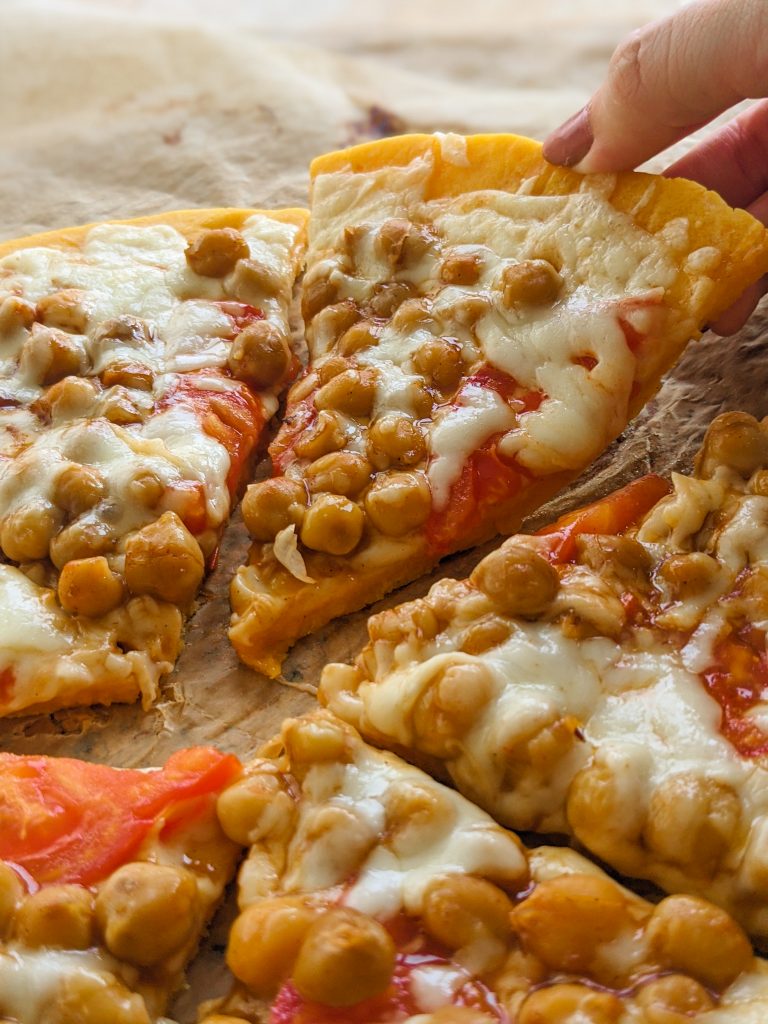 This will be my last autumn recipe for this year, so I figured it had to be worth your while. I decided to use the butternut squash once more, and bake this delicious vegan butternut pizza.
I don't usually eat gluten-free food (on purpose), but this recipe is deffinitely something I will make again. This pretty and delicious pizza crust is also super easy to make.
Pizza toppings depend on what you prefer, I just listed my favorite ones here. But you can always play around with the ingredients. It occurred to me that I haven't used this lovely chickpea topping in a while, so I decided to write it down here. Plus, I found a perfect vegan cheese brand that melts really nicely, so this was a good excuse to purchase it again.
And yeah, that is probably it for butternut recipes this year, from now on it's just holyday season recipes on this blog. Maybe not, but I will do my best to make as many Christmas cookies and cakes as I can.
Some health benefits
Other than being gluten-free and vegan, this recipe contains a cool ingredient that I have talked about before – butternut squash.
Butternut squash is low in calories but high in fiber and many nutrients, including vitamin A, vitamin C, magnesium, and potassium. It can help with weight loss. The high antioxidant content of butternut squash may reduce your risk of certain conditions, including heart disease, lung cancer, and mental decline.
Butternut squash can be added to a wide variety of both sweet and savory recipes, such as stews and pies. There are a lot of recipes out there that utilize this delicious plant.
By the way, I think you can replace the squash with Hokkaido pumpkin, which is pretty amazing in its own right. You can also use cooked sweet potato, I have a simmilar recipe that includes it on this website.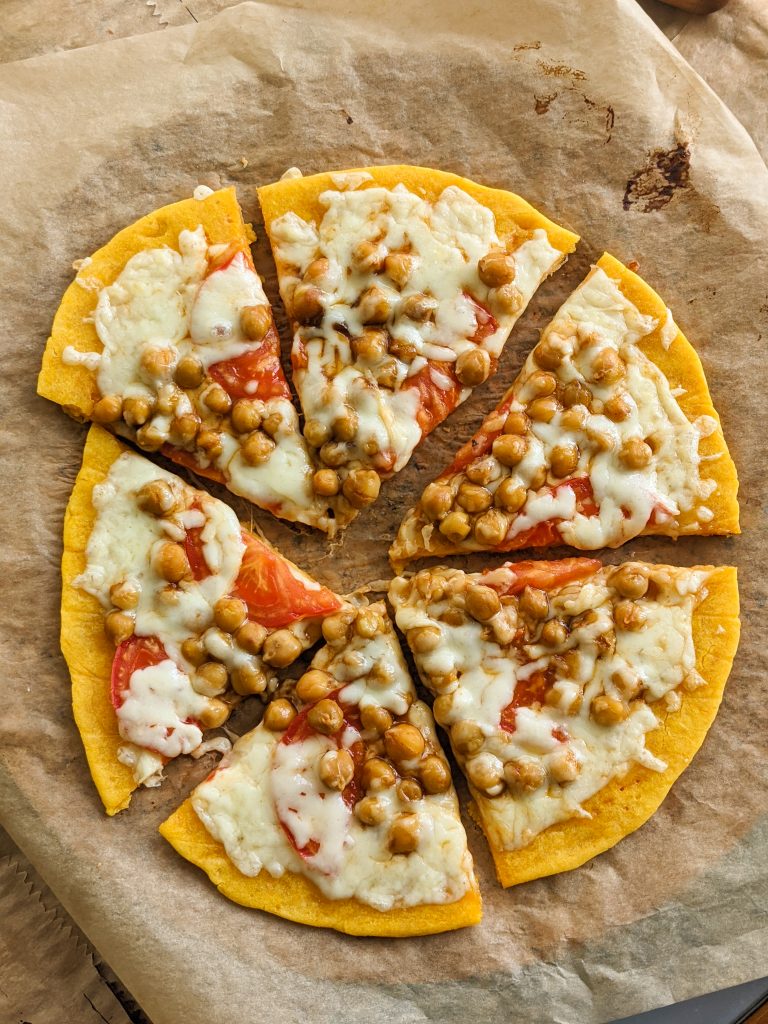 A piece of advice
This is already a pretty easy recipe, but as always, I am going to leave a few tips for you that might be very helpful.
First of all, I am going to tell you how I steamed the chopped butternut squash on an improvised steamer. I took a sieve with larger holes, transferred the squash in it and put it in a large pot of water. Make sure the water is not touching the bottom of the sieve. When the water starts to boil cover the pot with a lid.
When you blend the squash, make sure that no chunks are left, just a fine puree.
If you notice that your dough is too dry after kneading, feel free to add some water. But if it is too sticky you can add some more rice flour. Roll the dough into a flat circle while it is placed between two oiled sheets of parchment paper. This way the dough will not stick to the surface.
I baked this butternut pizza dough on a piece of parchment paper. But if you choose to bake it in a baking dish, you can prolong the baking for a few minutes.
You can use any pizza toppings that you like, and play around with ingredients. In this instance I chose one of my favorites. Next time I'll try to use some tomato sauce basil and mushrooms. If you use a small amount of topping ingredients, the pizza will bake faster in the oven.
These measurements make one small to medium pizza, depending on how thin you roll the dough.
Vegan butternut pizza
Course: Salty
Ingredients
200 g of butternut squash

150 g of rice flour

50 g of tapioca starch

1 tsp of baking powder

100 g of chickpeas

4 tbsp of BBQ sauce

1 small tomato

200 g of vegan cheese
Directions
Peel and cut the butternut squash into cubes and steam it on medium heat on a steamer rack for 10 minutes (or until it gets fork tender). Put it in a blender and blend it into a puree, make sure that no chunks are left. In a deep bowl mix rice flour, tapioca starch and baking powder. Add the butternut squash puree to the bowl and mix everything together.
Then knead the dough with your hands into a ball. Transfer it onto a flat surface and knead until you get a smooth dough. If the dough is too dry, add some water and knead some more.
Roll the dough in a flat circle between 2 oiled parchment papers using a rolling pin. Remove the upper sheet and save it for later.
Bake the pizza dough in the oven on some parchment paper for 10 minutes at 190 degrees Celsius. Remove the pizza crust from the oven, place the other baking paper on the surface of the pizza dough and flip the crust carefully so it does not break.
Shred the vegan cheese and slice the tomatoes thinly. In a small bowl mix the chickpeas with BBQ sauce. Put chickpeas, cheese and tomatoes on the crust.
Return to oven and bake for another 10 minutes. Serve the vegan butternut pizza while it's warm.
If you liked this recipe, make sure you check out my other recipes like:
– vegan mustard and broccoli pizza
Feel free to tell me what you think about this in the comments below, or send me the pictures of your own vegan butternut pizza. If you did something differently, I would also like to hear that, I'd love to see the things you come up with.
P.S. for more recipes like this and a bunch of other stuff, follow me on instagram, @margo_drobi.
Also, I recently started a Patreon page, where you can subscribe and help me create more/better content. In return, you will get an exclusive piece of content (recipe) each month. My plan is to increase the amount of that content if I gain a few subscribers. If you are interested and you want to find out more, I will leave the link to my Patreon right – here.