Cashew spice chocolate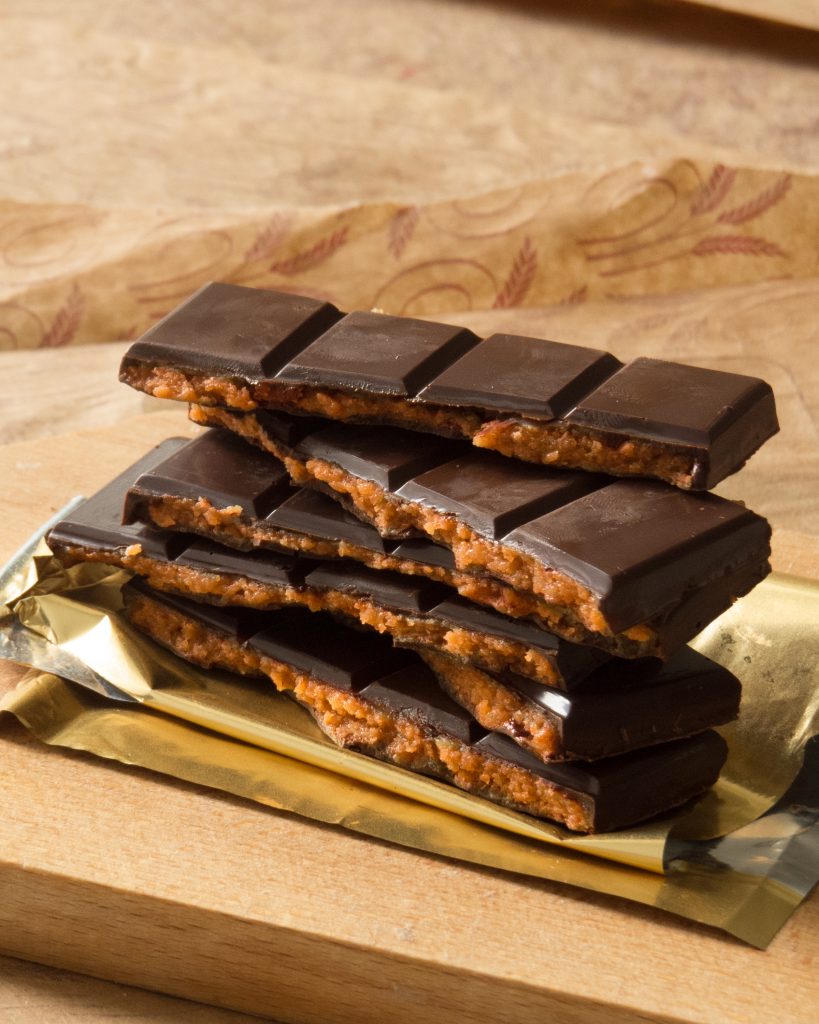 I never really imagined that I would make my own chocolate bar, until I saw these chocolate moulds online. They were super cheap so I ordered them, but I had to search the internet for a while in order to gather ideas on what to make. And so I combined some stuff I found online and made this beautiful cashew spice chocolate.
Now I know that you're probably thinking, why would I waste time on making a vegan chocolate bar when I can just buy one in a store. And it's true, there are a lot of great vegan products now everywhere in the world. But trust me when I say, you've never tasted one that is this good! It's totally worth it.
Aside from being super delicious, it contains ingredients that can be very good for you, some of them being my favorite spices. It might look complicated to make it, but it's way easier than you might think. If you keep reading this article, you will notice that I left a few facts about cashews, and you're going to find some advice that will make this even easier for you.
Some health benefits
In case you are not allergic to nuts, and decide to make this lovely cashew spice chocolate, I will mention some cool facts about cashews (which are the main part of this dessert) that might interest you. I have noticed the trend of making vegan cheesecakes and cakes in general with no cashews, mainly because they can be a bit pricey, but there are a few good reasons you might want to treat yourself with raw cashews, cashew cakes or sauces every once in a while.
Many studies show that nut intake has a cholesterol-lowering effect, and there is emerging evidence of beneficial effects on oxidative stress, inflammation, and vascular reactivity. Cashews help lower LDL and increase the carrying capacity for HDL. They are protein rich and can help you lose weight.
Eating cashews can boost your immune system and lower the risk of gallstones. They are also rich in essential minerals, including copper, calcium, magnesium, iron, phosphorus, potassium, and zinc. This also means that they are super beneficial for your skin and hair.
Cashews contain nutrients that most people tend to forget about when they first start a vegan diet, but you really need those for your body to stay healthy, so make sure you incorporate them (and other nuts) in your meal plan (chocolate or no).
A piece of advice
As I mentioned before, there are a few tips and tricks that can make this recipe super easy for you. First of all, try not to burn the cashews when you roast them in the oven. Check on them every few minutes.
When you pour the first layer of chocolate into the mould, it is important to turn the mould upside down to remove the excess chocolate and leave only a thin layer. Then you'll have more space left for the filling and it will look like store-bought chocolate.
When you pour the filling on top of that, make sure to even it out and remove the excess with a knife, you don't want the other side of the bar to look lumpy.
And last but not the least, make sure you temper your chocolate to make sure it breaks nicely when it's solid again. This is how you can do that. Bring a pot of water to boil and then turn the heat off. Place 2/3 of the chocolate bits into a smaller pot and place it inside the bigger pot. Make sure that water does not get in (not even a drop).
Let it melt for some time without stiring. When most of it is melted, stir the chocolate (from the edges inward). Add the rest of the chocolate to the bowl and let it melt  while stiring. Before using the chocolate make sure it cools down a bit but it should remain liquid.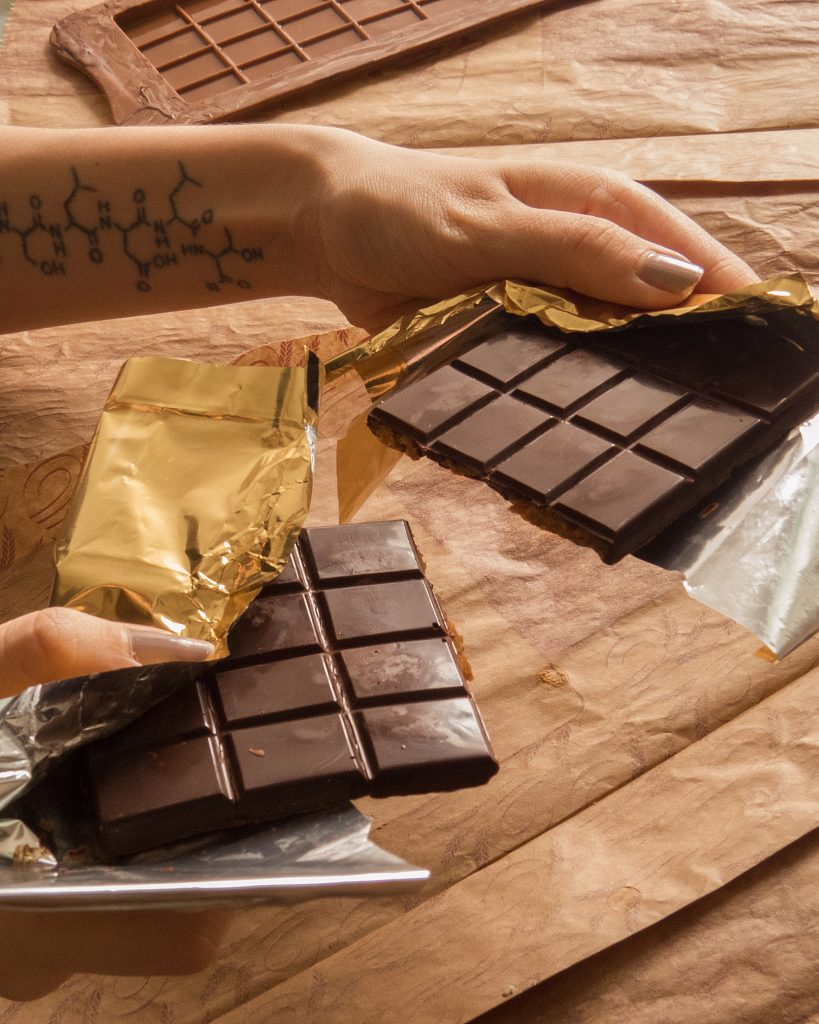 Ingredients
50 g of cashews
2 tbsp of maple syrup
1 tbsp of sugar
1/2 tsp of vanilla extract
1 tbsp of coconut oil
1/4 tsp of cinnamon
1/4 tsp of cardamom
1/4 tsp of ground ginger
a pinch of salt
80 g of dark chocolate (70%)
Instructions
Place cashews on a baking sheet and roast them in the oven for 15 minutes at 160 degrees Celsius. You can check on them from time to time to make sure they don't burn. After they cool down put them in a blender with maple syrup, sugar and vanilla extract. Blend until the ingredients turn into butter.
Add coconut oil and spices and blend again. Melt the chocolate (scroll up to find out how to temper it) and pour half of it into a silicone mould for chocolate. Turn the mould upside down to remove the excess chocolate and leave only a thin layer. Let it sit in the fridge for about 30 minutes.
After the chocolate hardens, pour the cashew butter filling (leave about 2 mm of space on the surface) and remove the excess filling with a knife. Leave in the fridge for about 30 minutes. Pour the rest of the chocolate on top and return it to the fridge.
After a few hours (best overnight), remove the cashew spice chocolate from the mould.
If you liked this recipe, make sure you check out my other recipes like:
Feel free to tell me what you think about this in the comments below, or send me the pictures of your own cashew spice chocolate. If you did something differently, I would also like to hear that, I'd love to see the things you come up with.
P.S. for more recipes like this and a bunch of other stuff, follow me on instagram, @margo_drobi.
Also, I recently started a Patreon page, where you can subscribe and help me create more/better content. In return, you will get an exclusive piece of content (recipe) each month. My plan is to increase the amount of that content if I gain a few subscribers. If you are interested and you want to find out more, I will leave the link to my Patreon right – here.