Orange cauliflower bites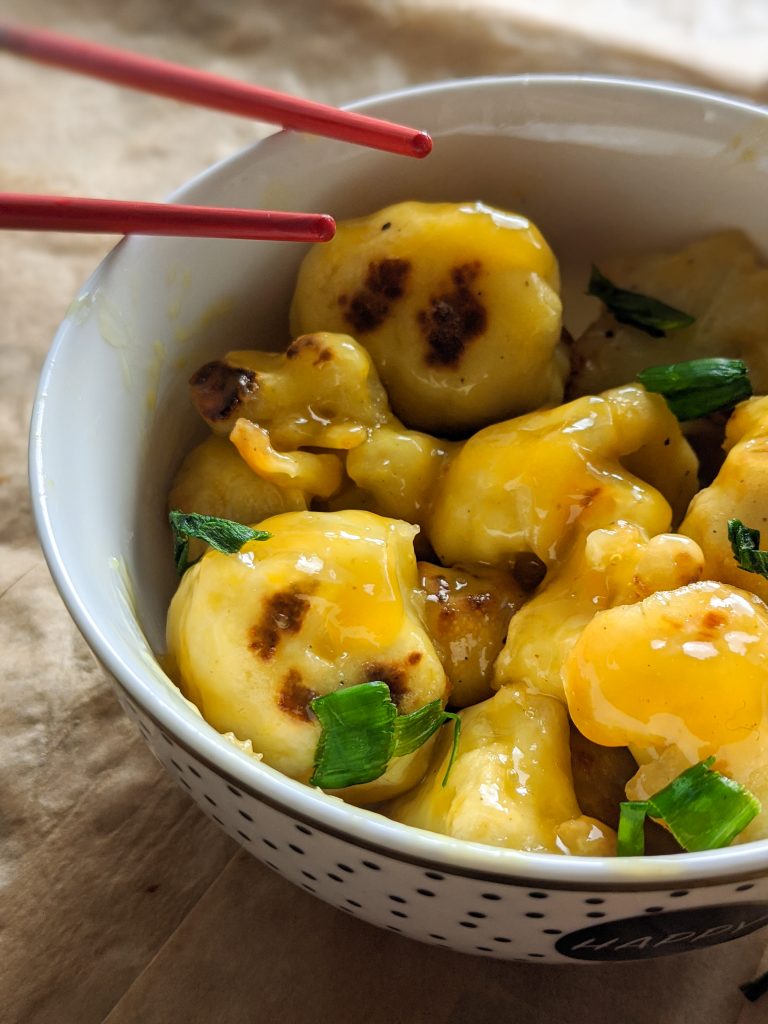 If you like sweet and sour flavors on your plate, orange cauliflower bites are the real deal for you. This dish does not require a lot of ingredients and it consists of the cauliflower center, thin layer of dough that coats it, and a delicious, sticky orange sauce. I am a big fan of Asian cuisine, but since I live in a small town in Bosnia I don't have the opportunity to just go to an Asian restaurant, because there aren't any. And even if there was one, it would be closed right now because of the lockdown.
So, I have to cook these delicious thing on my own. This recipe for example, was really easy to make, since I always have rice vinegar, maple syrup, wok and soy sauce in my pantry (I use them either for sushi or pancakes).
And it is going to be as easy for you, even if you have to make a quick trip to the supermarket. They require very little culinary skill. I prefer to have these as a quick snack, but you can also combine it with a dish of your choosing.
And besides, the nutrition profile of cauliflower is quite impressive.
Benefits of cauliflower
Cauliflower is very low in calories and high in vitamins. In fact, cauliflower contains some of almost every vitamin and mineral that you need, like vitamin C, K, B6, folate, potassium and others. It is very high in fiber, there are 3 grams of fiber in one cup of cauliflower, which is 10% of your daily needs. Cauliflower is a great source of antioxidants, which protect your cells from harmful free radicals and inflammation. It is very high in choline, an essential nutrient that many people are deficient in.
Cauliflower has made it's way into all kinds of dishes, from pizza crust, gnocchi to sushi, and for good reason. It can help you lose weight, boost your immune system and some studies even show that it fights aging. Furthermore, it improves cardiovascular health, helps with digestion, impoves bone health and had anti-cancer potential. The fact that may also interest you is that it improves the health of your hair and nails.
And those are just some of the benefits of including it in your diet. Cook it in a soup, include it in your pizza, veggie bowl, or, you know, make these delicious orange bites.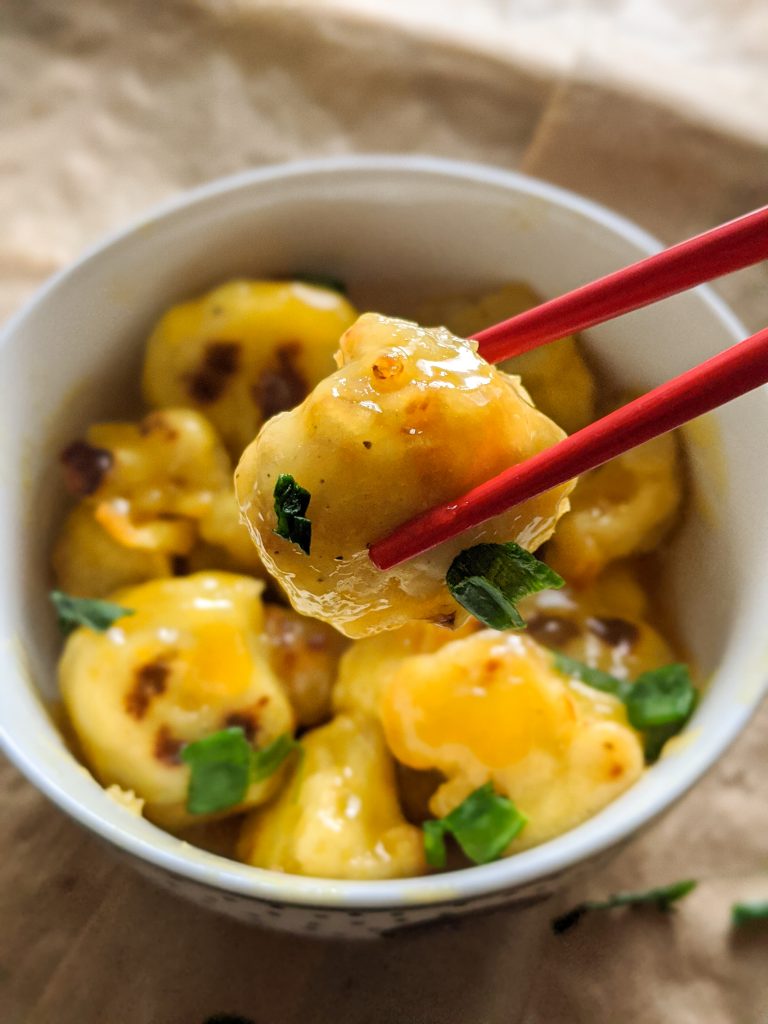 A piece of advice for beginners
These orange cauliflower bites are healthy, vegan, sticky, sweet and sour and absolutely delicious. For the stickiness of the sauce, I used (as always) a corn starch slurry, which is just corn starch disolved in some water. When you add it to your sauce (or whatever else you are cooking), and stir it on a medium to high heat, the sauce will thicken and become nice and sticky. Then you can remove it from the heat so it does not burn. The important thing to think about when you're doing this is not to put conrstarch directly into the sauce (a rookie mistake that I have made in the past). This way you will only get big clumps in your sauce and you will have to throw it away and start over. So don't forget to disolve the starch first.
These days I have done quite a few things besides cooking. I finaly went for a run early in the morning (which is why my legs are killing me right now, embarrassing), I read more, I watched a bath bomb disolve (because that's a thing to do nowadays), and I watched everything there is on Netflix. I might even go back to some show that I watched I while ago. So if you have a good movie or a tv show to recommend, I am all ears. I will also take any book recommendation you throw at me, I need to make a list for the rest of this year.
And meanwhile, I will try to come up with a healthy (or just healthier) dessert that will satisfy my sugar cravings, and use up my maple syrup before it goes bad. I hope you enjoy this recipe, good luck and bon appetit!
Ingredients
1 small cauliflower head
scallions
95 g all-purpose flour
175 ml water
½ tsp salt
a pinch of pepper
oil
juice from 2 oranges
1 tbsp wok (or soy) sauce
½ tbsp rice vinegar
1 ½ tbsp maple syrup (or sugar)
1 tbsp corn starch disolved in 2 tbsp water
Instructions
Cut califlower into small, bite-size pieces. In a deep bowl mix all-purpose flour, salt and a pinch of pepper. Add water and mix well. After this you should have a thick batter.
Preheat the oven to 230 degrees Celsius.
Dip each cauliflower piece in the batter untill they are completely covered. Put them on a baking tray lined with parchment paper. Brush or spray the cauliflower bites with oil. Put them in the oven and bake for 10 minutes, then flip them and bake for another 10.
While the cauliflower is baking, prepare the sauce. Mix orange juice, wok sauce, rice vinegar and maple syrup and heat them in a pan for a few minutes. Add the corn starch/water mix while stiring constantly.
When the sauce gets thick and sticky, put the baked cauliflower bits in the pan and quickly mix until all the bites are covered in sauce.
Transfer into a bowl and garnish with chopped scallions. Serve the orange cauliflower bites immediately.
If you liked this recipe, make sure you check out my other recipes like:
– quinoa and chickpea dumplings in butternut tomato sauce
Feel free to tell me what you think about this in the comments below, or send me the pictures of your own orange cauliflower bites. If you did something differently, I would also like to hear that, I'd love to see the things you come up with.
P.S. for more recipes like this and bunch of other stuff, follow me on instagram, @margo_drobi.