Chocolate banana cake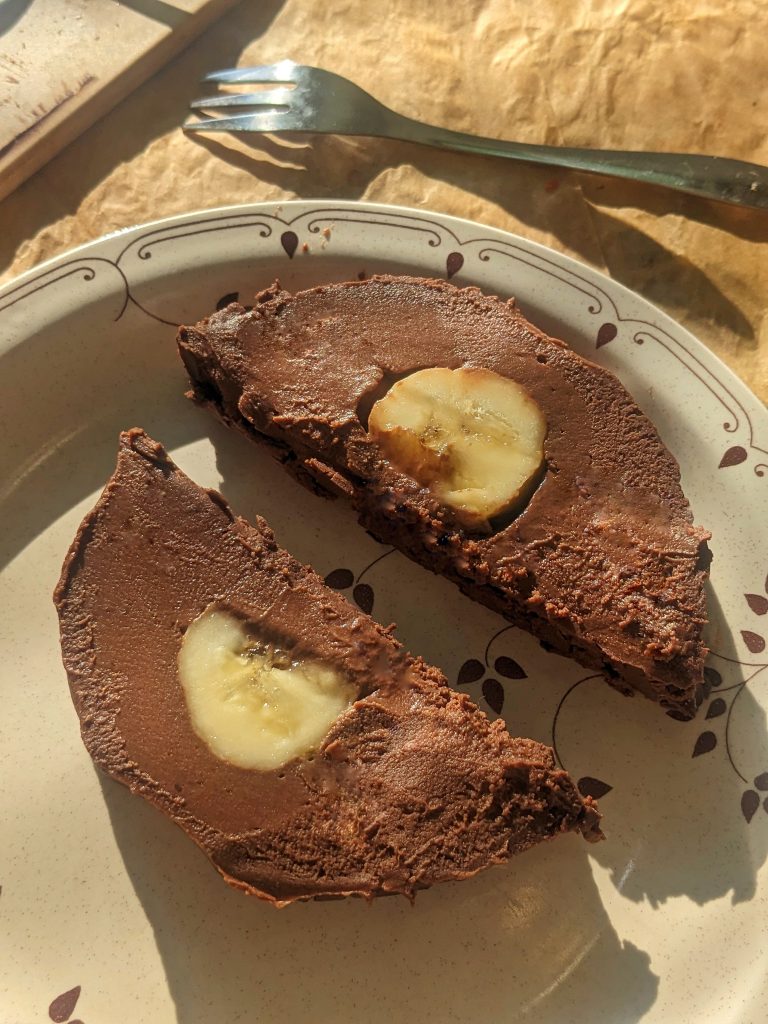 I have posted this creamy chocolate banana cake on my Instagram stories a few weeks back. And a lot of people have asked me about it, so I believe it's finally time for me to write down this recipe. In all honesty, I wanted to do it way earlier, but some work obligations got in the way.
This chocolate banana cake might look super weird because I didn't do a lot when it comes to aesthetics here, but I promise you that this one is very rich, creamy and tasty. And the best part of it is that it's vegan. At least that's what I think.
Ultimately it's very easy to make and I highly recommend it because you can never go wrong with a chocolate and banana combo.
Today I'm going to skip the health benefits part of my post. The only ingredient that I would maybe write about would be the banana, but it seems a bit redundant in this case.
A piece of advice
This is a no-bake cake that does not require many ingredients, and the recipe is pretty easy. But I'm going to leave a few tips and tricks for you, as I always do. I believe stuff like this can be helpful especially for beginners.
When mixing the cake make sure that there are no remaining lumps in the batter. Cornstarch will do that, so make sure you mix everything well.
As I already mentioned and as you can see from the pictures, my chocolate banana cake looks a bit strange so I recommend that you use a better baking dish (or cake mold) than I have. I also think that you can never use too many bananas. They are kind of refreshing in this recipe.
For this recipe it is essential to have some cling film so that you can easily take the cake out of the cake mould in the end.
I would keep this cake in the fridge, wrapped in cling film or in a plastic wrap. So that it does not dry out. These measurements will result in a large chocolate banana cake. I must say that it is also very satiating so if you need a bit less than this just reduce or split the measurements in half.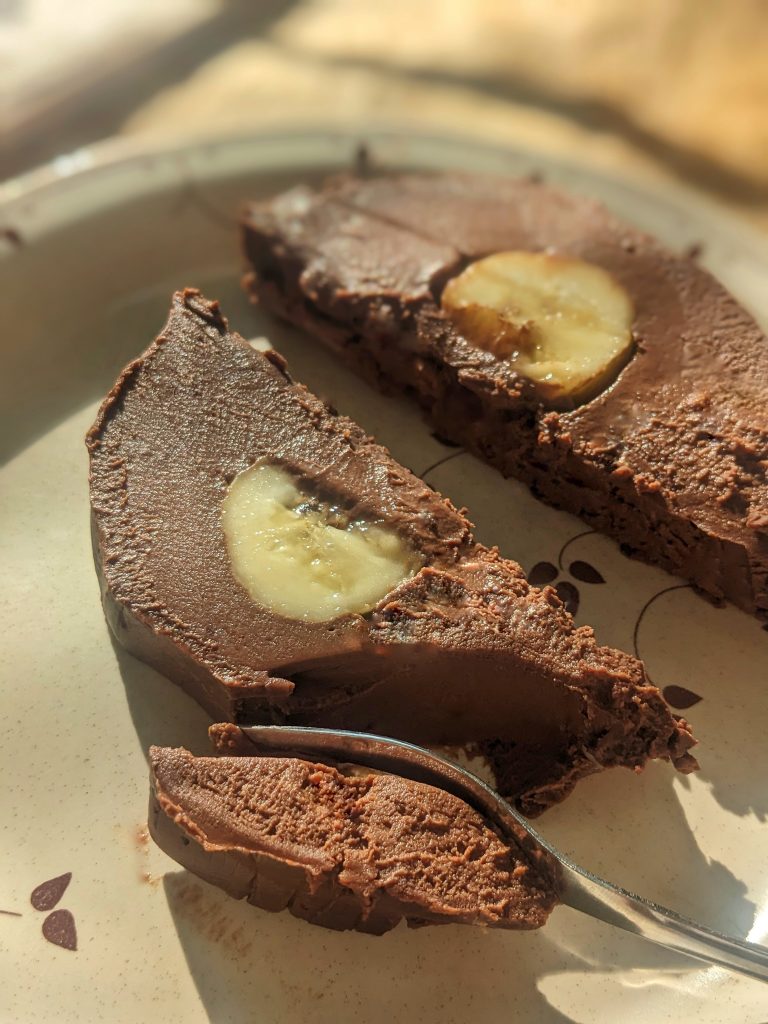 Chocolate banana cake
Course: Sweet
Ingredients
1 l of soy milk

2 bags of vegan chocolate pudding

100 g of cane sugar

50 g of corn starch

1 bag of vanilla bourbon sugar

200 g of dark vegan chocolate

100 g of cocoa butter

1 tbsp of cocoa powder

1 large banana 
Directions
Take 200 ml of soy milk and put it in a bowl. Add the pudding, sugar, starch, vanilla bourbon sugar and cocoa powder. Mix them all together and make sure there are no lumps left.
Bring the remaining 800 ml of soy milk to boil. Reduce the heat to medium, add the mixture that you made and cook everything for 3 to 4 minutes. Turn the stove off and add the dark chocolate and cocoa butter to the pot. Mix until everything has melted. Remove the pot from the stove.
Prepare a loaf baking dish/cake mold. Place a large piece of cling film at the bottom of the baking dish. Pour half of the mixture and spread it at the bottom of the baking dish. Place the banana pieces down the middle. Pour the remaining cake mixture on top and even it out with a spoon. Place the chocolate banana cake in the fridge.
Let it rest for about 4 to 5 hours (or overnight). When the cake thickens, take it out of the fridge, place a large plate on top of it and flip everything. Remove the baking dish and the cling film. Cut it into pieces and serve.
If you liked this recipe, make sure you check out my other recipes like:
Feel free to tell me what you think about this in the comments below, or send me the pictures of your own vegan coffee cake. If you did something differently, I would also like to hear that, I'd love to see the things you come up with.
P.S. for more recipes like this and a bunch of other stuff, follow me on Instagram, @margo_drobi.
Also, I recently started a Patreon page, where you can subscribe and help me create more/better content. In return, you will get an exclusive piece of content (recipe) each month. My plan is to increase the amount of that content if I gain a few subscribers. If you are interested and you want to find out more, I will leave the link to my Patreon right –here.