Vegan coffee cake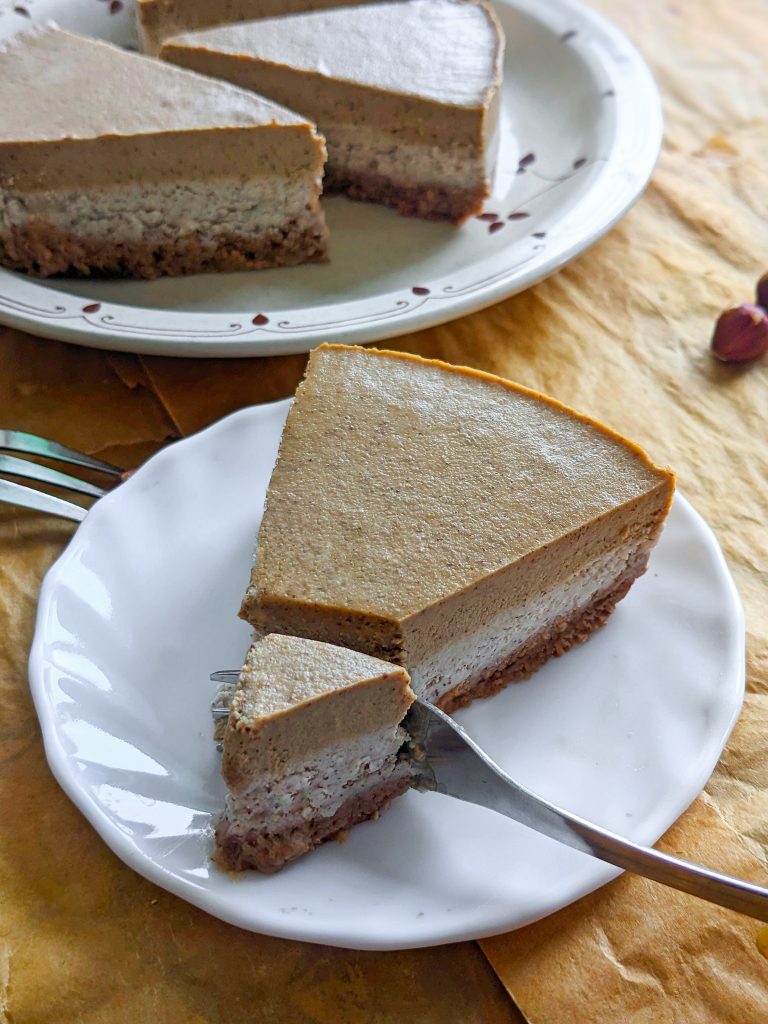 I realized that it has been a while since I made any type of a coffee cake. So today I decided to fix that and make a coffee cake that would resemble the one that I made years ago when I just started this blog. A vegan coffee cake that contains different types of nuts.
Some of my favorite things about this dessert are the fact that it needs no baking and that it has three delicious layers. It's not as sweet as some of the similar cakes I made in the past. If you're not really a fan of that you can add some more agave syrup or another type of sweetener to fix this.
This creamy coffee cake is also a bit on the healthier side which will make some of my readers very happy. If you would like to find out a bit more about that, or to get some tips and tricks that will be helpful, then feel free to keep reading the post.
Some health benefits
This cake contains walnuts, hazelnuts and cashews, so you know right away that this is a good one.
Hazelnuts are packed with nutrients, including vitamins, minerals, antioxidant compounds and healthy fats. They may also have health benefits, including helping decrease blood fat levels, regulating blood pressure, reducing inflammation and improving blood sugar levels, among others.
Walnuts provide healthy fats, fiber, vitamins and minerals — and that's just the beginning of how they may support your health.
In fact, there's so much interest in this one nut that for the past 50 years, scientists and industry experts have gathered annually at the University of California, Davis, for a walnut conference discussing the latest walnut health research.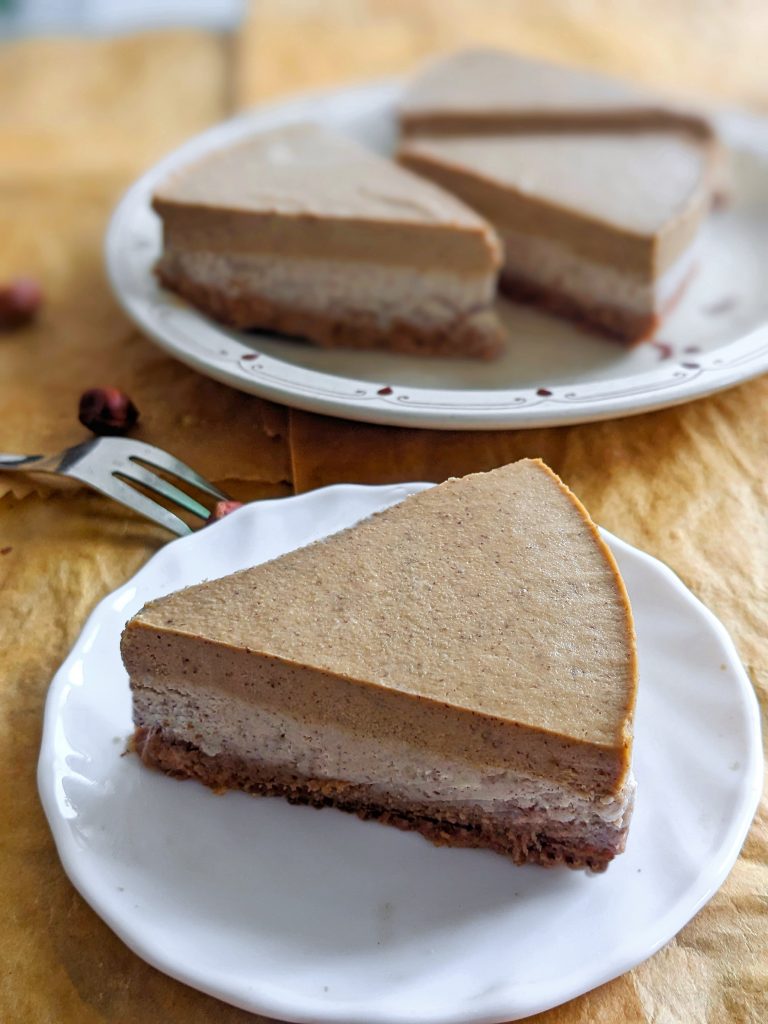 Walnuts can help fight oxidative damage in your body, including damage due to "bad" LDL cholesterol, which promotes atherosclerosis. They are a good source of the plant form of omega-3 fat, which may help reduce heart disease risk. Several plant compounds and nutrients in walnuts may help decrease inflammation, which is a key culprit in many chronic diseases. Eating walnuts not only nourishes you but also the beneficial bacteria that live in your gut. This promotes the health of your gut and may help reduce disease risk.
The polyphenols in walnuts may reduce your risk of certain cancers, including breast, prostate and colorectal cancers. However, more human studies are needed to confirm this.
And I wrote about cashews one too many times, so I'm going to skip that in this post. However if you are curious about that, feel free to check out some of my cheesecake recipes.
A piece of advice
Vegan coffee cake is an easy, no-bake dessert, and you should not have any problems making it. But I would still like to share a few tips and tricks with my readers, just in case you need a little extra help.
First of all, when you make the crust, it may be a bit difficult to spread it evenly across the bottom of the dish. It does not have to be perfect at first. Leave it in the fridge, and when it becomes a bit more solid, it will be way easier to press it down/shape it by using your fingers.
Don't forget to soak the cashews prior to making the cake, for 8 hours at least. Otherwise you may not get a creamy texture, it may even be lumpy.
These measurements are enough for a small 20 cm vegan coffee cake. But have in mind that this is a very filling dessert, so you might not need a bigger one at all. Before serving the cake, take it out of the freezer and let it soften up in the fridge.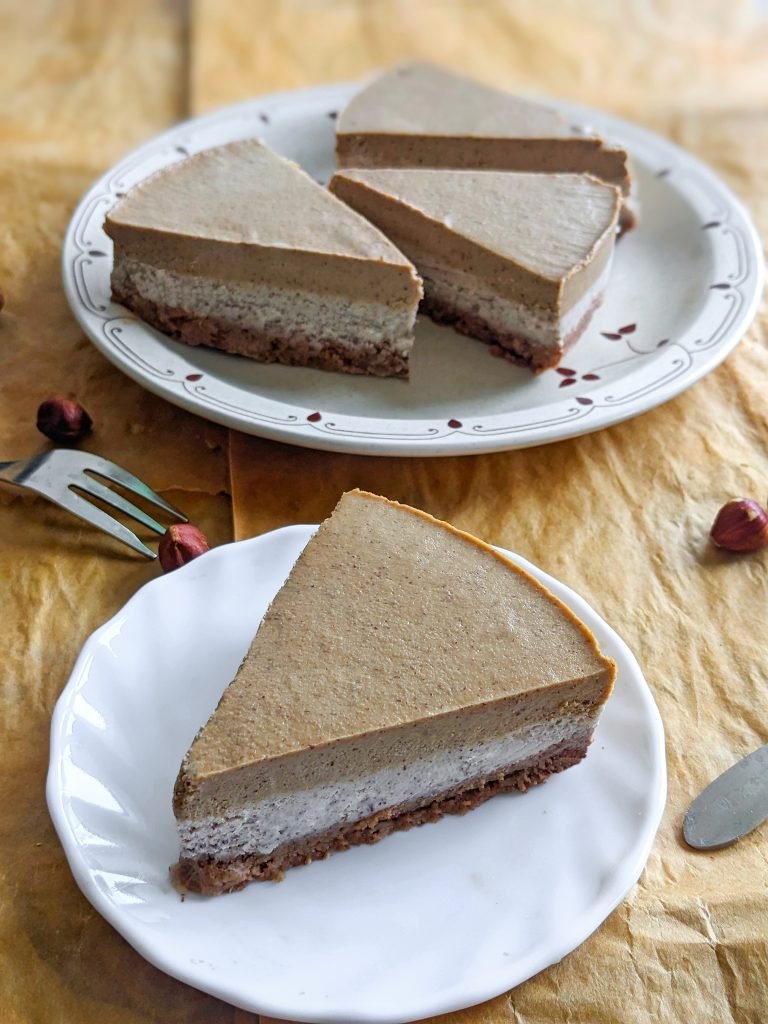 Vegan coffee cake
Ingredients
For the crust:

70 g of oats

1 tbsp of cocoa powder

1 tbsp of peanut butter

85 g of walnuts

50 ml of agave syrup

50 ml of soy milk

For the cream:

80 g of cashews

80 g of hazelnuts

65 ml of agave syrup

250 ml of coconut cream

20 g of cocoa butter (melted)

a splash of vanilla extract

3 tsp of instant coffee

15 ml of hot water
Directions
Soak the cashews in some water for about 8 hours prior to making a cake.
Start of by making the crust. Put the oats and walnuts in a blender. Blend them until you get a flour-like texture. Mix them with the other crust ingredients. Line a 20 cm baking dish (or cake mold) with some parchment paper. Place the crust mix in it and spread it out evenly over the bottom. Wet your hands a bit while doing that, if you need to. Put it in the fridge and leave it there while you make the cream.
Discard the water from the cashews. Toast the hazelnuts in a non-stick pan for a few minutes on medium heat. Put the cashews and hazelnuts in a blender together with coconut cream, cocoa butter, agave syrup and vanilla extract. Blend them until you get a creamy texture.
Take the crust out of the fridge and pour half of the cream over it. Put it in the fridge. In a small cup mix together the instant coffee and 15 ml of water. Add it to the rest of the cream that remains in the blender. Blend everything again until the cream becomes darker.
After the first layer has set/became thicker, pour the second, darker half of cream on top of it. Return it to the freezer. When the vegan coffee cake has set, take it out of the freezer and place it in the fridge. You can keep it there for a few days.
Best way to store it is to keep it in an airtight container in the fridge.
If you liked this recipe, make sure you check out my other recipes like:
Feel free to tell me what you think about this in the comments below, or send me the pictures of your own vegan coffee cake. If you did something differently, I would also like to hear that, I'd love to see the things you come up with.
P.S. for more recipes like this and a bunch of other stuff, follow me on Instagram, @margo_drobi.
Also, I recently started a Patreon page, where you can subscribe and help me create more/better content. In return, you will get an exclusive piece of content (recipe) each month. My plan is to increase the amount of that content if I gain a few subscribers. If you are interested and you want to find out more, I will leave the link to my Patreon right –here.