Vegan mahjouba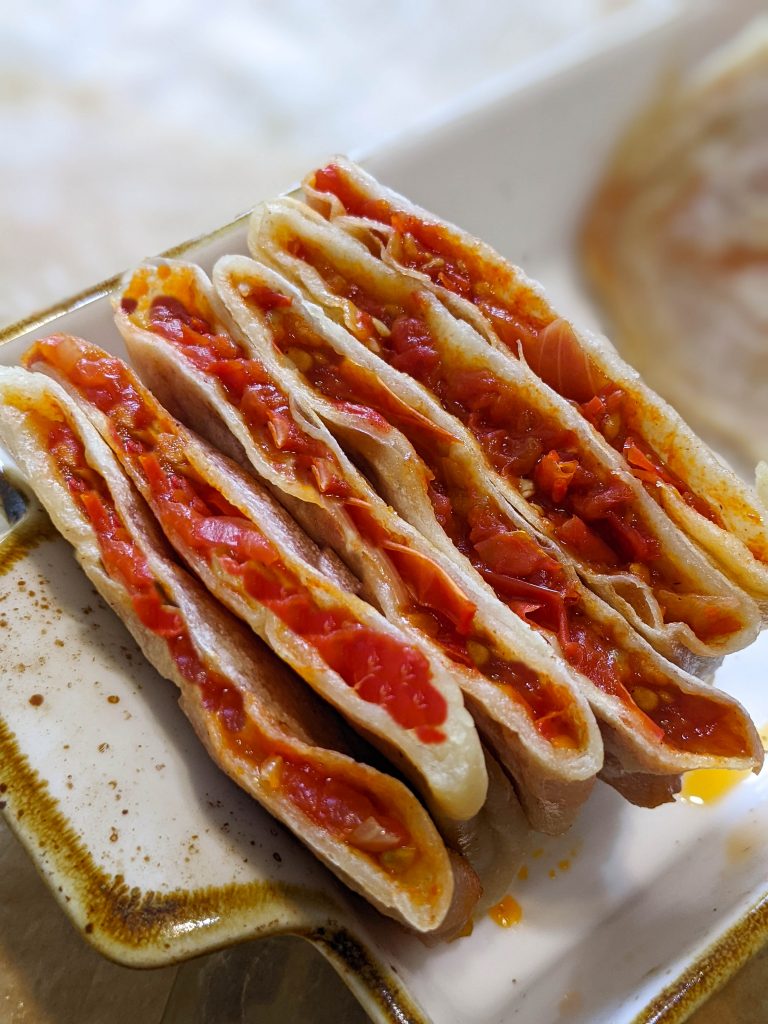 My knowledge on Algerian cuisine is rather limited. I only recently found out about this dish when it popped out on my Pinterest feed. To my excitement, it was completely vegan. Vegan mahjouba is a semolina-based, thin, flaky crepe (or flatbread even) filled with a tomato/onion filling.
This description had me hooked and I just had to try this recipe out. My first attempt was a failure since I did not use a good method to make it. These can be made with semolina only, but I chose a version with a semolina/flour mix. I eventually learned how to make these, so I can finally post a method that worked for me.
Of course, this is not a unique recipe, it is a traditional Algerian street food. But I wanted to share it with my readers who are not familiar with it. I really think that this is something that most of you will enjoy.
Some health benefits
The main ingredient in this dish is the tomato, and for that reason I am going to take some time and write down a few interesting facts about it.
Fresh tomatoes are low in carbs. The carb content consists mainly of simple sugars and insoluble fibers. These vegetables (or fruits) are mostly made up of water. Tomatoes are a good source of several vitamins and minerals, such as vitamin C, potassium, vitamin K, and folate. Lycopene is one of the most abundant plant compounds in tomatoes. It's found in the highest concentrations in tomato products, such as ketchup, juice, paste, and sauce. Lycopene is a strong antioxidant that can protect your body against oxidative stress and offer some protection from certain environmental toxins and chronic diseases.
Studies show that tomatoes and tomato products may reduce your risk of heart disease and several cancers. It is also beneficial for skin health, as it may protect against sunburns. Tomatoes are generally well tolerated but may cause allergic reactions in people allergic to grass pollen. Replacing sweetened drinks such as soda with tomato juice can benefit your health.
These are only some of the reasons you may want to incorporate tomatoes in your meal plan, and what better way to start than with the vegan mahjouba.
A piece of advice
Vegan mahjouba can also be made with semolina flour only. I felt safer with mixing it with regular flour, but you can try out that version as well.
The tomato onion filling can be spicy if you want it to be, or you can dip it in some harissa paste. I could not find harissa in the stores, so I decided to put one small chilli pepper in the mahjouba filling. This turned out great, but if you can't handle spicy food, feel free to leave these out. It will be just as delicious.
To get the best filling possible, I suggest you find some good tomatoes. I have a habit of going to the market every weekend and buying fresh produce. The tomatoes that I get are full of flavor, which is what you want your filling to be like.
Quickly knead the vegan mahjouba dough with your hands, and add more flour gradually if it is too runny, or dip your hands in water if it is too dry. After the dough has rested, make sure you stretch each crepe very thin. If it breaks in a few spots, that is okay, just make sure that the filling does not leak out when you fold it in the end.
These measurements are enough for 6 vegan mahjouba flatbreads. I have split mine in half, as you can see in the pictures.
Vegan mahjouba
Course: Salty, Salty
Ingredients
For the dough:

130 g of semolina

130 g of all-purpose flour

½ tsp of salt

195 ml of water 

For the filling:

1 large yellow onion

4 large tomatoes

1 small chili pepper (optional)

½ tsp of salt

1/2  tsp of ground cumin

A few shakes of pepper

oil
Directions
In a deep bowl put together the semolina, flour, salt and water. Mix everything together. When the dough starts to get thick, begin to knead it with your hands. Knead for about 5 minutes.  Divide the dough into 6 equal-size pieces, roll them into balls, cover them with some cling film, and let them rest for about 45 minutes.
Meanwhile, prepare the filling. Chop the onion and the tomatoes into very small pieces. Heat 2 tbsp of oil on a non-stick pan to medium heat. Sautee the onion and the spices for about 15 minutes. Make sure to stir them from time to time so they don't burn.
Add the chopped tomatoes (and the chopped chili if you are using it)  to the pan and stir. Cook them for another 15 minutes, or until you get a thick, jammy filling. Stir frequently and mash with a fork a little bit as you go.  Transfer the filling into a bowl and wash the pan.
Generously oil a big plate and put some oil on your hands. Take one piece of mahjouba dough and flatten it on the plate. Stretch it out with your hands, so that you get a very thin, circle-shaped piece of dough. 
Place some tomato filling on one half of the crepe and distribute it evenly on that half with a fork. Fold the sides of the crepe inward and finally fold the empty half in so that you close the filling off. Heat the non-stick pan to medium heat and cook the vegan mahjouba for about a minute on each side. Repeat this process untill you run out of the mahjouba dough/filling.
Serve the vegan mahjouba while they are still warm.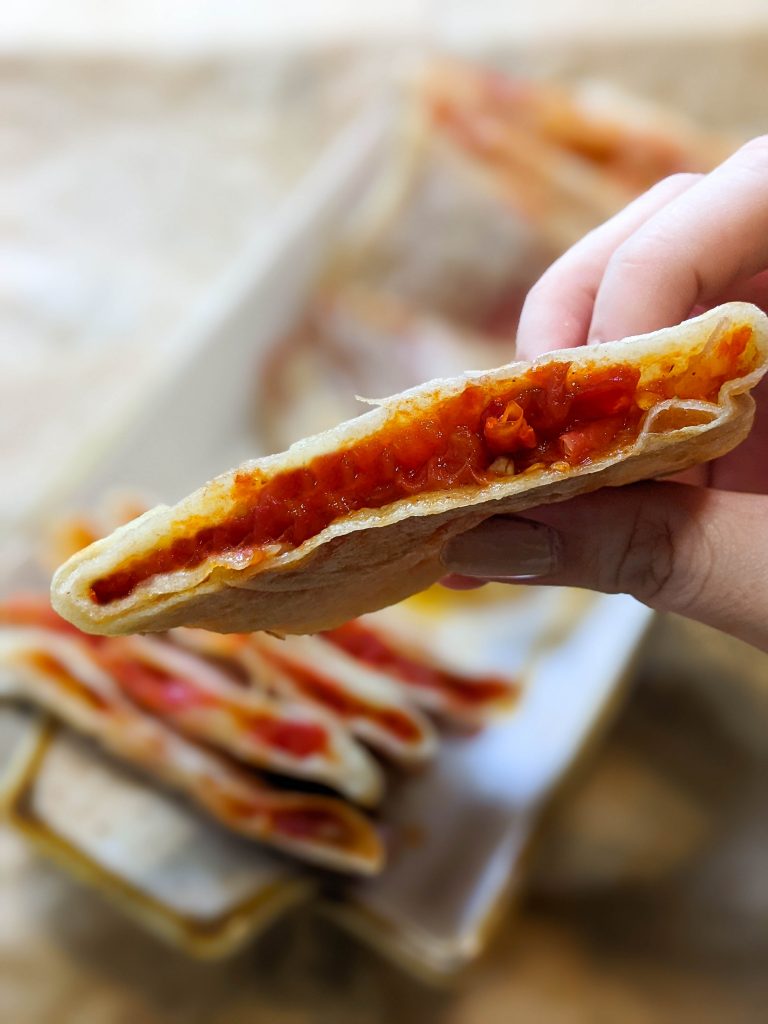 If you liked this recipe, make sure you check out my other recipes like:
– vegan Korean savory pancakes
Feel free to tell me what you think about this in the comments below, or send me the pictures of your own vegan mahjouba. If you did something differently, I would also like to hear that, I'd love to see the things you come up with.
P.S. for more recipes like this and a bunch of other stuff, follow me on Instagram, @margo_drobi.
Also, I recently started a Patreon page, where you can subscribe and help me create more/better content. In return, you will get an exclusive piece of content (recipe) each month. My plan is to increase the amount of that content if I gain a few subscribers. If you are interested and you want to find out more, I will leave the link to my Patreon right – here.