Vegan dondurmali irmik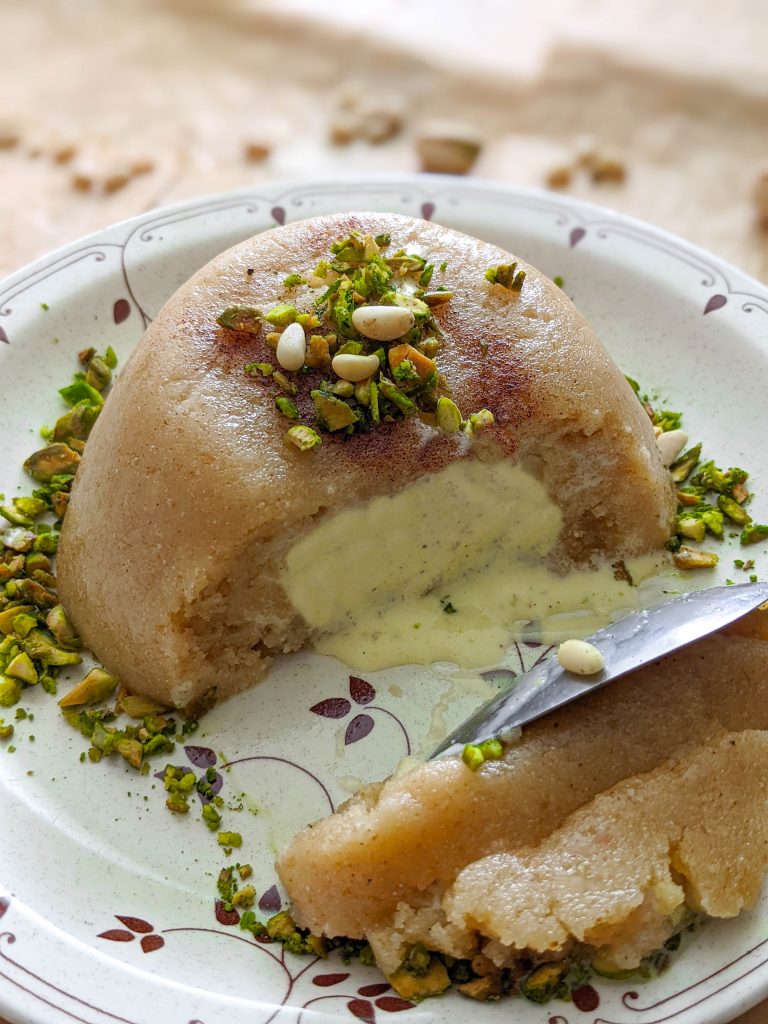 Dondurmali irmik helvasi is a basic Turkish dessert. I did not have a chance to eat it while I was in Turkey, because I could not find a vegan version of it. Basically, it is a sweet semolina halva filled with vanilla ice cream and topped off with some cinnamon and pistachio. I decided to try and make a vegan dondurmali irmik. And the attempt was successful.
This will be a real treat for those of you who don't mind sugary desserts, and for fans of Turkish cuisine. It was so good that I really felt bad because I could not eat all of it. I suggest you divide this amount into 2 very small bowls.
Making it vegan was super easy. I only used margarine instead of butter and made vegan vanilla ice cream for the filling. I tend to avoid margarine in cakes, so if you have any better ideas I am all ears.
A piece of advice
Other than ingredients, you will need a small bowl (or two) and some cling film for vegan dondurmali irmik. The recipe is super easy, super basic, but I feel like some steps do need to be clarified.
I used two stoves at the same time to make the semolina dough. One for the soy milk/water/sugar mixture and the other for butter/semolina. These two need to be stirred very frequently, but it is easy to multitask. Be careful not to burn either of them. It may take quite some time for the semolina to brown, so bring the liquid to boil slowly, on a very low temperature.
Semolina/butter mix is ready when it becomes brownish in color, which is when you add the boiling milk mixture to the pan. Cover with a lid and let it rest while you prepare the ice cream and the bowl.
I used the semolina dough right away while it was still warm, which resulted in my ice cream melting on the inside right away. I didn't mind this, but if you want, you can let the semolina dough cool down before putting it in a bowl.
Hopefully you will be able to find a dairy free ice cream in a store. But if not, you will just have to make one at home, like I did. I will leave a recipe for a vegan vanilla ice cream that I like right – here. It is the one I used for this vegan dondurmali irmik. It would have been nice to save some time, but this ice cream was super simple to make.
These measurements are enough for one medium sized vegan dondurmali irmik, or two small ones. I suggest you use very small bowls for this, I could not eat this entire dessert on my own. Decorate it with some crushed pistachios and pine nuts. I have seen some recipes where pine nuts were added to the margarine, but I did not try this. I did not want them to stick out from the dough.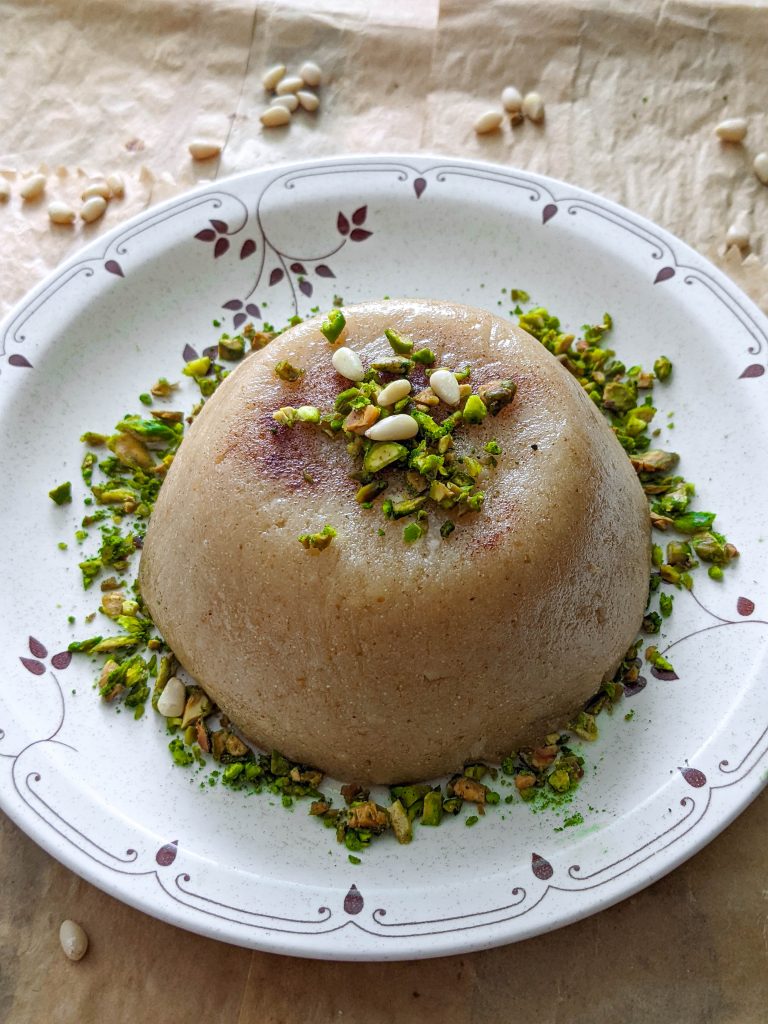 Vegan dondurmali irmik
Ingredients
250 g of semolina

100 g of vegan butter

130 ml of soy milk

65 ml of water

130 g of sugar

For the filling:

Vanilla ice cream (vegan, find the recipe bellow)

For the decoration:

Cinnamon

Crushed pistachios

Pine nuts
Directions
If you don't have store-bought vegan vanilla ice cream, start off by making it, by following this – recipe. When your ice cream is done, take a few scoops of it, place it on a piece of parchment paper and put it in the freezer. Leave the ice cream there until you need to use it. Next, prepare the semolina dough.
In a small pot mix together the soy milk, water and sugar. Heat them on low heat until the sugar dissolves. Keep heating the mixture and stirring from time to time.
Put the vegan butter in a non-stick pan and melt it on low heat (on a different stove).  Once it has melted, gradually add the semolina to the pan while stirring. Increase the temperature to medium and stir everything very frequently so that the semolina doesn't burn.
By the time the semolina becomes golden-brown, the soy milk mixture should also start to boil. When it does boil, remove the semolina from the stove, and add the mixture to the pan in a few sips. Quickly mix everything together. Cover the pan with a lid and leave it to rest for about 15 minutes.
Meanwhile, take a piece of cling film and place it on the inside of a small to medium sized bowl. Scoop up some of the dough from the pan and place it in the bowl. Press it down with your fingers and remove a bit from the middle (depending on how much ice cream you want to insert). Take the vanilla ice cream out from the freezer and place it in the middle. Cover the ice cream with some more semolina dough and gently press it down to close it off.
Put a serving plate on top and flip it. Gently remove the bowl together with the cling film. Top the vegan dondurmali irmik with cinnamon, crushed pistachios and some pine nuts. Serve it right away.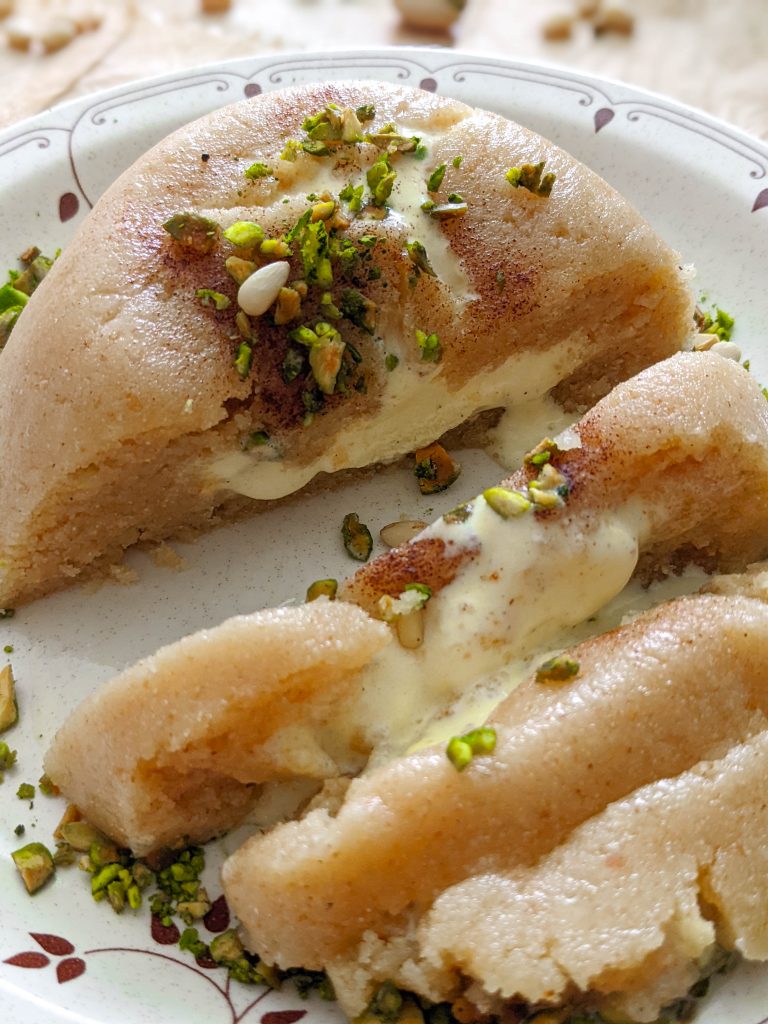 If you liked this recipe, make sure you check out my other recipes like:
Feel free to tell me what you think about this in the comments below, or send me the pictures of your own vegan dondurmali irmik. If you did something differently, I would also like to hear that, I'd love to see the things you come up with.
P.S. for more recipes like this and a bunch of other stuff, follow me on Instagram, @margo_drobi.
Also, I recently started a Patreon page, where you can subscribe and help me create more/better content. In return, you will get an exclusive piece of content (recipe) each month. My plan is to increase the amount of that content if I gain a few subscribers. If you are interested and you want to find out more, I will leave the link to my Patreon right – here.