Vegan blueberry ice cream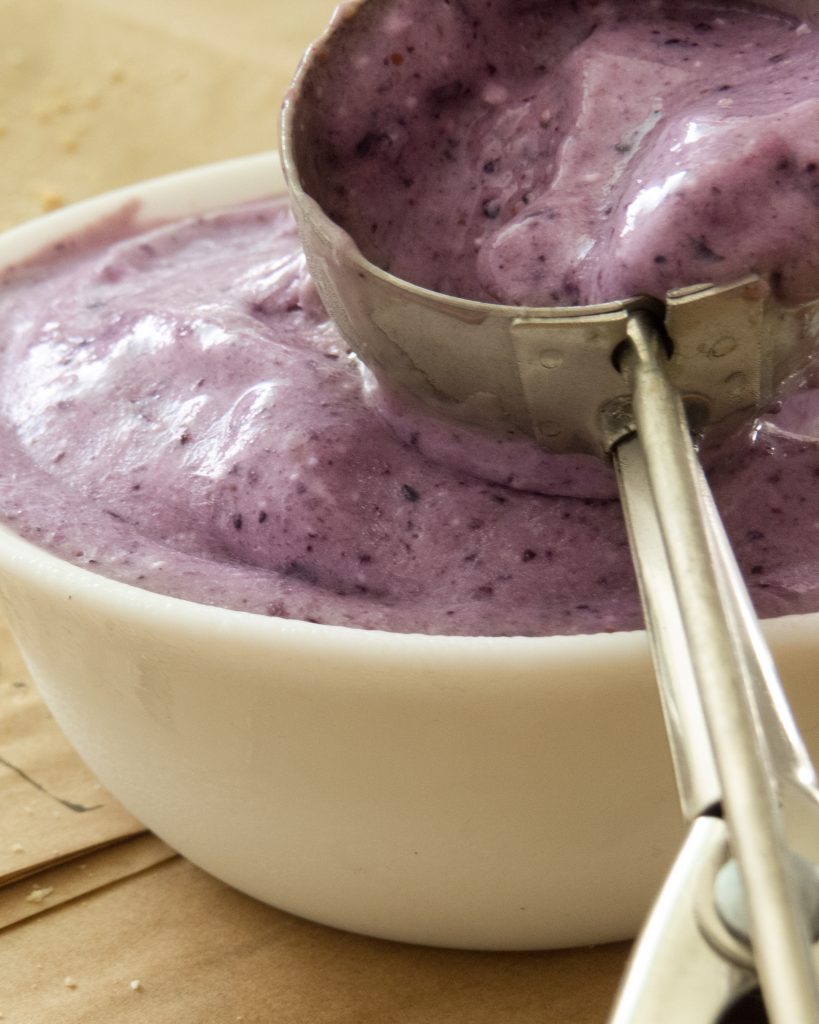 Summer is almost upon us, so I think it is the right time to publish more fruity recipes. I know we still can't buy fresh blueberries, but fear not, this vegan blueberry ice cream recipe uses the frozen ones.
Ever since I went vegan I knew that there are a lot of vegan ice creams out there or the ones that are accidentally vegan, but what I did not know is how stupidly easy it is to make them. This recipe for example uses only three ingredients. I made this ice cream a while ago for the first time and I have made it a million times since, mainly because I never discovered a better (or more simple) version of it.
This ice cream is fruity, creamy, sugar free and absolutely delicious. Bananas and blueberries are sweet enough so they make up for the sugar, and coconut cream gives it a nice creamy texture.
Unfortunately, the stores in my city ran out of coconut cream recently so I was not able to enjoy some of my favorite desserts lately. But that will not stop me from sharing this amazing recipe with you.
Some health benefits
The best thing about this ice cream (besides it being vegan) is the fact that it requires no refined sugar. I love sugar free recipes, and this one is near the top of my list. But there are also other health benefits that you can reap by eating this delicious dessert.
As you probably already know, the blueberry is a very popular berry. It is low in calories but high in fiber, vitamin C and vitamin K. They are believed to have one of the highest antioxidant levels of all common fruits and vegetables. The main antioxidant compounds in blueberries belong to a family of polyphenols antioxidants called flavonoids.
Several studies suggest that blueberries and blueberry juice reduce DNA damage, which is a leading driver of aging and cancer. Another study determined that eating 75 grams of blueberries with a main meal significantly reduced the oxidation of "bad" LDL cholesterol, and thus have been shown to reduce a predominant risk factor for heart disease.
Regular blueberry intake is tied to lower blood pressure in numerous studies. The antioxidants in blueberries seem to benefit your brain by aiding brain function and delaying mental decline. They might have anti-diabetes effects, improving insulin sensitivity and lowering blood sugar levels.
Like cranberries, blueberries contain substances that can prevent certain bacteria from binding to the wall of your bladder, which may help prevent UTIs. It is suggested that they may aid muscle recovery after strenuous exercise, though more research is needed.
Bananas are also rich in fiber, antioxidants and several nutrients. A medium-sized banana has about 105 calories. They can help moderate blood sugar levels after meals and may reduce appetite by slowing stomach emptying. Bananas are fairly rich in resistant starch, which may feed your friendly gut bacteria and safeguard against colon cancer.
They are a good source of potassium and magnesium, two nutrients that are essential for heart health. Depending on ripeness, bananas harbor high amounts of pectin which may also reduce appetite and help keep you full.
These are only some of the reasons you might want to increase your intake of these two delicious fruits (and what better way than trough a healthy dessert). I could write about them a whole lot more, but then this post would be too long.
A piece of advice
Vegan blueberry ice cream may be very easy to make, but there are still a few things that I wanted to share here. I only started to freeze and store bananas for smoothies after I made this recipe for the first time.
And the best way to do that is by cutting them into small pieces. This way they will be much easier to blend both for smoothies and ice creams. So first you cut them up, place them on a sheet of parchment paper (they should not touch) and place them in a freezer overnight.
After that you can put them in a ziplock bag and store them as much as you want or use them right away. This way you are preventing them from freezing together in a huge clump.
Before eating the ice cream I suggest you leave it in the fridge for a little while just so it softens a bit. Also, if you can not find coconut cream in the store (like myself), you can just buy full fat coconut milk, keep it in the fridge and then just use the creamy part from the top of the can for your ice cream.
And that is pretty much it. I will also try to use raspberries the next time, as soon as I get my hands on some coconut cream. Also, if you have a binge-worthy tv show that you would like to recommend, I am all ears. Currently I am watching Dead to me on Netflix, and so far it's pretty entertaining. So I am going to drop my recipe here and go watch another episode. Good luck and bon appetit!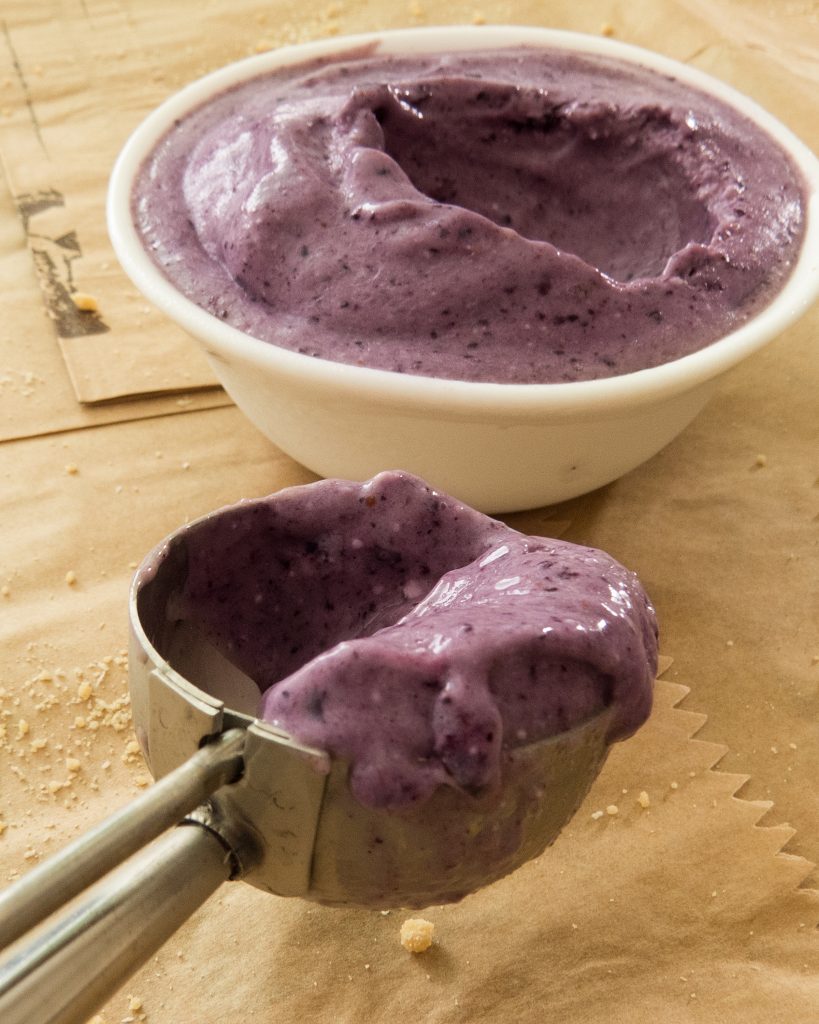 Vegan blueberry ice cream
Course: Sweet
Ingredients
2 large bananas

70 g of frozen blueberries

3 heaping tbsp of coconut cream
Directions
Cut the bananas into small pieces, put them on  parchment paper and keep in the freezer overnight.
Put frozen bananas, frozen blueberries, and coconut cream in a blender and blend until a homogeneous purple cream is formed.
Put the blueberry ice cream in a bowl or a container of your choosing. Leave in the freezer until it solidifies.
If you liked this recipe, make sure you check out my other recipes like:
Feel free to tell me what you think about this in the comments below, or send me the pictures of your own vegan blueberry ice cream. If you did something differently, I would also like to hear that, I'd love to see the things you come up with.
P.S. for more recipes like this and bunch of other stuff, follow me on instagram, @margo_drobi.
Also, I recently started a Patreon page, where you can subscribe and help me create more/better content. In return, you will get an exclusive piece of content (recipe) each month. My plan is to increase the amount of that content if I gain a few subscribers. If you are interested and you want to find out more, I will leave the link to my Patreon right – here.