Vegan unagi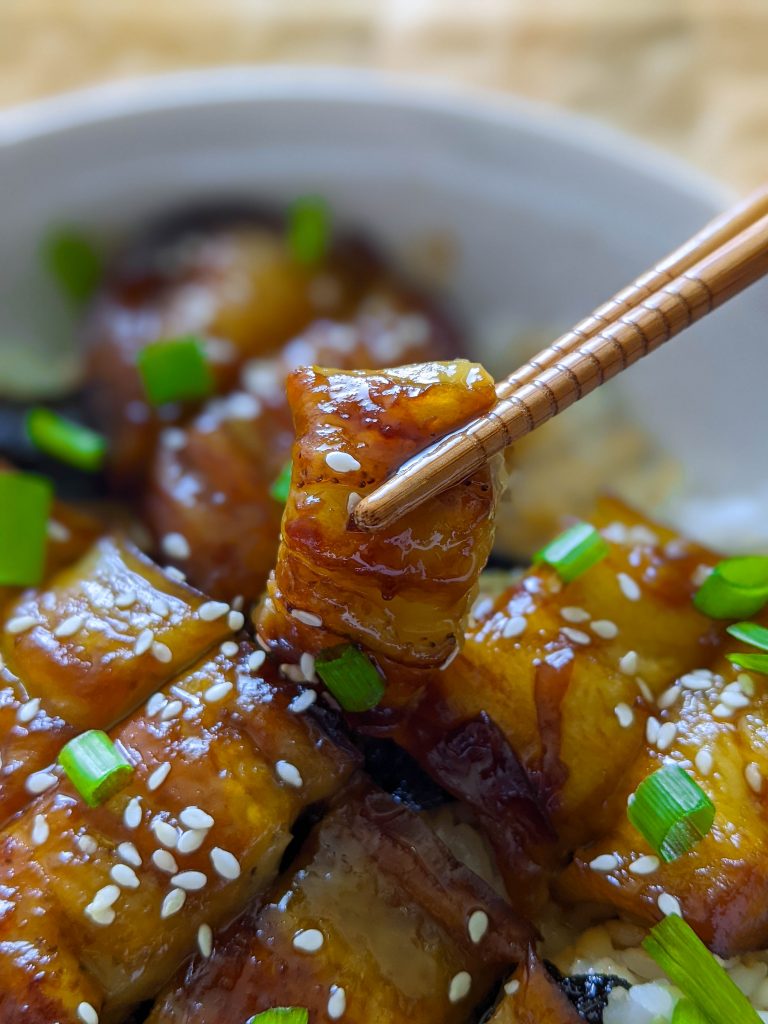 Vegan unagi is a recipe that I've seen a bunch of times in my Instagram reels. It always looked so tasty, and I was super mad that I could not get my hands on the proper ingredients to make it. This has recently changed, and I finally made the unagi! It is safe to say that it is as delicious as it looks.
Unagi is the Japanese word for freshwater eel, which is why this is called vegan unagi. I do not think that it resembles it at all, but I am not the one who named it. It is a delicious eggplant dish in it's own right in my opinion.
I did not follow any specific recipe that I have saved. Instead I went trough all of them and then made my own version that made the most sense and was the easiest to pull off. The result was great and I highly recommend this!
I chose to serve it over some cooked rice, but you can use some other grains if you want to.
Some health benefits
Eggplant provides a good amount of fiber, vitamins and minerals in few calories. They are high in anthocyanins, a pigment with antioxidant properties that can protect against cellular damage.
Some animal studies have found that eggplants may improve heart function and reduce LDL cholesterol and triglyceride levels, though human research is needed. They can help promote weight loss. It can also be used in place of higher-calorie ingredients. Eggplants contain solasodine rhamnosyl glycosides, which test-tube studies indicate may aid in cancer treatment.
Sesame contains a variety of vitamins and minerals. It's also rich in anti-inflammatory monounsaturated fats. It is full of antioxidants, including the lignan sesamin. In animal studies, sesamin has exhibited numerous health benefits. Yet, more research in humans is needed.
Sesame seeds may decrease risk factors for heart disease and the risk of developing type 2 diabetes. Sesame oil and sesame seed extract have been shown to exhibit antibacterial qualities in test-tube and animal studies. These effects are believed to be due to the healthy fats and antioxidants they contain. However, more research is needed. Sesame contains compounds that may promote brain health and protect nerve cells, according to test-tube and animal research. It also contains compounds that may have anticancer properties.
Sesame seeds contain compounds that may protect your liver and kidneys from damage.
I think that these are some pretty good reasons to try and include eggplant and sesame into your meals every now and then.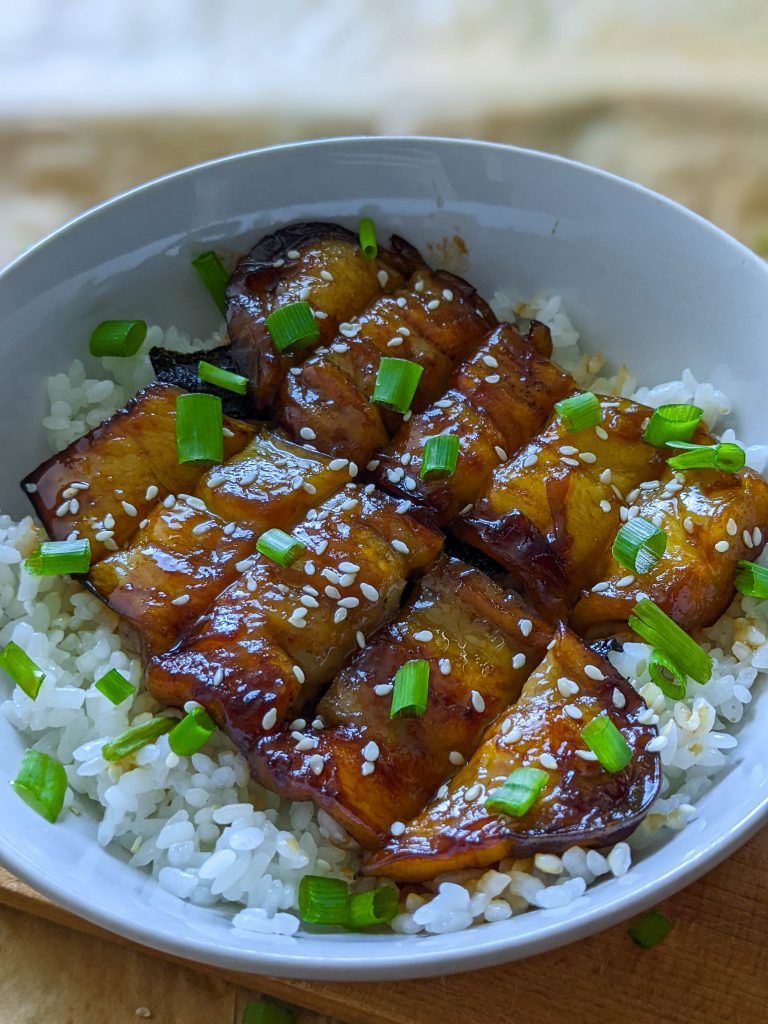 A piece of advice
Japanese eggplant is normally used for this recipe. Since that was not available to me, I found that I can use a very thin regular eggplant, and that is what I recommend if you can't find the Japanese one either. Just use the thinnest, smallest eggplant and it'll be fine.
The ingredients that I could not previously purchase were mirin and sake. Mirin is a type of rice wine and a common ingredient in Japanese cooking. It is similar to sake but with a lower alcohol content and higher sugar content. If you live in Bosnia like me, these things may not be available to you. Which is why I always make sure to buy them when traveling. If you find yourself in a larger city, I suggest you look for Asian food stores, there you'll be able to find these ingredients. Ordering them online is also an option.
You can peel the skin off of your eggplant if you don't like the texture. But leaving it on is also fine. I served the vegan unagi over some cooked sushi rice and a nori sheet that I cut into several pieces. I topped it off with sesame seeds and chopped spring onions (scallions).
The measurments are enough for one vegan unagi, but if you need more than that, make sure to increase the measurements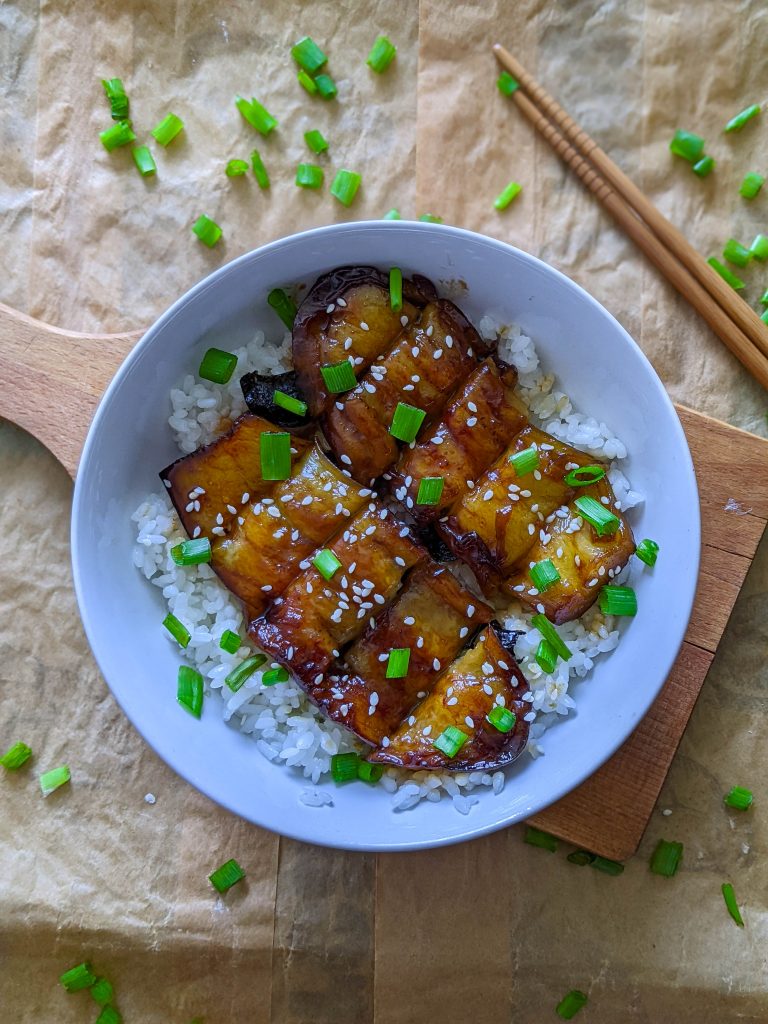 Vegan unagi
Ingredients
1 (thin) eggplant

2 tbsp of soy sauce

2 tbsp of sake

1+1/2 tbsp of maple syrup

1 tbsp of mirin

1 spring onion (scallion)

sesame seeds

½ of a nori sheet

Cooked white rice

Oil
Directions
Wash the eggplant and chop the stem off. Slice it in half lengthwise. If you want, remove the eggplant skin. Chop the spring onion and cut the nori sheet into several strips. At this point you can also cook the rice.
In a small bowl mix together all the glaze ingredients (soy sauce, sake, maple syrup, mirin) and set them aside.
Pour a few tbsp of oil into a non-stick pan and heat it to medium-low temperature. Place the eggplant halves into the pan and fry them on each side until they become slightly golden-brown. Pour the sauce into the pan, put a lid on the pan and cook for about five minutes. Flip the eggplant to the other side and keep cooking until it it soft and absorbs most of the sauce  (remaining sauce will become thick and sticky).  Remove the pan from the heat.
Put the cooked rice and the nori strips in a small bowl. Place the eggplant halves over them. Sprinkle them with some sesame seeds and chopped spring onion. Serve the vegan unagi right away, while it is still warm!
If you liked this recipe, make sure you check out my other recipes like:
– vegan cheung fun (rice noodles)
Feel free to tell me what you think about this in the comments below, or send me the pictures of your own vegan unagi. If you did something differently, I would also like to hear that, I'd love to see the things you come up with.
P.S. for more recipes like this and a bunch of other stuff, follow me on Instagram, @margo_drobi.
Also, I recently started a Patreon page, where you can subscribe and help me create more/better content. In return, you will get an exclusive piece of content (recipe) each month. My plan is to increase the amount of that content if I gain a few subscribers. If you are interested and you want to find out more, I will leave the link to my Patreon right – here.