Peanut butter bars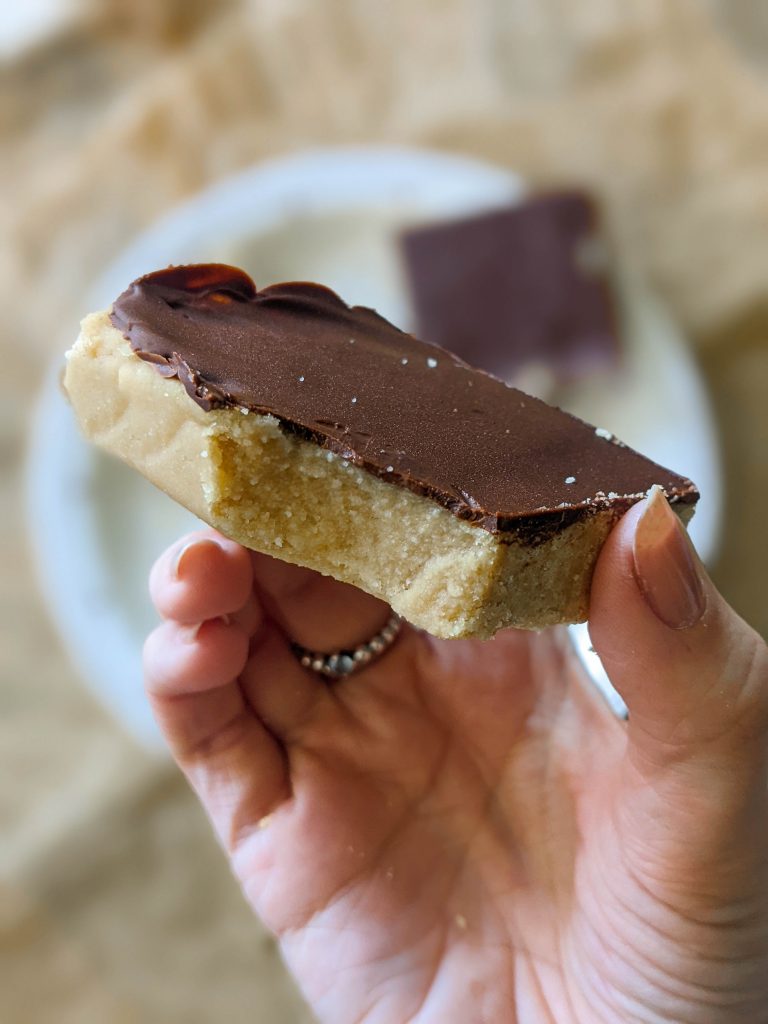 Vegan peanut butter bars is an easy to make, simple dessert. It requires only a few ingredients. I went to visit a friend abroad recently, and now that I am home I am trying to get back into my posting routine. So I figured that the easiest way to do that is to make something simple like this.
You will only need five ingredients for this, you probably have some of them in your kitchen already.
These peanut butter bars will satisfy every craving, and as far as desserts go, it is quite a healthy option. They are sweet, soft, vegan and combine two of my favorite flavors – peanut butter and chocolate. If you are short on time and you need something quick and easy, I highly recommend these.
Some health benefits
This is a tasty dessert, but that does not mean that it can't be somewhat good for your health. The best ingredient in this recipe may be the peanut butter, and in this section I am going to tell you why that is.
Eating peanut butter actually suppresses hunger which leads to weight loss. It has the enviable combination of fiber (2.6 g per serving) and protein (7-8 g per serving) that keeps you feeling full for longer, so you end up eating less overall.
Peanut butter contains a substance called p-coumaric acid which helps in offsetting the damage done to cells associated with cardiovascular diseases. Also, peanut butter contains more unsaturated fat than saturated fat making it a fat friendly food which lowers the risk of cardiovascular and coronary heart disease.
Research also hints that it lowers the risk of cancer, protects against Alzheimer's disease and lowers the risk of diabetes. And I could write a lot more about these ingredients, but that would make this post super long.
To wrap it up, I think these are pretty good reasons to incorporate peanut butter in your meal plan. I do it as often as I can. And if you don't have an idea on how to start, I suggest you make these lovely cakes first.
A piece of advice
This is quite an easy recipe, and anyone can make it. But there are still a few things that I would like to point out here.
For example, the flour choice. Many of my readers don't like the coconut flavor for some reason. In this recipe however, the coconut flour flavor is overpowered by peanut butter, so do not worry about that. I will however try to make a version of this recipe with almond flour. I will let you know how that goes.
When you melt down the chocolate and the coconut oil, you will need to pour or spoon them on top of the peanut butter dough. I suggest that you do this part quickly since the chocolate will become hard because of low dough temperature.
Let everything soften up a bit in the fridge or on room temperature before you cut it into individual pieces. These vegan peanut butter bars are supposed to be kept in an air-tight container in the fridge.
The measurements that I used are enough for a small batch of peanut butter bars. If you need more, make sure to double the measurements. Have in mind that these are very caloric, I was full after eating only one of them.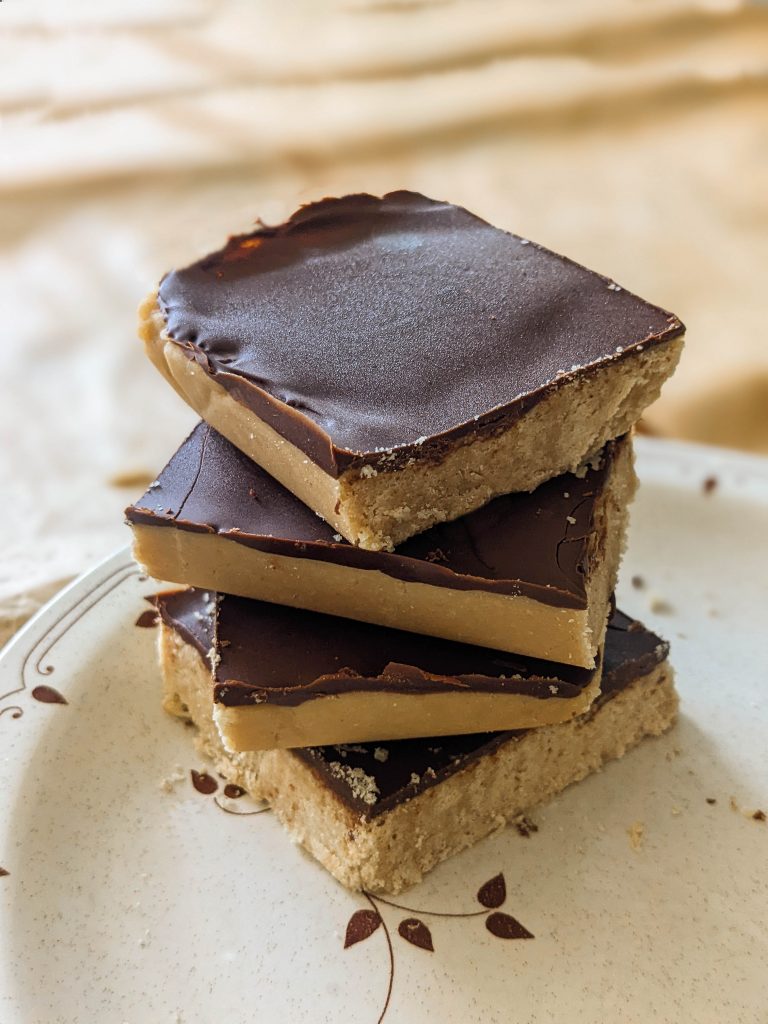 Peanut butter bars
Ingredients
130 g of peanut butter

65 ml of maple syrup

70 g of coconut flour

100 g of vegan dark chocolate

2 tbsp of coconut oil
Directions
In a small bowl mix together the peanut butter and maple syrup until they are well combined. Add the coconut flour to the peanut butter/maple syrup mix and stir until it becomes thicker. When everything is combined you can knead it with your hands.
Line a small square dish with some parchment paper. Transfer the dough into the dish and press it down with your fingers to spread it out evenly. Put the dish in the freezer and leave it there until you make the chocolate layer.
Break the vegan dark chocolate into small pieces and put it in a saucepan. Add the coconut oil and heat everything in a double boiler over medium heat. When the chocolate is almost completely melted, remove it from the stove and stir until no solid pieces are left.
Take the frozen peanut butter bars out of the freezer. Spoon the melted chocolate/coconut oil on top of the dough. You may have to work fast because the chocolate will solidify pretty quickly. When you are done, return the dish to the freezer. Leave it there until the top layer is completely solid.
After that, transfer the dish to the fridge, let it soften up a bit and cut into individual pieces. You can keep the vegan peanut butter bars in the fridge in an airtight container.
These measurements are enough for one small batch of peanut butter bars.
If you liked this recipe, make sure you check out my other recipes like:
Feel free to tell me what you think about this in the comments below, or send me the pictures of your own vegan peanut butter bars. If you did something differently, I would also like to hear that, I'd love to see the things you come up with.
P.S. for more recipes like this and a bunch of other stuff, follow me on Instagram, @margo_drobi.
Also, I recently started a Patreon page, where you can subscribe and help me create more/better content. In return, you will get an exclusive piece of content (recipe) each month. My plan is to increase the amount of that content if I gain a few subscribers. If you are interested and you want to find out more, I will leave the link to my Patreon right – here.