Vegan Lotus brownies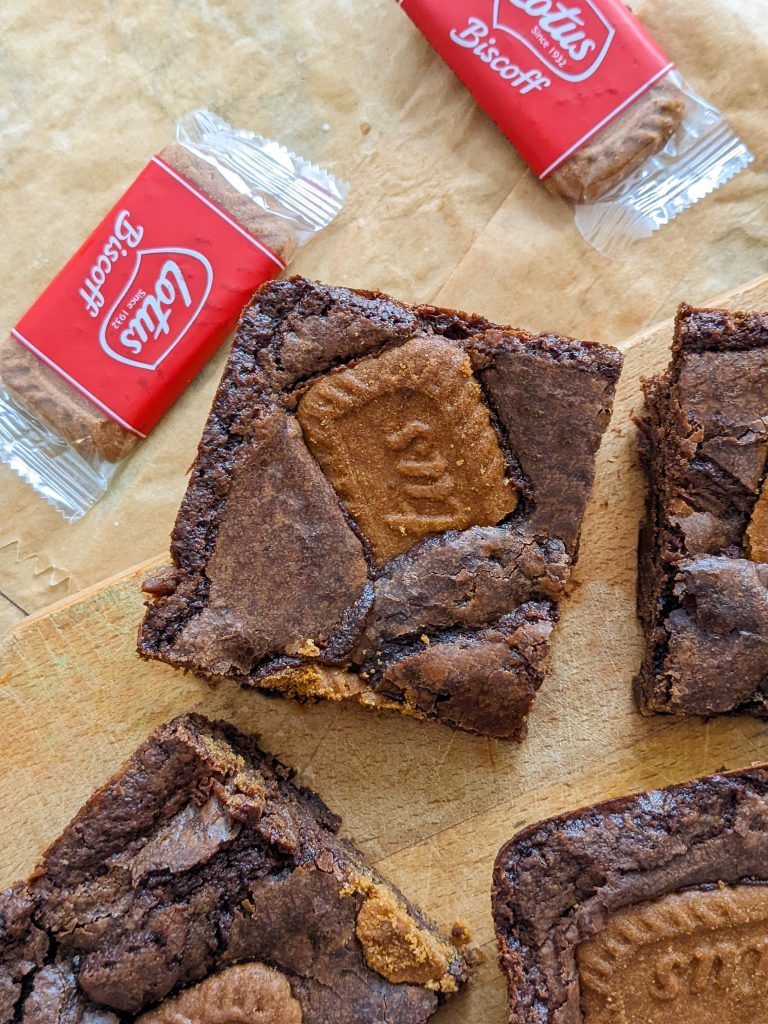 Vegan Lotus brownies are not a recipe that I really wanted to make, it was more of an experiment. I never made brownie batter with aquafaba (water from a chickpea can), and I really wanted to try this new method. It is safe to say that it worked out wonderfully.
These brownies ended up being rich, moist and very delicious. And the Lotus cookies are making them even better, with a slight crunch.
I did not expect this, but these aquafaba brownies are definitely something I will make again. The recipe is not complicated, but if it is your first time working with aquafaba, you can find some advice below.
A piece of advice
I think that vegan Lotus brownies are fairly easy to make. But since this isn't everyone's go-to method, I thought I might go into some more detail here to make things easier for you.
You can use any type of brown sugar, it does not have to be Muscovado. When you melt the chocolate and vegan butter (margarine), set them aside to cool down before you fold them in the aquafaba. But don't let them become solid again.
Before you put the aquafaba in a bowl, make sure that it is super clean. The lemon juice is supposed to make your aquafaba more stable. Add the sugar very gradually. Make sure to whip it until you get stiff peaks. Flip the bowl upside down, none of it should fall out. And be very careful when you're folding in the other ingredients. Do it gently and do not overmix.
The top of the brownies will start to look a bit cracked in the oven, that is completely normal. Check if they are fully baked by inserting a toothpick in the middle (but have in mind that they are supposed to be a bit fudgy).
You are not using any baking soda, so these brownies will not rise in the oven. So the thickness of the batter you pour in the baking dish is the thickness of the brownie you're going to get. Pick a small baking dish if you are using the same measurements as I am.
I don't know where to buy Lotus biscoff spread, but if you can get some, feel free to heat it up and add a few drops on the top of the brownie batter before baking. Swirl it around with a toothpick.
When you are done with baking, don't handle the brownies right away. You will only break them. Let them cool down completely, I even left mine in the fridge for a while. These measurements are enough for a very small batch of vegan lotus brownies. They were more than enough for me to eat for several days, but if you want more, make sure to adjust the ingredients.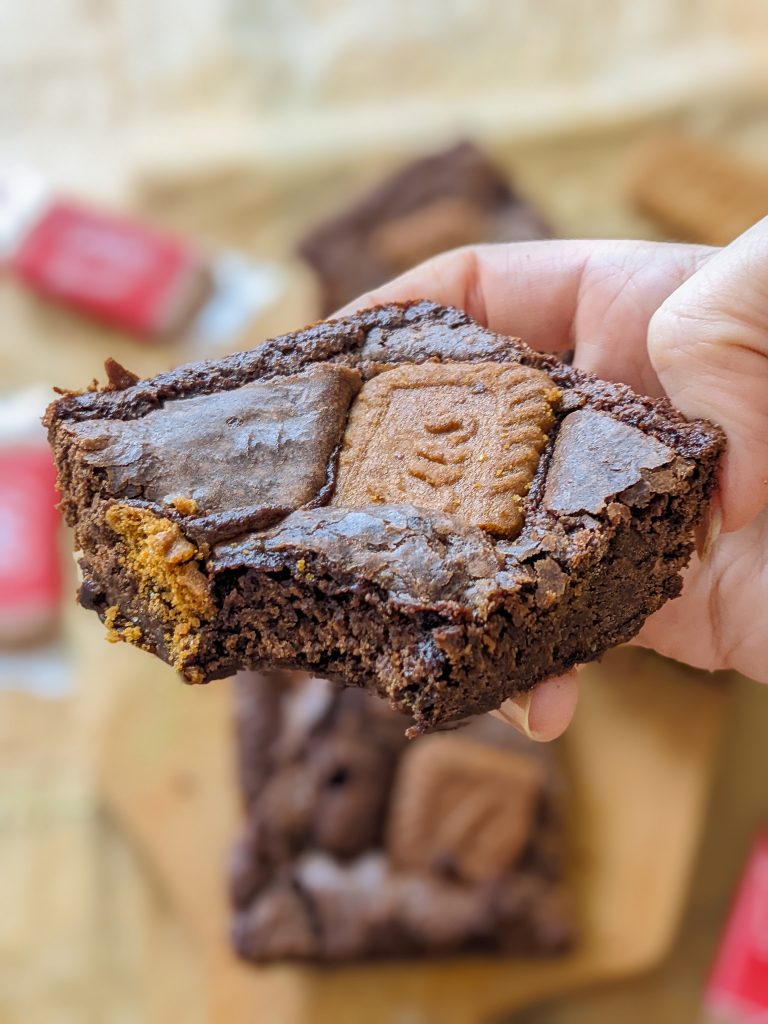 Vegan Lotus brownies
Ingredients
50 g of dark chocolate

55 g of vegan butter

100 g of white granulated sugar

25 g of brown sugar (Muscovado)

70 ml of aquafaba (water from a can of chickpeas)

½ tsp of lemon juice

50 g of all-purpose flour

½ tsp of vanilla extract

15 g of cocoa powder

Lotus biscoff cookies
Directions
Put the vegan butter and dark chocolate in a small sauce pan. Heat them over medium heat until they melt and combine them using a spoon. Set the sauce pan aside.
Weigh the flour, sift the cocoa powder and mix them together. Combine the two sugars in a small bowl.
Put the aquafaba in a large mixing bowl. Mix it with an electric mixer on low speed. When it starts to foam, add the lemon juice, increase the mixer speed and keep mixing. Gradually add the sugars (in 3 or 4 times) and keep mixing on high speed. Mix until you get a fluffy, light-brown texture, it should be forming stiff peaks.
By now the chocolate/butter mixture should be cold, but still liquid. Add that to the whipped aquafaba along with vanilla extract, and fold in very carefully with a spatula. Next, fold in the flour/cocoa mixture, add them gradually while gently folding. Break a few Lotus biscoff cookies and add them to the batter.
Line a small baking dish with parchment paper and spray it with non-stick spray. Pour the batter in the baking dish. Sprinkle some more Lotus cookies on the top of the batter. Heat the oven to 180 degrees Celsius (356 F). Bake the brownies for 30 minutes (or until fully baked).
Take the vegan Lotus brownies out of the oven and let them cool down completely before cutting and handling. You can leave them in the fridge if you want. These measurements are enough for a very small batch of vegan lotus brownies. If you want more, make sure to adjust the ingredients accordingly.
If you liked this recipe, make sure you check out my other recipes like:
Feel free to tell me what you think about this in the comments below, or send me the pictures of your own vegan Lotus brownies. If you did something differently, I would also like to hear that, I'd love to see the things you come up with.
P.S. for more recipes like this and a bunch of other stuff, follow me on Instagram, @margo_drobi.
Also, I recently started a Patreon page, where you can subscribe and help me create more/better content. In return, you will get an exclusive piece of content (recipe) each month. My plan is to increase the amount of that content if I gain a few subscribers. If you are interested and you want to find out more, I will leave the link to my Patreon right – here.