Vegan chocolate cake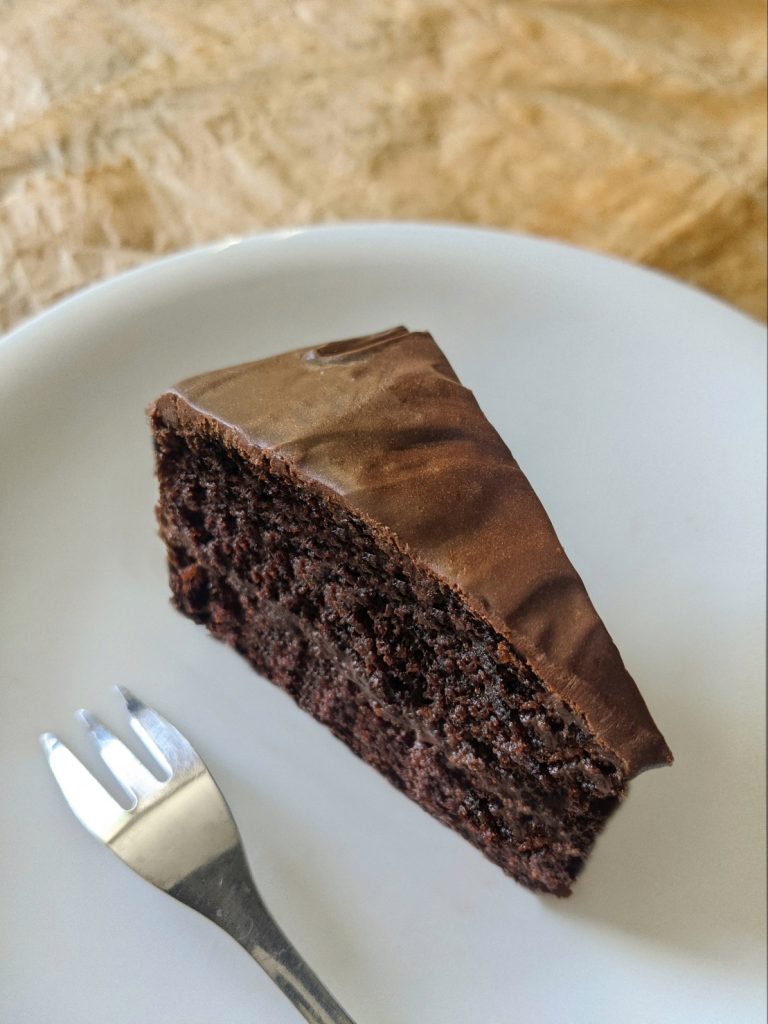 There are plenty of complicated recipes on this blog, so today I thought I might change the course a little bit, with an easy, classic recipe – vegan chocolate cake.
This chocolate cake is something that I've been making for years. I think it is the first vegan dessert I learned to make. And now, years later, it keeps the number one spot on my go-to chocolate dessert list (which is very long).
At first I didn't want to write this post since it seemed too easy and basic. But then again, there are a bunch of people out there that don't know about this recipe, and that is a real shame. And trust me, your non-vegan friends will be just as crazy about it.
This vegan chocolate cake is rich, creamy, soft and probably your future favorite cake as well. Besides, the ingredients are super simple and cheap, which is awesome.
A piece of advice
Vegan chocolate cake is probably one of the easiest cakes out there. But as you probably know, a lot of issues can arise while baking. So if you don't have any experience (or even if you do), you might find this section helpful.
The number one thing I always mention is – use fresh/new ingredients for baking, and not the ones that have been collecting dust in your pantry for months.
Use granulated sugar for this recipe. Do not forget to grease the baking dish you are using, this way you will be able to easily remove the cake layers from it. Check if the layers are baked after 12 minutes, by using a toothpick. The baking time can vary and will depend on your oven, or the baking dishes or the thickness of the layers. In any case, if the toothpick comes out clean when you poke the cake all the way to the bottom – you're good to go.
Handle the layers only after they have completely cooled down. Be very careful not to break them.
Coconut cream is sold in cans, usually in the Asian food section of a store. If you can't find it, buy some full-fat coconut milk (also in a can), leave it in a fridge and use the cream that forms on the top of the can. Pick a vegan chocolate that has cocoa butter in it (aka real chocolate).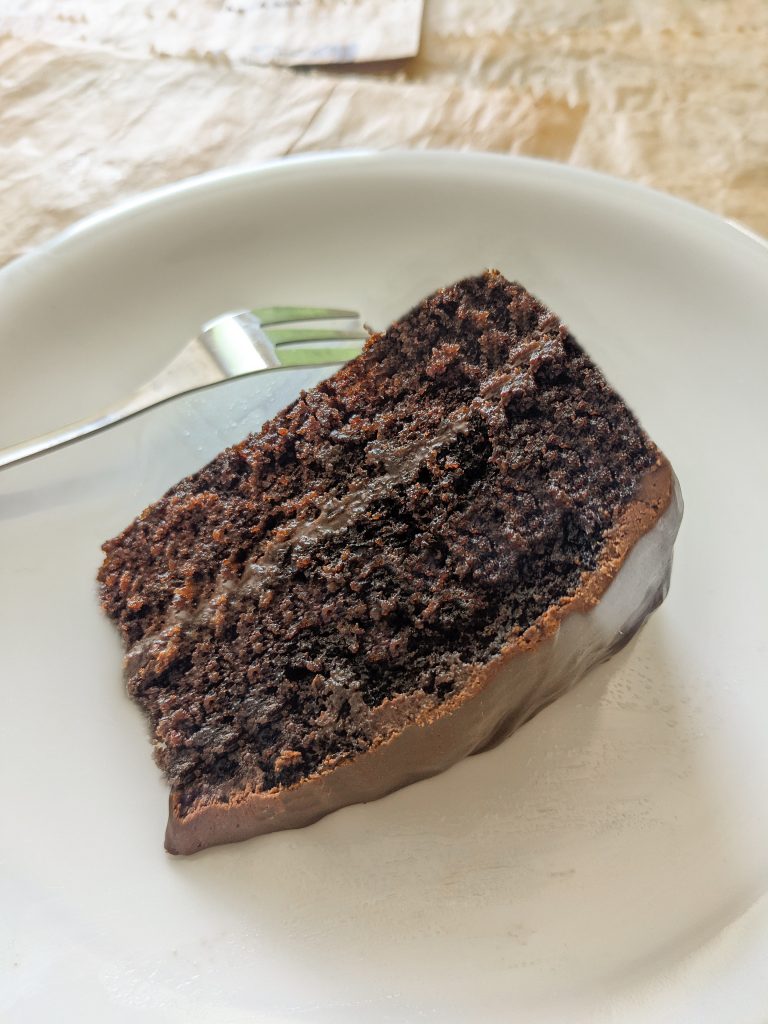 Vegan chocolate cake
Course: Sweet
Ingredients
For the cake:

200 g of flour (all-purpose)

30 g of cocoa powder

½ tsp of salt

1 tsp of baking soda

200 g of sugar

240 ml of boiling water

1 tsp of instant coffee

120 ml of oil

1 tbsp of vinegar

1 tsp of vanilla extract

For the filling/glaze:

180 ml of coconut cream

250 g of dark vegan chocolate
Directions
Put the flour, cocoa powder, salt and baking soda in a large bowl. Mix everything together with a wire whisk until the ingredients are well combined. Add the sugar and mix once again.
Bring the water to boil and mix it with 1 teaspoon of instant coffee. Pour that mixture into the bowl with the dry ingredients. Then add the rest of the liquid ingredients (oil, vinegar, vanilla extract) and mix until all of the ingredients are well combined.
Find a baking dish (or several) that you are going to use and line it with some parchment paper. Spray the baking dish with some non-stick spray. Divide the cake batter into 2 or 3 equal parts (depending on the size of your baking dishes), which will be the layers of your cake.
Bake each layer in the oven on 180 degrees Celsius (356 F) for about 12 minutes. The layer is done when you poke the cake with a toothpick and it comes out clean. If you need to bake it for a few more minutes, feel free to do so.
When you bake the layers, let them cool down before handling them. Set them aside and start preparing the filling/glaze.
Chop the dark chocolate into small pieces, put it in a deep bowl and set it aside. Put the coconut cream in a saucepan and heat in on a stove over medium heat. When it begins to simmer a little bit remove it from the stove. Pour the coconut cream over the chopped chocolate and set it aside for a few minutes.
When the chocolate is completely melted, mix the two together. Put the mixture in the fridge for some time (10 – 15 minutes), the goal is for the mixture to become a little bit thicker (but not hard). You can also leave it on room temperature but it will take longer.
Take the electric mixer and mix the filling until you get an almost fluffy, mousse-like texture. It should become somewhat lighter in color as well. Make sure it is not too liquid/flowy. Use this as a filling and the icing for this cake.
Put the bottom layer on a large plate and spread some filling on top of it. Cover it with the second cake layer. Use the remaining filling/icing to cover the entire cake.
Leave the vegan chocolate cake in the fridge until the icing has hardened. Then take the cake out of the fridge, cut and serve.
If you liked this recipe, make sure you check out my other recipes like:
Feel free to tell me what you think about this in the comments below, or send me the pictures of your own vegan chocolate cake. If you did something differently, I would also like to hear that, I'd love to see the things you come up with.
P.S. for more recipes like this and a bunch of other stuff, follow me on Instagram, @margo_drobi.
Also, I recently started a Patreon page, where you can subscribe and help me create more/better content. In return, you will get an exclusive piece of content (recipe) each month. My plan is to increase the amount of that content if I gain a few subscribers. If you are interested and you want to find out more, I will leave the link to my Patreon right – here.