Ginger soup (tang yuan)
Vegan ginger soup (tang yuan) is a Chinese dish and it is a dessert. You read that right. I never heard of such a thing before, which is probably also the case for a lot of my readers. But since I like to try a lot of new stuff and I love Asian cuisine, I figured – why not?
And I have to say, I really liked this. It is practically a mochi soup! This is also something that I think kids would like. You can also make tang yuan with them, since the shaping process is really fun. There are plenty of ways to make these dumplings, they come in a lot of shapes and sizes. But I decided to make the dumplings that would be suitable for the fall, or maybe even Halloween.
And so I ended up with these pumpkin dumplings. They are sticky, sweet and they float around in a sweet, simple ginger soup. It isn't an everyday dessert, but it sure is a good one for special occasions.
A piece of advice
This recipe is pretty easy and you don't need to use any special dishes to make it. But there are (as always) a few helpful things that I will mention.
The most important thing in this recipe is the glutinous rice flour. Do NOT use the regular rice flour. If you do that, you won't end up with soft and sticky dumplings like these. Pay attention to the packaging and look for a letter G (glutinous). For my Balkan readers, I get my flour in Belgrade in block 70 (in case you were wondering).
I did not add any food coloring to these dumplings, but if you are not satisfied with the color intensity in the end you can add some. Gel food coloring will do just fine.
When you make the tang yuan dumplings, make sure that the dough has a play-doh like texture. It should not be too soft/sticky or too hard. So add some water or some more rice flour if you have to. And don't let the dumplings marinade in water for too long, the soup is supposed to be served right away. Also, don't prepare the dough in advance, it might dry out and crack before you get the chance to cook it. If you do have to set it aside for some reason, it would be best if you can wrap it in a plastic wrap.
These measurements are enough for one vegan tang yuan soup. I only made this one for myself. But if you need more than that, make sure to adjust the measurements.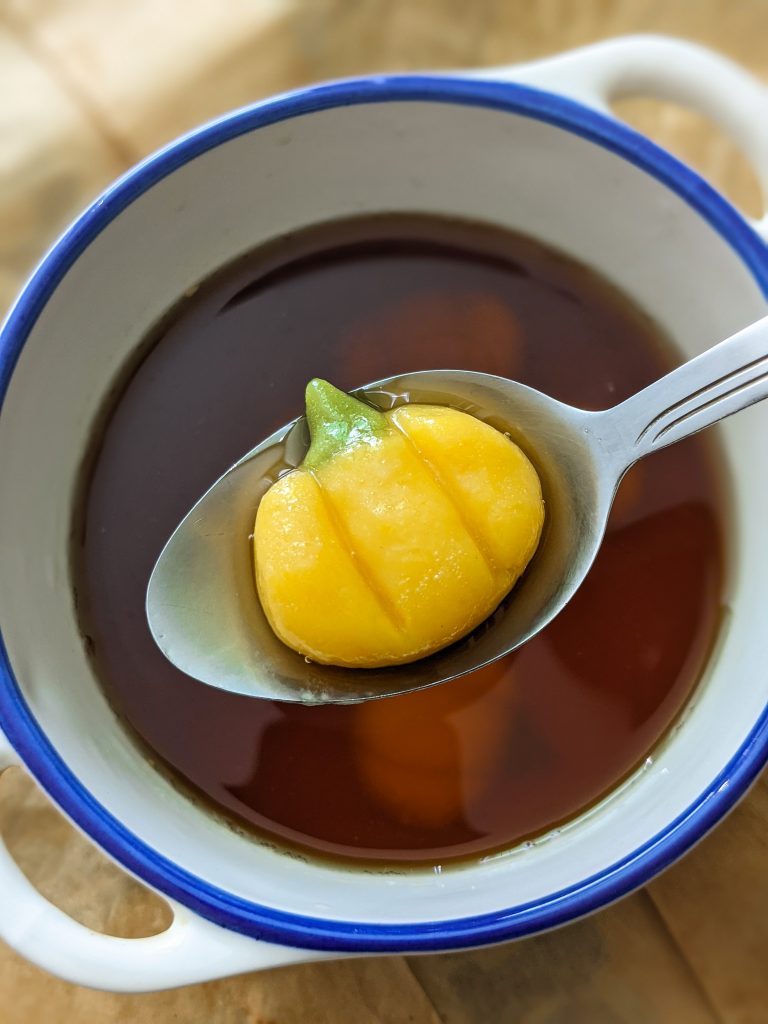 Ginger soup (tang yuan)
Course: Sweet
Ingredients
For the soup:

260 ml of water

60 g of brown sugar

4 slices of fresh ginger

For the dumplings:

55 g of hokkaido pumpkin

2 tbsp of sugar

30 g + 3 tsp of glutinous rice flour

water

matcha powder or green food coloring

orange food coloring (optional)
Directions
Start off by preparing the soup. Slice and peel the ginger and cut it into strips. Put all of the soup ingredients in a small saucepan and bring it to boil while stiring from time to time. Let it boil for 5 minutes and then remove from the stove. Cover it with a lid and set aside.
Prepare the pumpkin dumplings next. Cut the hokkaido pumpkin into small pieces. Steam them in a steamer until they become fork tender. Remove them from the steamer basket and mash or blend them until you get a pumpkin puree. Make sure that no larger pieces are left. Add 2 tbsp of sugar to the pumpkin puree and mix those two together. Set aside.
In a small bowl mix together 3 tsp of glutinous rice flour with 1 tsp of water. Mix together until you get a playdoh-like texture. Add more water if you have to. Mix a small amount of matcha with a little bit of water. Put a few drops in the rice flour doug and knead with your fingers. Repeat this until you get a green piece of rice flour dough. Wrap it in a plastic wrap (or cover) and set aside.
Mix 30 g of glutinous rice flour with the pumpkin puree. Knead with your hands until you get a playdoh-like texture. If it is too sticky or too dry add more rice flour or a splash of water. If the color of the dough is not orange enough for you, feel free to add some orange food coloring .
 Divide the pumpkin dough into several smaller pieces and roll them into balls. Flatten each piece in order to get the shape like in the pictures. Create the stems from the green dough and gently press them down on the pumpkin dough. Take a toothpick and press it down 2 times in order to create 2 lines on the pumpkin dumpling (like in the pictures). Repeat this process until you run out of dough pieces. Set everything aside.
Bring a pot of water to boil. Put the pumpkin dumplings in the boiling water very gently, reduce the heat to medium, and cook them until they rise to the surface. Take them out of the water gently and put them on a plate.
Remove the ginger strips from the ginger soup and put the soup in a serving bowl. Place the pumpkin dumplings in the vegan ginger soup and serve.
If you liked this recipe, make sure you check out my other recipes like:
Feel free to tell me what you think about this in the comments below, or send me the pictures of your own vegan tang yuan. If you did something differently, I would also like to hear that, I'd love to see the things you come up with.
P.S. for more recipes like this and a bunch of other stuff, follow me on Instagram, @margo_drobi.
Also, I recently started a Patreon page, where you can subscribe and help me create more/better content. In return, you will get an exclusive piece of content (recipe) each month. My plan is to increase the amount of that content if I gain a few subscribers. If you are interested and you want to find out more, I will leave the link to my Patreon right – here.