Vegan matcha mochi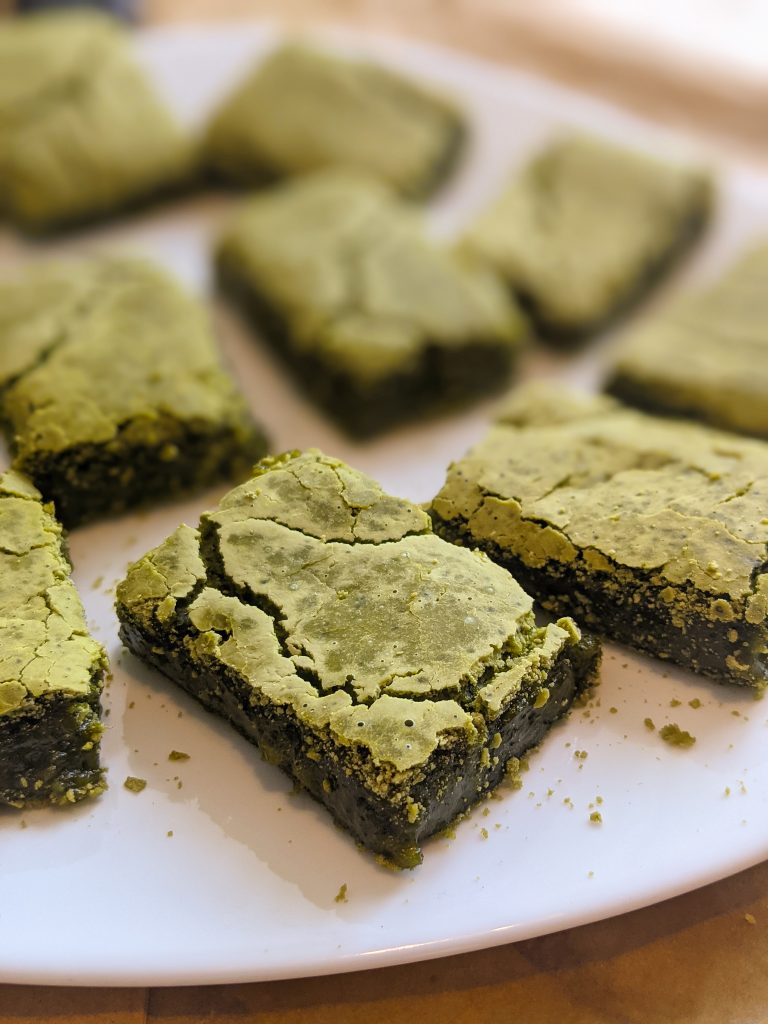 Vegan matcha mochi is a dessert I made for a small wedding catering I did the other day. I wanted to bring something that the guests maybe didn't try before, since the other dessert was very simple (chunky monkey chocolate muffins). So I made this last minute (I wanted it to be fresh).
Other than that, I never baked mochi before, I only steamed them in an improvised steamer. It is safe to say that this method works too. I do have to warn you, this may not be for everyone. If you don't like matcha, you probably won't like this recipe. I absolutely adore it so this is probably the dessert of my life.
Vegan matcha mochi is sticky, sweet, and a bit bitter. But unlike the mochi I made before, the surface is dry and cracked. It may not look as cute, but it is way easier to handle. If you are a fan of this Japanese dessert (and of green tea), this is the recipe for you. If matcha is not really your thing, but you still want to try mochi, there are plenty of different recipes on this blog.
Some health benefits
Matcha contains a concentrated amount of antioxidants, which may reduce cell damage and prevent chronic disease. Some studies have shown that matcha could prevent liver damage and decrease the risk of liver disease. However, additional studies are needed to look at the effects on humans in the general population.
Matcha has been shown to improve attention, memory, and reaction time. It also contains caffeine and L-theanine, which can improve several aspects of brain function. Studies show that green tea and matcha can decrease several heart disease risk factors. Some also show that green tea extract helps increase metabolism and fat burning, both of which may aid weight loss.
These are only a few reasons you should try and incorporate some matcha into your diet. I use it in cakes, sometimes I drink matcha latte's or just as plain tea in the morning. If you are using it, please be careful and try not to overdo it. You don't want to eat a batch of these matcha mochi in one day by yourself.
A piece of advice
This recipe is very easy and as you can see, requires only a few ingredients. Regardless of that, I am here to help if anything goes wrong.
First of all I have to say – do NOT use regular rice flour! Use only glutinous (sweet) rice flour. This should be written on the packaging, but if you are still not sure, look for a letter G somewhere on the packaging. If you use any other flour you will not get sticky and soft mochi like these. If my Balkan friends are wondering, I occasionally buy my glutinous rice flour in Belgrade, in block 70. You can also try your luck in any Asian food store/supermarket section.
I prefer to sift the matcha in, instead of just adding it with a spoon. Mainly because it sometimes tends to form clumps and they are very difficult to break apart in the batter. You want to end up with an evenly colored mochi.
As I mentioned in the instructions bellow, you should pay attention to the thickness of your batter. If you notice that it is too runny, add some more glutinous rice flour. If you notice that it is too thick and you can't pour it into the baking dish easily – add more plant-based milk. You can use any milk you want (soy milk, almond, coconut etc.).
The matcha mochi are best when served while still warm, but they are not bad at all the day after (or the day after that). Just make sure you store them in an air-tight container in the fridge.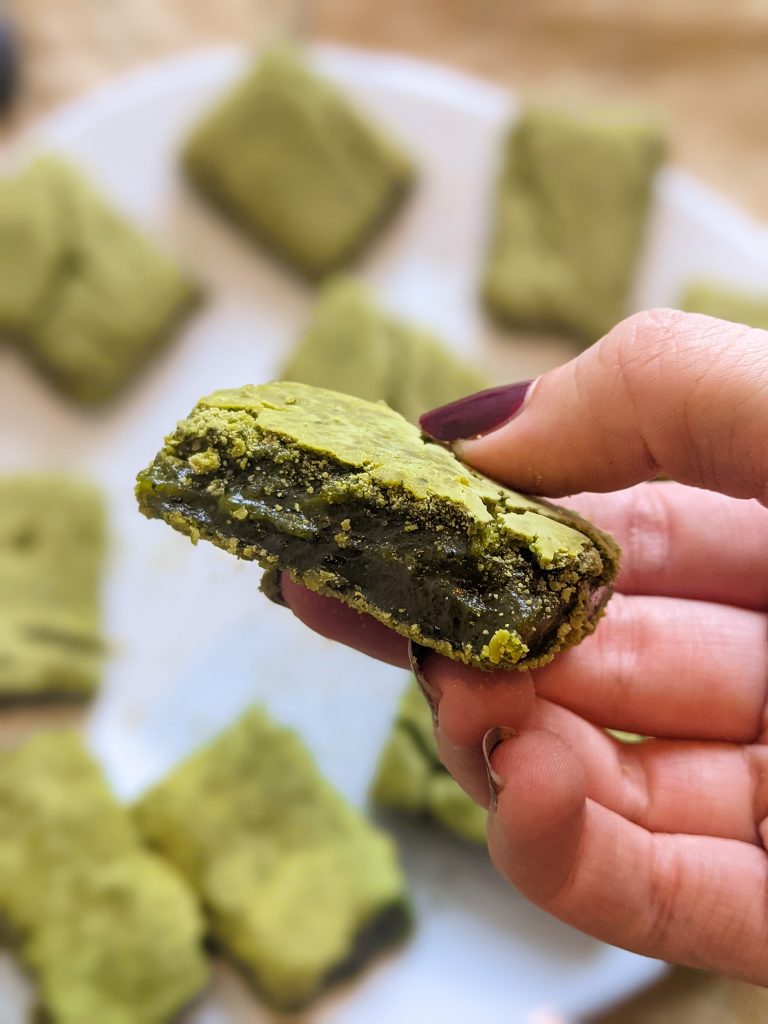 Vegan matcha mochi
Ingredients
280 g of sweet rice flour (glutinous)

3 tbsp of matcha powder

2 tsp of baking powder

150 g of sugar

2 tbsp of oil

300 ml of plant-based milk
Directions
Put the glutinous rice flour in a deep bowl. Sift the matcha powder through a sieve and mix the two together using a wire whisk. Add two tsp of baking powder and the sugar and whisk once again.
Then add the plant-based milk and the oil. Mix everything together until you get a homogenous batter. It should not be too thick, you should be able to pour it, but it should also not be too runny.
If any of the two happens, feel free to add some more plant-based milk or glutinous rice flour.
Line a square baking dish with some parchment paper. Pre-heat the oven to 160 degrees Celsius (325 F). Pour the mochi batter into the baking dish and bake it in the oven for 50 minutes. It is supposed to become cracked on the surface (like in the pictures), but soft and sticky in the middle.
Take it out of the oven, let it cool down a bit and then cut it into small squares or rectangles. It may be difficult to do this with a knife since the dough will be very sticky. I had to use a spatula to divide the pieces.
Serve the matcha mochi while they are still warm.
If you liked this recipe, make sure you check out my other recipes like:
Feel free to tell me what you think about this in the comments below, or send me the pictures of your own vegan matcha mochi. If you did something differently, I would also like to hear that, I'd love to see the things you come up with.
P.S. for more recipes like this and a bunch of other stuff, follow me on Instagram, @margo_drobi.
Also, I recently started a Patreon page, where you can subscribe and help me create more/better content. In return, you will get an exclusive piece of content (recipe) each month. My plan is to increase the amount of that content if I gain a few subscribers. If you are interested and you want to find out more, I will leave the link to my Patreon right – here.