Vegan butternut puree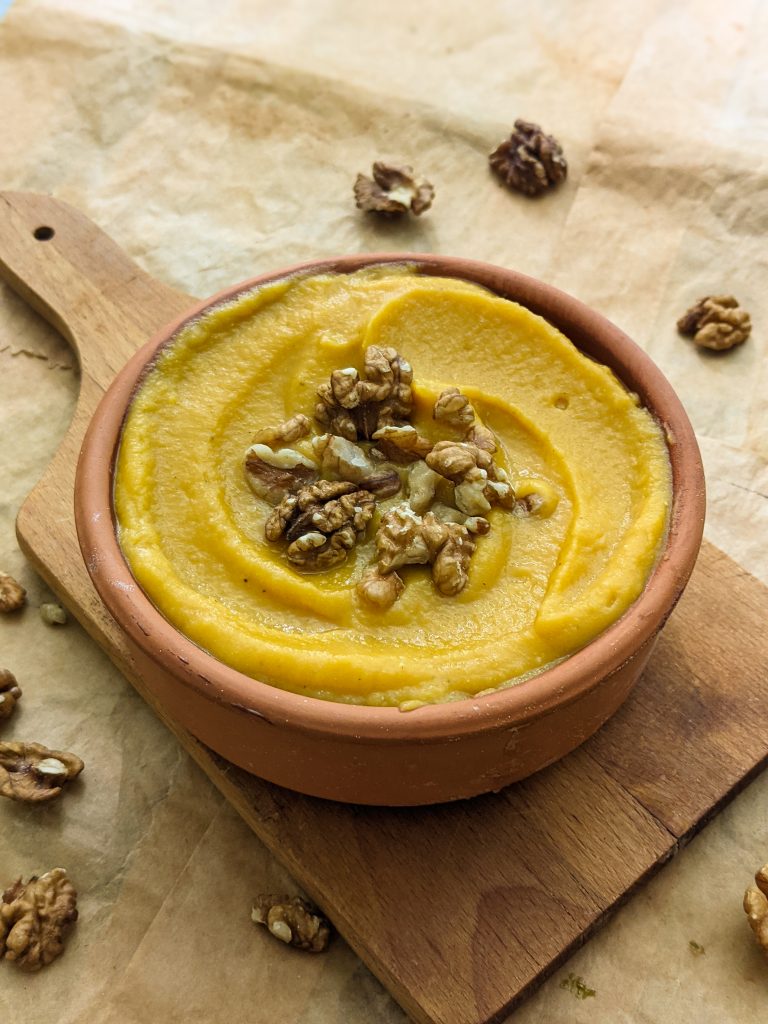 Vegan butternut puree is exactly what I needed these days. I did not post as much as I usually do, and that's not me being lazy. I was sick for a long time (still am), but it's looking up.
And since it's the flu season (at least in my town), you might need a recipe like this – warm and soothing. I kind of wish I made this before. This vegan butternut puree is more of an autumn recipe. But it is time to let the summer go, and go make some orange foods. At least that's what I will do.
This recipe is vegan, creamy, very tasty and also very good for your health. I highly recommend it for the upcoming autumn days.
Also, I will try to make more dishes like this one, it is time to boost my immune system once again. If you are interested in how some of these ingredients can improve your health, I suggest you keep reading the next paragraph.
Again, if I am not as active these days, I apologize. I'm probably in my bed with a runny nose and a headache.
Some health benefits
This is a section that I have neglected lately in my posts. But since this recipe is very easy, and it does not require any tips and additional advice, I might as well revisit this part of the post, and tell you why this vegan butternut puree is so awesome.
Other than being gluten-free and vegan, this recipe contains a cool ingredient that I have talked about before – butternut squash.
Butternut squash is low in calories but high in fiber and many nutrients, including vitamin A, vitamin C, magnesium, and potassium. It can help with weight loss. The high antioxidant content of butternut squash may reduce your risk of certain conditions, including heart disease, lung cancer, and mental decline.
Butternut squash can be added to a wide variety of both sweet and savory recipes, such as stews and pies. There are a lot of recipes out there that utilize this delicious plant.
Lentils are an excellent source of B vitamins, iron, magnesium, potassium and zinc. They're also a great source of plant-based protein and fiber.
Lentils are a great source of health-promoting polyphenols, which have strong antioxidant and anti-inflammatory properties with potential cancer-cell inhibiting effects.They may protect your heart by supporting weight loss, preventing homocysteine accumulation in your body and improving cholesterol and blood pressure levels.
Onions contain decent amounts of vitamin C, folate, vitamin B6, and potassium, which provide a number of benefits. They are rich in plant compounds and antioxidants, especially quercetin and sulfur-containing compounds. Colorful varieties, such as yellow or red ones, pack more antioxidants than white ones.
Onions have antioxidant and anti-inflammatory effects. They may lower blood sugar levels, improve bone health, and reduce the risk of several types of cancers. They can cause you to cry while cutting them, and in some people they can cause even more irritation. But if they don't bother you that much, I suggest you incorporate them into your meals.
Sweet potatoes are an excellent source of beta carotene, vitamin C, and potassium. They are also abundant in vitamin A and manganese, and are also a decent source of many other vitamins and minerals. Sweet potatoes are rich in many plant compounds, such as beta carotene, chlorogenic acid, and anthocyanins. Sweet potatoes are likely healthier than regular potatoes. They have a lower glicemic index and more fiber.
Sweet potatoes may have a variety of benefits, including improved blood sugar regulation and reduced oxidative damage. Studies indicate that sweet potatoes' potent antioxidants may reduce your risk of cancer. Purple potatoes have the highest antioxidant activity. They will also protect you from vitamin A deficiency.
These are only some of the reasons you might want to include these into your diet.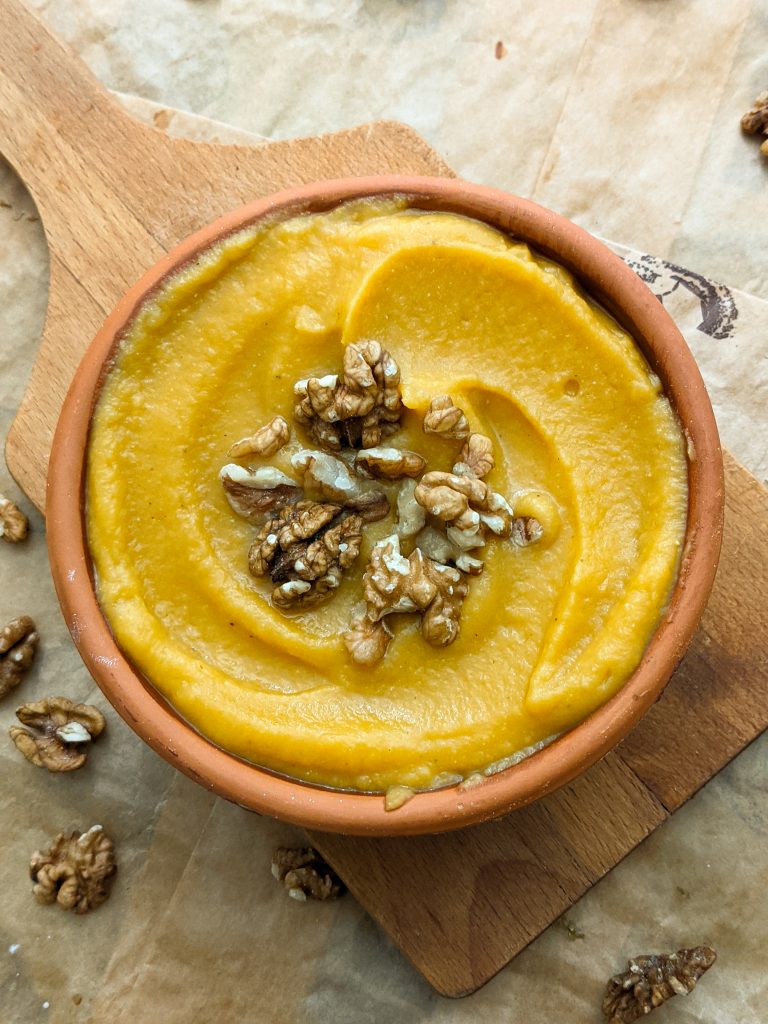 Vegan butternut puree
Ingredients
200 g of butternut squash

130 g of sweet potato

100 g of red lentils

400 ml of water

1 small onion

½ tsp of salt

A few pinches of pepper

1 tbsp of cashew butter

A few walnuts (optional)
Directions
Peel the skin from the butternut squash and the sweet potato. Cut them into small pieces. Dice the onion and rinse the red lentils.  Put the water in a small saucepan and add all of the ingredients (except the cashew butter).
Bring it to boil over medium heat and then reduce the heat to low. Cook until the vegetables become fork-tender (about 15 minutes). Remove the saucepan from the stove and let everything cool down a bit. 
Transfer everything from the saucepan into the blender cup. Blend until you get a thick puree. Taste it to see if it needs more salt. Add the cashew butter and mix everything with a spoon. Transfer the puree into a serving bowl and top it off with some walnuts (or other seeds and nuts).
These measurements are enough for 1 small bowl of vegan butternut puree. If you need more than that, feel free to adjust the measurements properly.
If you liked this recipe, make sure you check out my other recipes like:
Feel free to tell me what you think about this in the comments below, or send me the pictures of your own vegan butternut puree. If you did something differently, I would also like to hear that, I'd love to see the things you come up with.
P.S. for more recipes like this and a bunch of other stuff, follow me on instagram, @margo_drobi.
Also, I recently started a Patreon page, where you can subscribe and help me create more/better content. In return, you will get an exclusive piece of content (recipe) each month. My plan is to increase the amount of that content if I gain a few subscribers. If you are interested and you want to find out more, I will leave the link to my Patreon right – here