Corn flour croissants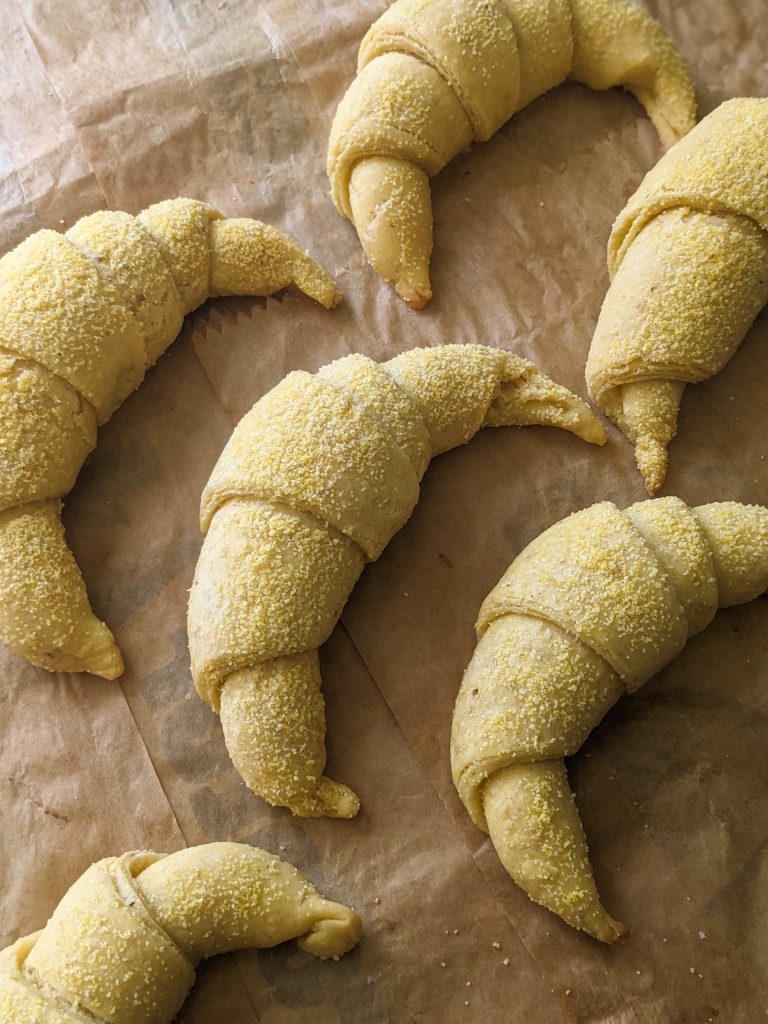 Today I decided to recreate my favorite kind of croissant, but with no dairy or eggs. This is my version of vegan corn flour croissants. Did they turn out like my favorite ones from the bakery? Not really. But they were very delicious.
These croissants are super fluffy and buttery, and the corn flour and polenta make them really special, I am not quite sure why. You can eat them with some hummus and sliced veggies, you can make a croissant sandwich, or just eat them on their own. I like to eat them with some black olive hummus.
I did my best to explain the shaping process in a tutorial I linked below, so if you are doing this for the first time, it might be very helpful.
A piece of advice
This is a very simple recipe with no crazy ingredients, but I still need to explain a few things. Especially if you are a beginner. It may be a bit hard to understand the shaping instructions, which is why I made a simple tutorial reel on my Instagram right – here.
I shaped them one by one, but you can probably find a faster way on youtube. However, this is a very small batch of croissants, so I didn't have the need to cut out multiple pieces of dough at once.
I know that corn flour is a name for polenta in some countries, but it is not the same here in Bosnia. I am not really sure what the English version of it is, but you can use 400 grams of all-purpose flour if you want. You also don't have to use soy milk, any plant-based milk will do. Make sure your dry yeast is fresh, I always open a new small pack just to be sure it's still okay.
Golden flax seeds are something I use when I need an egg replacement while baking. The golden ones are not really visible in the dough, but if you don't care about the look of these corn flour croissants, you can also use the brown ones. Don't forget to freeze the vegan butter in advance. This will allow you to grate it without making a mess. But also leave some on the side for brushing in the end.
You can also let your croissants proof some more before baking them. Leave some space between them in the baking dish, since they will grow some more while they bake in the oven. These measurements make about 10 medium size corn flour croissants. If you need more than that, adjust the measurements accordingly.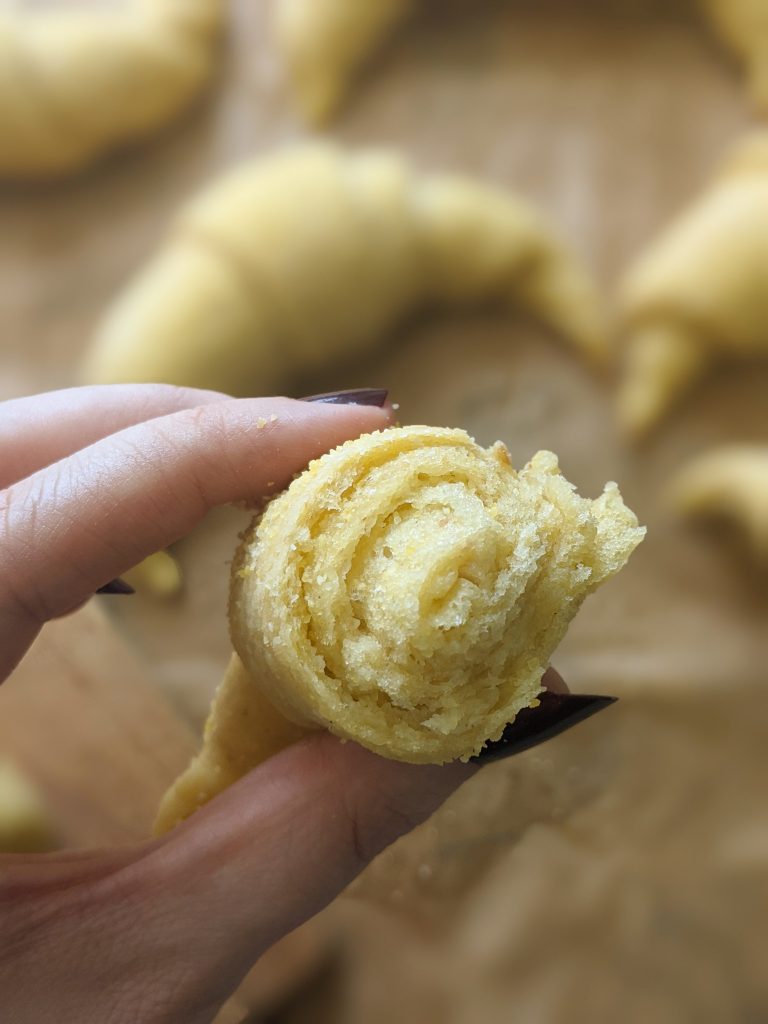 Corn flour croissants
Course: Salty
Ingredients
300 g of all-purpose flour

100 g of corn flour

3 tbsp of ground golden flax seeds + 5 tbsp of water

1 + ½ tbsp of oil

250 ml of soy milk

1 tbsp of agave syrup

7 g of active dry yeast

1 tsp of sugar

2 tsp of salt

50 g of polenta

130 g of frozen vegan butter

160 g of frozen vegan butter

More vegan butter and polenta for brushing
Directions
Put the active dry yeast and a teaspoon of sugar in a little bit of lukewarm soy milk. Set it aside for 10 minutes.
In a large bowl mix the all-purpose flour, corn flour and salt. Add the yeast, flax egg (ground flax seeds and water), oil, agave syrup and soy milk. Mix everything and knead it into a smooth dough. If the dough is too sticky, gradually add more all-purpose flour until you are able to knead a smooth dough.
Sprinkle some flour on a flat surface and roll out the dough with a rolling pin. Grate the frozen vegan butter over this dough and sprinkle polenta on top of that. Roll the dough into a log and cut it into 4 pieces. Cover everything with a kitchen towel and let it rest for one and a half to two hours.
After the dough rises, take one piece and roll it thin with a rolling pin. Cut off the rough edges to get a rectangle shape. Cut it into 2 halves starting from the upper left corner and moving down to the lower right corner. Take one half and roll it into a croissant shape, I filmed a tutorial and you can find it in my instagram reels here – @margo_drobi. You can make them in any size you want and use the parts you cut off to make some more.
When you roll all of the croissants up, melt some vegan butter and use it to brush them. Sprinkle with some more polenta. Line a baking dish with some parchment paper. Leave some space between them in the baking dish, since they will grow some more while they bake in the oven. Heat the oven to 200 degrees Celsius (392 F) and bake them for 12 minutes. Serve them while they're still warm.
These measurements make about 10 medium size corn flour croissants. If you need more than that, adjust the measurements accordingly.
If you liked this recipe, make sure you check out my other recipes like:
Feel free to tell me what you think about this in the comments below, or send me the pictures of your own vegan corn flour croissants. If you did something differently, I would also like to hear that, I'd love to see the things you come up with.
P.S. for more recipes like this and a bunch of other stuff, follow me on Instagram, @margo_drobi.
Also, I recently started a Patreon page, where you can subscribe and help me create more/better content. In return, you will get an exclusive piece of content (recipe) each month. My plan is to increase the amount of that content if I gain a few subscribers. If you are interested and you want to find out more, I will leave the link to my Patreon right – here.
And that was it for today, if you are using Pinterest make sure you follow me on there, and if you want, pin this image: