Vegan buttercream cupcakes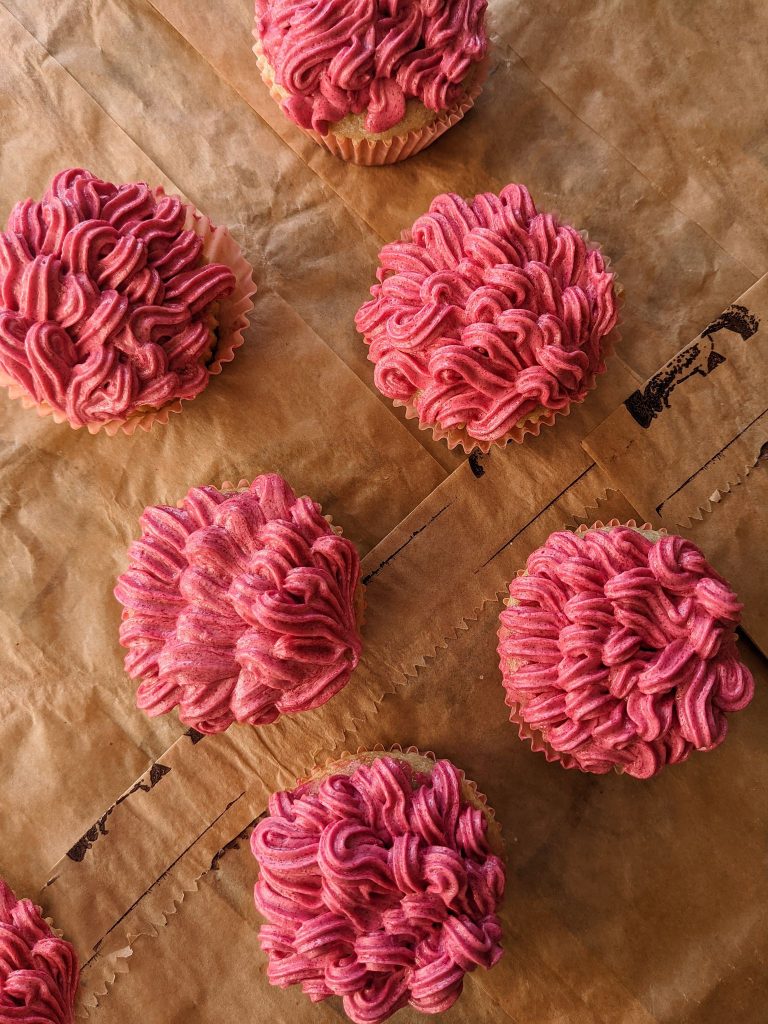 Since I live in a small town in Bosnia, it is not always easy for me to find ingredients that I need for making certain vegan dishes. For example, I wanted to make vegan buttercream cupcakes with cute pink or red icing for the longest time. But I could not find the ingredients that I wanted.
So you can imagine my joy when I finally stumbled across a red beet powder and some vegan cream cheese in a store. I had to make these the very same day. I don't order any of my ingredients online, mainly because I know that most people from my country don't do that, so I want to make my recipes doable for them.
This is my first time decorating cupcakes like this, so I am aware that they don't look perfect. But in any case, I have described my piping technique in the recipe for those of you who are interested.
Once again I will skip the health benefits part of my post, since this dessert is not very good for you. I'm not gonna lie to you, if you are on a diet, you might want to skip this one. But in case you want to surprise someone with really cute vegan buttercream cupcakes, this is the recipe for you.
These cupcakes are vegan, super sweet and very simple to make. So if you are a beginner, you do not have a lot to worry about.
A piece of advice
This recipe is pretty easy, if you ever made cupcakes you won't have any problems with it. But just in case there are a few beginners reading this post, I will write down a few tips.
First of all, you can use any plant based milk that you want. Also, don't forget to grease the paper muffin molds. That way the dough will not stick to the paper when you try to eat them.
When mixing the liquid and solid ingredients together, make sure that you don't overmix, it is better to just combine them. To be sure that they are baked, poke them with a toothpick. If it comes out clean, you're good to go.
The color of your icing will depend on the red beet powder that you are using. Mine was kind of pink, but I have seen some red ones in the past, so you might end up with a darker color.
If you can't find or afford red beet powder, you can always use food coloring (a much smaller amount). Just be careful with the red food coloring, most of the brands that you can find in the stores are not vegan.
I described the piping technique the best I could, since I was not able to make a video of me doing it. I also left you the photos of the piping nozzles I used for these two looks. My icing does not look perfect and I will need a lot of practice as well, but if you like what I did, you can try my technique.
These measurements make about 8 cupcakes, but that also depends on the size of the molds you are using.
Vegan buttercream cupcakes
Course: Sweet, Sweet
Ingredients
130 g of flour


130 g of granulated sugar


1 tsp of baking powder


1/2 tsp of baking soda


180 ml of almond milk


1 tsp of apple cider vinegar


1 tsp of vanilla extract


For the icing:

225 g of vegan margarine

50 g of vegan cream cheese

1 tsp of vanilla extract

250 g of powdered sugar

2 tbsp of red beet powder
Directions
Mix all dry ingredients in a single bowl. In the separate bowl mix the almond milk and apple cider vinegar and set it aside for a few minutes (this way they will form buttermilk).
Add the vanilla to the buttermilk and mix all of this with the dry ingredients. Stir everything briefly until it is combined, but not too much so you don't loose the bubbles.
Place the muffin paper molds in a muffin tray and spray them with non-stick spray. Pour the dough into molds and bake the cupcakes in the oven for 20 minutes on 180 degrees Celsius.
Meanwhile, prepare the icing. Put the margarine in a large bowl. Mix it with a mixer on low speed until it gets smooth and lighter in color. Add the vegan cream cheese and mix until the two are combined.
In a separate bowl mix together powdered sugar and red beet powder. Add them to the margarine/cream cheese bowl along with vanilla, and mix with a mixer on high speed until you get a smooth pink buttercream.
Put the buttercream in a piping bag with a nozzle (I used picture number one nozzle for rose shaped icing and picture number two for the second look). Twist the open end of the bag and keep a steady pressure on it with your hand while piping.
For the rose icing start in the middle. Pipe out a small amount of icing in the middle of the cupcake and keep squeezing it out (with no break) in circle until you reach the edge of the cupcake.
For the second look I started at the edge of the cupcake and worked towards myself. Squeeze out a small amount of icing, pull the bag slightly towards yourself and press the nozzle down like you're wiping it on the cupcake. Keep squeezing these one next to another in rows until you reach the end of the cupcake.
If you liked this recipe, make sure you check out my other recipes like:
– almond peanut butter cupcakes
Feel free to tell me what you think about this in the comments below, or send me the pictures of your own vegan buttercream cupcakes. If you did something differently, I would also like to hear that, I'd love to see the things you come up with.
P.S. for more recipes like this and a bunch of other stuff, follow me on Instagram, @margo_drobi.
Also, I recently started a Patreon page, where you can subscribe and help me create more/better content. In return, you will get an exclusive piece of content (recipe) each month. My plan is to increase the amount of that content if I gain a few subscribers. If you are interested and you want to find out more, I will leave the link to my Patreon right – here.