Vegan chana masala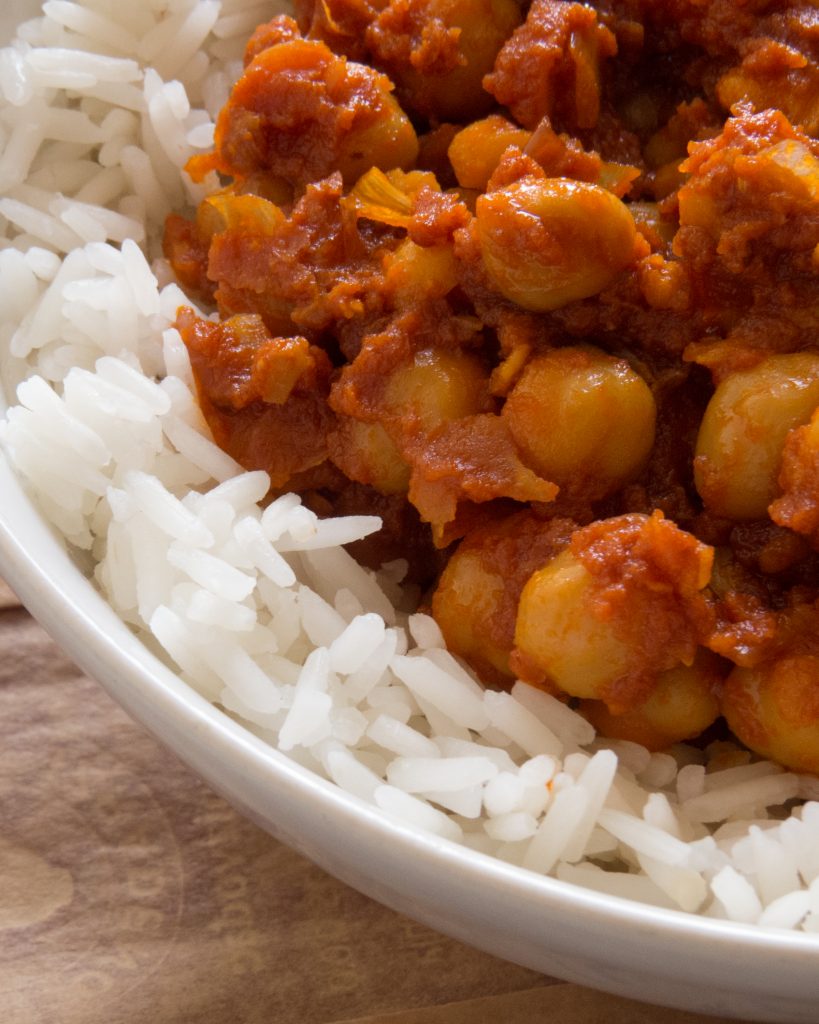 Today I am sharing one of the first things that I learned to make when I first went vegan. I figured that I will need some protein so I started incorporating chickpeas into my diet. Along the way I fell in love with this delicious Indian dish, vegan chana masala (chickpea curry).
You might have noticed that I am trying out a lot of different dishes, and since I was all caught up in experimenting, I completely forgot about this gem. It helped me a lot in moments when I needed something quick yet delicious.
It crossed my mind the other day, so I decided to make it once more and write about it. There are many versions of this dish out there, but I modified mine according to my own taste, which means it is not as spicy as some people like to make it. If that's something you're into, you can add some red chili, green chili peppers, and stuff like that. But to me, this version is perfect.
Aside from being super delicious and very easy to make, vegan chana masala can also be very good for you. For example, the main ingredient is very healthy. I realize I used chickpeas before in several recipes, but I always failed to mention its health benefits. So today I am going to write down some really cool facts about them.
Some health benefits
Chickpeas contain a moderate amount of calories and several vitamins and minerals. They're also a good source of fiber and protein. This makes them a filling food that may help lower appetite and reduce calorie intake at meals.
They have a variety of health benefits, ranging from weight management to bone health, and they are a great choice for individuals who avoid animal products.
High fiber content benefits the digestion by increasing the number of healthy bacteria in your gut and helping waste flow efficiently through your digestive tract. Chickpeas have many characteristics that may help prevent some chronic illnesses, including heart disease, cancer and diabetes.
And these are only some of the reasons you should incorporate them into your meal plan (especially if you are vegan). Luckily, there are quite a few recipes out there. But if you are too lazy to search for them, this vegan chana masala is a good start. I included a few more in this post, so if you're interested, you can check them out at the bottom of the page.
A piece of advice
You will not encounter any problems when making this recipe, but as always, there are a few things that I want to mention to make this even easier for you.
First of all, try to use the garam masala spice blend. As soon as you mix all the spices together you will be delighted by the smell. If you are not able to buy this blend, try using some cumin, chilli and smoked paprika. I made this recipe a lot of times, so it did not bother me to invest a little bit of money in these spices.
If you want to, you can save the water from a can of chickpeas (aquafaba) and make a mousse or a cake the next day, there are plenty of great recipes on the internet.
I have a go to way of cooking rice, which I included in this recipe. But you can make it in any way you want. I prefer to not put any spice in it, because there is plenty of it in the chickpea mixture. If you choose to spice it up and do something differently, I would like to know about it. So don't hesitate to send me a message or leave a comment.
There are not a lot of Indian dishes on this blog, but that might change soon. I am not big on spicy food, but every now and then I stumble onto something amazing. And I am willing to explore this cuisine some more in the near future.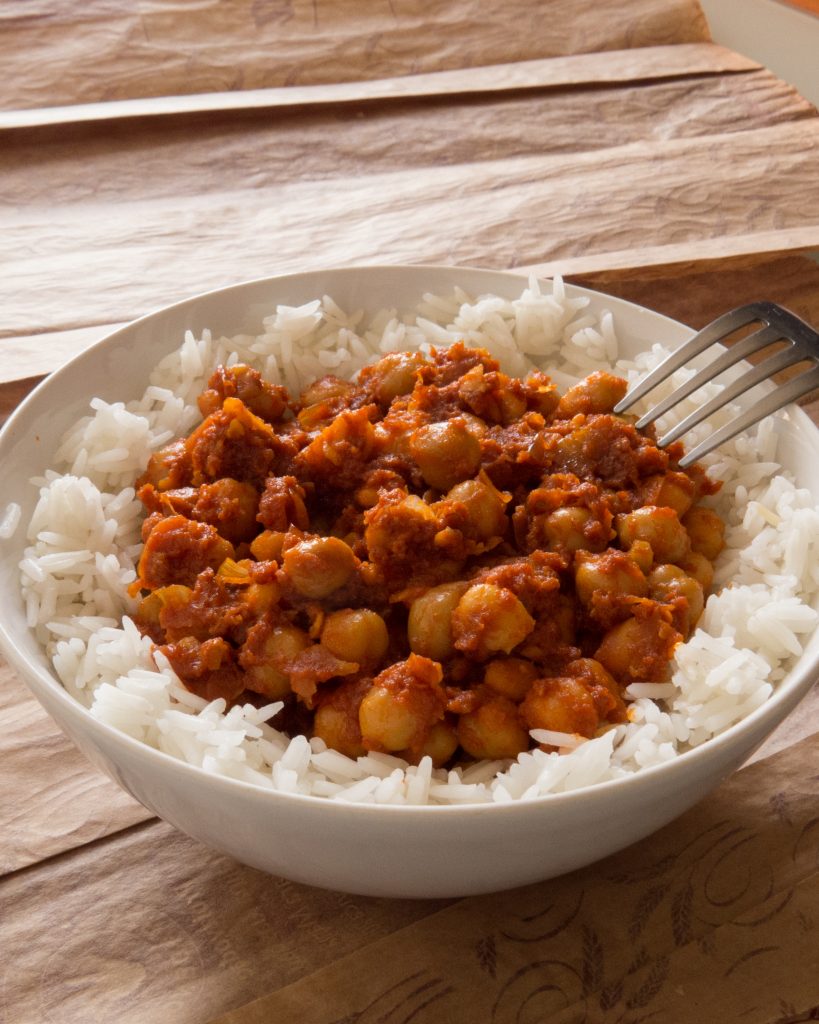 Ingredients
1 can of chickpeas
1 small onion
1/2 tsp of turmeric
1 tsp of coriander
2 tsp of garam masala spice mix
4 tbsp of tomato paste
rice
oil
100 ml of water
Instructions
Chop the onion into small pieces. Sautee the onion for a few minutes in a sauce pan with a splash of oil on medium heat.
Add coriander, turmeric and garam masala to the onions and stir for 2 minutes. Add the tomato paste and mix again for 3-4 minutes.
Drain the water from the chickpeas and add them to the mix and stir. Gradually add water to the mix and stir well again. When everything is well combined, the chickpeas are softer and covered in sauce, remove them from the stove.
Cook rice in a separate bowl. Measure the same amount of rice and water and place in a pot. Turn the stove to the highest temperature and wait for it to start boiling slightly at the edges. Turn the stove of, wrap the lid of the pot in a kitchen cloth and cover. Let it cook for 10 minutes without lifting the lid.
Serve everything while warm in the same bowl/plate.
If you liked this recipe, make sure you check out my other recipes like:
Feel free to tell me what you think about this in the comments below, or send me the pictures of your own vegan chana masala. If you did something differently, I would also like to hear that, I'd love to see the things you come up with.
P.S. for more recipes like this and a bunch of other stuff, follow me on instagram, @margo_drobi.
Also, I recently started a Patreon page, where you can subscribe and help me create more/better content. In return, you will get an exclusive piece of content (recipe) each month. My plan is to increase the amount of that content if I gain a few subscribers. If you are interested and you want to find out more, I will leave the link to my Patreon right – here.