Brazilian cheese bread (Pão de Queijo)
Recently I've seen many recipes for Brazilian cheese bread (Pão de Queijo) floating around Facebook and Pinterest. It has been a while since I have see those, and I don't know where this rise in popularity came from, but it was sure enough to inspire me as well.
And so, I have looked into many recipes for vegan and regular Pão de Queijo, and none of them were the same. Some people used boiled potatoes, some nutritional yeast, coconut cream and a bunch of different ingredients. But there were a few things they had in common: they were soft, stretchy, cheesy and tasty pieces of bread.
So I of course started thinking of the easiest possible way to make this bread. I was too lazy to boil and mash a potato, I cannot buy nutritional yeast in my town, and the coconut cream versions seemed like a bit much (I also wanted to save that one can for a cake). I did my best to keep it simple, and as I found out, less is sometimes more, and that goes for Brazilian cheese bread as well.
When I wrote about stuffed zucchini that I made last week, a lot of people asked me where I got the vegan mozzarella that melts. Apparently, not a lot of vegan cheese brands are melting nicely. The brand that I use however (GreenVie) is pretty amazing, but I am not sure you can get it outside of Europe. For this recipe I chose gouda cheese and I was happy with the results as always.
This Brazilian cheese bread was so delicious that I ate it all by myself in one sitting. But I also found that you can store it in airtight containers, it is still delicious when it gets cold. Other than that, it is very easy to make. You will probably only need a few minutes to prepare the batter and around 20 minutes to bake it. And have in mind that these will probably vanish from your table real quick after you serve them. Another great thing that I would like to mention is that you can also make this recipe gluten free.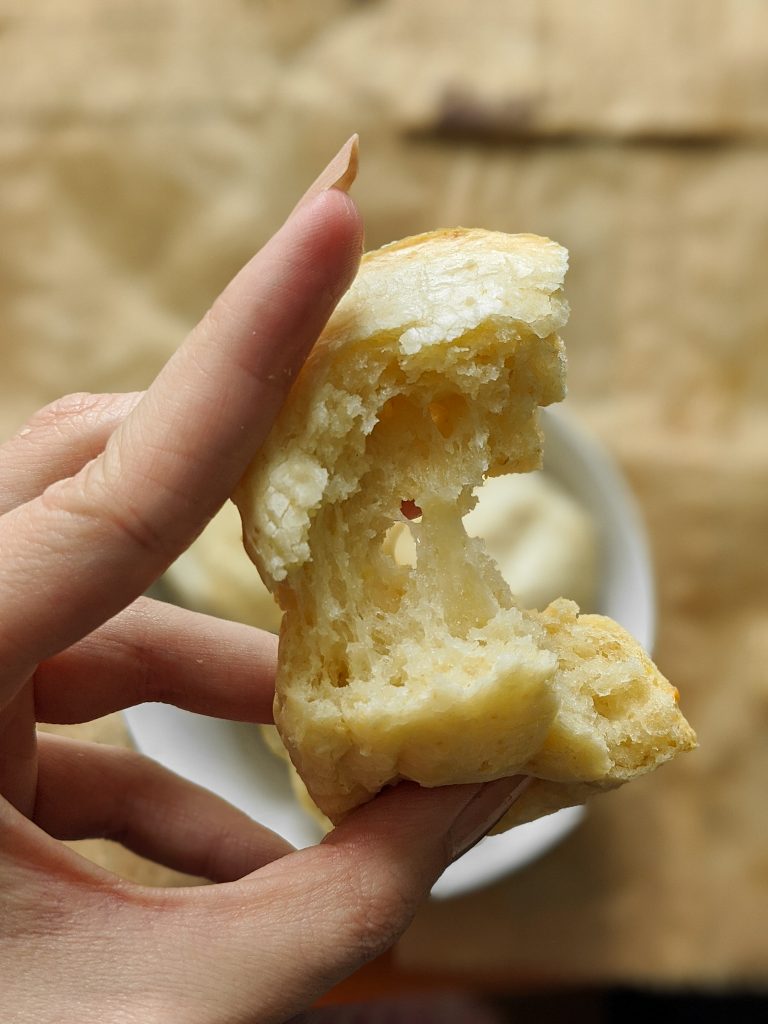 A piece of advice
As you can already gather from the ingredient list, all of the ingredients you need for this recipe are pretty basic. Besides, the recipe is super easy as well and you can make it in only a few minutes. But I wouldn't be me if I did not have something to add here.
There is a way to make this version of Pão de Queijo gluten free. And you can do that by using potato starch instead of using all purpose flour. Both versions are great, but in case you are gluten free, I just wanted to point that out.
For this recipe I used golden flaxseed meal, and I did that because I wanted the flax egg to blend in and not be visible in the dough. You can also use the dark ground flaxseeds, you will get the same results. They only might be a bit more visible. For those of you who do not know, the flax egg is a combination of 1 tbsp of ground flaxseeds and 3 tbsp of water. It is used as an egg replacement in vegan baking.
You can use any plant based milk, in this case I used soy milk with no added sugar. I chose vegan gouda cheese, but you'll be fine with a vegan cheese of your choosing. Before pouring the batter into a muffin tray, make sure it is greased with either non-stick spray or regular oil.
If your batter is very thick, you can add some more plant based milk to the mix to fix that. It should be easy for you to pour the dough into the muffin tray, but if it's not too liquid, that's fine too. Mine was a bit on the thicker side, but I still got great, fluffy, airy bread in the end.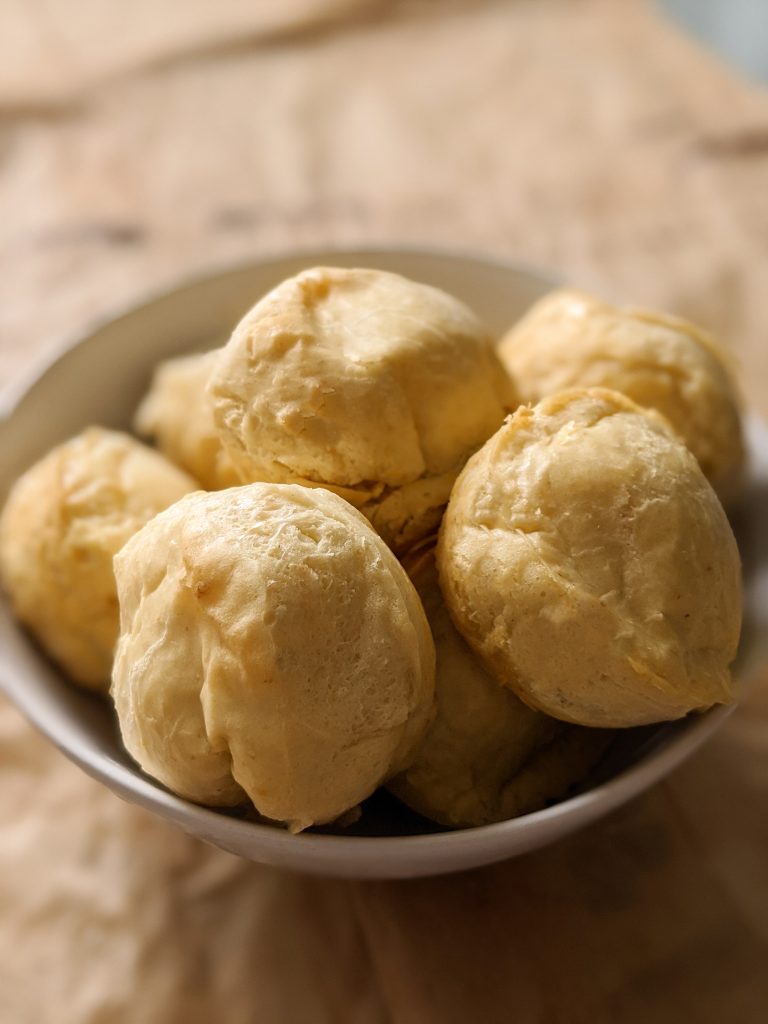 Ingredients
130 g of tapioca starch
65 g of all purpose flour (or potato starch)
1 tsp of salt
1 tsp of baking powder
80 g of vegan gouda or mozzarella cheese
1 tbsp of ground golden flaxseed
some water
130 ml of plant based milk
45 ml of olive oil
Instructions
In a small bowl mix 1 tbsp of ground golden flaxseed and 3 tbsp of water. Mix well and set aside.
Put the tapioca starch, all purpose flour, salt and baking powder in a blender, and pulse a few times to combine the ingredients. Grate the vegan cheese and add it to the blender. Pulse a few more times to combine everything.
Add the flaxseed/water combination, plant based milk and olive oil to the blender. Blend until you get a smooth batter.
Grease the muffin tray with non-stick spray or oil. Pour the batter in the tray but leave a little bit of room at the top. Bake the Brazilian cheese bread at 200 degrees Celsius for about 20 minutes.
Let it cool down for a few minutes and serve.
If you liked this recipe, make sure you check out my other recipes like:
– vegan Italian stuffed zucchini
Feel free to tell me what you think about this in the comments below, or send me the pictures of your own vegan Brazilian cheese bread. If you did something differently, I would also like to hear that, I'd love to see the things you come up with.
P.S. for more recipes like this and bunch of other stuff, follow me on instagram, @margo_drobi.
Also, I recently started a Patreon page, where you can subscribe and help me create more/better content. In return, you will get an exclusive piece of content (recipe) each month. My plan is to increase the amount of that content if I gain a few subscribers. If you are interested and you want to find out more, I will leave the link to my Patreon right – here.