Chocolate banana cake
I have something a bit different for you today. A very simple dessert recipe that is also kind of healthy. Chocolate banana cake is one of those things you can whip up with a few basic ingredients. It is also vegan, gluten-free and super delicious.
The ingredients are somewhat adjustable, and everyone I offered it to absolutely loved it. So if you want a somewhat cheaper cake that is easy to make and that most people will like, this is the real deal. Or if you just like the banana and chocolate combination, you are going to love this one.
Some health benefits
This cake is definitely one of the heathier desserts that I made recently. You can also eliminate the refined sugar from it and make it even better, which I explained in the next section. I am going to write down a few things about some of the healthier ingredients here.
Bananas are also rich in fiber, antioxidants and several nutrients. A medium-sized banana has about 105 calories. They can help moderate blood sugar levels after meals and may reduce appetite by slowing stomach emptying. Bananas are fairly rich in resistant starch, which may feed your friendly gut bacteria and safeguard against colon cancer.
They are a good source of potassium and magnesium, two nutrients that are essential for heart health. Depending on ripeness, bananas harbor high amounts of pectin which may also reduce appetite and help keep you full.
Chickpea flour is high in protein content, fibers and micronutrients, while being low in carbohydrates and calories. Half a cup of chickpea flour contains 11 grams of protein, 5 grams of nutrients like folate, iron, magnesium and zinc. 92 grams of chickpea flour packs slightly more folate than you need in a day.
Chickpeas contain beneficial antioxidants called polyphenols. Antioxidants are compounds that fight against unstable molecules called free radicals in your body, which contribute to the development of various diseases.
Research shows that it can decrease the risk of getting diabetes, improve the health of your heart, improve the immune system, and help with digestion problems. It is also said to improve hair growth.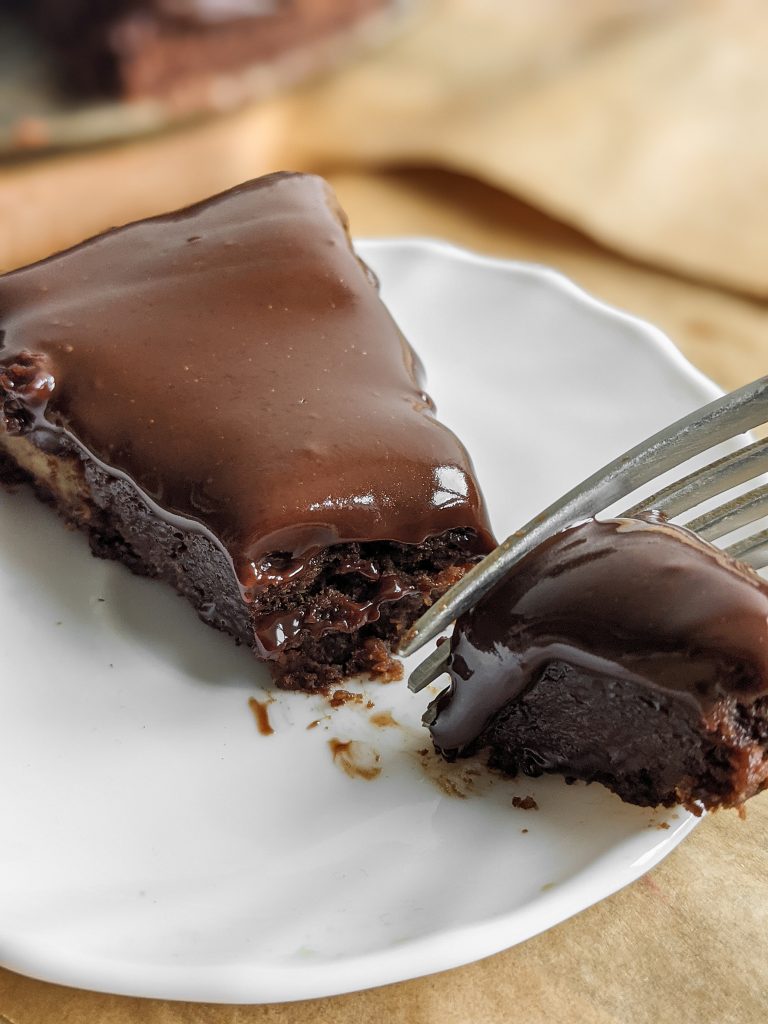 A piece of advice
This is probably one of the easiest recipes that I made lately. It requires no crazy ingredients and you don't need to make a mess in your kitchen. But as always, there are a few things that I would like to mention to help you out, if you are a beginner.
I always get a lot of questions about the flours I use and about sugar. So I would like to address that now. You do not need to use chickpea flour, I think that any gluten-free flour will do the trick. And yes, you can make this recipe sugar-free. Just use sugar-free chocolate, the bananas are very sweet on their own. You can also add some other sweetner if you want.
Make sure you mix everything as much as you can so you don't burn the mixture.
I used cashew yogurt, but you can use any other kind. Don't forget to spray the baking dish with some non-stick spray or to grease it with some oil. That way the cake won't stick to the dish. Let it cool down so the ganache can set. You can also sift some cocoa powder over it after that. I couldn't wait for that to happen so I took photos of the cake right away.
Chocolate banana cake
Ingredients
300 g of bananas (3 medium bananas)

200 g of vegan chocolate

80 g of chickpea flour

80 g of ground almonds

8 g of baking powder

160 ml of vegan yogurt

For the ganache:

150 ml of coconut cream

120 g of vegan chocolate
Directions
Peel the bananas and cut them up in small circles. Put 200 g of bananas in a blender and blend. Put them in a saucepan with the vegan chocolate and heat over low to medium heat until the chocolate has melted. Mix frequently to prevent the mixture from burning.
When all of the chocolate has melted, add the ground almonds, chickpea flour, baking powder, vegan yogurt and mix everything only until everything is well combined. Add the remaining 100 g of bananas and mix them in gently. Remove the saucepan from the heat.
Prepare a baking dish, line it with parchment paper and spray with some non-stick spray. Heat the oven to 180 degrees Celsius and bake for about 20 to 25 minutes. While the cake is baking prepare the ganache.
Heat the coconut cream to medium heat, add the chopped chocolate and let it melt while mixing frequently. Mix until you get a homogenous mixture. Take the cake out of the oven and let it cool down a bit. Pour the ganache over the chocolate banana cake, put it in the fridge and let it set. After the cream has set, take it out of the fridge and cut it into pieces.
If you liked this recipe, make sure you check out my other recipes like:
Feel free to tell me what you think about this in the comments below, or send me the pictures of your own vegan chocolate banana cake. If you did something differently, I would also like to hear that, I'd love to see the things you come up with.
P.S. for more recipes like this and a bunch of other stuff, follow me on Instagram, @margo_drobi.
Also, I recently started a Patreon page, where you can subscribe and help me create more/better content. In return, you will get an exclusive piece of content (recipe) each month. My plan is to increase the amount of that content if I gain a few subscribers. If you are interested and you want to find out more, I will leave the link to my Patreon right – here.
And that was it for today, if you are using Pinterest make sure you follow me on there, and if you want, pin this image: