Mochi ice cream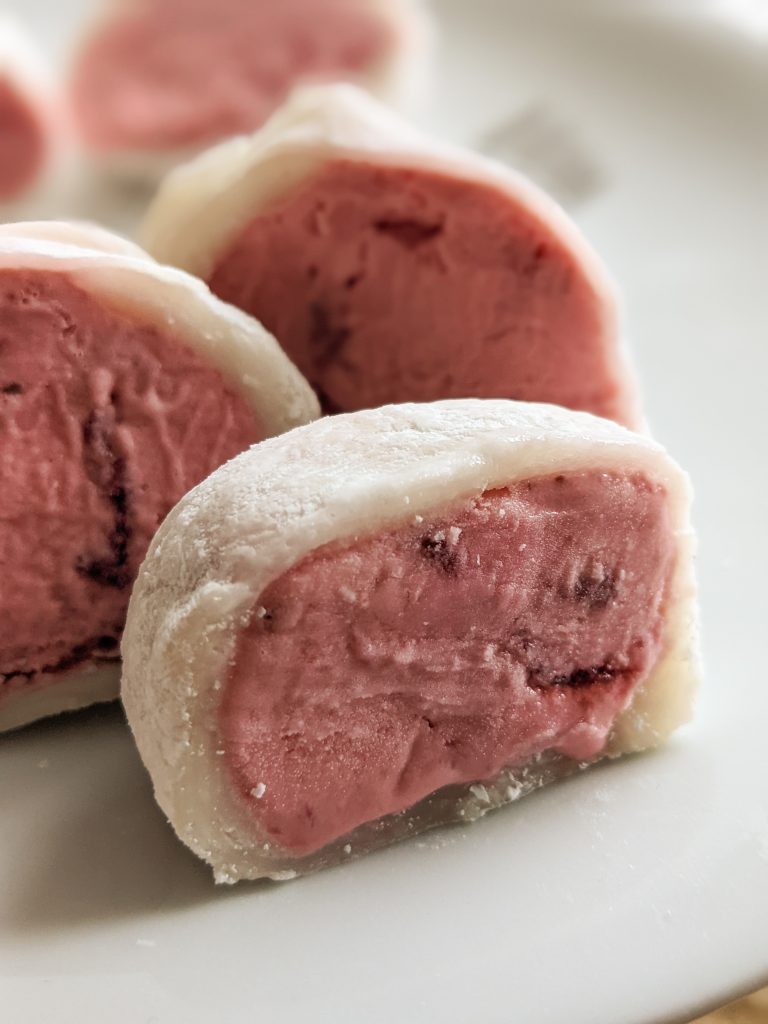 I had a little bit of glutinous rice flour left in the kitchen and I decided to use it up before it goes bad. And what better way to do that than with a delicious Japanese dessert – vegan mochi ice cream.
If you are a fan of sweet sticky doughs, or you just like ice cream and want to experiment a bit, this is the right recipe for you. This dessert is super delicious and like many Japanese desserts, easily made vegan.
A piece of advice
If you can't find a good brand of vegan ice cream, make it yourself! I left a link to my recipe in the instructions, you can use any frozen fruit you like. Scoop out very small ice cream balls. They need to be smaller than your mochi circles so you can wrap them around the ice cream. If you end up with large ice cream balls, cut the excess away with a knife.
Do NOT use regular rice flour! Use only glutinous (sweet) rice flour. This should be written on the packaging, but if you are still not sure, look for a letter G somewhere on the packaging. If you use any other flour you will not get sticky and soft mochi like these.
Also, if you (like myself) don't have an actual steamer, you can improvise. I took a sieve with larger holes, lined it with parchment paper and put it in a large pot of water. Make sure the water is not touching the bottom of the sieve. When the water starts to boil, put the mochi dough in it and cover the pot with a lid.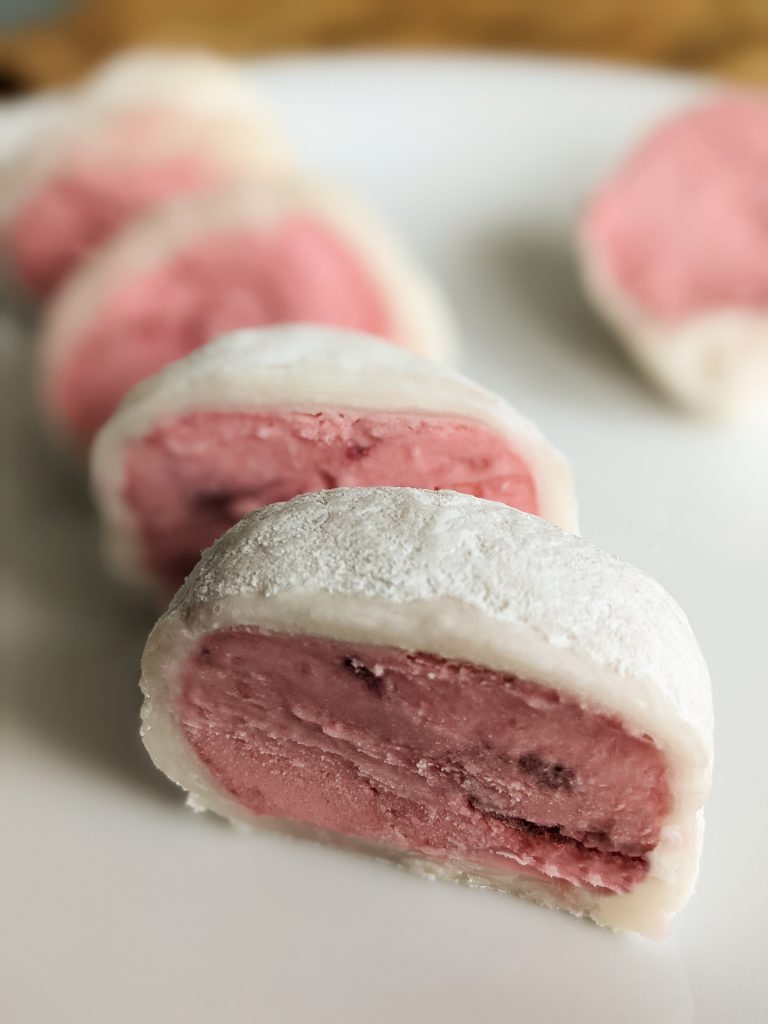 After 7 to 8 minutes mix the mochi dough with a wet spatula, so that the sticky dough won't stick to it.
Don't forget to dust the parchment paper, rolling pins and also maybe your hands with a lot of corn starch. You can use potato starch as well. Let the mochi ice cream rest on room temperature for a few minutes before serving, so that the mochi dough can soften up.
These measurements make about five to six ice cream balls. If you need more than that adjust the measurements properly.
Mochi ice cream
Course: Sweet
Ingredients
60 g of glutinous rice flour

25 g of sugar

95 ml of water

Corn starch

Vegan ice cream of your choice
Directions
If you can't find a brand of vegan ice cream I will leave a link to my recipe right – here.
Scoop out 5 to 6 very small balls of ice cream, put each one in a paper cup for muffins and keep them in the freezer overnight. Keep them in a muffin tray if you have one, that will help them keep the shape.
Prepare everything you need in advance. Cut a large piece of parchment paper, lay it on a flat surface and dust it with a lot of corn starch. Dust the rolling pin as well. Prepare a large plate or a cutting board. Cut 12 squares of plastic wrap and prepare 5 to 6 small plates. You will also need a large mug for cutting out circles (or a cake ring).
In a large bowl mix together the glutinous rice flour and sugar. Gradually add the water while mixing until everything is well combined. Transfer everything in a small bowl and put the bowl in a steamer basket. Wrap the lid with a kitchen towel so that the water won't drop in the mochi dough. Steam it for 15 minutes on medium heat. After 7 minutes have passed, take a wet wooden spatula and mix the dough. Put the lid back on and let it cook.
Let the dough cool down a bit and transfer it on to the parchment paper dusted with corn starch. Dust the dough with some more starch and roll it out with the rolling pin into a flat circle. Transfer the paper with the rolled dough on a large plate or a cutting board and put it in the fridge. Let it sit there for 15 minutes. Take it out of the fridge and cut out 5 to 6 circles with a mug or a cookie cutter.
If you notice that there are still places that are too sticky, dust them with some more starch. Dust off the excess starch if there is any. Put one piece of plastic wrap on each small plate, put a mochi circle on it and cover each one with another piece of plastic wrap.
Take one ice cream ball from the freezer, take it out of the paper mold. Take off the top plastic wrap from one mochi and place the ice cream in the middle. Take the mochi edges and wrap the ice cream, pinch the edges together with your fingers until they stick together. Quickly take the bottom plastic wrap and wrap the mochi ball. Put it in the muffin tray in the freezer so it keeps the shape. Repeat this with each ice cream ball and freeze them for about 2 hours.
Let them sit a few minutes on room temperature before serving.
If you liked this recipe, make sure you check out my other recipes like:
Feel free to tell me what you think about this in the comments below, or send me the pictures of your own vegan mochi ice cream. If you did something differently, I would also like to hear that, I'd love to see the things you come up with.
P.S. for more recipes like this and a bunch of other stuff, follow me on Instagram, @margo_drobi.
Also, I recently started a Patreon page, where you can subscribe and help me create more/better content. In return, you will get an exclusive piece of content (recipe) each month. My plan is to increase the amount of that content if I gain a few subscribers. If you are interested and you want to find out more, I will leave the link to my Patreon right – here.
And that would be all for today. If you are using Pinterest make sure to follow me on there, and feel free to pin this image: