Vegan tomato soup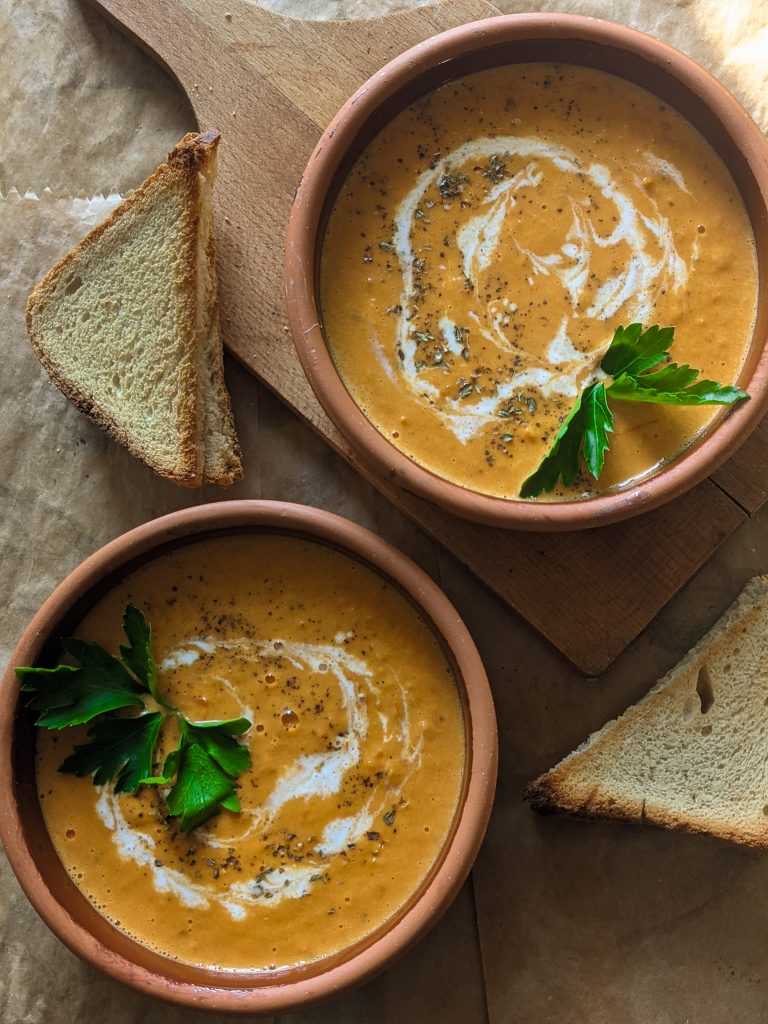 My short hiatus that I took to reset and charge my batteries is officially over. And I am starting this year with a nice, warm, creamy hug of a soup – vegan tomato soup.
Lately I made so many unhealthy desserts because of holidays, and I think it's enough of that. It is time to start thinking about healthier options. To be quite honest with you I felt a bit weak in the days leading up to New Year's Eve, and of course it has something to do with being overworked, but my nutrition also played a part. I started feeling better as soon as I ditched these new habits.
This vegan tomato soup was one of those dishes that made me feel warm and comfortable on the inside. It smells incredible, it is super creamy and it can be very, very good for you.
Some health benefits
The main ingredient in this dish is of course the tomato, and for that reason I am going to take some time and write down a few interesting facts about it. There are a few additional healthy ingredients in this recipe, but given the quantity, we are going to leave them out this time.
Fresh tomatoes are low in carbs. The carb content consists mainly of simple sugars and insoluble fibers. These vegetables (or fruits) are mostly made up of water. Tomatoes are a good source of several vitamins and minerals, such as vitamin C, potassium, vitamin K, and folate. Lycopene is one of the most abundant plant compounds in tomatoes. It's found in the highest concentrations in tomato products, such as ketchup, juice, paste, and sauce. Lycopene is a strong antioxidant that can protect your body against oxidative stress and offer some protection from certain environmental toxins and chronic diseases.
Studies show that tomatoes and tomato products may reduce your risk of heart disease and several cancers. It is also beneficial for skin health, as it may protect against sunburns. Tomatoes are generally well tolerated but may cause allergic reactions in people allergic to grass pollen. Replacing sweetened drinks such as soda with tomato juice can benefit your health.
These are only some of the reasons you may want to incorporate tomatoes in your meal plan, and what better way to start than with this wonderful vegan tomato soup.
A piece of advice
This soup is super easy to make and it requires only a few ingredients. But as always, I am going to write down a few things to make the process even easier for you.
First thing I am going to mention is – be generous with your olive oil. You do not have to transfer all of it to the blender in the end (I didn't). The veggies are baked when you notice that the tomatoes are a bit charred at the surface. But this does not have to happen, half an hour should be enough to bake these.
My blender could not take a lot of heat so I had to let the veggie mix cool down quite a bit. Add some garlic if you feel like it. You can also play around with the spices if you want to, just add in your favorite spice mix.
For the creamy texture I suggest you use full fat coconut milk from a can and not the regular one. If you want your soup to be a bit more liquid feel free to add some more veggie stock in it.
I garnished mine with some parsley, but you can also use some basil. I added a few drops of soy cooking cream and lightly traced them with a toothpick to make the white traces at the surface. These measurements make about two plates of tomato soup, so if you need more adjust the quantity of ingredients properly.
As you can see from the pictures, I chose to toast some bread and dip it in. It was really delicious, so I highly recommend you do that too.
Vegan tomato soup
Course: Salty
Ingredients
500 g of cherry tomatoes

1 small onion

A few leaves of fresh basil

Olive oil (about 150 ml)

1 tsp of salt

1 tsp of pepper

½ tsp of chili powder

½ tsp of oregano

A few pinches of cumin

100 ml of full fat coconut milk

70 ml of vegetable stock
Directions
Place a piece of parchment paper in a baking dish and drizzle it with olive oil (until it is completely covered). Cut the onion into large pieces. Put the onion, basil, whole cherry tomatoes and all of the spices in the baking dish and cover with a lot of olive oil (make sure it is drizzled over every tomato).
Heat the oven to 250 degrees Celsius and bake the veggies for 30 minutes. Take them out of the oven and let them cool down a bit. Transfer the veggies to the blender, add the full fat coconut milk and veggie stock and blend until you get a thick, orange soup.
These measurements make about two plates of soup. I garnished it with some parsley and oregano.
If you liked this recipe, make sure you check out my other recipes like:
– vegan Korean savory pancakes
Feel free to tell me what you think about this in the comments below, or send me the pictures of your own vegan tomato soup. If you did something differently, I would also like to hear that, I'd love to see the things you come up with.
P.S. for more recipes like this and a bunch of other stuff, follow me on Instagram, @margo_drobi.
Also, I recently started a Patreon page, where you can subscribe and help me create more/better content. In return, you will get an exclusive piece of content (recipe) each month. My plan is to increase the amount of that content if I gain a few subscribers. If you are interested and you want to find out more, I will leave the link to my Patreon right – here.