Korean savory pancakes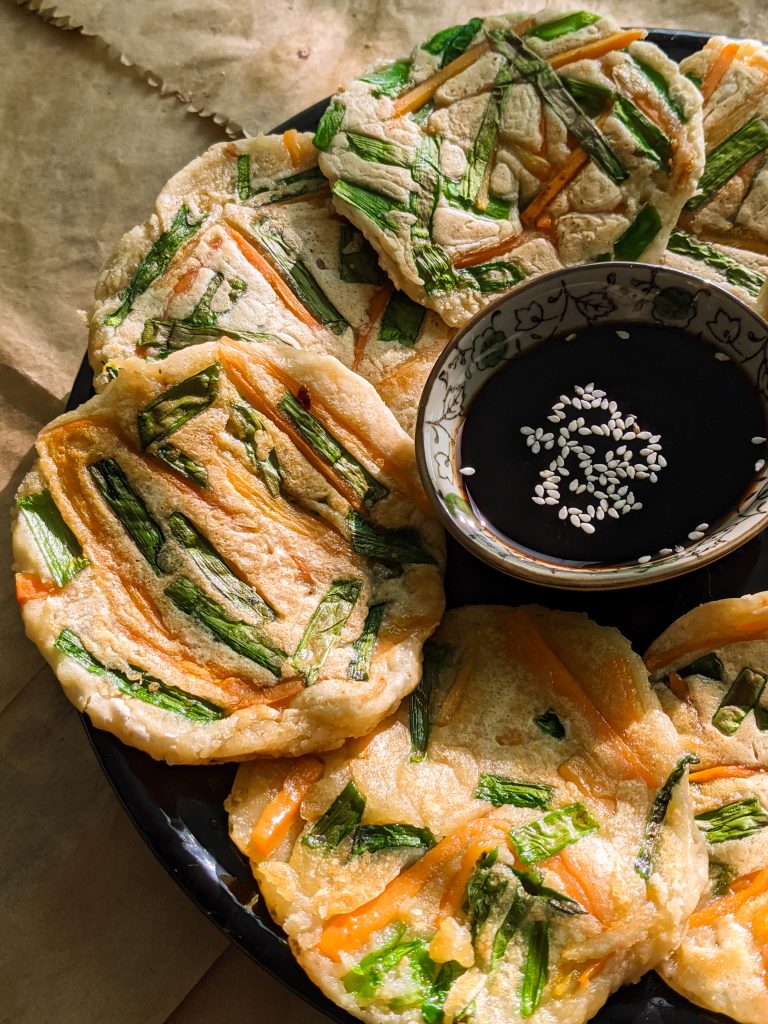 I decied to take a little break from holiday cookies and cakes and make a savory dish. And I am doing that with these Korean savory pancakes. I have noticed that my blog has a significantly lower number of savory dishes, mainly because of all the Christmas desserts I have been posting lately. That changes today, plus I have one more savory recipe coming next week.
These pancakes are something I wanted to make for quite a while, and when I finally got to it I was amazed. They are vegan, very delicious, easy to make, and can even be made gluten-free.
Other than that, the veggies that are incorporated can be very good for you. Which I am going to talk about in the next section of this post.
Some health benefits
Carrots are a particularly good source of beta carotene, fiber, vitamin K1, potassium, and antioxidants. They have some great health benefits. For example, they can help your blood pressure and cardiovascular health, your digestive health, improve bone health, and play a role in immune function and healing.
Like many vegetables and fruits, scallions are mostly water. A cup of it has just 32 calories, trace amounts of fat, and no cholesterol. It also has less sugar and fewer carbs than vegetables like carrots, potatoes, and corn.
A cup of cut scallions has about 10% of the fiber you need for the whole day. Getting lots of fiber helps you feel full, keeps your cholesterol levels down, and may lower your chances for diabetes, heart disease, and other conditions.
Scallions and other similar vegetables may block cancer growth, especially in the stomach. Scientists are still not sure how. They believe that a compound called allicin, which is what gives you garlic breath, may prevent cells from turning cancerous or slow tumors from spreading.
Extracts of onions, garlic, and their relatives have long been used as medicine. They can kill bacteria, fungi, and viruses. Lab tests on certain varieties of onions showed that at high enough concentrations, some can kill or slow the growth of salmonella or E. coli.
And these are only some of the reasons why you should try to incorporate more scallions (or it's relatives) into your diet. Fortunately, this is very easy, but if you still need some ideas, I suggest you start off with these Korean savory pancakes.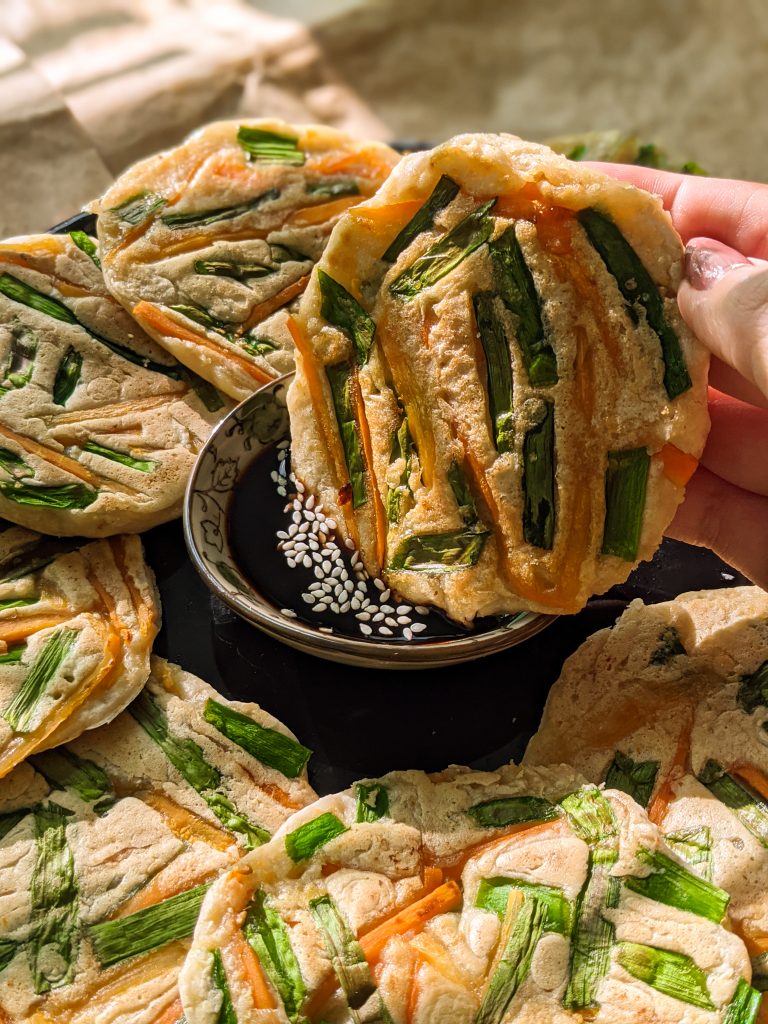 A piece of advice
As you might have noticed, this is a pretty easy and straight forward recipe. But if you are a beginner or are new to this blog, I will write down a few things that might be helpful to you and make this recipe even easier.
First of all, make sure you are using fresh ingredients (for example baking powder/soda). If they have been sitting in your pantry for a while, this might affect your final results.
You do not have to use soy milk. Any other plant-based milk will do the trick. I just used soy milk because I had it in my fridge, that's it.
When you mix plant-based milk and vinegar, you get something called vegan buttermilk. It is mainly used for pancakes and cakes. Just make sure that you set it aside for a few minutes after you mix it (5 at least). Gently combine the vegan buttermilk and the dry ingredients with a whisk, but don't mix them too much. If you get a thick mixture, that's completely fine.
Place the chopped scallions and carrot on top of a pancake while the bottom side is cooking. When you flip it, press the pancake down a bit to fry the veggies even better.
If you are gluten-free, you can also make a gluten-free version of these pancakes by replacing the all-purpose flour with almond flour, or any flour of your choosing.
These measurements make 8 small pancakes. If you think you need more than that, make sure to adjust the ingredients accordingly.
Korean savory pancakes
Course: Salty
Ingredients
1 carrot

a few scallions

65 g of sweet rice flour

65 g of all-purpose flour

35 g of tapioca starch

2 tbsp of cornmeal

½ tsp of salt

½ tsp of baking powder

½ tsp of baking soda

½ tbsp of garlic powder

200 ml of soy milk

2 tbsp of white rice vinegar
Directions
Cut the scallions and the carrot thinly lenghtwise. Set aside.
Combine soy milk and white rice vinegar and set them aside. In a deep bowl combine the flour, sweet rice flour, tapioca starch, cormeal, salt, garlic powder, baking powder and baking soda. Mix everything together. By now the milk should be curdled.
Add the milk/vinegar mixture to the dry ingredients. Mix everything gently with a whisk.
Put a little bit of oil on a non-stick pan. Heat it to medium heat and pour a little bit of batter on the pan (for a small pancake). Take some chopped vegetables and put it on top of the pancake. When the bottom is golden-brown, flip the pancake and fry the veggie side. Press it down a bit with a spoon or a spatula.
Continue doing this until you are out of pancake batter. Serve the Korean savory pancakes with a bit of soy sauce, chili oil or a sauce of your choosing.
If you liked this recipe, make sure you check out my other recipes like:
Feel free to tell me what you think about this in the comments below, or send me the pictures of your own Korean savory pancakes. If you did something differently, I would also like to hear that, I'd love to see the things you come up with.
P.S. for more recipes like this and a bunch of other stuff, follow me on Instagram, @margo_drobi.
Also, I recently started a Patreon page, where you can subscribe and help me create more/better content. In return, you will get an exclusive piece of content (recipe) each month. My plan is to increase the amount of that content if I gain a few subscribers. If you are interested and you want to find out more, I will leave the link to my Patreon right – here.