Savory rice cakes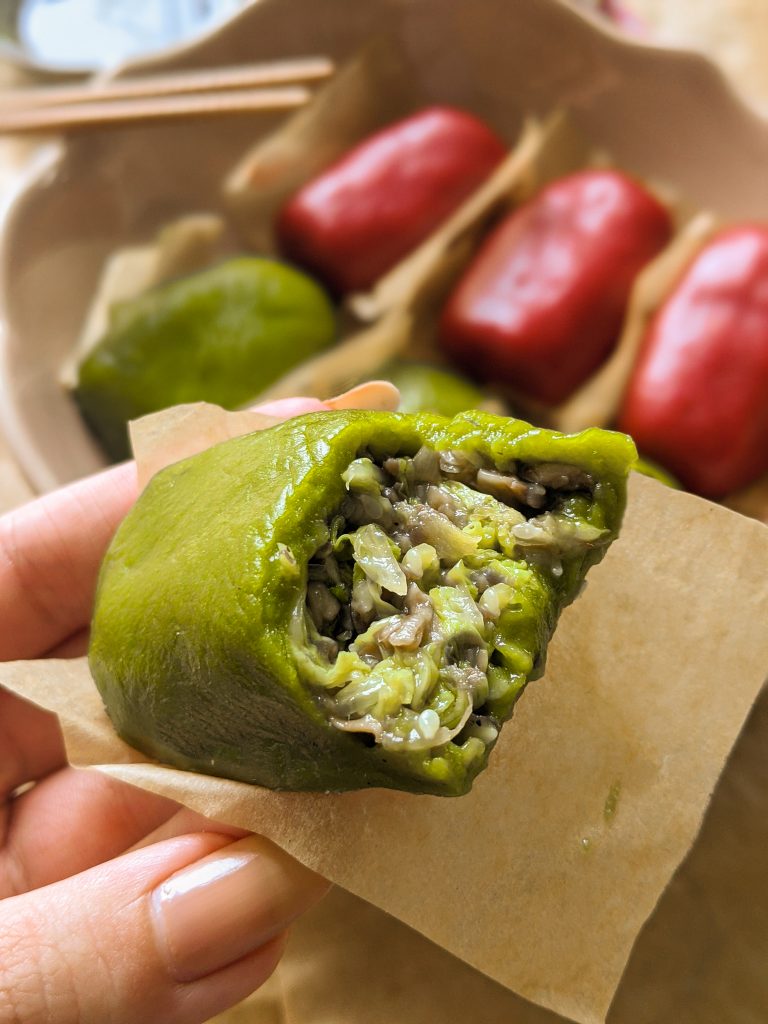 There was some glutinous rice flour left in my kitchen from my last weeks recipe, so I decided to use it once again. Only this time, I decided to make savory rice cakes.
I loved my last dessert recipe so much that I could not wait to share another rice cake with you. These are vegan, gluten-free and absolutely delicious. As always I have written down some health benefits and tips to make this process as easy as possible for everyone.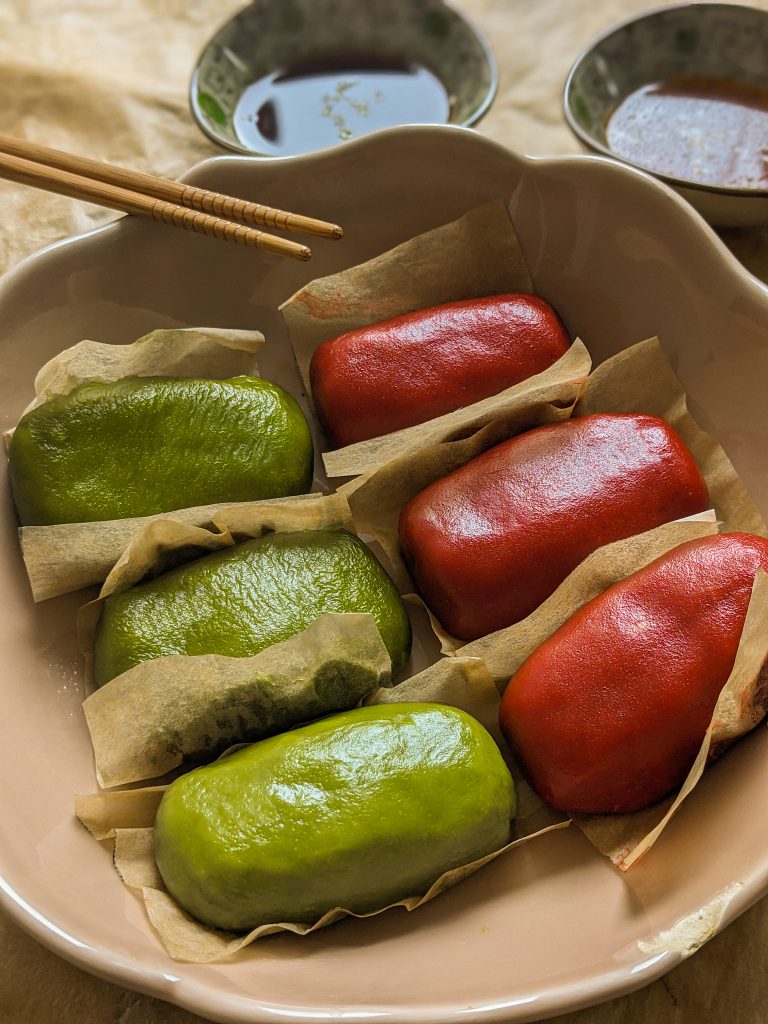 Some health benefits
I have talked about this before on my blog, since I used this dumpling filling multiple times. So if you are a regular reader, I apologize for repeating myself. Other than being vegan and gluten-free, these rice cakes have some ingredients that you don't want to miss out on.
Ever since I was a kid I was told that mushrooms were the"meat" among the plants, since they are a good source of protein. When I first went vegan, I did not have a lot of ideas on how to get some protein in my system, so they were my go to vegetable. Later I learned I had a lot of other options of course, but there are even more benefits that you can get from eating mushrooms.
The fiber, potassium, and vitamin C in mushrooms may contribute to cardiovascular health. They also contain a good portion of vitamin D, which is a bit hard to come by if you don't eat animal products.
And as most of you probably know, ginger is one of the very few superfoods actually worthy of that term. If not for nothing, these are some pretty good reasons to start incorporating these veggies into your diet. Especially if you are vegan.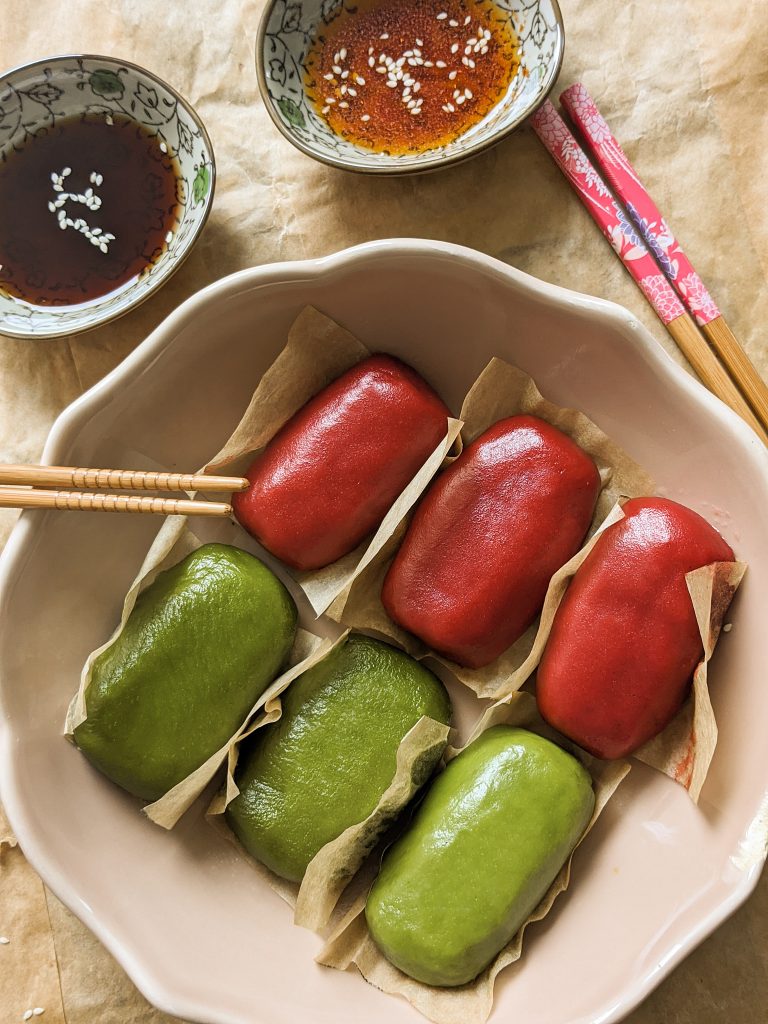 A piece of advice
I know that these cakes look kind of complicated, but in reality they are super simple and easy to make. But in case you struggle with certain things, I am here to help you as much as I can.
First of all I have to say – do NOT use regular rice flour! Use only glutinous (sweet) rice flour. This should be written on the packaging, but if you are still not sure, look for a letter G somewhere on the packaging. If you use any other flour you will not get sticky and soft cakes like these.
Make sure your dough is covered with a kitchen towel when you are not using it, otherwise it might dry out. I used matcha powder and red beet powder to get these colors, but you don't have to do that, they can just remain white. These powders don't really contribute much to the taste.
Also, if you (like myself) don't have an actual steamer, you can improvise. I took a sieve with larger holes, lined it with parchment paper and put it in a large pot of water. Make sure the water is not touching the bottom of the sieve. When the water starts to boil cover the pot with a lid.
Or you can improvise in any way you want, main thing is, these cakes should be steamed and not cooked in water. When you place the cakes in the steamer basket, make sure you leave some space between them. They will slightly grow and you don't want them to stick together.
These measurements make 12 savory rice cakes.
Savory rice cakes
Ingredients
For the filling:

cabbage (as desired)

chopped scallions (as desired)

8 – 9 mushrooms (medium size)

2 tsp of thinly sliced ​​ginger

3 cloves of finely chopped garlic

For the sauce:

2 tbsp of soy or wok sauce

1 tsp of sugar

1 tsp of grated ginger

1 tsp of sesame oil  

1 tsp of rice vinegar

For the dough:

200 g of glutinous rice flour

50 g of regular rice flour

210 ml of water

2 tbsp of oil

2 tsp of matcha powder (optional)

2 tsp of red beet powder (optional)
Directions
Prepare the sauce and the filling first. Mix all the sauce ingredients together. Grate the mushrooms and cabbage.
Sautee sliced ginger, garlic and mushrooms over medium heat. Add cabbage and sauce and cook for a few minutes. Add the scallions and cook for 1 minute, put everything in a larger bowl and mix well. Set aside.
Matcha powder and red beet powder are used only for coloring. If you are using both of them, mix the glutinous rice flour and regular rice flour and then divide them into 2 bowls. Mix in the matcha powder in one bowl and red beet powder in the other. Make sure there are not powder lumps left.
Add 105 ml of water and 1 tbsp of oil into one of the bowls and mix well. Take it out on a flat surface and knead the dough for about 2 minutes. It should be soft but not too sticky. Cover it with a kitchen towel and set aside.
Repeat the same with the other bowl. If you are using only one color or none at all, you can just mix all of the dough ingredients together in 1 big bowl.
Cut the parchment paper into 12 small pieces. Divide the dough into 12 equal pieces, roll each of them into a ball. Flatten each piece with the palm of your hand and shape it into a tiny bowl. Put a spoon of the filling in the middle of the dough and pinch the dough shut around the filling. Roll the rice cake around in your palms to get a smooth surface and better shape.
When you are done, place each rice cake on a square of parchment paper. Line the steamer basket* with some parchment paper and place the rice cakes in it, but make sure there is some space left between them. Put a lid on your steamer and steam for 8 minutes on medium temperature.
Serve the savory rice cakes while they are still warm with some soy sauce or chili oil.
Notes
*You can improvise a steamer by placing sieve in a pot of water and covering it with a lid. Make sure the water does not touch the bottom of a sieve.
If you liked this recipe, make sure you check out my other recipes like:
Feel free to tell me what you think about this in the comments below, or send me the pictures of your own savory rice cakes. If you did something differently, I would also like to hear that, I'd love to see the things you come up with.
P.S. for more recipes like this and a bunch of other stuff, follow me on Instagram, @margo_drobi.
Also, I recently started a Patreon page, where you can subscribe and help me create more/better content. In return, you will get an exclusive piece of content (recipe) each month. My plan is to increase the amount of that content if I gain a few subscribers. If you are interested and you want to find out more, I will leave the link to my Patreon right – here.