Pumpkin rice cake
Since it's still fall, and Halloween is almost here, I decided to post this pumpkin rice cake this week. There are a few more fall recipes coming your way soon, but this is by far my favorite. And if you want to impress the little ones this Halloween, this is the way to go.
This is not something I invented. I have seen this dessert on a number of food blogs so I am not really sure who started it. This is just my humble contribution to the trend.
I spent the last weekend in Belgrade, so I had the chance to walk around and look for some ingredients that I can't find at home. My friend took us to a Chinese food store and there I found everything I needed and more.
But just in case you don't know where to find the two less common ingredients I listed, I left some notes in this post that may be somewhat helpful.
These rice cakes are gluten-free, vegan, sticky and super delicious. If you read my blog, you probably know about my obsession with Asian food. So it comes as no surprise that this is probably my favorite dessert recipe of all time.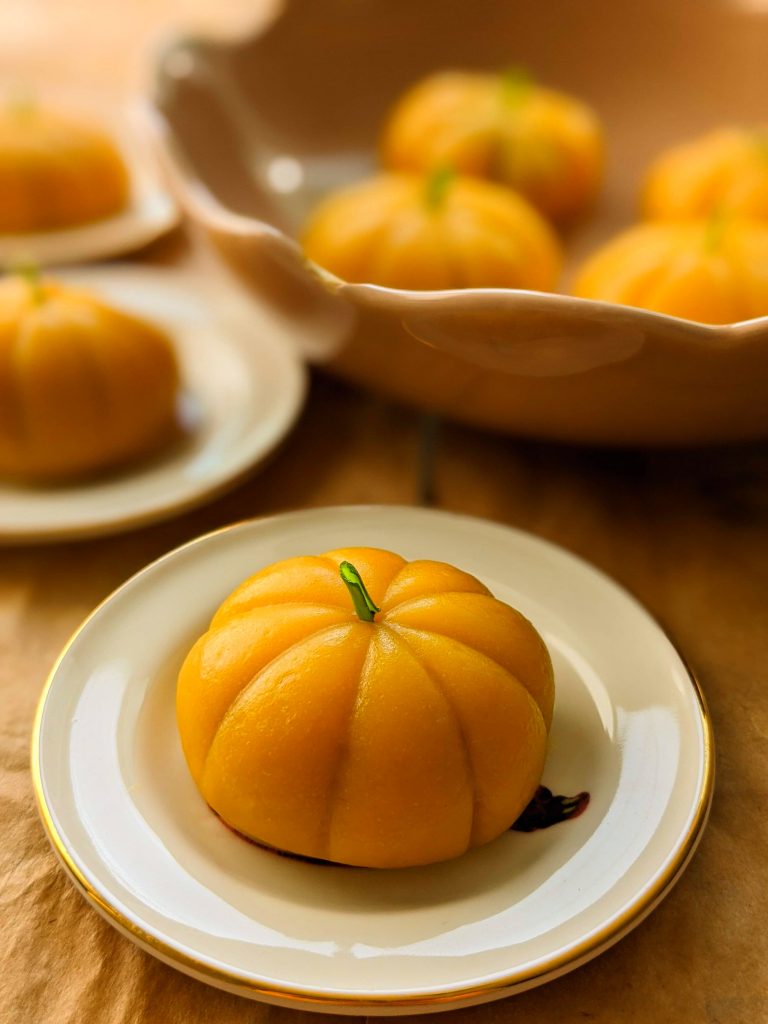 Some health benefits
Other than being gluten-free, vegan and low in sugar content, this recipe contains a cool ingredient that I might have talked about before – butternut squash.
Butternut squash is low in calories but high in fiber and many nutrients, including vitamin A, vitamin C, magnesium, and potassium. It can help with weight loss. The high antioxidant content of butternut squash may reduce your risk of certain conditions, including heart disease, lung cancer, and mental decline.
Butternut squash can be added to a wide variety of both sweet and savory recipes, such as stews and pies. There are a lot of recipes out there that utilize this delicious plant.
By the way, I think you can replace the squash with Hokkaido pumpkin, which is pretty amazing in its own right.
A piece of advice
I know that these cakes look kind of complicated, but in reality they are super simple and easy to make. But in case you struggle with certain things, I am here to help you as much as I can.
First of all I have to say – do NOT use regular rice flour! Use only glutinous (sweet) rice flour. This should be written on the packaging, but if you are still not sure, look for a letter G somewhere on the packaging. If you use any other flour you will not get sticky and soft cakes like these.
You may not have to use up all of the flour, so add it gradually to the blender until you get the dough texture that you need (soft but not too sticky). From time to time, scrape down the dough from the walls of a blender cup. This way everything will be incorporated evenly.
If you can't find sweet bean paste in a store you can make your own, I will link a recipe from a different blog right – here. Other than that, you can blend some nuts, butter and brown sugar and fill the rice cakes with that.
Also, if you (like myself) don't have an actual steamer, you can improvise. I took a sieve with larger holes, lined it with parchment paper and put it in a large pot of water. Make sure the water is not touching the bottom of the sieve. When the water starts to boil cover the pot with a lid.
Or you can improvise in any way you want, main thing is, these cakes should be steamed and not cooked in water. When you place the cakes in the steamer basket, make sure you leave some space between them. They will slightly grow and you don't want them to stick together.
I decorated mine with a plant stem, but you don't have to do that if you don't want to. I just wanted to get some cute pictures. These measurements make 8 sticky pumpkin rice cakes.
Pumpkin rice cakes
Course: Sweet
Ingredients
175 g of butternut squash

½ tbsp of sugar

½ tbsp of oil

160 g of glutinous rice flour

115 g of sweet bean paste*
Directions
Peel the butternut squash and cut it into small pieces. Cook it in a steamer for about 10 – 15 minutes (until it's fork tender). Put the butternut squash in a blender, add sugar and oil and blend it into a puree.
Gradually add the glutinous rice flour to the blender and blend until you get a dough that is soft but not too sticky. Take the dough out of the blender, transfer it onto a sheet of parchment paper and knead with your hands for about 1 minute.
Divide the sweet bean paste into 8 small balls and set aside. Divide your dough into 8 slightly larger balls and cover them with a kitchen towel so they don't dry out. Press each dough ball down with the palm of your hand. Put the sweet bean ball in the middle and wrap the dough around it. Seal it completely and roll it in your hand some more to get a prettier shape.
Take a butter knife and press it down (with it's back side, not the sharp side) on the pumpkin rice cakes. This way you will form pumpkin-like dents and end up with the shape in the pictures.
Line the steamer basket** with some parchment paper and place the rice cakes in it, but make sure there is some space left between them. Put a lid on your steamer and steam for 10 minutes on medium temperature.
Pumpkin rice cakes are best when served warm or on room temperature.
Notes
* Check the "piece of advice" part of the post for alternative filling or home made bean paste recipe.
**You can improvise a steamer by placing sieve in a pot of water and covering it with a lid. Make sure the water does not touch the bottom of a sieve.
If you liked this recipe, make sure you check out my other recipes like:
– almond peanut butter cupcakes
Feel free to tell me what you think about this in the comments below, or send me the pictures of your own pumpkin rice cake. If you did something differently, I would also like to hear that, I'd love to see the things you come up with.
P.S. for more recipes like this and a bunch of other stuff, follow me on Instagram, @margo_drobi.
Also, I recently started a Patreon page, where you can subscribe and help me create more/better content. In return, you will get an exclusive piece of content (recipe) each month. My plan is to increase the amount of that content if I gain a few subscribers. If you are interested and you want to find out more, I will leave the link to my Patreon right – here.