Vegan matcha cheesecakes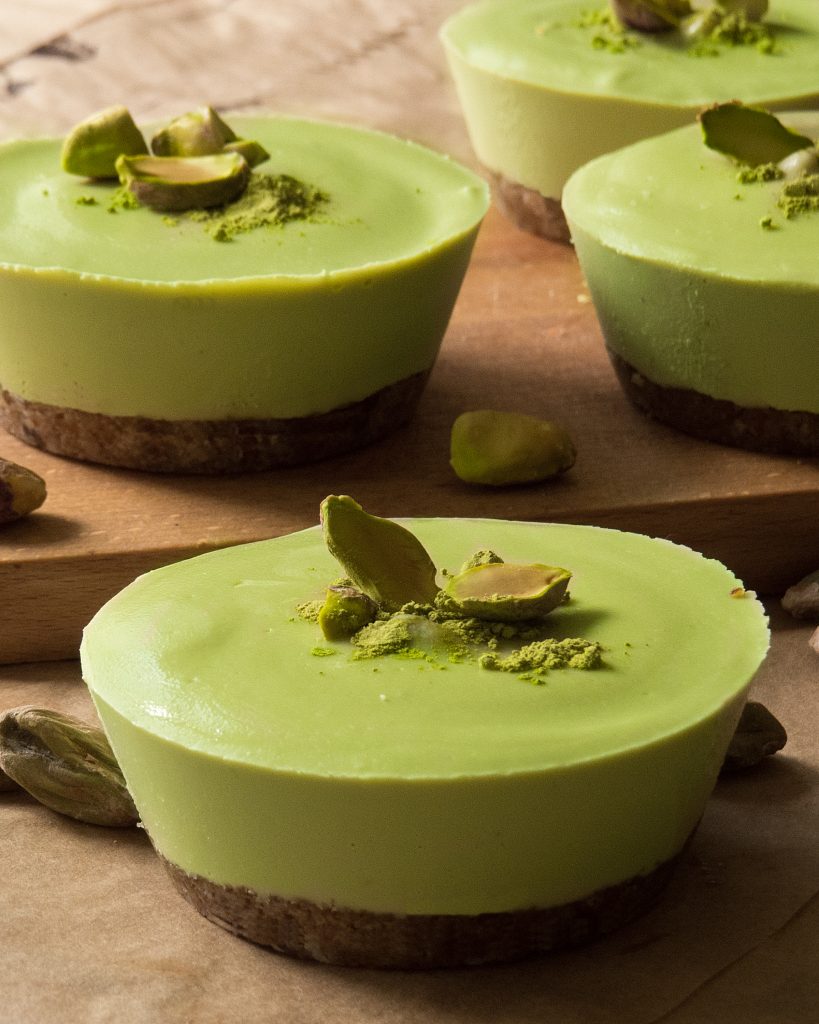 If you ever made a healthier version of cheesecake you are probably familiar with the ingredients that are usually used for such recipes. Every now and then I try to tweak the classic vegan cheesecake recipe and this is easily one of my favorite such cheesecake versions. Vegan matcha cheesecakes will probably make you feel the same way.
This was once again one of those instances where I had a few leftover ingredients from other stuff in the kitchen. Since I didn't make a cheesecake in a while, this was a no-brainer. I prefer making a bunch of small ones, because they look so damn cute. They are creamy, sweet, easy to make and have a very subtle taste of matcha.
There are quite a few things that I made with matcha, but this is most definitely in my top 3 recipes. And aside from being super delicious, these cheesecakes might also be very good for you. As always, I am about to tell you why that is the case. Today I am going to write down a few things about my favorite drink – matcha tea.
Some health benefits
Matcha contains a concentrated amount of antioxidants, which may reduce cell damage and prevent chronic disease. Some studies have shown that matcha could prevent liver damage and decrease the risk of liver disease. However, additional studies are needed to look at the effects on humans in the general population.
Matcha has been shown to improve attention, memory, and reaction time. It also contains caffeine and L-theanine, which can improve several aspects of brain function. Studies show that green tea and matcha can decrease several heart disease risk factors. Some also show that green tea extract helps increase metabolism and fat burning, both of which may aid weight loss.
These are only a few reasons you should try and incorporate some matcha into your diet. I use it in cakes, sometimes I drink matcha latte's or just as plain tea in the morning. I talked about cashews a bunch of times, but it doesn't hurt to repeat those facts for new readers.
Many studies show that nut intake has a cholesterol-lowering effect, and there is emerging evidence of beneficial effects on oxidative stress, inflammation, and vascular reactivity. Cashews help lower LDL and increase the carrying capacity for HDL. They are protein rich and can help you lose weight.
Eating cashews can boost your immune system and lower the risk of gallstones. They are also rich in essential minerals, including copper, calcium, magnesium, iron, phosphorus, potassium, and zinc. This also means that they are super beneficial for your skin and hair.
Cashews contain nutrients that most people tend to forget about when they first start a vegan diet, but you really need those for your body to stay healthy, so make sure you incorporate them (and other nuts) in your meal plan (cake or no).
A piece of advice
This is a very easy recipe, but I wouldn't be me if I didn't give you some extra tips. It looks a lot like the basic recipe for a classic vegan cheesecake, if you ever made one of them, you know the drill.
Don't forget to soak the cashews for at least 6 hours before making the cakes. This will make them soft and give the cake a nice and creamy texture. If you think that the color of the cream is not green enough, add some more matcha powder.
I suggest you use silicone cake molds, that way you can pop them out easily. I used the ones made for panna cottas. You don't have to grease them. As I mentioned, I made the vegan matcha cheesecakes with leftover ingredients, so these measurements make 4 mini cheesecakes. If you need more of them, adjust the measurements properly.
Before you serve the cheesecakes, make sure you get them out of the freezer and leave in the fridge for some time so they can soften up. I decorated mine with some matcha powder and a few pistachios I had laying around. You don't have to do that, you can decorate them in any way that you prefer.
Vegan matcha cheesecakes
Course: Sweet
Ingredients
For the crust:

60 g of almonds

6 Medjool dates

For the filling:

130 g of cashews (soaked in the water overnight)

50 ml of maple syrup

50 g of coconut cream

20 ml of coconut oil

1 tsp of vanilla extract

1 tsp of matcha powder
Directions
Chop the dates into smaller pieces. Put almonds and dates in a blender and pulse until everything is evenly combined. Divide this mixture into 4 silicone molds and press it down with your fingers to form the crust.
Remove the water from the cashews. Mix all the filling ingredients and blend them until a thick green cream is formed. Pour the filling to the top of the molds.
Put the cakes in the freezer until they set. Before you serve them, let them sit in the fridge for 15 minutes to half an hour in order to soften up.
These measurements make 4 mini cheesecakes.
If you liked this recipe, make sure you check out my other recipes like:
Feel free to tell me what you think about this in the comments below, or send me the pictures of your own vegan matcha cheesecakes. If you did something differently, I would also like to hear that, I'd love to see the things you come up with.
P.S. for more recipes like this and a bunch of other stuff, follow me on Instagram, @margo_drobi.
Also, I recently started a Patreon page, where you can subscribe and help me create more/better content. In return, you will get an exclusive piece of content (recipe) each month. My plan is to increase the amount of that content if I gain a few subscribers. If you are interested and you want to find out more, I will leave the link to my Patreon right – here.