Lemon and blueberry cakes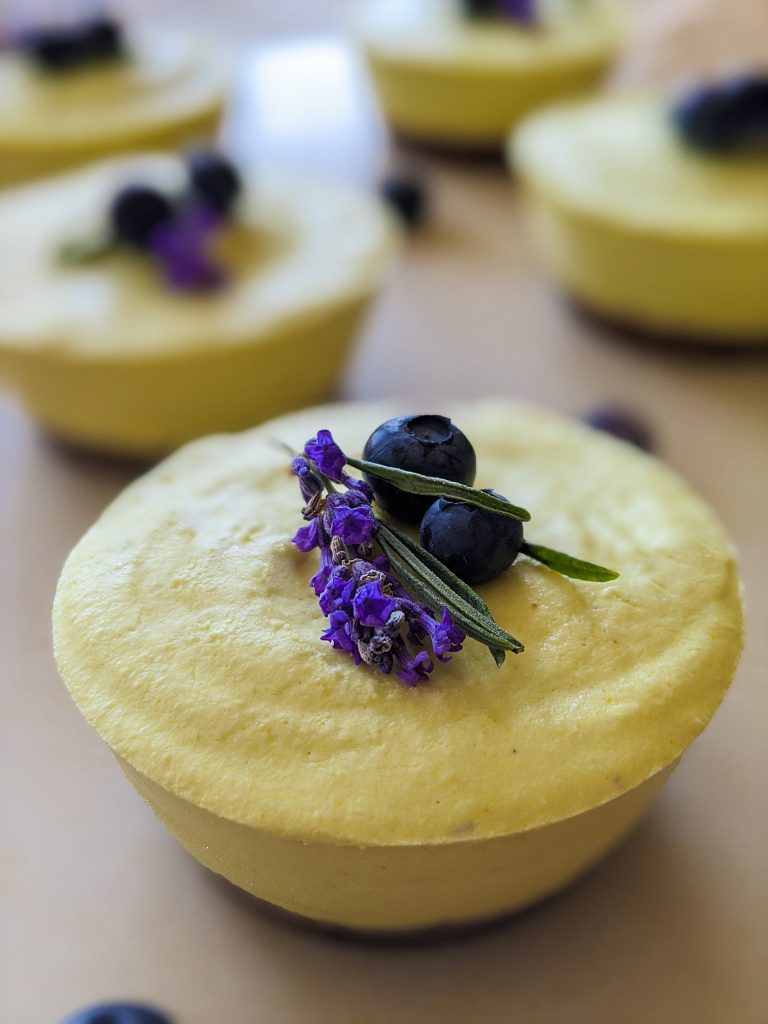 This post is for all the fans of fruity cakes and those who are not really sure about them. These lemon blueberry cakes are perfect for the summer, but since they do not include fresh fruit, you can make them any time of the year. I myself am not a fan of fruity dessert, but I have to say, these have won me over.
There are so many things I think are great about this recipe. First of all, it does not include refined sugar or artificial color. If you follow this blog, you probably know that I try to avoid those whenever I can. The combination of lemon and blueberry jam is just delightful and refreshing. It also includes great ingredients that can be very good for you.
To create this recipe I used a combination of several desserts I made in the past, and it turned out great! And if you do not like fruit cakes, I still suggest you try this recipe, it might change your opinion as it did mine. As for those healthy ingredients, I decided to write down a thing or two about them in the next section.
Some health benefits
As you probably already know, the blueberry is a very popular berry. It is low in calories but high in fiber, vitamin C and vitamin K. They are believed to have one of the highest antioxidant levels of all common fruits and vegetables. The main antioxidant compounds in blueberries belong to a family of polyphenols antioxidants called flavonoids.
Several studies suggest that blueberries and blueberry juice reduce DNA damage, which is a leading driver of aging and cancer. Another study determined that eating 75 grams of blueberries with a main meal significantly reduced the oxidation of "bad" LDL cholesterol, and thus have been shown to reduce a predominant risk factor for heart disease.
Regular blueberry intake is tied to lower blood pressure in numerous studies. The antioxidants in blueberries seem to benefit your brain by aiding brain function and delaying mental decline. They might have anti-diabetes effects, improving insulin sensitivity and lowering blood sugar levels.
Like cranberries, blueberries contain substances that can prevent certain bacteria from binding to the wall of your bladder, which may help prevent UTIs. It is suggested that they may aid muscle recovery after strenuous exercise, though more research is needed.
Many studies show that nut intake has a cholesterol-lowering effect, and there is emerging evidence of beneficial effects on oxidative stress, inflammation, and vascular reactivity. Cashews help lower LDL and increase the carrying capacity for HDL. They are protein rich and can help you lose weight.
Eating cashews can boost your immune system and lower the risk of gallstones. They are also rich in essential minerals, including copper, calcium, magnesium, iron, phosphorus, potassium, and zinc. This also means that they are super beneficial for your skin and hair.
Cashews contain nutrients that most people tend to forget about when they first start a vegan diet, but you really need those for your body to stay healthy, so make sure you incorporate them (and other nuts) in your meal plan (cake or no).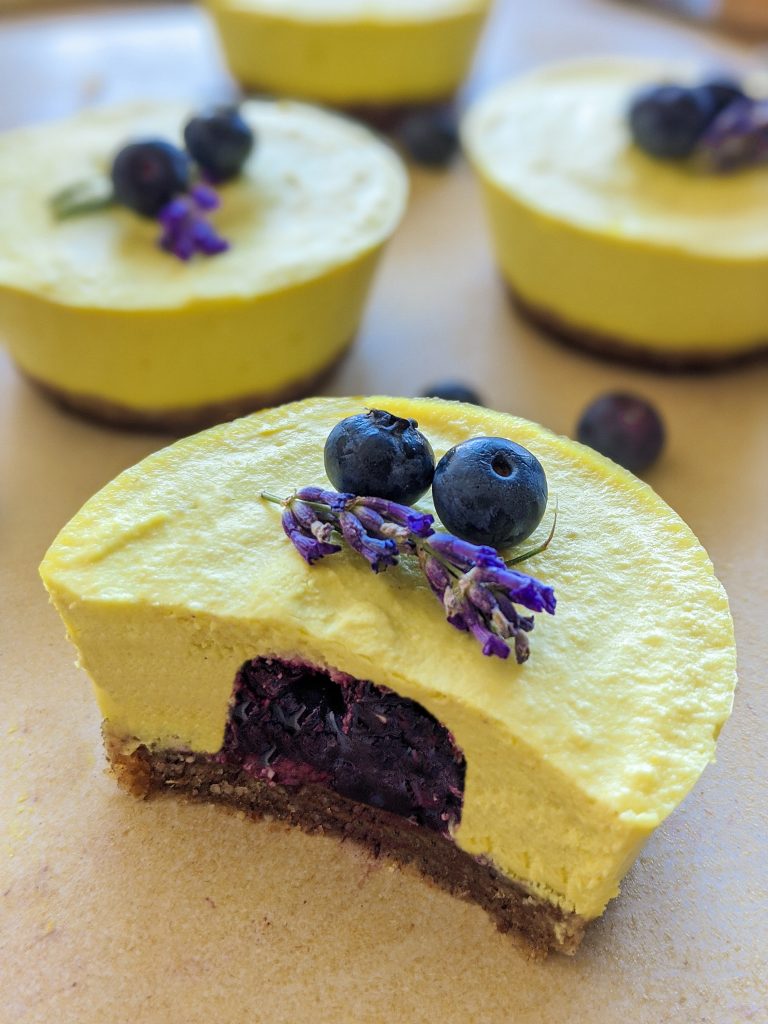 A piece of advice
Don't forget to soak the cashews for at least 6 hours before making the cake. This will make them soft and give the cake a nice and creamy texture.
When pouring the lemon cream over the blueberry jam, try to start on the edges first. This way you will make sure that the jam will stay in the middle. You can decorate these lemon blueberry cakes if you want, I used fresh blueberries and lavender flowers.
Before you serve them make sure you get them out of the freezer and leave in the fridge for some time so they can soften up.
Lemon and blueberry cakes
Course: Sweet
Ingredients
For the crust:

65 g of almonds

65 g of hazelnuts

130 g of dates

1 tbsp of water

For the blueberry jam:

90 g of frozen blueberries

1 tsp of agar agar

1 tbsp of maple syrup

For the cream:

300 g of cashews (soaked in water for 8 hours at least)

8 tbsp of cocoa butter

6 tbsp of maple syrup

120 ml of lemon juice

120 ml of coconut cream

½ tsp of turmeric powder

3 tsp of lemon zest
Directions
Put the almonds and hazelnuts in a blender and blend until you get a flour. Add the chopped dates and water and blend some more. Prepare the silicone molds (I used the ones for panna cottas). Put a heaping tablespoon of this crust mixture in each mold and press it down with your fingers to shape the crust. Set aside.
Put the frozen blueberries in the pan and let them simmer on medium temperature for 10 minutes. Add agar agar and maple syrup, mix everything and remove from the stove. Let it cool down and mix from time to time, then store it in the fridge.
Remove the water from cashews. Put all of the cream ingredients in a blender and blend until you get a creamy yellow texture. When the blueberry jam has thickened a bit, put about 2 teaspoons of it on top (in the middle) of each crust.
Pour the lemon cream into each mold (to the top, over the crust and blueberry jam) and put the molds in a freezer. Leave them there to set for a few hours (or overnight).
You can decorate them if you want (I used fresh blueberries and lavender). Before serving leave the lemon blueberry cakes in the fridge for a bit to soften.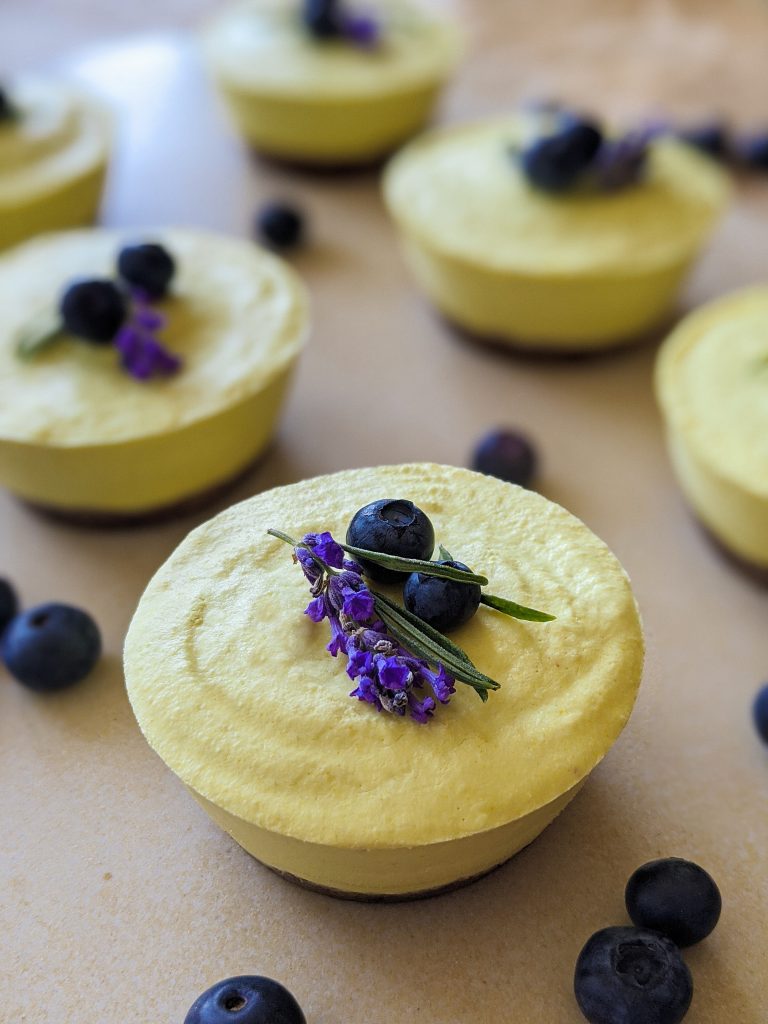 If you liked this recipe, make sure you check out my other recipes like:
– vegan red velvet cheesecakes
Feel free to tell me what you think about this in the comments below, or send me the pictures of your own lemon blueberry cakes. If you did something differently, I would also like to hear that, I'd love to see the things you come up with.
P.S. for more recipes like this and a bunch of other stuff, follow me on instagram, @margo_drobi.
Also, I recently started a Patreon page, where you can subscribe and help me create more/better content. In return, you will get an exclusive piece of content (recipe) each month. My plan is to increase the amount of that content if I gain a few subscribers. If you are interested and you want to find out more, I will leave the link to my Patreon right – here.