Vanilla jam cake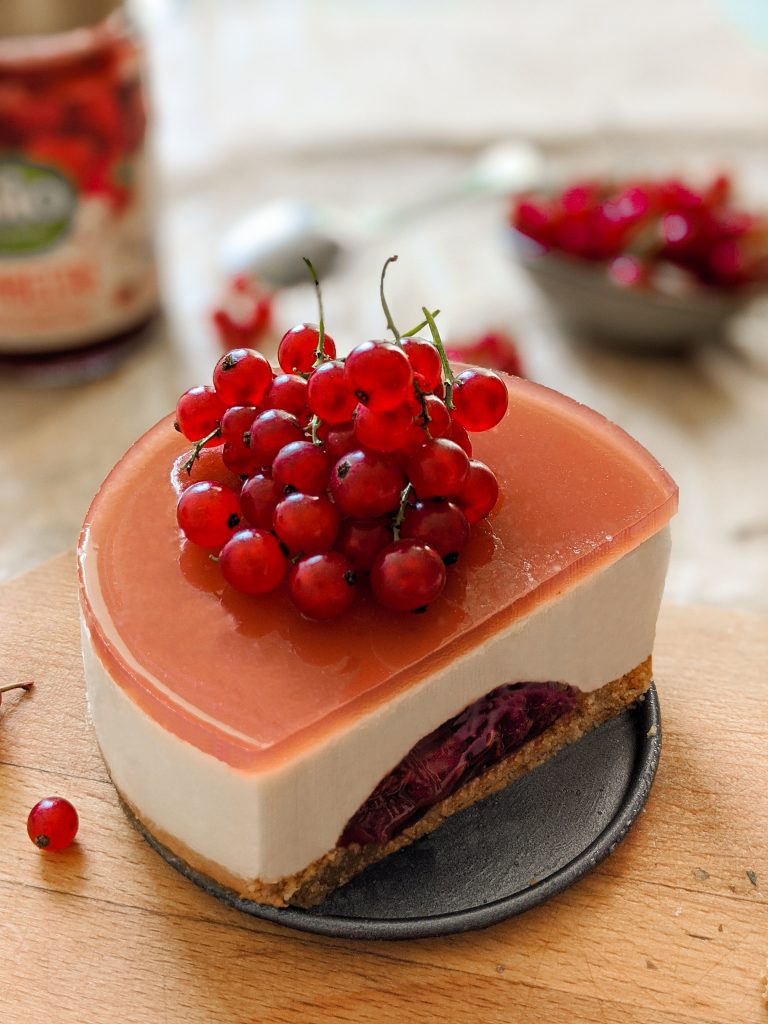 Today's recipe is something I made with leftover ingredients from other desserts. And the fresh berries I had sitting in my fridge were a nice touch to this vanilla jam cake.
I recently bought just one very small cake mould, so I had to figure out a recipe for something tiny. This would probably not work as well with a large mould, so I suggest you use either small cake moulds or the silicone ones that are used for panna cottas.
Vanilla jam cake is very creamy, sweet, easy to make and you can also experiment a bit with it. I just happened to have some raspberry jam and red currant juice in my kitchen, and you can use any jam or juice that you like. But I have to say, this combo worked perfectly.
It is super delicious, but obviously not the healthiest dessert on planet earth, so we are going to skip the health benefits section today. The healthy thing about it is that it is vegan.
A piece of advice
I know I said that this recipe is super easy, but I will write down a few tips and tricks anyways, to make it even easier for you.
First of all, you don't have to use golden Oreos for this one. You can pick any cookie that you like. That being said, some cookies might require a larger or smaller amount of margarine. You will notice if that is the case while mixing the two together. If the crust is too crumbly and can't be shaped properly, add more melted margarine. If you do choose Oreos, make sure you remove the filling first and then weigh them. You only need the cookie part.
You can also make your own jam, and if you are not sure how to make it, I will leave the link to my lemon blueberry jam cake right – here. For this instance, I used store-bought raspberry jam, just because I had some sitting in the fridge. Just scoop out one teaspoon and place it in the center of the cookie crust. Make sure it stays in the center so you can close it off with vanilla cream.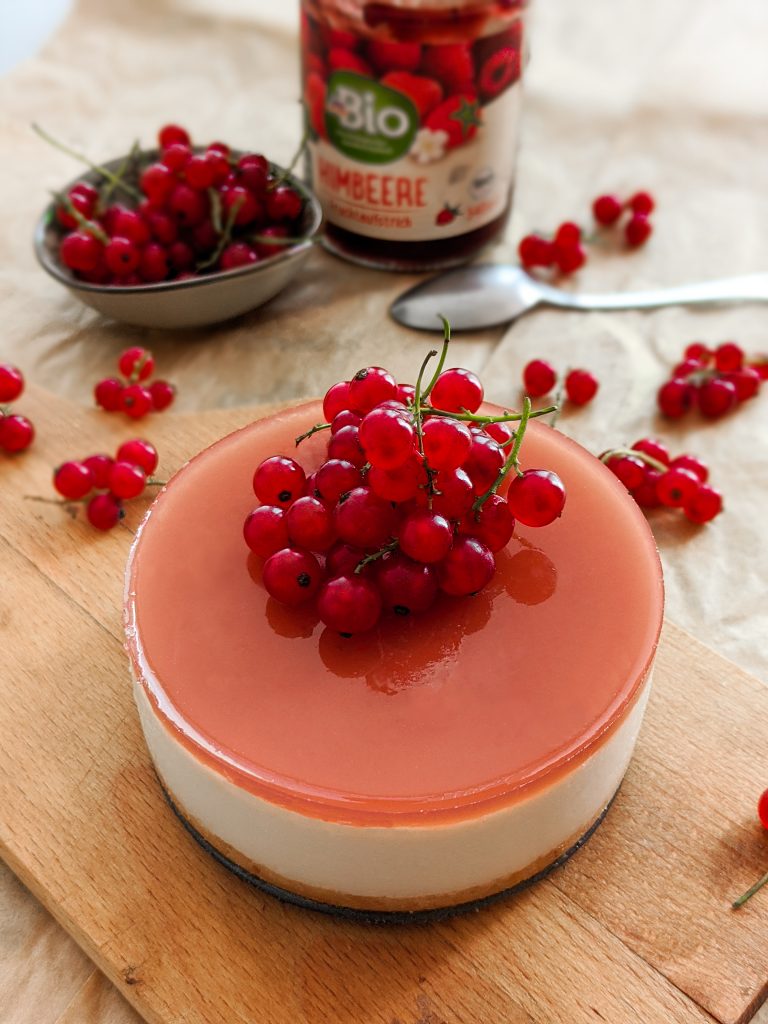 You also don't have to use red currant juice for the jelly. Use any juice that you like (maybe raspberry or something like that).
If you are willing to experiment, you can use a different type of jam, for example, red currant or blueberry. I haven't tried any other version yet, but If you do, please let me know how it went.
If you are using slightly larger cake moulds you can increase the jam amount accordingly. When you take off the vanilla cream from the stove, pour it carefully and slowly around the jam part and then on top of it.
Let the cakes cool completely before putting them in the fridge. I suggest you use silicone moulds, or the ones that open on the sides, so you can pop them out easily.
For the decoration, I used some fresh red currants. These measurements are enough for 3 mini cakes.
Vanilla jam cake
Ingredients
For the crust:

140 g of golden Oreos* (filling removed)

120 g of margarine

For the cream:

600 ml of full-fat coconut milk

60 g of sugar

1 ½ tsp of vanilla sugar

10 g of cocoa butter

2 tbsp of corn starch (mixed with some water)

1 ½ tsp of agar agar (mixed with some water)

raspberry jam**

For the jelly:

150 ml of red currant juice (or any other)

60 g of sugar

1 tsp of agar agar
Directions
Remove all the filling from your Oreo cookies (you can use any other sweet cookies as well). Put them in the blender and blend until there are no chunks left. Melt the margarine and add it to the ground cookies. Mix the two together.
Spray the cake moulds with non-stick spray. Scoop out some cookie crust and place it in each mould. Press it down with your fingers to form a crust. Leave the moulds in the fridge while you make the cream. 
Put the coconut milk, sugar, starch, vanilla sugar, cocoa butter, agar-agar in a saucepan and mix over medium heat until the cocoa butter has melted. 
Bring the mixture to a boil over medium heat and let it boil for 2-3 minutes. Take the cream off the stove and take the moulds out of the fridge. 
Scoop out a heaping tablespoon of raspberry jam and place it in the middle of each crust. Carefully pour the cream mixture around the jam and then over it, until it is completely covered. 
Let it cool completely on room temperature. Put the cakes in the refrigerator to set for about an hour and a half. Meanwhile, make the red currant jelly.
Mix the red currant, sugar and agar agar in a saucepan and mix over medium heat for a few minutes. Bring the mixture to boil over medium heat and let it boil for 2-3 minutes. Take the jelly off the stove and take the cakes out of the fridge again.  
Pour the jelly over the creamy layer and let it cool down on room temperature. Let the cakes sit in the fridge overnight.
Notes
* You don't have to use Oreos, you can buy any brand of sweet cookies for the crust.
** You can use any jam or you can make fresh red currant jam by following the instructions from my lemon blueberry cake recipe.
If you liked this recipe, make sure you check out my other recipes like:
– vegan lemon cakes with blueberry jam
Feel free to tell me what you think about this in the comments below, or send me the pictures of your own vanilla jam cake. If you did something differently, I would also like to hear that, I'd love to see the things you come up with.

P.S. for more recipes like this and a bunch of other stuff, follow me on Instagram, @margo_drobi.

Also, I recently started a Patreon page, where you can subscribe and help me create more/better content. In return, you will get an exclusive piece of content (recipe) each month. My plan is to increase the amount of that content if I gain a few subscribers. If you are interested and you want to find out more, I will leave the link to my Patreon right – here.