Vegan sogan dolma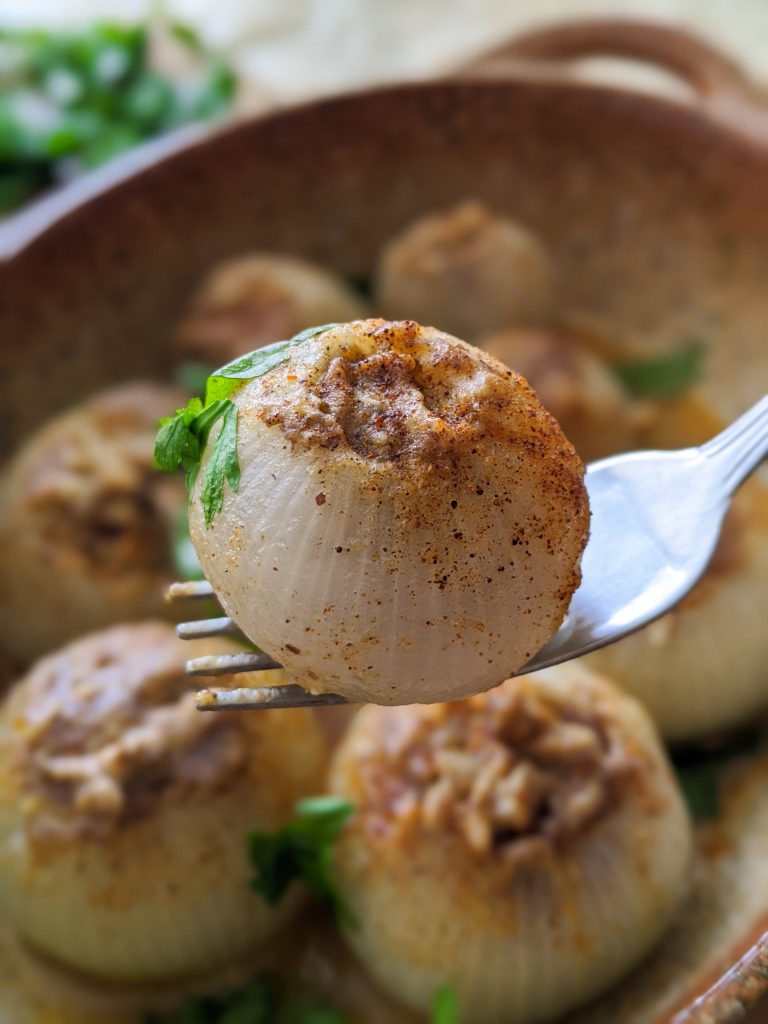 Today's post is going to be somewhat different. Usually I like to try out different cuisines and cook dishes that are not easily available to me. But it occurred to me the other day that I never really made anything from my own traditional cuisine. That changes today, because I am sharing with you a Bosnian dish – vegan sogan dolma!
Sogan dolma, like most Bosnian dishes, is made with ground beef. So it took me a few days to veganize it, I had to find a good substitute for the meat. Honestly, I think I did a very good job. I never liked this dish as a kid, but I find this version extremely delicious. If this is something that you have missed since you've gone vegan – this one is for you.
It is also a great opportunity for my readers to try out something new, or familiarize themselves with Bosnian cuisine. In the meantime, I will try to figure out how to veganize a few more traditional recipes. I will let you know how it went.
Some health benefits
As you may have noticed, this dish is full of great and healthy ingredients. But today I chose to write a thing or two about lentils. Lentils are an excellent source of B vitamins, iron, magnesium, potassium and zinc. They're also a great source of plant-based protein and fiber.
Lentils are a great source of health-promoting polyphenols, which have strong antioxidant and anti-inflammatory properties with potential cancer-cell inhibiting effects.They may protect your heart by supporting weight loss, preventing homocysteine accumulation in your body and improving cholesterol and blood pressure levels.
Lentils are easy to cook, with split lentils only taking about 5 minutes and other varieties around 20 minutes to prepare. Plus, unlike other legumes, you don't need to soak them first.
A piece of advice
I know that this may look a bit difficult and time consuming to you. But you only need some patience with separating the onion layers. The rest is pretty easy.
Don't get frustrated if you break a layer or two. You can always wrap them in another one and cook them that way. Besides, you might not need every single one of them. Make sure you don't put too much filling inside the onions, the rice will puff up during cooking and the onions may burst.
Check if the rice is cooked from time to time. When it's done you can remove them from the stove. If the water evaporates from the pot before the cooking is done, add some more hot water and keep cooking the onions on medium heat.
Also, don't forget to taste the filling before you add rice to it. It's important to check if it needs more seasoning or not.
The last step is optional, but it sure makes the vegan sogan dolma taste better.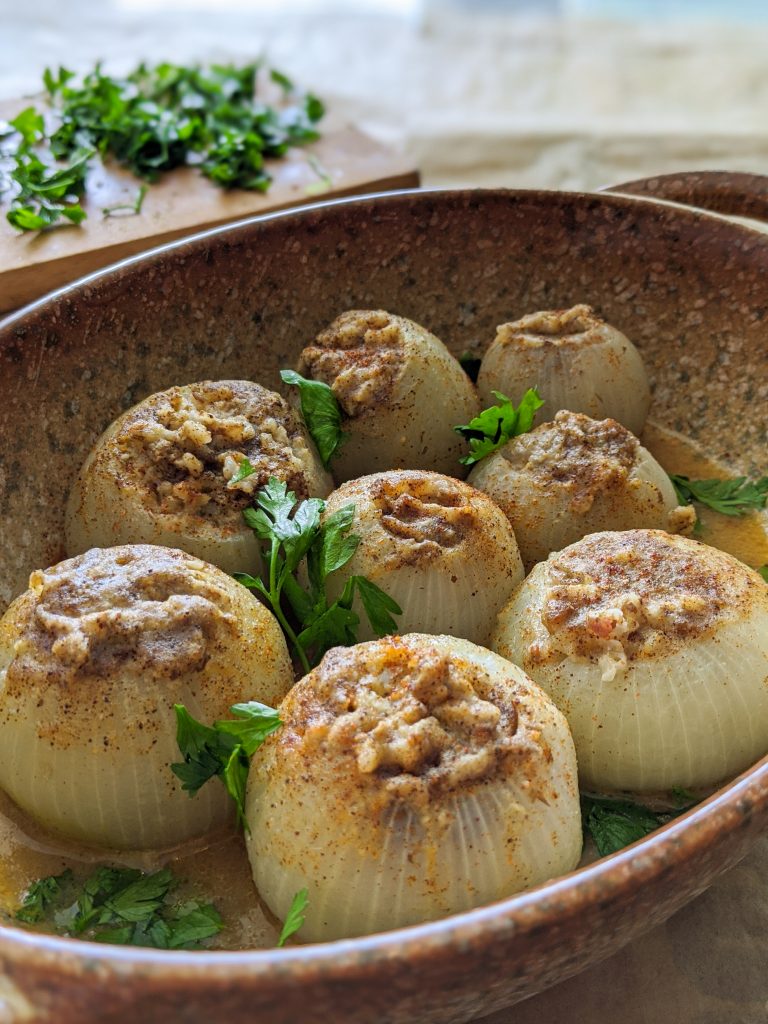 Ingredients
8-10 small to medium onions
1 tbsp of apple cider vinegar
For the filling:
100 g of lentils
100 g of mushrooms
3 tbsp of ground flaxseed + 5 tbsp of water
2 tbsp of coconut flour
1/2 tsp of salt
½ tsp of pepper
2 tsp of smoked paprika
1 tsp of garlic powder
80 g of rice
oil
Instructions
Start by preparing the filling. Put the lentils in a saucepan and add water (water level should be about 2 cm above the lentils). Let it boil, reduce the heat to low and cook for 10 minutes (with no lid). Drain and rinse with cold water.
Mix ground flaxseed and water and set aside. Put the cooked lentils into a blender and blend until most of the grain is gone. Put them into a separate bowl and set aside. Blend the mushrooms next.
Mix the mushrooms with the lentils. Add coconut flour, flaxseed/water mixture and all the spices. Mix or knead with your hands.
Taste the mixture to check if it's spicy enough.
Add the rice and knead again. Set aside.
Clean the onions. Remove the skin and cut them on top and bottom, remove the roots. Bring a pot of water to boil, add 1 tbsp of apple cider vinegar and cook the onions for 10 minutes. Put them in cold water and let the onions rest for 5-6 minutes. Transfer them onto a flat and dry surface and begin to separate the layers.
Take an onion into your hands and gently push it with your thumb from bottom to the top and back, until you remove the middle. Repeat this process and remove the layers from inside out, until you have a few of them.
Fill all the onion layers with the filling, but do not overdo it. Put a splash of oil in a pot and put the filled onions into the pot. You can put them on top of eachother if there is no space. Turn the heat on to high, when they start to fry, pour hot water into the pot, enough to cover the vegan sogan dolma. Put the lid on and let them cook for about 20 minutes. Taste the rice, if it's cooked, you can remove them from the stove.
The next step is optional. Towards the end of cooking, heat some oil in a pan on medium heat (enough to cover the bottom). Add 3 tablespoons of flour to the pan and mix for 2 minutes. Add 1 tablespoon of smoked paprika to the pan, remove from the heat and mix. Open the lid and sip a few tablespoons on top of the stuffed onions. Let them simmer for a few more minutes.
Serve the vegan sogan dolma with some parsley.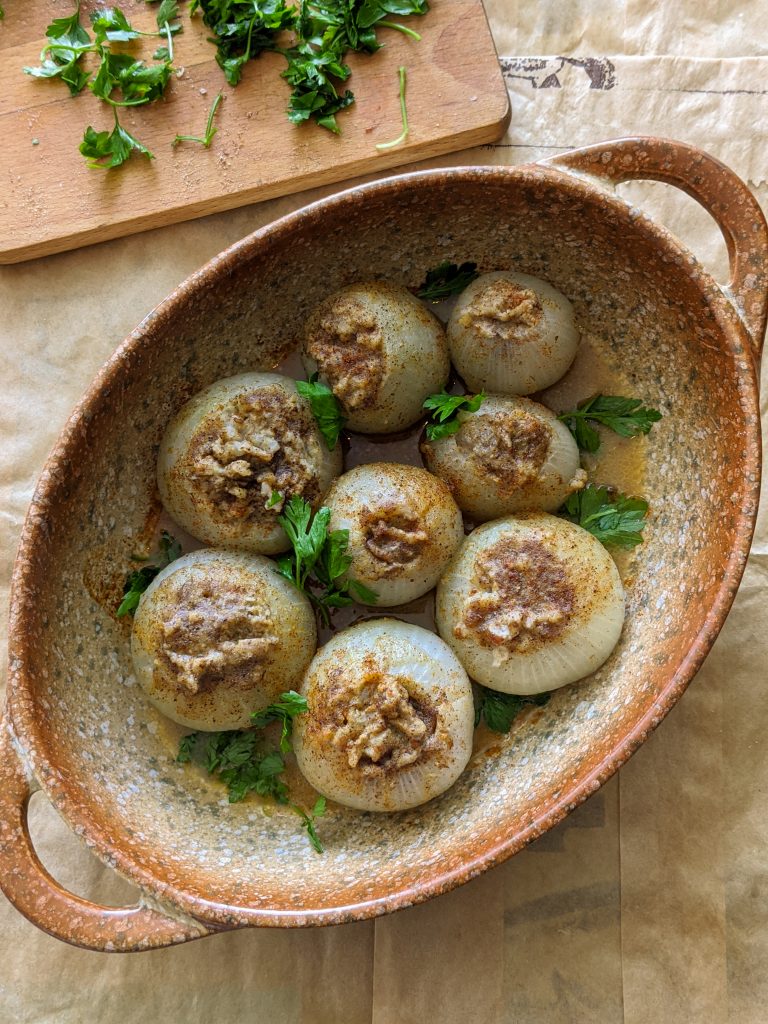 If you liked this recipe, make sure you check out my other recipes like:
Feel free to tell me what you think about this in the comments below, or send me the pictures of your own vegan sogan dolma. If you did something differently, I would also like to hear that, I'd love to see the things you come up with.
P.S. for more recipes like this and a bunch of other stuff, follow me on instagram, @margo_drobi.
Also, I recently started a Patreon page, where you can subscribe and help me create more/better content. In return, you will get an exclusive piece of content (recipe) each month. My plan is to increase the amount of that content if I gain a few subscribers. If you are interested and you want to find out more, I will leave the link to my Patreon right – here.