Vegan scallion pancakes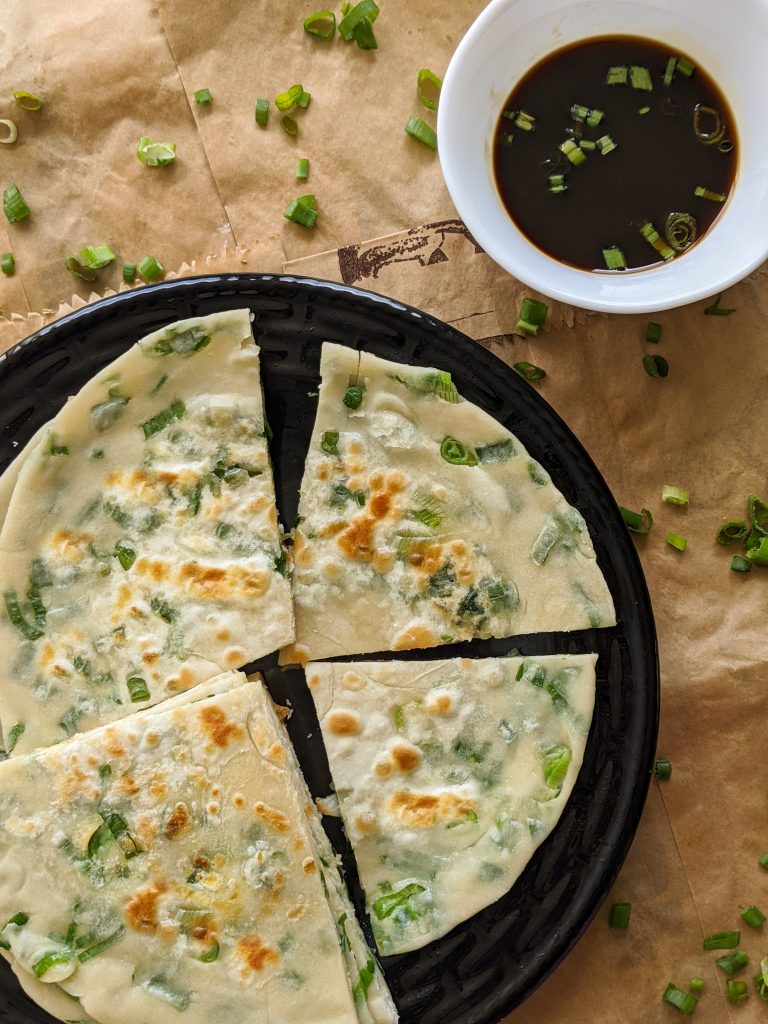 This is something I wanted to make for the longest time. Every now and then I would see recipes for vegan scallion pancakes but I would always save them for later. Today however, I am writing down probably the easiest recipe for this Chinese treat.
These are not the type of pancakes that you are used to. They are not very soft or fluffy, but you will love them all the same, especially if you like scallions. As you can see from the ingredient list, you don't need a lot of ingredients to make these pancakes. It is a very simple recipe, and anyone can do it. Since I still see a lot of scallions in grocery stores, I thought that the time was right to post this.
Vegan scallion pancakes are savory, super delicious and very good for you. I am not really a fan of savory pancakes and it is a challenge for me to find a version that I like, so I was very happy when I made these for the first time. Unlike other pancakes, they are very thin and you're supposed to dip them in a sauce. I used a mixture of wok sauce, sesame oil and sesame seeds.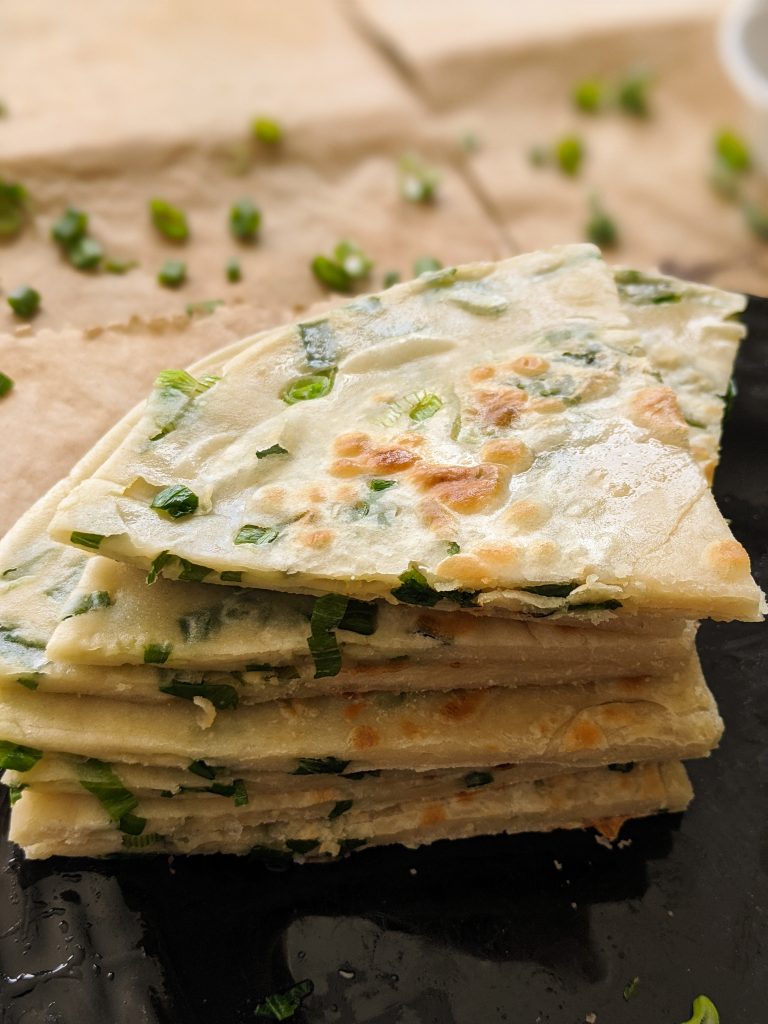 Some health benefits
Like many vegetables and fruits, scallions are mostly water. A cup of it has just 32 calories, trace amounts of fat, and no cholesterol. It also has less sugar and fewer carbs than vegetables like carrots, potatoes, and corn.
A cup of cut scallions has about 10% of the fiber you need for the whole day. Getting lots of fiber helps you feel full, keeps your cholesterol levels down, and may lower your chances for diabetes, heart disease, and other conditions.
Scallions and other similar vegetables may block cancer growth, especially in the stomach. Scientists are still not sure how. They believe that a compound called allicin, which is what gives you garlic breath, may prevent cells from turning cancerous or slow tumors from spreading.
Extracts of onions, garlic, and their relatives have long been used as medicine. They can kill bacteria, fungi, and viruses. Lab tests on certain varieties of onions showed that at high enough concentrations, some can kill or slow the growth of salmonella or E. coli.
And these are only some of the reasons why you should try to incorporate more scallions (or it's relatives) into your diet. Fortunately, this is very easy, but if you still need some ideas, I suggest you start off with these scallion pancakes.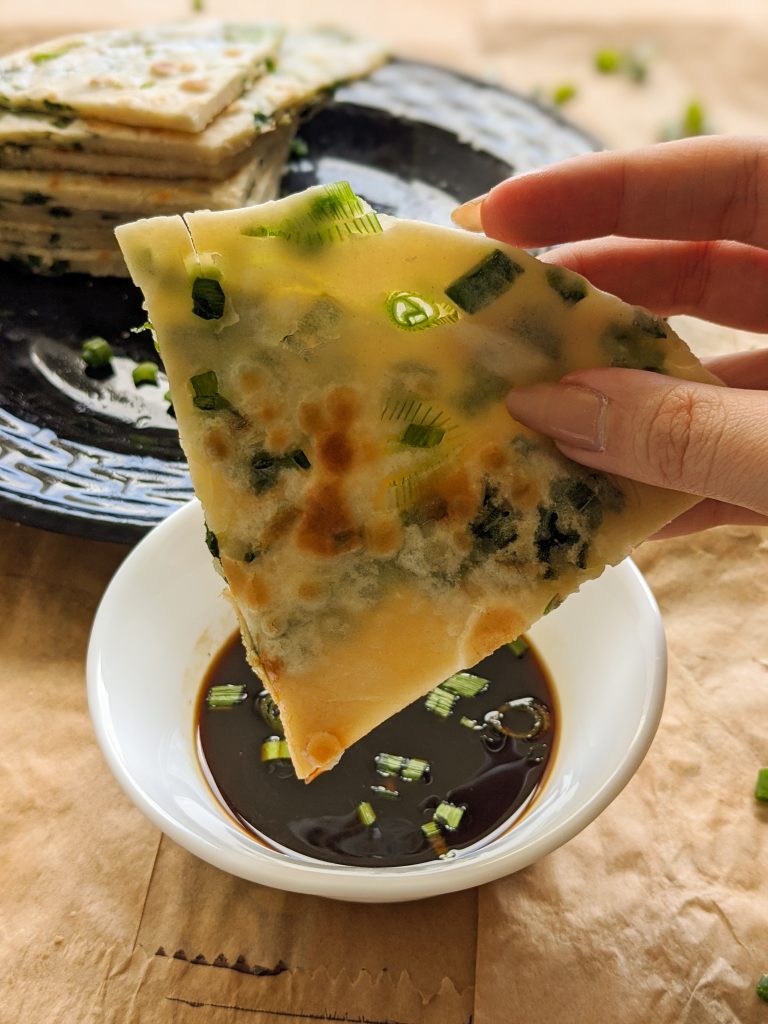 A piece of advice
If you have been following my posts for some time, you might already know that the majority of my recipes are very easy. And the same goes for this one. Nothing crazy, with just a few ingredients. But there are still some things that I want to say and photos that I want to leave here to make this process even easier for you.
First thing I would like to mention is pretty basic, but still important: don't forget to sprinkle some flour on your rolling surface. This way the dough will not stick to it. I even put some flour on a plate where I am keeping the rolled out pancakes, just to be safe. Also, make sure the water you are using is just hot, not boiling.
When you're rolling the pancakes, I would suggest you keep the parts of dough you are not using covered with a kitchen cloth. Just to prevent them from drying out.
If you don't quite understand how the rolling process works for this recipe, I am going to leave some step by step photos here, just so you can get an idea.
So first you take a piece of dough, form a ball, press it with your palm onto a flat floured surface. Then roll it out into a thin circle. You brush it with oil, sprinkle scallions on it, then roll it up with your fingers in a log shape, like in the picture below.
Then you form a spiral, like you can see in the next photo.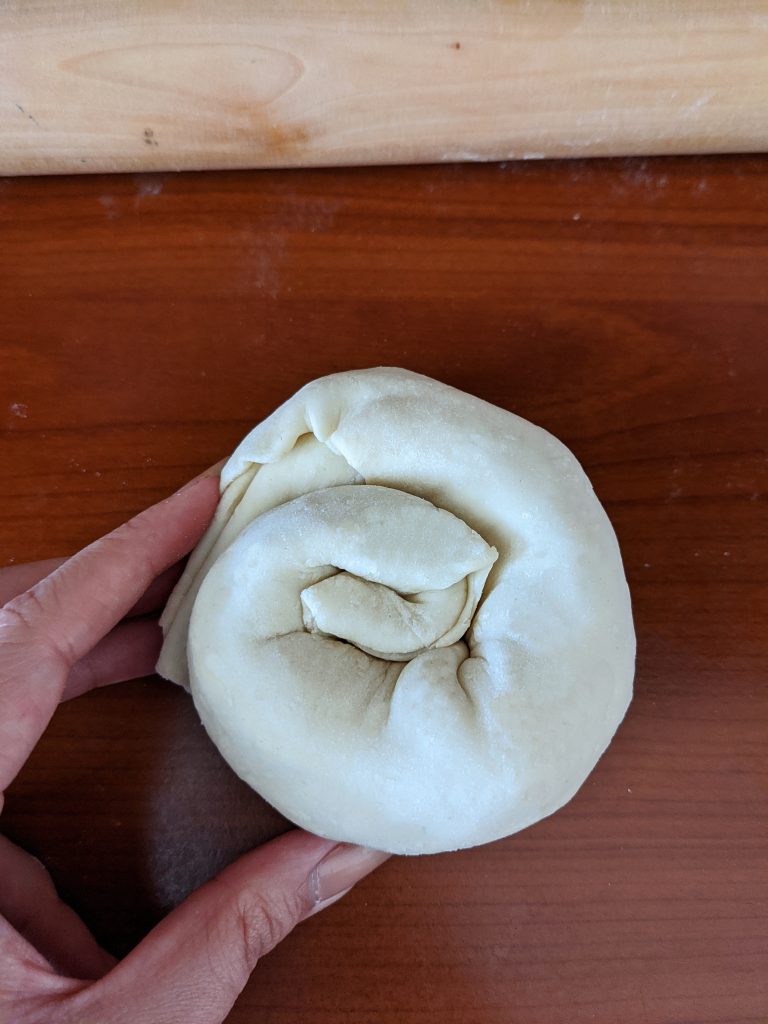 Press it down and roll out into a very thin circle once again.
This way you will make sure your scallions are spread evenly inside the dough, and you can roll them out to be very thin.
Vegan scallion pancakes
Course: Salty
Ingredients
250 g of all purpose flour

½ tsp of salt

110 ml of hot water (not boiling)

1 tbsp of oil

4-5 scallions
Directions
Put the flour and salt in a big bowl and mix with a spoon. Pour hot water into the bowl with flour and salt and stir until it's well combined.
When the dough starts to form, take it out onto a floured surface and start to knead. If it is too dry add some more hot water (or some flour if it's too sticky).
Form a ball from the dough, cover it with a damp kitchen towel and let it sit for 30 minutes. Chop the scallions into small pieces (the green part), and set them aside.
After 30 minutes, divide the dough in few pieces (depending on the size and number of pancakes you want). Put some flour on your rolling surface. Roll each piece into a ball and press it down with your palm. Take a rolling pin and roll out a thin flat circle. Brush the surface with some oil and sprinkle chopped scallions on it.
With your hands, roll the dough over the scallions, in a shape of a log (see picture above). Then roll it into a spiral, or in a shape of a snail's home (see picture above). Press the spiral down with your hand and start to flatten it with a rolling pin. Roll out a very thin flat circle once again.
Heat the oil in a pan to medium heat. Fry each pancake for about 2 minutes on each side.
Serve them with a dipping sauce of your choosing. I used wok sauce with some sesame seeds.
If you liked this recipe, make sure you check out my other recipes like:
Feel free to tell me what you think about this in the comments below, or send me the pictures of your own vegan scallion pancakes. If you did something differently, I would also like to hear that, I'd love to see the things you come up with.
P.S. for more recipes like this and bunch of other stuff, follow me on instagram, @margo_drobi.
Also, I recently started a Patreon page, where you can subscribe and help me create more/better content. In return, you will get an exclusive piece of content (recipe) each month. My plan is to increase the amount of that content if I gain a few subscribers. If you are interested and you want to find out more, I will leave the link to my Patreon right – here.