Vegan mocha cheesecakes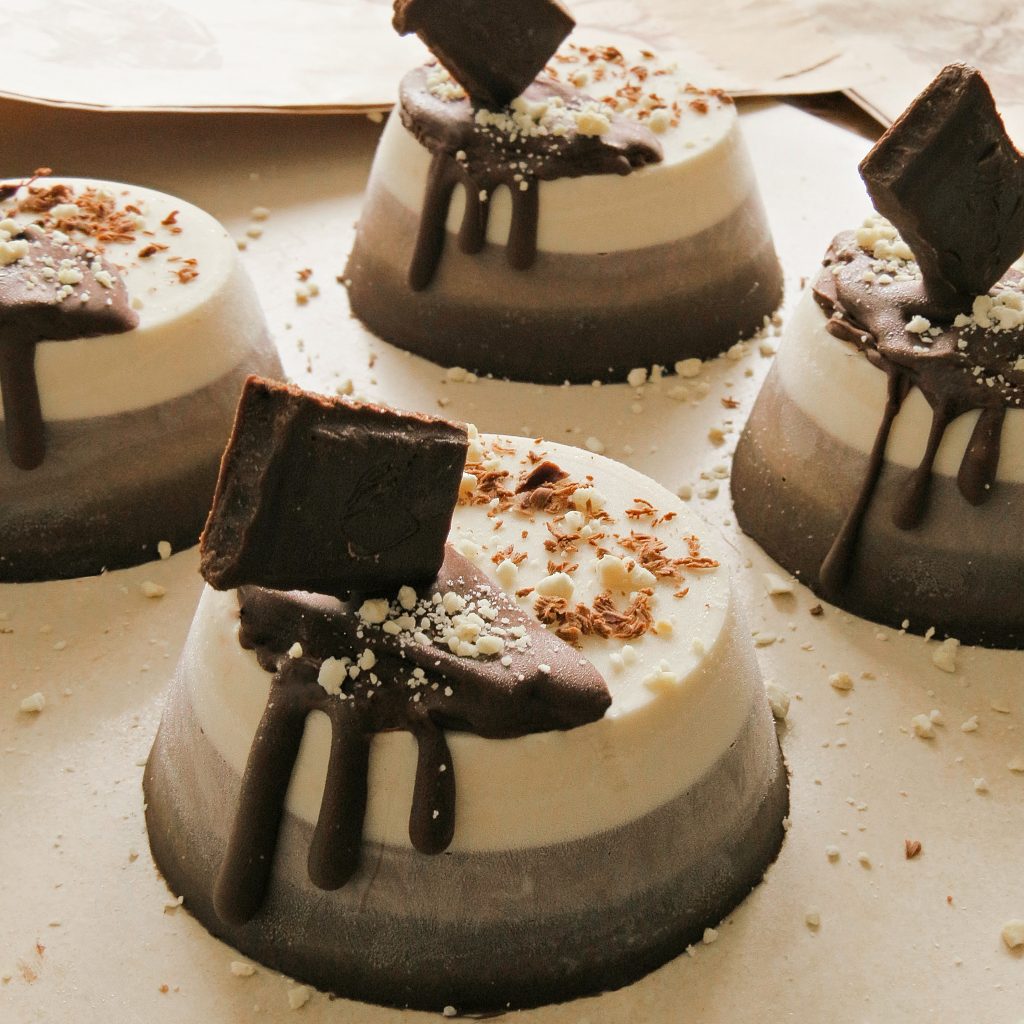 Today I'm posting a real treat for all coffee lovers out there. These amazing three layer vegan mocha cheesecakes will make you forget about all other coffee cakes in existance. And yes, that seems like a bold statement, but I just can't get enough of them, and I tried many versions of vegan cheesecake. This one is by far my favorite.
This cheesecake is much easier to make than it looks, mainly because you don't need to make three different batters for the layers. You just make it darker as you go, by adding cocoa and coffee. All you need is a blender and a cake mould. And there's no crazy ingredients, so you won't have any trouble with this one. If you're like me, you probably have most of these lying around in your fridge or pantry.
These mocha cheesecakes are vegan, refined sugar free, gluten free and very delicious. A great treat to make for birthday (or any kind of) parties, or like in my case, to spoil yourself a little.
Some health benefits
In case you are not allergic to nuts, and decide to make these lovely cakes, I will mention some cool facts about cashews that might interest you. I have noticed the trend of making vegan cheesecakes with no cashews, mainly because they can be a bit pricey, but there are a few good reasons you might want to treat yourself with cashew cakes or sauces every once in a while.
Many studies show that nut intake has a cholesterol-lowering effect, and there is emerging evidence of beneficial effects on oxidative stress, inflammation, and vascular reactivity. Cashews help lower LDL and increase the carrying capacity for HDL. They are protein rich and can help you lose weight.
Eating cashews can boost your immune system and lower the risk of gallstones. They are also rich in essential minerals, including copper, calcium, magnesium, iron, phosphorus, potassium, and zinc. This also means that they are super beneficial for your skin and hair.
Cashews contain nutrients that most people tend to forget about when they first start a vegan diet, but you really need those for your body to stay healthy, so make sure you incorporate them (and other nuts) in your meal plan (cake or no).
A piece of advice
In case you want to make your mocha cheesecakes look just like the ones in my pictures, this is what you need to do. Melt 80 g of chocolate, preferably with 70% of cocoa (these have a really small amount of sugar in them), or a sugar free chocolate bar. Set aside a few chocolate pieces and a few cashews.
Find a small plastic syringe, or any kind of tube for cake decoration as long as it has a small opening. While the melted chocolate is still hot, and the cheesecakes are frozen, suck the chocolate into the syringe.
Pump out three small drops of chocolate on the edge of the cheesecake. They won't travel all the way down because the cake is very cold, and they will solidify quickly. Take a bigger amount of chocolate (one tablespoon for example) and put it on top of the cake. This too will solidify right away, so you need to take a piece of chocolate and poke it into this chocolate layer while it's still somewhat soft. Hold it there for a few seconds and it will stick. And that's about it!
You might have to stop a few times to clean your syringe, since the chocolate gets cold and it can jam.
Now you only need to crush a few cashews that you've put aside and sprinkle them on top of your mocha cheesecakes.
Whether you decorate the cakes or not, I would like to see how yours turned out. Your mould might be in a shape of a circle, a cube, heart shaped, but in any case, feel free to share some photos with me here, or on instagram.
Ingredients
140 g of cashews
200 ml of maple syrup
50 ml melted vegan margarine
50 ml of melted coconut oil
60 ml of coconut cream
3 tbsp of cocoa powder
1 tsp of instant coffee
a pinch of salt
dark chocolate and a few crushed cashews for decoration (optional)
Instructions
Soak the cashews in water for at least 4 hours. This will make them soft and easy to blend.
Remove the water, and put cashews, maple syrup, salt, margarine, coconut oil and coconut cream in a blender and blend until you get a creamy, thick batter.
Pour 2-3 tablespoons of white batter into silicone cake moulds (or enough to fill one third of the mould) and place it in the freezer. When the white layer is solid, add 1 tablespoon of cocoa powder to the remaining batter in the blender and blend again, until you get a light brown color.
Fill one third of the cake moulds with this mixture again and leave it in the freezer. When this layer is frozen too, add two tablespoons of cocoa powder and a teaspoon of instant coffee to the remaining batter and blend once again.
This layer should be the darkest bottom layer of the cake. Pour the last layer into the mold and put it back in the freezer again.
When the cheesecakes have set, you can decorate them as you wish. In the third part of this article I wrote my decorating process, in case you want to make them look like mine.
Before serving, put them in the fridge and let them soften for 15-20 minutes.
This makes 4 or 5 cakes (depending on the size of the mould).
If you liked this recipe, make sure you check out my other recipes like:
Feel free to tell me what you think about this in the comments below, or send me the pictures of your very own mocha cheesecakes. If you did something differently and ended up with great results, I would also like to hear that, I'd love to see the things you come up with.
P.S. for more recipes like this and bunch of other stuff, follow me on instagram, @margo_drobi.