Chickpea pancakes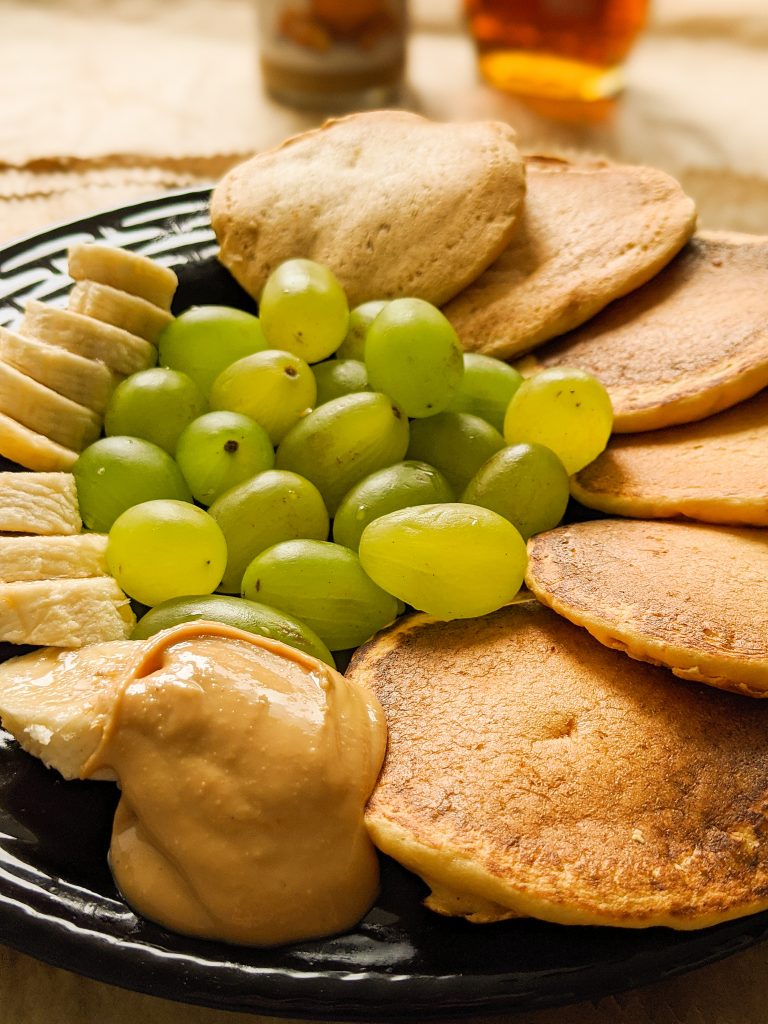 Chickpea flour was something I used to see on supermarket shelves but never had any idea what to use it for. I purchased it one time when I was making quinoa-spinach bites, so I could roll them in this flour and bake them (even though I would probably be just fine with corn flour). Since then, it was just sitting in my pantry. Luckily, these chickpea pancakes changed that.
Someone once told me that I can make vegan scrambled eggs using this flour, but I was never a fan of regular scrambled eggs, so this did not catch my attention.
And then, the other day, I (and probably most of you) noticed that there is a shortage of flour in the supermarket. Since people started stock-piling food these last few weeks, there has been a shortage of pretty much every essential item.
Determined to start my day of with a plate full of fluffy pancakes, I started digging through my pantry, expecting to find at least a cup of all-purpose flour hidden somewhere.
The only flour I found was the chickpea one. And the decision was made. I was not sure how the pancakes would turn out since the chickpea flour had (in my opinion) a strange taste. I always had the feeling it just sucks out all the moisture from my mouth.
In hopes of avoiding the weird taste, I added maple syrup to the mix. Not sure if maple syrup or the cooking process did it, but it worked! Not weird at all.
I was really happy for being able to incorporate this, mainly because of the benefits of using this flour in meals.
Namely, it is high in protein content, fibers and micronutrients, while being low in carbohydrates and calories. Half a cup of chickpea flour contains 11 grams of protein, 5 grams of nutrients like folate, iron, magnesium and zinc.
92 grams of chickpea flour packs slightly more folate than you need in a day.
Chickpeas contain beneficial antioxidants called polyphenols. Antioxidants are compounds that fight against unstable molecules called free radicals in your body, which contribute to the development of various diseases.
Research shows that it can decrease the risk of getting diabetes, improve the health of your heart, improve the immune system, and help with digestion problems.
It is also said to improve hair growth. And these are only some of the reasons you might want to incorporate chickpea flour in your diet.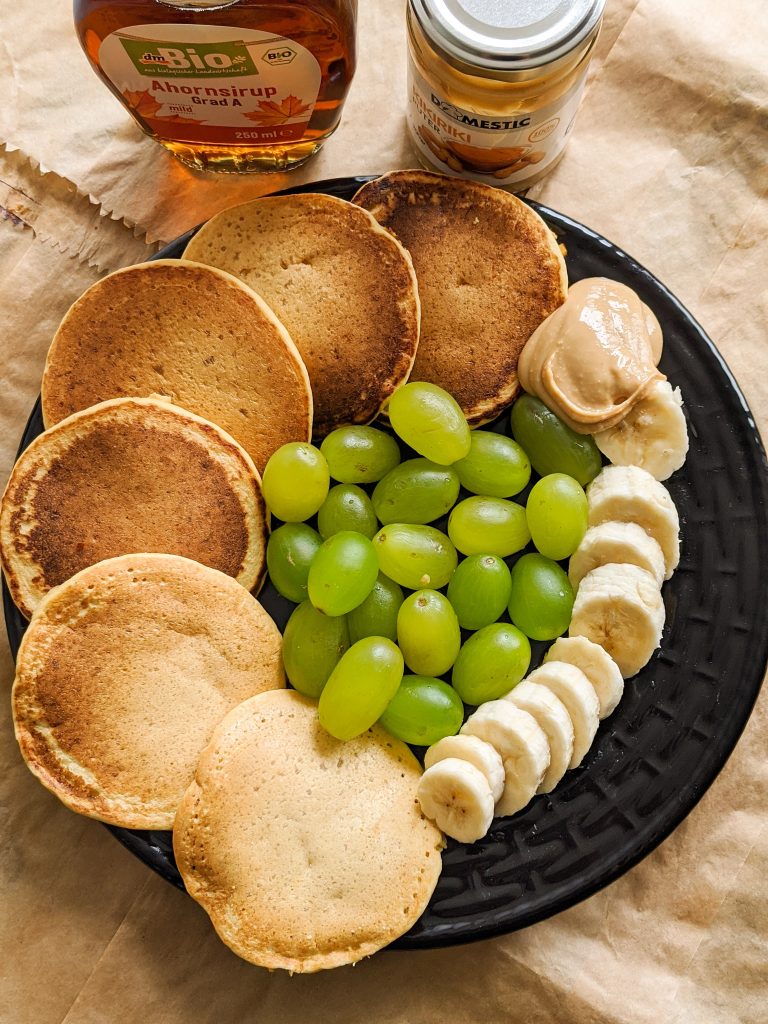 These chickpea pancakes are vegan, gluten free, refined sugar free, fluffy and delicious. And they get this pretty golden-brown color when you cook them.
You don't have to serve chickpea pancakes with the exact same things I served them with. You can get creative with those, or even make a savory version, with pepper, humus (I would try them with black olive humus), and anything else that comes to mind. The dough is not too sweet, so you can experiment.
Given all these benefits, I will definitely strive to make them more often. I have used up all of the flour that I had and will be repurchasing it really soon.
I could not invite any of my friends or family members to share these with them, because of the lockdown and everything. But hopefully this whole situation will not last much longer.
Isolation has been as difficult for me as it has been for most people, but I am doing my best to keep my cool and stay inside.
I hope that everyone is doing well, and that things will go back to normal very soon.
Until then, I will be working from home, cooking, reading and watching movies. I've been meaning to get up really early in the morning and go for a quick run, since my movement has been reduced to walking from my bed to the fridge.
If you want to let me know how the self-isolation is going for you, what you're doing to pass the time and what (who) you miss the most, feel free to leave a comment or message me on instagram.
If you tried this recipe, you can also write your thoughts or send me a picture of your pancakes.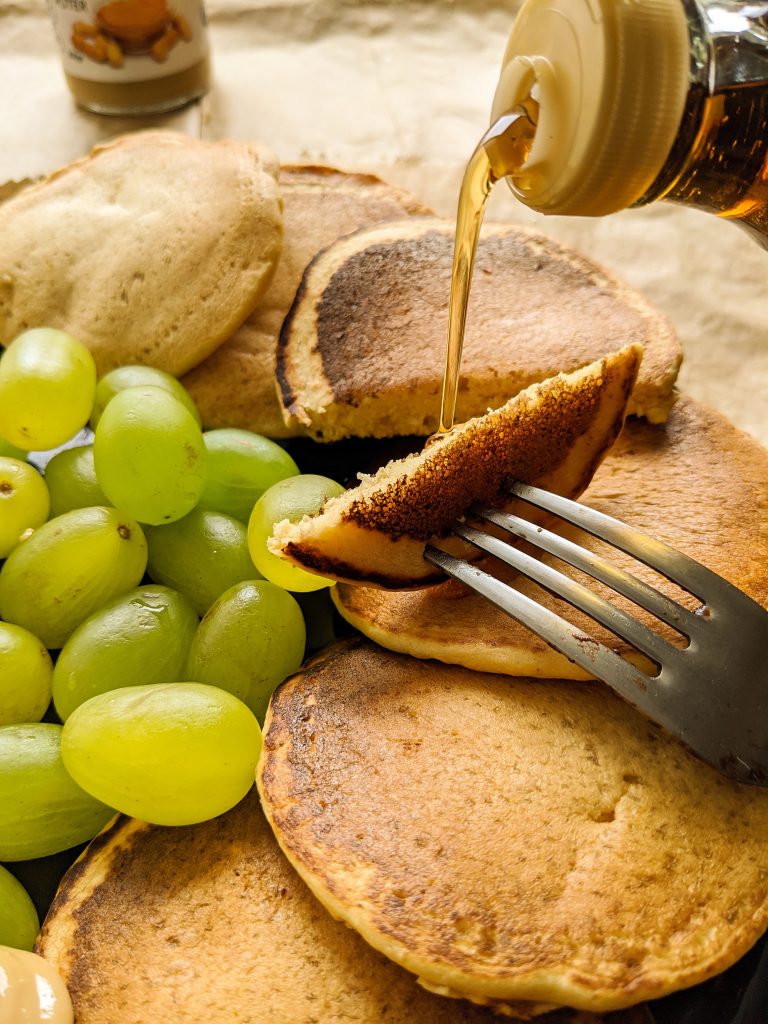 Ingredients
130 g of chickpea flour
1 and ¼ tsp baking powder
130 ml soy milk
2 tbsp maple syrup
1 + ½ tsp apple cider vinegar
Instructions
In a deep bowl mix together chickpea flour and baking powder. Mix together soy milk and apple cider vinegar, set aside for about 2 minutes.
Add the mix and the maple syrup to the dry ingredients. Whisk with a wire whisk. If the dough is too thick and not pourable (this depends on the type of the flour you're using), add more soy milk.
Fry every pancake (about 2 tablespoons of dough for each) on a middle-high heat on a non-stick pan. Fry for about two minutes on one side (or until you see bubbles form at the top), then flip the pancake and fry for about one minute on the other side.
Serve chickpea pancakes with peanut butter, bananas and grapes.
If you liked this recipe, make sure you check out my recipe for vegan French toast.
P.S. for more recipes like this one follow me on instagram, @margo_drobi.