Pumpkin overnight oats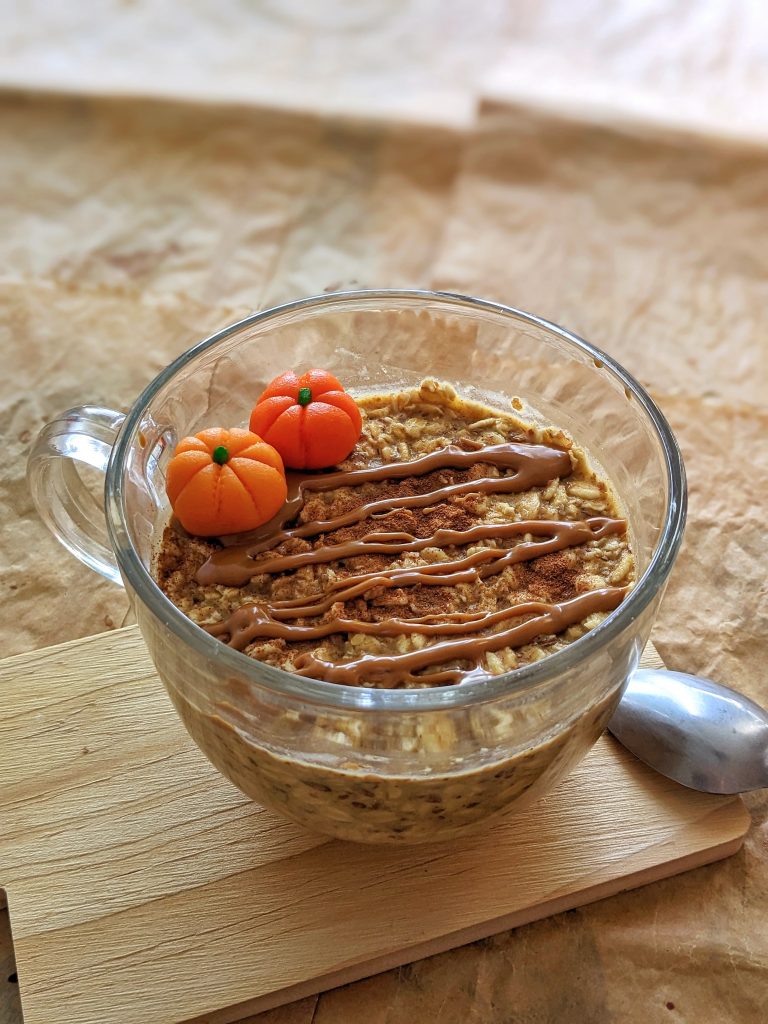 Autumn calls for a variety of recipes with pumpkin. So I figured, why not make one for breakfast as well. Pumpkin overnight oats are the ideal autumn breakfast for those of you who enjoy a bit of pumpkin spice. And those of you who are vegan as well.
This recipe didn't look all that pretty, so I decided to give it a bit of a decoration. In retrospect, I wish I made a few more of these miniature marzipan pumpkins. They look very cute.
Overnight oats have been my go to breakfast for years. I used to have an office job and it was super convenient to make the breakfast in advance and take it to work. I don't so that anymore, but every now and then I try to spice up my breakfast with something different.
If you are a fan of pumpkin spice lattes or pumpkin pie, make sure to try out these pumpkin overnight oats. You can also add some vegan yogurt or vegan heavy cream if you want to, if that's something you enjoy.
Some health benefits
Pumpkin is high in vitamins and minerals while being low in calories. It's also a great source of beta-carotene, a carotenoid that your body converts into vitamin A. It is full of vitamin A and C, which can help boost your immune system. Its supply of vitamin E, iron and folate may strengthen your immunity as well.
Pumpkins' high vitamin A, lutein and zeaxanthin contents may protect your eyes against sight loss, which becomes more common with age. It is packed with nutrients and yet has under 50 calories per cup (245 grams). This makes it a nutrient-dense food. It's also a good source of fiber, which may suppress your appetite. Pumpkin carotenoids function as antioxidants. These compounds are linked to lower risks of stomach, throat, pancreas and breast cancers. And potassium, vitamin C, fiber and antioxidants, which the pumpkin is abundant in, have been linked to heart health benefits.
Pumpkin is high in beta-carotene, which acts as a natural sunblock. It can definitely help keep your skin strong and healthy. It is very healthy and generally safe when eaten in moderation. I think that these are some very good reasons to include pumpkins in your meal plan.
Oats are rich in carbs and fiber, but also higher in protein and fat than most other grains. They are very high in many vitamins and minerals. Oats contain many powerful antioxidants, including avenanthramides. These compounds may help reduce blood pressure and provide other benefits.
They are high in the soluble fiber beta-glucan, which has numerous benefits. It helps reduce cholesterol and blood sugar levels, promotes healthy gut bacteria and increases feelings of fullness. They also may lower the risk of heart disease by reducing both total and LDL cholesterol and protecting LDL cholesterol from oxidation. Due to the soluble fiber beta-glucan, oats may improve insulin sensitivity and help lower blood sugar levels.
Oatmeal may help you lose weight by making you feel more full. It does this by slowing down the emptying of the stomach and increasing production of the satiety hormone PYY. Colloidal oatmeal (finely ground oats) has long been used to help treat dry and itchy skin. It may help relieve symptoms of various skin conditions, including eczema.
Some research suggests that oats may help prevent asthma in children when fed to young infants. Studies indicate that oat bran can help reduce constipation in elderly individuals, significantly reducing the need to use laxatives. Oats can be a great addition to a healthy diet. They can be eaten as oatmeal (porridge) for breakfast, added to baked goods and more. And if you lack the ideas on how to prepare them, make sure to try this pumpkin overnight oats recipe, you will probably love it.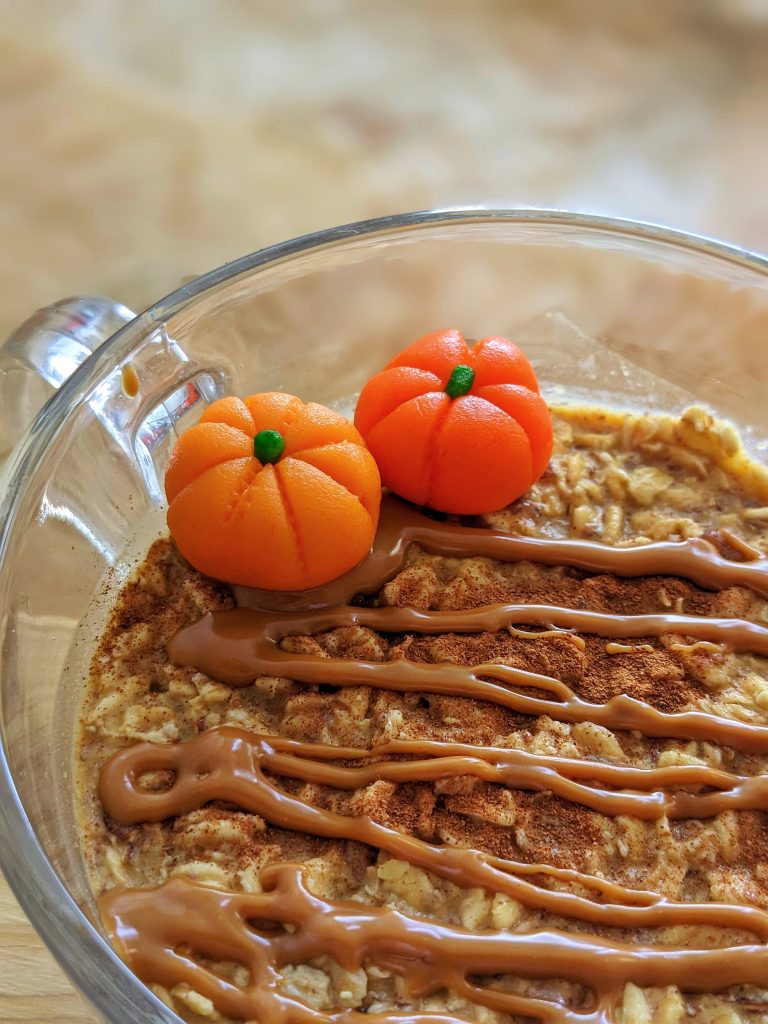 Pumpkin overnight oats
Course: Sweet, Sweet
Ingredients
70 g of plain oats

40 g of pumpkin puree

1 tsp of pumpkin spice

2 tbsp of maple syrup

1/2 tsp of vanilla extract

1 tbsp of chia seeds

Plant-based milk

Cinnamon

Lotus biscoff spread (optional)

Marzipan and food coloring for decorating (optional)
Directions
Prepare a container for your pumpkin overnight oats. It can be a small glass jar, or any container you can close.
Put the oats inside the jar. Pour the plant-based milk (any kind you prefer) in the jar, just enough to cover the oats. After that, add the chia seeds, pumpkin puree, pumpkin spice, maple syrup, vanilla extract and mix with a spoon until everything is well combined.
Cover the container with a lid and put it in the fridge. Let it stay there overnight. In the morning, sprinkle the top with some cinnamon. Take a scoop of Lotus biscoff spread and heat it for a few minutes in the oven. When it becomes runny, drizzle it on top of the oats.
This is of course optional as well as the marzipan decoration. And for that you are going to need marzipan and food coloring. Roll the marzipan into a ball, add a few drops of orange gel food coloring and knead it. Knead until the marzipan piece is colored evenly. Do the same with a smaller piece and green color (for the stems). Divide the marzipan in several pieces depending on how many pumpkins you want.
Roll them into balls. Use a plastic knife to press in the ridges. Put a small green stem on top of each one.
Enjoy your vegan pumpkin overnight oats.
If you liked this recipe, make sure you check out my other recipes like:
Feel free to tell me what you think about this in the comments below, or send me the pictures of your own vegan pumpkin overnight oats. If you did something differently, I would also like to hear that, I'd love to see the things you come up with.
P.S. for more recipes like this and a bunch of other stuff, follow me on Instagram, @margo_drobi.
Also, I recently started a Patreon page, where you can subscribe and help me create more/better content. In return, you will get an exclusive piece of content (recipe) each month. My plan is to increase the amount of that content if I gain a few subscribers. If you are interested and you want to find out more, I will leave the link to my Patreon right –here.