Vegan tomatokeftedes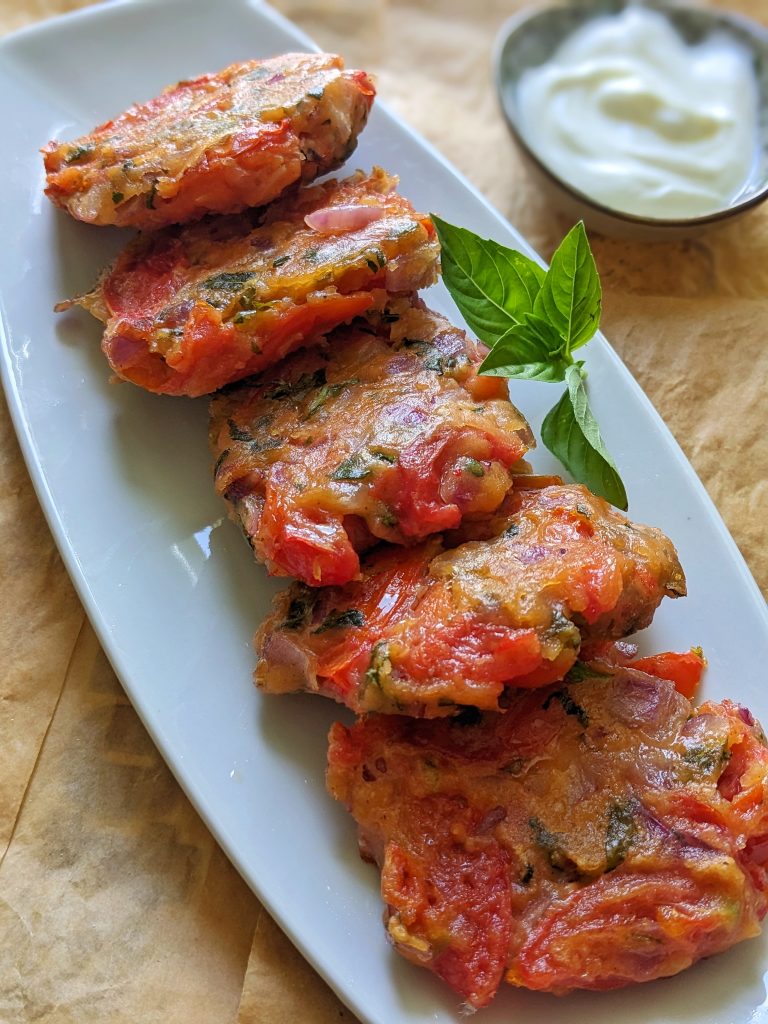 There are plenty of different recipes from different countries on my blog. So it is really hard to believe that I never ever made any Greek food. Given how famous the country is for it's cuisine. The recipe for vegan tomatokeftedes originates from Santorini, and it is absolutely delicious.
These tomato fritters are my new favorite appetizer. You will only need a few ingredients for these and they are very easy to make. I genuinely hope that I got these right, otherwise my Greek coworkers may drag me. But all jokes aside, this is something you should try. I was really upset that I didn't discover it earlier.
There is really no need for me to leave any tips are tricks, because it really is that easy. So I will rather focus on some health benefits. I would only like to mention that you are supposed to find good quality ingredients that taste good (like veggies and not plastic). It is the key thing in making these vegan tomatokeftedes.
These measurements are enough for about 10 tomato fritters. If you need more than that, make sure you adjust the measurements properly.
Some health benefits
The main ingredient in this dish is of course the tomato, and for that reason I am going to take some time and write down a few interesting facts about it. There are a few additional healthy ingredients in this recipe, but given the quantity, we are going to leave them out this time.
Fresh tomatoes are low in carbs. The carb content consists mainly of simple sugars and insoluble fibers. These vegetables (or fruits) are mostly made up of water. Tomatoes are a good source of several vitamins and minerals, such as vitamin C, potassium, vitamin K, and folate. Lycopene is one of the most abundant plant compounds in tomatoes. It's found in the highest concentrations in tomato products, such as ketchup, juice, paste, and sauce. Lycopene is a strong antioxidant that can protect your body against oxidative stress and offer some protection from certain environmental toxins and chronic diseases.
Studies show that tomatoes and tomato products may reduce your risk of heart disease and several cancers. It is also beneficial for skin health, as it may protect against sunburns. Tomatoes are generally well tolerated but may cause allergic reactions in people allergic to grass pollen. Replacing sweetened drinks such as soda with tomato juice can benefit your health.
These are only some of the reasons you may want to incorporate tomatoes in your meal plan, and what better way to start than with these wonderful vegan tomatokeftedes.
Onions contain decent amounts of vitamin C, folate, vitamin B6, and potassium, which provide a number of benefits. They are rich in plant compounds and antioxidants, especially quercetin and sulfur-containing compounds. Colorful varieties, such as yellow or red ones, pack more antioxidants than white ones.
Onions have antioxidant and anti-inflammatory effects. They may lower blood sugar levels, improve bone health, and reduce the risk of several types of cancers. They can cause you to cry while cutting them, and in some people they can cause even more irritation. But if they don't bother you that much, I suggest you incorporate them into your meals. I left a few more recipes that include it at the bottom of this post.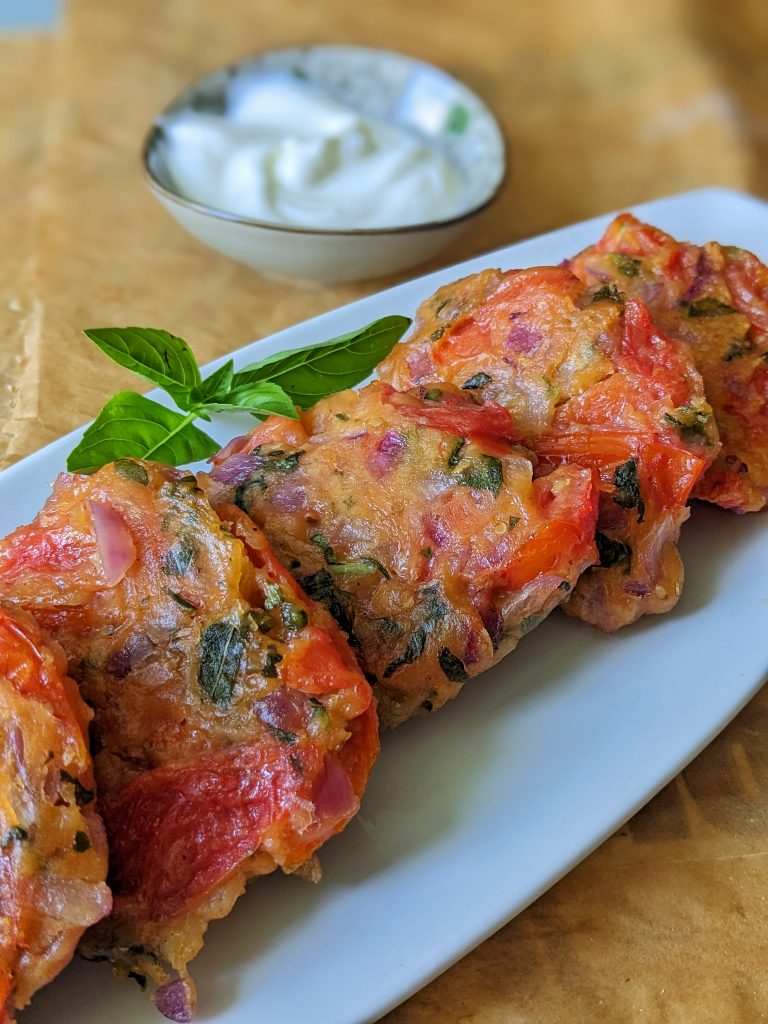 Vegan tomatokeftedes
Ingredients
300 g of cherry tomatoes

2 medium-sized purple onions

1 handful of fresh basil leaves

1 handful of fresh mint leaves

1 tsp of baking powder

1 tsp of salt

pepper to taste

16 tbsp of white flour

olive oil
Directions
Slice the cherry tomatoes into halves (lengthwise) and then into smaller slices. Finely dice the purple onions. Chop the basil and the mint into small pieces.
In a large bowl combine all the veggies. Add the salt, pepper and the baking powder. Stir everything until it is well combined. Then gradually add the tablespoons of flour while mixing (with a spoon or even better, with hands). Adjust the amount of flour if necessary. This will depend on the water content of the veggies.
When you get a mixture that you can shape into patties, you can stop mixing/adding flour. Heat a generous amount of olive oil in a non-stick pan (to medium high heat). Dip your hands into water and scoop a small amount of the mixture. Then shape it into a patty and place it in the pan.
Cook the vegan tomatokeftedes from both sides until they become golden in color. Put some paper towels on a plate. After frying the vegan tomatokeftedes, place them on the plate. Dab with another paper towel to absorb excess oil.
Serve the vegan tomatokeftedes with some yogurt or another dip of your choice.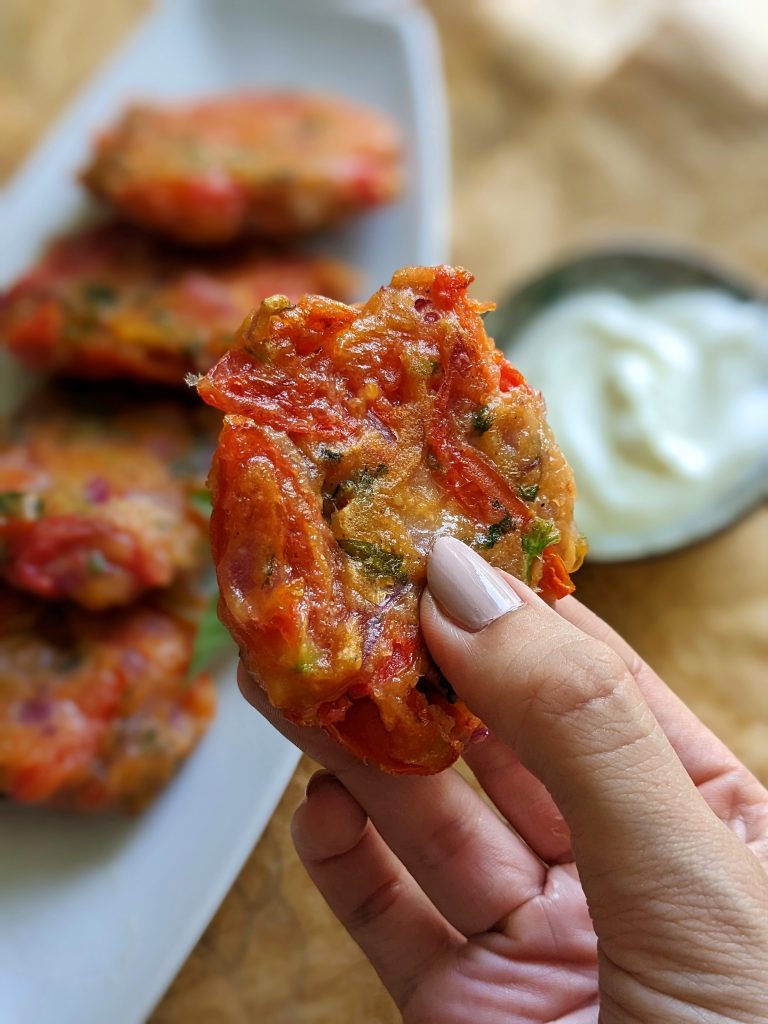 If you liked this recipe, make sure you check out my other recipes like:
Feel free to tell me what you think about this in the comments below, or send me the pictures of your own vegan tomatokeftedes. If you did something differently, I would also like to hear that, I'd love to see the things you come up with.
P.S. for more recipes like this and a bunch of other stuff, follow me on instagram, @margo_drobi.
Also, I recently started a Patreon page, where you can subscribe and help me create more/better content. In return, you will get an exclusive piece of content (recipe) each month. My plan is to increase the amount of that content if I gain a few subscribers. If you are interested and you want to find out more, I will leave the link to my Patreon right – here.