Lotus biscoff squares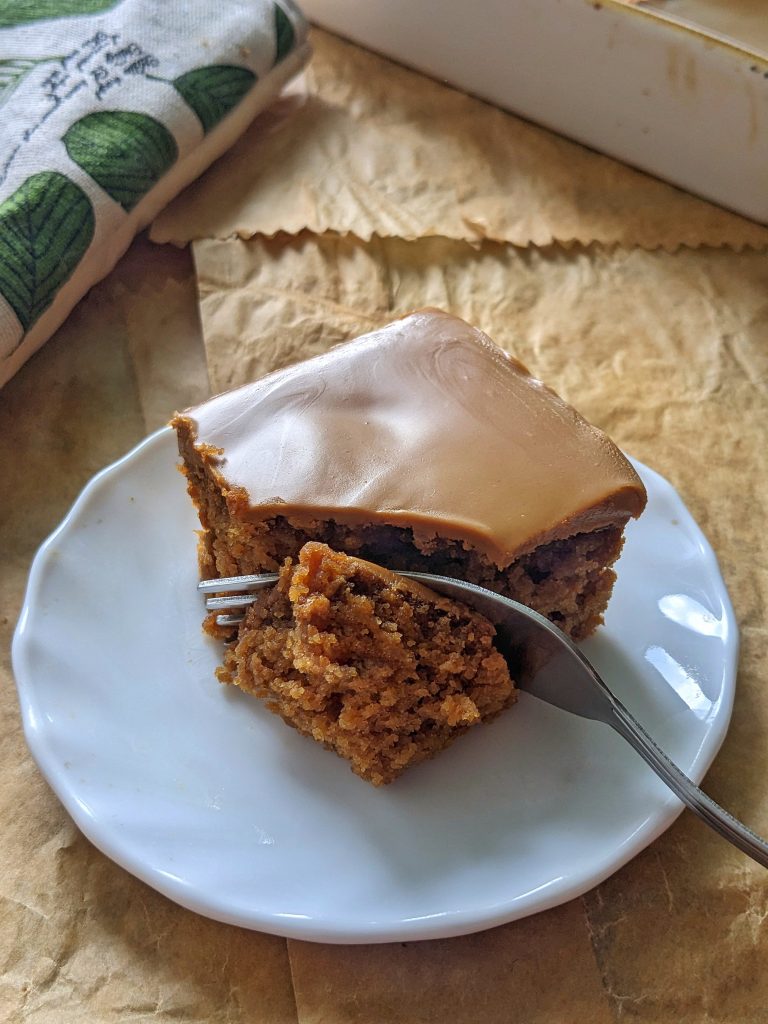 At this point a Lotus biscoff recipe coming from me is not surprising at all. If you ever scrolled through my blog, you may have noticed that there is somewhat of an obsession going on. And the obsession continues today, with these vegan Lotus biscoff squares.
This cake is a super delicious and juicy sponge with a layer of melted Lotus biscoff spread. It is also a real sugar bomb, so we'll just skip the health benefits part of the post today. Just being realistic.
My favorite thing about these Lotus biscoff squares is that they are so easy to make. To make this juicy dessert, you will need only a few ingredients that are fairly easy to come by. And I will talk about some of them later on.
A piece of advice
I mentioned that this recipe is super easy already, but I know that this may not be true for beginners. If you are new to cooking and baking there may be some tips and tricks that you will need in order to make this cake successfully. So this section of the post could be highly beneficial if this is your first attempt at a similar recipe. Other than that, I will use this section in order to talk about some of the ingredients included in the recipe.
Lotus biscoff cookies and Lotus biscoff spread were always some of my favorite vegan sweets. I only discovered them when I went vegan and they are my guilty pleasure. I understand that some of my readers might have a hard time obtaining these ingredients, I always get a ton of questions about where to buy them. If you live in Europe and have a Lidl or Billa store near you, you might find them there. They can also be ordered online, so make sure you look into that. I got my most recent batch from Austria.
As for the rest, I would recommend you always use fresh ingredients. Like baking powder for example. Don't just go ahead and use that open bag that's been sitting in your pantry forever. For best results get a brand new one. And feel free to use any kind of plant based milk for these Lotus biscoff squares. Soy milk is not the only option, just my favorite one. But do make sure that it is on room temperature. Same rules apple to the vegan yogurt.
These measurements are enough for a small batch of Lotus biscoff squares. But let me tell you, one of these will be more that enough to fill you. They are very satiating. I made 6 large squares with these measurements. If you need more than that, make sure to double them. I did not specify the exact baking time here, because it largely depends on your oven and the type of dish you are using. My oven is a bit weak these days so I can't be sure on what is realistic here as far as baking time goes. So make sure to keep an eye on your Lotus biscoff squares and poke them with a toothpick from time to time.
I have kept these in an airtight container (in the fridge) for 3 days, and they tasted very fresh all the time. They could probably stay there up to a week.
Lotus biscoff squares
Course: Sweet, Sweet
Ingredients
200 g of Lotus biscoff cookies

2 tbsp of all-purpose flour

1 tsp of baking powder 

160 ml of soy milk (room temperature)

3 tbsp of vegan yogurt 

130 g of Lotus biscoff spread
Directions
Heat the oven to 180 degrees Celsius.
Start off by breaking the Lotus biscoff cookies and putting them in a blender. Blend until they are completely powdered and there are no chunks left behind. Place the ground Lotus cookies in a large bowl. Add the baking powder and the flour and whisk everything with a wire whisk until the ingredients are well combined.
Then add the soy milk and vegan yogurt and stir until everything is well combined and you get a smooth batter. 
Transfer the batter into a small square baking dish. Place it in the pre-heated oven and bake for about 20-30 minutes (depends on the oven/dish). Keep an eye on your cake and poke it with a toothpick from time to time to see if it is done. Once the toothpick comes out clean, it is safe to remove it from the oven.
Keep the oven on. Place the Lotus biscoff spread in a heat resistant ramekin or mug and put it in the oven. Keep it there for a few minutes until it melts and become very liquid. Remove the spread from the oven and pour it over the vegan Lotus biscoff squares. Place the dish in the fridge and leave them there for a few hours until the top layer becomes solid (you can speed this up by putting them in the freezer).
Cut them up and serve them when they are completely set.
If you liked this recipe, make sure you check out my other recipes like:
Feel free to tell me what you think about this in the comments below, or send me the pictures of your own vegan Lotus biscoff squares. If you did something differently, I would also like to hear that, I'd love to see the things you come up with.
P.S. for more recipes like this and a bunch of other stuff, follow me on Instagram, @margo_drobi.