Savory mochi pancakes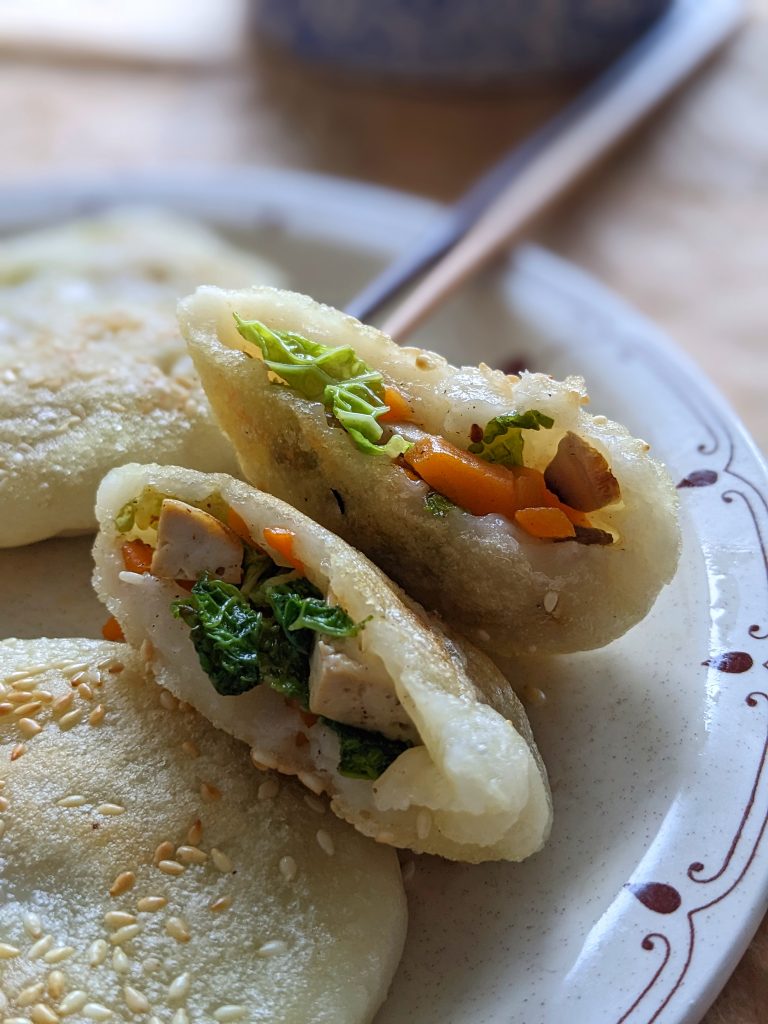 If you have been reading my blog for some time, these pictures of savory mochi pancakes might seem familiar to you. I have made a similar recipe twice already, but with sweet fillings.
But today is a different kind of day. After I was traveling and eating all the sugar under the sun, a savory pancake seems like a more reasonable lunch option.
If you are a fan of sticky/chewy mochi dough, this one is for you. Or if you want an easy and delicious vegan lunch, you may want to try these.
Some health benefits
There may only be one ingredient in these savory mochi pancakes that I didn't talk about before. And that ingredient is kale. So I will use this opportunity to say a word or two about why this vegetable may be very good for you.
Kale is low in calories and contains several important nutrients, including vitamin K, vitamin C, and manganese.
Many powerful antioxidants are found in kale, including quercetin and kaempferol, which have numerous beneficial effects on health. It is a good source of vitamin C, an antioxidant that aids in the synthesis of collagen and has many important roles in the body.
Kale contains substances that bind bile acids and lower cholesterol levels in the body. Steamed kale is particularly effective. Vitamin K is an important nutrient that is involved in blood clotting. A single cup of kale contains nearly 70% of the DV for vitamin K.
It contains substances that have been shown to help fight cancer in test-tube and animal studies, but human evidence is mixed. And as a nutrient-dense, low calorie food, kale makes an excellent addition to a weight loss diet.
A piece of advice
Savory mochi pancakes are rather easy to make. And if you ever made a sweet version of the recipe, this will be a walk in the park. However, I will leave a few tips here, just in case.
First of all, I have to say – do NOT use regular rice flour for this recipe! Use only glutinous (sweet) rice flour. This should be written on the packaging, but if you are still not sure, look for a letter G somewhere on the packaging. If you use any other flour you will not get sticky and soft mochi like these.
If any of my Balkan friends are interested, I bought the flour in Belgrade, block 70. Asian food stores and healthy food stores are also a good place to look.
Your dough might end up being too dry. In that case add a little bit more of water (not too much, so you don't have to even it out again). The point is to get a Play-Doh-like texture that you can easily shape. When you shape these vegan rice pancakes and cover them in sesame seeds, you can put them on a sheet of parchment paper while you heat the oil.
These measurements were enough for only 4 savory mochi pancakes. Which was enough for me. If you need more than that, make sure you double the measurements.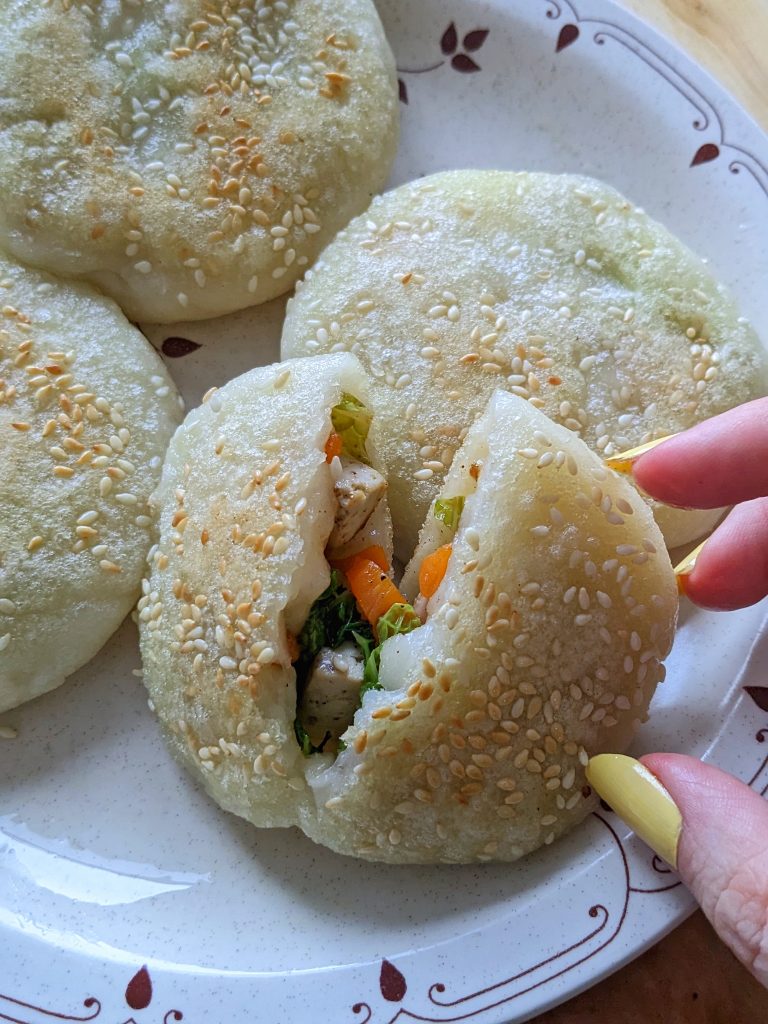 Savory mochi pancakes
Course: Salty, Salty
Ingredients
For the filling:

100 g of tofu (cut into very small cubes)

a few large leafs of kale or cabbage

1/2 of a carrot (finely chopped)

3-4 shiitake mushrooms (thinly sliced)

drizzle of sesame oil

Salt and pepper

For the dough:

120 g of glutinous rice flour

50 ml of hot water

1/2 tablespoon of sugar

1 tsp of olive oil

sesame seeds

olive oil for cooking

soy sauce or chili oil for serving
Directions
Cut or chop all the filling ingredients (veggies and tofu).
After that prepare the dough. Heat the water and stir in the sugar until it dissolves. Put the glutinous rice flour in a large bowl. Using a pair of chopsticks stir the flour while gradually adding the hot sugar water.
When a lumpy dough forms, add 1 teaspoon of olive oil and knead on a flat surface until you get a smooth dough (Play-Doh texture). Cover the dough in cling film and let it rest for 15 minutes.
Next, prepare the filling. Heat 1 tbsp of olive oil in a non-stick pan over medium heat. Sauté the mushrooms, carrot, and tofu until the tofu turns golden brown. Then add the kale (or cabbage), salt and pepper and sesame oil.
Fry everything while stirring from time to time, until the cabbage/kale has softened up. Remove the pan from the heat and let the filling cool down.
Unwrap your dough and divide it into 4 equal parts. Roll one piece of the dough into a ball, and press a hole in the middle with your thumb. Press the edges to thin it out and shape it like a cup.
Put a small amount of the filling in the dough. Gently pinch it shut with your fingers and press it down with your palms to form a disk shape. Pour some sesame seeds on a plate and gently press the pancake down from both sides (so that the seeds stick). Repeat this until you run out of dough pieces.
Clean the non-stick pan and heat a little bit of olive oil on medium heat. Fry the pancakes from both sides until they become slightly golden-brownish. Remove the savory mochi pancakes from the pan and serve with some soy sauce while they are still warm.
If you liked this recipe, make sure you check out my other recipes like:
Feel free to tell me what you think about this in the comments below, or send me the pictures of your own savory mochi pancakes. If you did something differently, I would also like to hear that, I'd love to see the things you come up with.
P.S. for more recipes like this and a bunch of other stuff, follow me on Instagram, @margo_drobi.
Also, I recently started a Patreon page, where you can subscribe and help me create more/better content. In return, you will get an exclusive piece of content (recipe) each month. My plan is to increase the amount of that content if I gain a few subscribers. If you are interested and you want to find out more, I will leave the link to my Patreon right – here.