Vegan Lotus tiramisu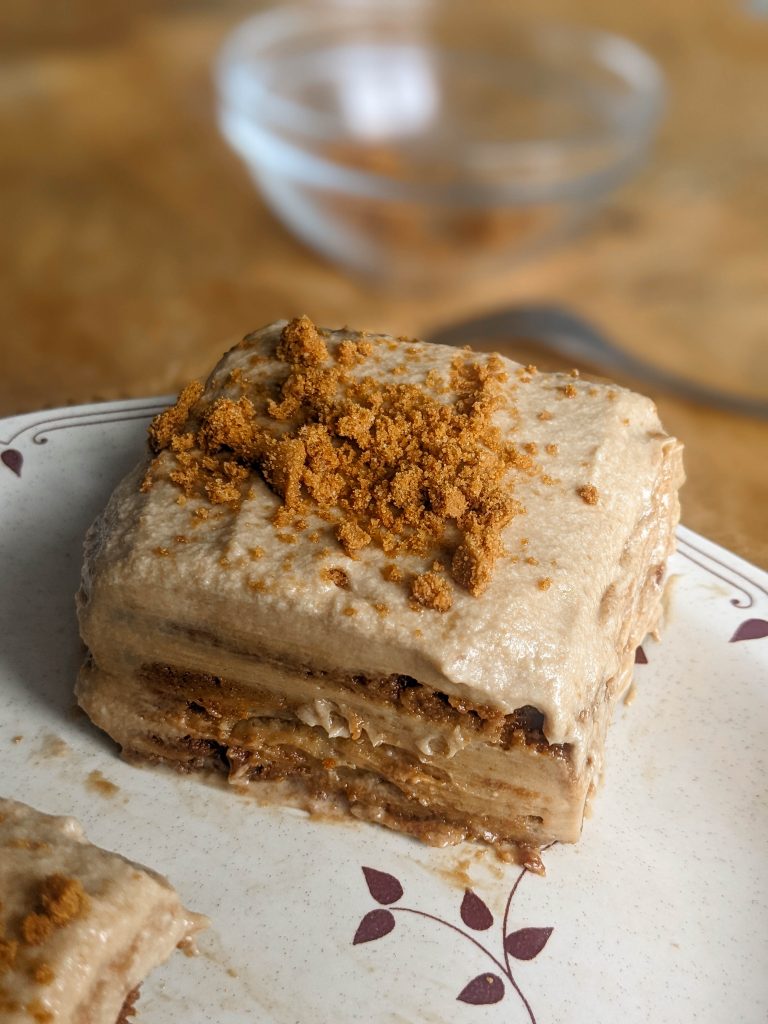 So last week one of my instagram friends sent me this recipe for vegan Lotus tiramisu. It was a perfect moment for that, sice I sort of ran out of ideas, and I had some spare cookies and spread in my kitchen.
It only took a quick google search for me to realize that this is a common thing that people make. It just never came up for me when I searched for Lotus recipes online. So I sort of chose the things that worked best for me and made my own version of vegan Lotus tiramisu.
Unlike the classic Tiramisu, this one is on the sweeter side. In fact, you'll get the idea how sweet it is when you read the ingredient list. But if you are crazy about all things Lotus biscoff (like me), this will be heaven for you. This smooth, soft and creamy dessert will have you coming back for more. My favorite part about it must be that it is made without baking. Nothing better than an easy no-bake cake.
A piece of advice
This recipe is very very easy, but as always, I will leave a few tips and tricks for you here. Just in case you run into some problems or you have certain questions about the steps or the ingredients.
I have to mention that this recipe does utilize alcohol, but you can skip it if you want, it is totally optional.
Lotus biscoff cookies and Lotus biscoff spread were always some of my favorite vegan sweets. I only discovered them when I went vegan and they are my guilty pleasure. I understand that some of my readers might have a hard time obtaining these ingredients, I always get a ton of questions about where to buy them. If you live in Europe and have a Lidl or Billa store near you, you might find them there. They can also be ordered online, so make sure you look into that. I got my most recent batch from my friends in Austria and Germany. The vegan cream cheese that I use for such recipes is made by Meggle.
When you're done with making the tiramisu cream, place the blender cup with the cream in the fridge and leave it there for some time. This way the cream will become thicker and you will have no problems with spreading it over the cookie layers.
You will have to dip each Lotus cookie in the coffee/rum mixture. Do this very quickly and dip them on one side only. You don't want them to be too soggy or start falling apart.
When you are done with building your layers, place the vegan Lotus tiramisu in the fridge. Leave it there for about 4 hours to set. Then you can take it out and serve it right away. Make sure you save some spare Lotus cookies and use them for decoration. I crushed two of them and sprinkled them on top of the tiramisu.
I have made a very small batch of these. I ended up with four small square pieces, but I must tell you – one is more than enough. I barely made it through. So that is the amount that these measurements make. If you need more than that, make sure you adjust the measurements properly.
Vegan Lotus tiramisu
Course: Sweet, Sweet
Ingredients
35 Lotus biscoff cookies

100 ml of instant black coffee

25 ml of rum

150 g of Lotus biscoff spread

200 g of vegan cream cheese

60 ml of vegan yogurt

1 tsp of vanilla extract
Directions
Prepare the cream first. Put the Lotus biscoff spread, vegan cream cheese, vanilla extract and vegan yogurt in a blender cup. Blend them until you get a smooth cream and everything is well combined. Place the blender cup in the fridge and leave it there until the cream becomes thick.
Meanwhile, prepare the rest of the ingredients. In a small bowl mix together the instant coffee and the rum. You will dip each Lotus cookie in this mixture. Take a small square baking dish. Line the bottom with some parchment paper.
Place two rows of Lotus cookies at the bottom of the dish. I used 10 for each layer. Dip each cookie in the coffee mix (only on one side, quickly) before placing it in the dish. When you make the first layer, take the cream from the fridge. Pour a thick layer of the cream over the cookies and even it out with a spoon. Return the blender cup to the fridge. Make another double Lotus cookie layer in the same way you made the first one. Spread a thick layer of cream over that too. Repeat this one more time (you'll have 3 cookie and 3 cream layers in total).
Then put the dish in the fridge and let the vegan Lotus tiramisu set for about 4 hours. Take it out of the fridge, cut it into squares. Crush 2 Lotus biscoff cookies and sprinkle on top of the cake before serving.  You can store the vegan Lotus tiramisu in your fridge for two days at most.
If you liked this recipe, make sure you check out my other recipes like:
– Lotus biscoff mini cheesecakes
Feel free to tell me what you think about this in the comments below, or send me the pictures of your own vegan Lotus tiramisu. If you did something differently, I would also like to hear that, I'd love to see the things you come up with.
P.S. for more recipes like this and a bunch of other stuff, follow me on Instagram, @margo_drobi.
Also, I recently started a Patreon page, where you can subscribe and help me create more/better content. In return, you will get an exclusive piece of content (recipe) each month. My plan is to increase the amount of that content if I gain a few subscribers. If you are interested and you want to find out more, I will leave the link to my Patreon right – here.