Vegan peanut butter mochi
If you have been following my blog for some time, you know that there are quite a few mochi recipes on here. Vegan peanut butter mochi is something I discovered this spring, and it is by far my favorite one. So I decided to make a version of it and post it once I get my hands on some glutinous rice flour.  Buying the flour was first on my to do list once I came across an Asian grocery store. So here we are.
This was one of the easier mochi recipes that I made, since it is cooked on a non-stick pan, which I think is a very easy method. And all of the ingredients are simple and easily available. If you need a quick and simple, but also super delicious dessert, I highly recommed you make these vegan peanut butter mochi. And if you are a fan of sweet sticky doughs, or you just like peanut butter and want to experiment a bit, this is the right recipe for you.
Some health benefits
This is a tasty dessert, but that does not mean that it can't be somewhat good for your health. The best ingredient in this recipe may be the peanut butter, and in this section I am going to tell you why that is.
Eating peanut butter actually suppresses hunger which leads to weight loss. It has the enviable combination of fiber (2.6 g per serving) and protein (7-8 g per serving) that keeps you feeling full for longer, so you end up eating less overall.
Peanut butter contains a substance called p-coumaric acid which helps in offsetting the damage done to cells associated with cardiovascular diseases. Also, peanut butter contains more unsaturated fat than saturated fat making it a fat friendly food which lowers the risk of cardiovascular and coronary heart disease.
Research also hints that it lowers the risk of cancer, protects against Alzheimer's disease and lowers the risk of diabetes. And I could write a lot more about these ingredients, but that would make this post super long.
To wrap it up, I think these are pretty good reasons to incorporate peanut butter in your meal plan. I do it as often as I can. And if you don't have an idea on how to start, I suggest you make these lovely mochi first.
A piece of advice
The vegan peanut butter mochi are very easy to make, as I already mentioned in the introduction. But as always, there are a few things that I would like to mention that may make this process even easier.
First of all, you must use GLUTINOUS rice flour. Do not buy the regular rice flour, because it is imposible to make mochi with it. Look for this flour at your local Asian grocery store. You can also order it online, it is super affordable.
Make sure to find a peanut butter brand that is not too runny. And you can use any plant-based milk that you want (or have). I always use the same brand of soy milk.
Your non-stick pan should be properly cleaned before cooking. Add the glutinous rice flour gradually whil stiring all the time. Try not to overheat your dough and keep the temperature low to medium at all times.
When shaping the vegan peanut butter mochi work slowly and carefully. Pinch the dough shut with your fingers and remove the excess dough if there is any. Do not squeeze the mochi with your hand while you do that.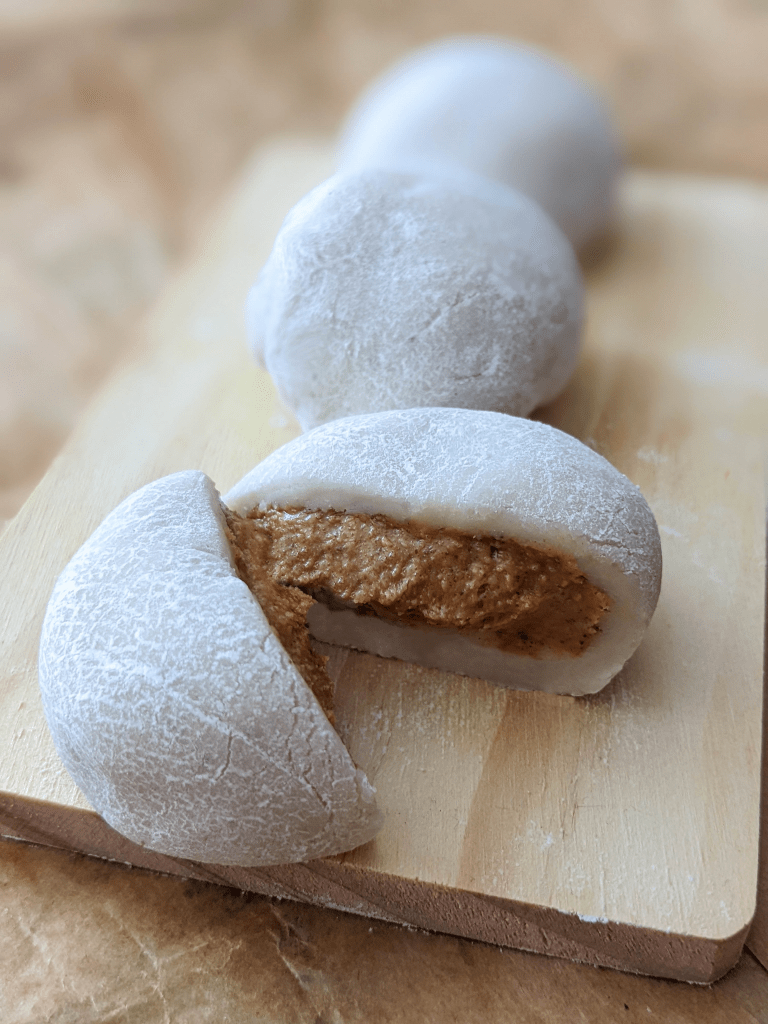 Vegan peanut butter mochi
Ingredients
For the mochi dough:

65 ml of soy milk

 45 g of white sugar

2 tsp of coconut oil

65 g of glutinous rice flour

For the filling:

100 g of peanut butter

20 g of icing sugar

Tapioca od corn starch for dusting
Directions
In a small bowl mix together the peanut butter and icing sugar. When they're fully combined, put the bowl in the fridge and leave it there.
Next, pour the soy milk in a non-stick pan. Add the white granulated sugar. Heat them on low heat while stiring constantly until the sugar disolves completely. When that happens, add the coconut oil and mix well.
Increase the temperature to medium-low and gradually add the glutinous rice flour while stiring with a wire whisk. The dough will start to get thicker, so feel free to lower the temperature again. Replace the wire whisk with a spoon and continue to stir. When the dough becomes smooth, moldable  and stops sticking to the spoon and the pan, remove it from the pan.
Take the peanut butter filling from the fridge and form 4 (or more) balls. Set them aside. Sprinkle some corn or tapioca starch on a flat surface or a piece of parchment paper. Place the mochi dough on that surface and flatten it with your hands. Use a knife to cut it into 4 equal pieces (or more, depending on how many/which size you want).
Take one piece in the palm of your hand and place a peanut butter ball in the middle. Fold the dough around the ball in order to close off the filling. Pinch it shut with your fingers and remove the excess if there is any.
 And that's it, serve the vegan peanut butter mochi right away!
If you liked this recipe, make sure you check out my other recipes like:
Feel free to tell me what you think about this in the comments below, or send me the pictures of your own vegan peanut butter mochi. If you did something differently, I would also like to hear that, I'd love to see the things you come up with.
P.S. for more recipes like this and a bunch of other stuff, follow me on Instagram, @margo_drobi.
Also, I recently started a Patreon page, where you can subscribe and help me create more/better content. In return, you will get an exclusive piece of content (recipe) each month. My plan is to increase the amount of that content if I gain a few subscribers. If you are interested and you want to find out more, I will leave the link to my Patreon right – here.