Pan-fried mochi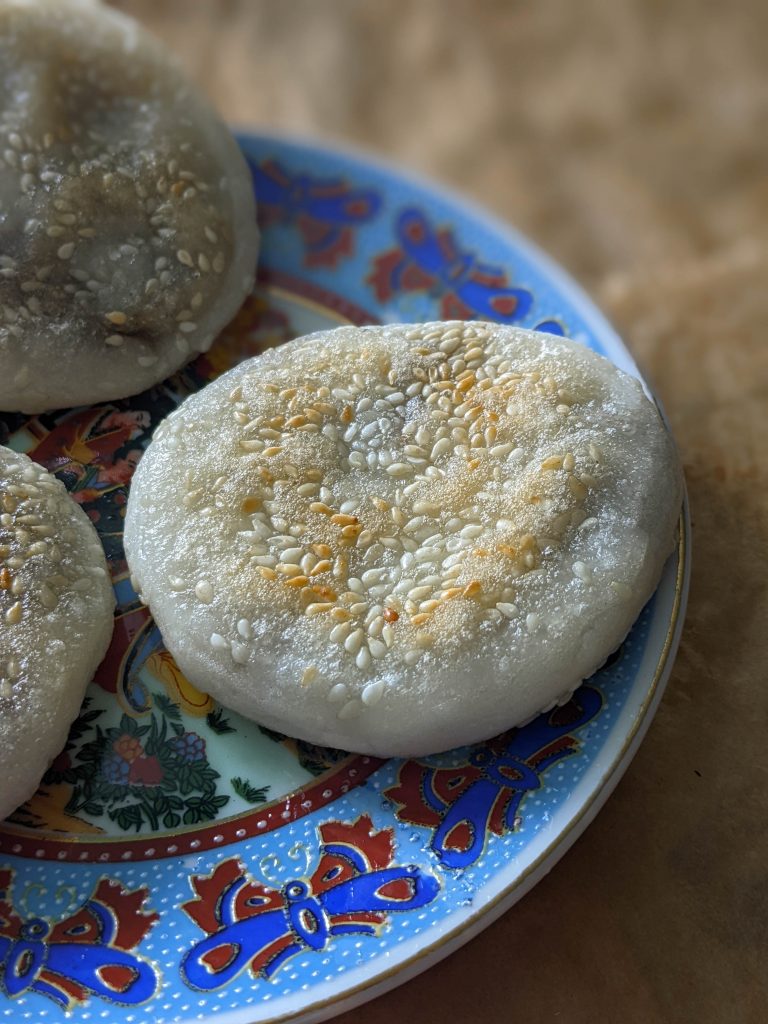 The best way to use up your remaining rice flour is making some mochi. And if you are very short on time and/or ingredients, these pan-fried mochi are just the thing for you.
There are plenty of mochi recipes on my blog, or just recipes with glutinous rice flour in general. I made plenty of them with different flavors and with different methods. This method is by far the easiest, and I am so mad that I didn't try it before.
These pan-fried mochi are sweet, sticky, stretchy and super delicious. On top of that they are vegan. Unlike the steamed version of mochi, these do not stick to your fingers when you pick them up. They are slightly crispy on the outside.
Also, they require the minimal amount of ingredients and equipment (nothing more than a pan). I can now confidently say that I found my favorite mochi recipe.
A piece of advice
I know that these rice cakes look kind of complicated, but in reality they are super simple and easy to make. But in case you struggle with certain things, I am here to help you as much as I can.
First of all, I have to say – do NOT use regular rice flour for this recipe! Use only glutinous (sweet) rice flour. This should be written on the packaging, but if you are still not sure, look for a letter G somewhere on the packaging. If you use any other flour you will not get sticky and soft mochi like these.
If you can't find sweet bean paste in a store you can make your own, I will link a recipe from a different blog right – here. Other than that, you can blend some nuts, butter and brown sugar and fill the rice cakes with that.
If any of my Balkan friends are interested, I bought these ingredients in Belgrade, block 70. Chinese food stores and healthy food stores are also a good place to look.
Make the bean paste balls slightly smaller than the mochi dough balls. The most important thing is to be able to wrap the white dough around it. If your bean paste is not very thick, you can dip your hands into water before shaping it. This way it may not stick to your palms as much.
Your dough might end up being too sticky. In that case add a little bit more of the glutinous rice flour. It could also be a bit dry, so you will not be able to knead it. If that happens just add a splash of water (not too much, so you don't have to even it out again). The point is to get a Play-Doh-like texture that you can easily shape.
When you shape these rice cakes and cover them in sesame seeds, you can put them on a sheet of parchment paper while you heat the oil.
This is the easiest mochi I have ever made, and I am so mad that I did not discover it earlier. You do not need a steamer, you just fry it in the pan on a little bit of oil.
These measurements are enough to make three pan-fried mochi. I only made them for myself, so this was more than enough. But if you need more than that, make sure to double or triple the measurements. Don't eat them while they are piping hot, but make sure to serve them while they are still warm to get the best experience.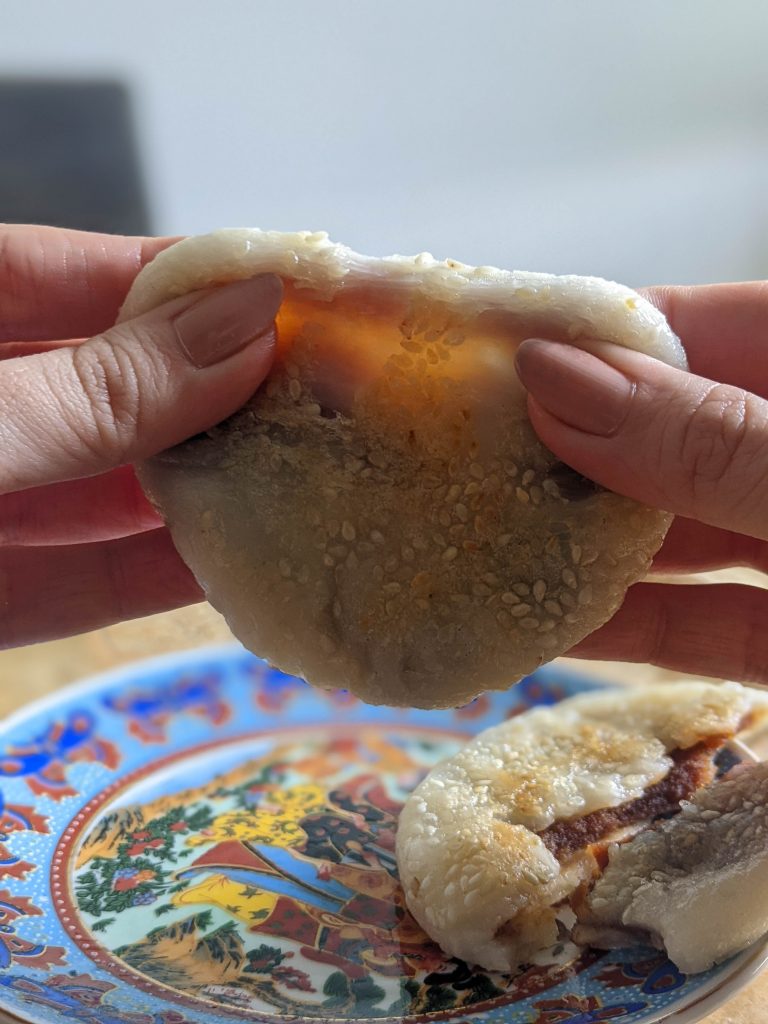 Pan-fried mochi
Course: Sweet, Sweet
Ingredients
60 g of glutinous rice flour

45 ml of water

110 g of sweet bean paste*

Sesame seeds

Oil
Directions
Weigh all of the ingredients. Put the glutinous rice flour in a bowl. Gradually add the water while mixing. Knead the dough with your hands. If it is too sticky add some more rice flour. If it is too dry add a splash of water.
When you get a smooth kneadable dough, divide it into 3 equal sized balls and set them aside. Roll three balls from the sweet bean paste.
Take a piece of the white dough and shape it like a small bowl. Place a bean paste ball in the middle and close it off with the white dough. Roll it around between your palms to create a ball. Put some sesame seeds on a plate. Gently press the mochi ball you just made over the sesame seeds (so that you flatten it). Turn it over and press the other side down. Repeat this process 3 times to make 3 mochi pieces.
Drizzle some oil on a non-stick pan and heat it to medium heat. Place the mochi in the pan and fry them until they become slightly golden-brown from both sides.
Transfer the pan-fried mochi on a plate and serve them while they are still warm.
Notes
*If you can't find the sweet bean paste in stores, I will leave the recipe right – here, so you can make it on your own.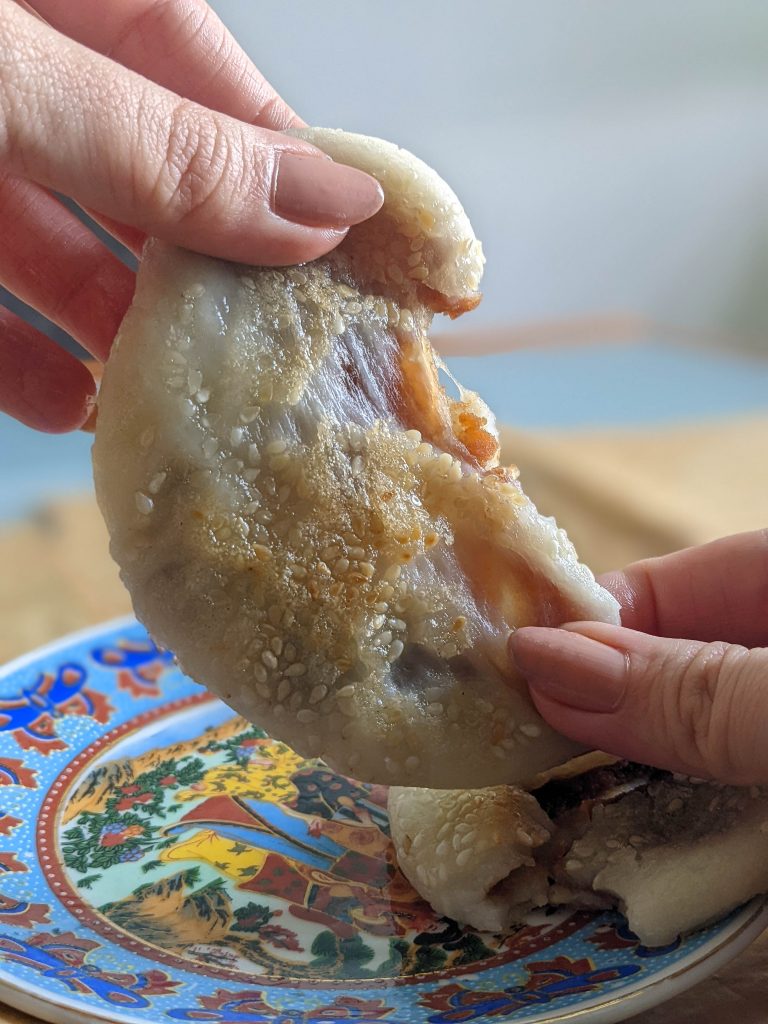 If you liked this recipe, make sure you check out my other recipes like:
Feel free to tell me what you think about this in the comments below, or send me the pictures of your own pan-fried mochi. If you did something differently, I would also like to hear that, I'd love to see the things you come up with.
P.S. for more recipes like this and a bunch of other stuff, follow me on Instagram, @margo_drobi.
Also, I recently started a Patreon page, where you can subscribe and help me create more/better content. In return, you will get an exclusive piece of content (recipe) each month. My plan is to increase the amount of that content if I gain a few subscribers. If you are interested and you want to find out more, I will leave the link to my Patreon right – here.