Vegan peach mess
This week I am writing down yet another dessert recipe. I've seen a non-vegan version of this and I couldn't help myself. I had to make my version of this dessert, which is vegan peach mess. It is basically a mix of peaches and sweet cream topped off with some mint leaves and caramelized almonds.
Also, I wanted to use every fruit that is in season and make at least one recipe with it this year. Since I've seen some peaches at the store, I knew I had to use them in some way. And I did not regret it.
I know that some people criticize me because I sometimes use refined sugar in my desserts. And that is only sometimes. If you don't like it, you don't have to make it, I am not promoting it or claiming that it is healthy. There are plenty of healthy recipes to choose from on my blog.
But if (like myself) you enjoy an unhealthy dessert every few weeks, this one is for you. And as long as you eat these things (or anything) in moderation, I think you're good.
That being said, enjoy this unhealthy recipe.
A piece of advice
Most of the time I get a ton of questions about what ingredients I use, so I am going to use this section to mainly talk about that. The recipe itself is pretty simple, you won't have any problems with it.
Unfortunately, some of these are very specific to the county I live in, others can be found in Europe. But if you live in the Balkans, this info may be helpful for you. The whipping cream that I used is called Hopla, I think. When choosing one of these, make sure to read the label. A lot of the creams that are marked as plant-based do contain milk protein.
I buy my vegan yogurt in a store called dm, they have a few of them. I despise coconut yogurt, but this time I had no choice. Luckily, I couldn't really taste it in this dessert. You can use any vegan yogurt you like.
The vegan cream cheese is made by a company called Meggle. The packaging is round and looks like the Mascarpone packaging. Again, you can choose the one you like. Or if you are not vegan, you can make a vegetarian version of vegan peach mess.
Mint leaves and candied almonds are not mandatory in this recipe. But I had to use them this time, only because the final result looked much cuter in the pictures. You can figure out another way to decorate if this is too much for you.
These measurements are enough for 2 large glasses or several small ones. The amount of cream that you are going to get depends on the type of vegan whipping cream that you are using. If it is not enough when everything is whipped, add some more cream and continue to mix it with a mixer. Until you get the desired amount.
After all, you know how much of the dessert you need, so adjust the measurements accordingly.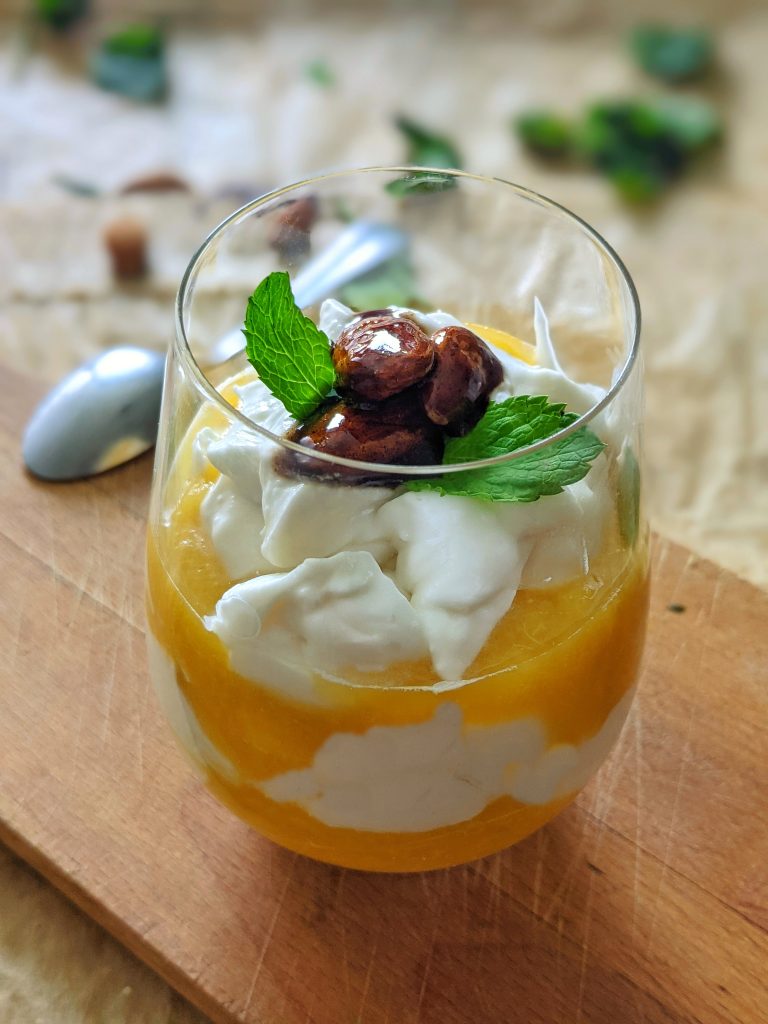 Vegan peach mess
Ingredients
For the peach mess:

2 large ripe peaches

200 ml of vegan whipping cream

150 ml of vegan yogurt

75 g of vegan cream cheese

50 g of powdered sugar

½ tsp of vanilla extract

For decoration (optional):

4 tsp of brown sugar

½ tsp of ground cinnamon

a pinch of nutmeg

splash of water

a few whole almonds (about 70 g)

mint leaves
Directions
Peel the peaches and cut them into smaller pieces. Put them in a blender and pulse a few times in order to get a peach puree. Set aside.
In a deep bowl mix together the vegan whipping cream, powdered sugar, vegan yogurt, vanilla extract and vegan cream cheese. Combine everything with a mixer, at first at low speed and then increase it as a homogenous cream starts to form.  When you are satisfied with your results, set aside.
Take 2 large (or 3-4 small) dessert glasses*. Take a teaspoon of the cream and spread it at the bottom of the glass. Then take a teaspoon of the peach puree and put it over the cream. Keep doing this until you run out of ingredients.
If you want to you can top them off with some mint leaves and almonds. If so, this is how you make those cinnamon almonds.
Put a small amount of water in a pan (only enough to cover the bottom). Stir in the cinnamon, sugar and nutmeg. Mix everything and bring it to boil over medium temperature. Then put the almonds in. Stir everything until almonds are covered with a sticky, sugary syrup.
Transfer the almonds on a sheet of parchment paper and let them cool down. After a while separate them with a fork and put them on top of your vegan peach mess.
Notes
* The amount of cream that you are going to get depends on the type of vegan whipping cream that you are using. If it is not enough, add some more.
If you liked this recipe, make sure you check out my other recipes like:
Feel free to tell me what you think about this in the comments below, or send me the pictures of your own vegan peach mess. If you did something differently, I would also like to hear that, I'd love to see the things you come up with.
P.S. for more recipes like this and a bunch of other stuff, follow me on Instagram, @margo_drobi.
Also, I recently started a Patreon page, where you can subscribe and help me create more/better content. In return, you will get an exclusive piece of content (recipe) each month. My plan is to increase the amount of that content if I gain a few subscribers. If you are interested and you want to find out more, I will leave the link to my Patreon right –here.