Vegan flourless blondies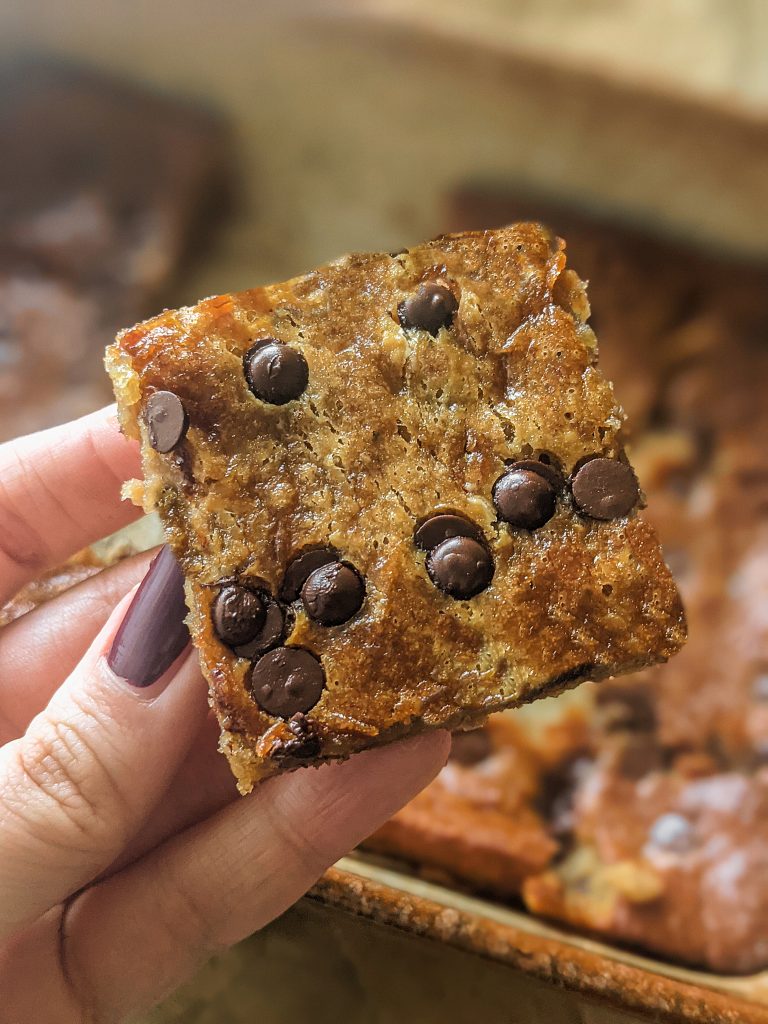 I horded quite a few ingredients from different desserts in my kitchen. So instead of buying new ones, I decided to combine what I have in a way that makes sense. And so I ended up with these vegan flourless blondies.
They are super sweet, gooey, soft, gluten-free and they will satisfy any craving for sweets (if you have one of course). If this one is too sweet for you, I wrote down an alternative in this post, so you can try that as well. You can use plenty of different ingredients to make this recipe.
If this sounds like something that you like, keep reading for additional tips and tricks.
A piece of advice
The recipe is super easy and short, but I will still do my best to write down a few helpful tips and answer some frequently asked questions.
Vegan flourless blondies are very sweet. That is something I really love about them, but I know that there are people out there that might find them to be a bit much. To make them less sweet, you can swap the bananas for some pumpkin puree. In the end just put everything in a blender and blend until the ingredients are combined.
Almond butter is also something that you can use instead of cashew butter. People usually ask me what coconut syrup is, so I'm just going to try to explain it here. It is a sweet liquid that looks a lot like maple syrup, only slightly thicker. I only recently discovered it myself. If you are about to ask if you can just use maple syrup instead, the answer is – probably, but I never tried it. I'd rather use date syrup instead of maple I guess.
When I make blondies or some type of bread, I use golden flax seed as an egg replacement. Mainly because they are not visible in the dough and the final product looks much better. If I am baking brownies, I will just use regular brown flax seeds. However, if you don't really care about the look of your food, just use the ones that are available to you.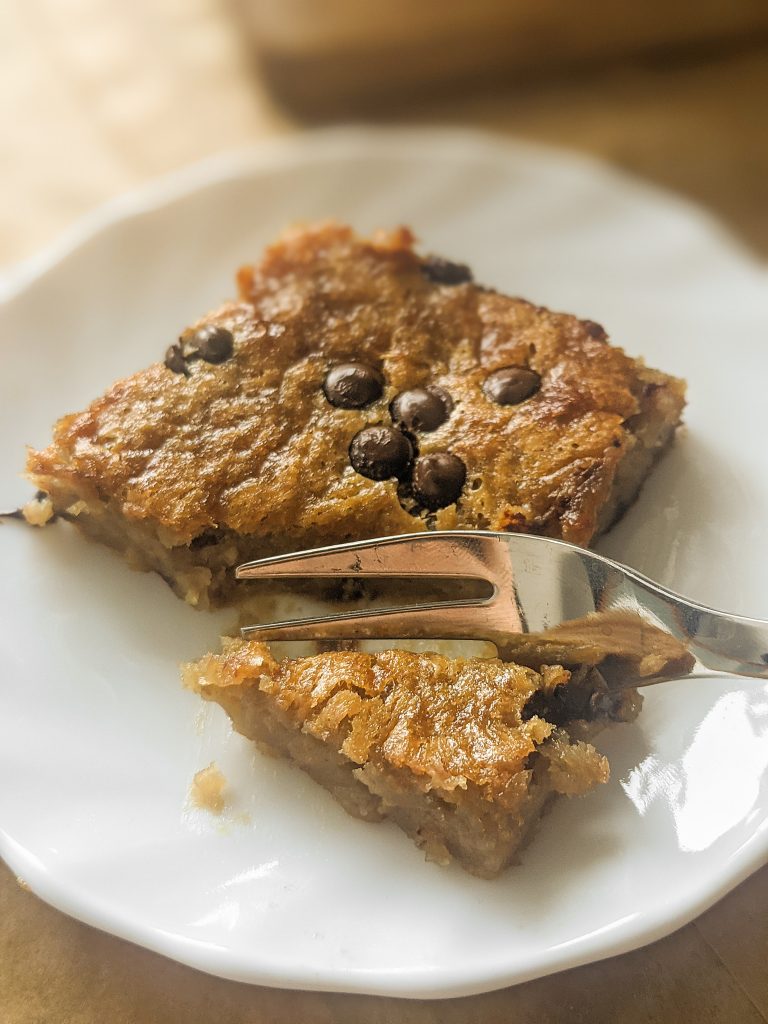 Check on your flourless blondies from time to time while they are baking. Just to make sure that they won't burn on the surface. Let them cool down completely before cutting them. The middle will be gooey and fudgy, so if you are a fan of that type of a cake, you're in luck. This batch I made was rather small, but more than enough for me. They are also perfect for people who avoid flour and white sugar in their food for any reason.
This cake is definitely one of the heathier desserts that I made recently. Bananas are rich in fiber, antioxidants and several nutrients. A medium-sized banana has about 105 calories. They can help moderate blood sugar levels after meals and may reduce appetite by slowing stomach emptying. Bananas are fairly rich in resistant starch, which may feed your friendly gut bacteria and safeguard against colon cancer. They are a good source of potassium and magnesium, two nutrients that are essential for heart health. Depending on ripeness, bananas harbor high amounts of pectin which may also reduce appetite and help keep you full.
The cashew butter is also amazing in a lot of different ways, but I wrote about that in many previous posts. Besides, I don't want this post to be any longer than it needs to be, so I think I will leave things here. Enjoy the recipe, and if you make it, don't be shy to tag me and let me know how it was. Good luck!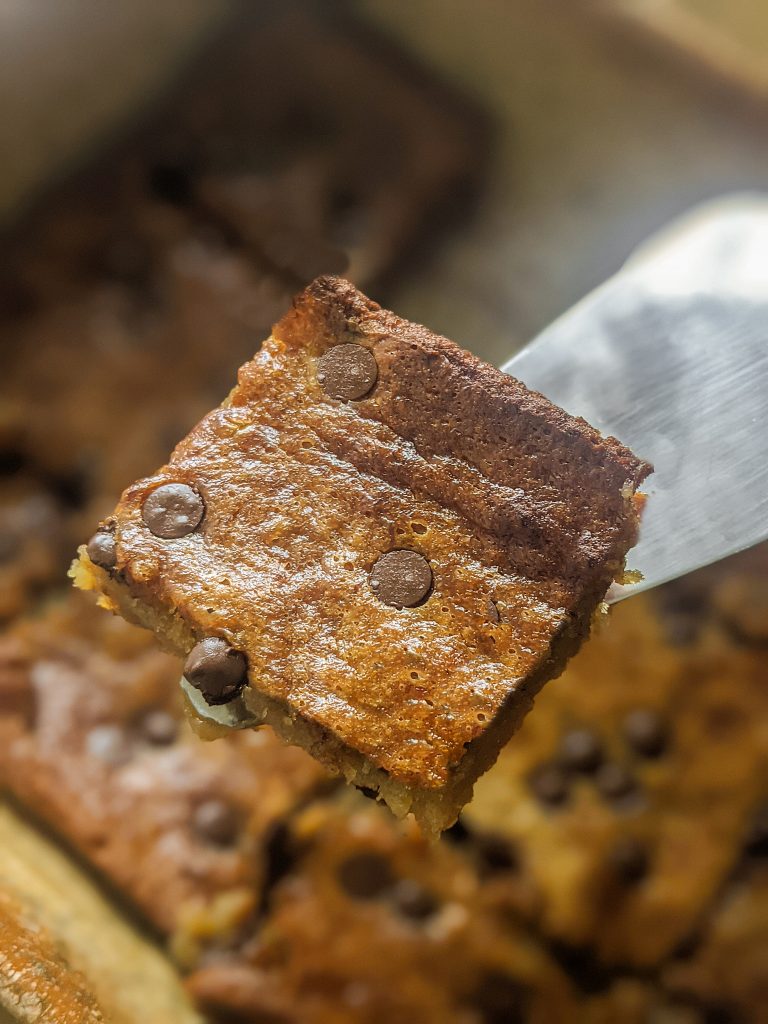 Vegan flourless blondies
Ingredients
120 g of bananas

1 tbsp of ground flax seeds + 3 tbsp of water

120 g of cashew butter

120 ml of coconut syrup

1 tsp of vanilla extract

½ tsp of baking soda

40 g of chocolate chips
Directions
Combine the ground flax seeds and water and set aside. Cut the bananas up into pieces and put them in a blender. Blend until you get a banana puree.
In a deep bowl combine the cashew butter, coconut syrup, banana puree, vanilla extract, flax seeds and water and the baking soda. Mix everything with a wire whisk until all of the ingredients are well combined.
Add the chocolate chips to the bowl and stir once again. Line the baking dish with some parchment paper and spray it with non-stick spray. Transfer the blondie mixture into the baking dish and sprinkle with some more chocolate chips. Bake in the oven for 25 to 30 minutes at 175 degrees Celsius (350 F).
Take them out of the oven and let them cool completely before cutting them up. They will still be very gooey after they have cooled down. These measurements make a very small batch of vegan flourless blondies, if you need a big one, make sure to increase the measurements.
If you liked this recipe, make sure you check out my other recipes like:
Feel free to tell me what you think about this in the comments below, or send me the pictures of your own vegan flourless blondies. If you did something differently, I would also like to hear that, I'd love to see the things you come up with.
P.S. for more recipes like this and a bunch of other stuff, follow me on Instagram, @margo_drobi.
Also, I recently started a Patreon page, where you can subscribe and help me create more/better content. In return, you will get an exclusive piece of content (recipe) each month. My plan is to increase the amount of that content if I gain a few subscribers. If you are interested and you want to find out more, I will leave the link to my Patreon right – here.
And that was it for today, if you are using Pinterest make sure you follow me on there, and if you want, pin this image: