Vegan chocolate souffle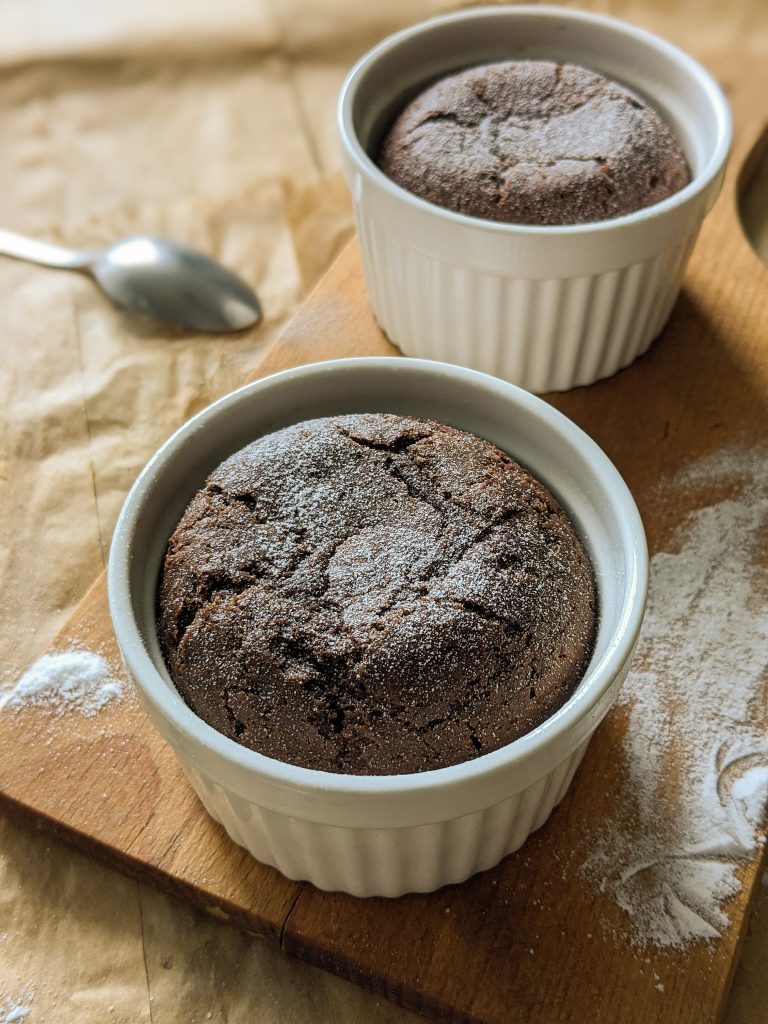 I was shopping for some new cake molds last month and I came across some small souffle ramekins. Then I thought, I haven't really seen that many vegan souffle recipes on the internet, only souffle pancakes and stuff like that. So, I bought the ramekins and decided to make a vegan chocolate souffle of my own.
A lot of time has passed since then (a whole month), and I forgot about that idea. I only remembered yesterday when I saw the ramekins. Since I was already out of inspiration, I tough that this would be perfect for a Monday post. An easy and warm chocolate dessert.
I tried to keep it as simple as possible, with no unusual or expensive ingredients. Since I was home alone I made only two small souffles (because I don't have a lot of self control). Safe to say, these two were gone in minutes. But of course you can increase the amounts of ingredients and make as many as you like.
This chocolate souffle is delicious, sweet, gooey in the middle and very easy to make. Even if you don't have any experience in baking, you won't have any problems with these. The recipe is super simple and easy to follow.
I must admit, a chocolate dessert is not really that healthy, but today is the day we treat ourselves. The healthy thing about this souffle is that it is vegan. You can start your diet again tomorrow, today is all about making Monday bearable.
Some health benefits
You might not think that there are any health benefits to be had from eating dessert. And yeah, that may be the truth for the most part, but this souffle has one ingredient worth mentioning – dark chocolate.
Quality dark chocolate is rich in fiber, iron, magnesium, copper, manganese and a few other minerals. Cocoa and dark chocolate have a wide variety of powerful antioxidants. In fact, they have way more than most other foods. The bioactive compounds in cocoa may improve blood flow in the arteries and cause a small but statistically significant decrease in blood pressure.
Dark chocolate improves several important risk factors for disease. It lowers the susceptibility of LDL to oxidative damage while increasing HDL and improving insulin sensitivity. Studies show that the flavanols from cocoa can improve blood flow to the skin and protect it from sun damage. Cocoa or dark chocolate may improve brain function by increasing blood flow. It also contains stimulants like caffeine and theobromine.
And I think I recently heard that it can help fight cellulite, but don't quote me on that. I still have to do some research. So if you want to treat yourself to a dessert, you might want to consider a dark chocolate bar with a high percentage of cocoa.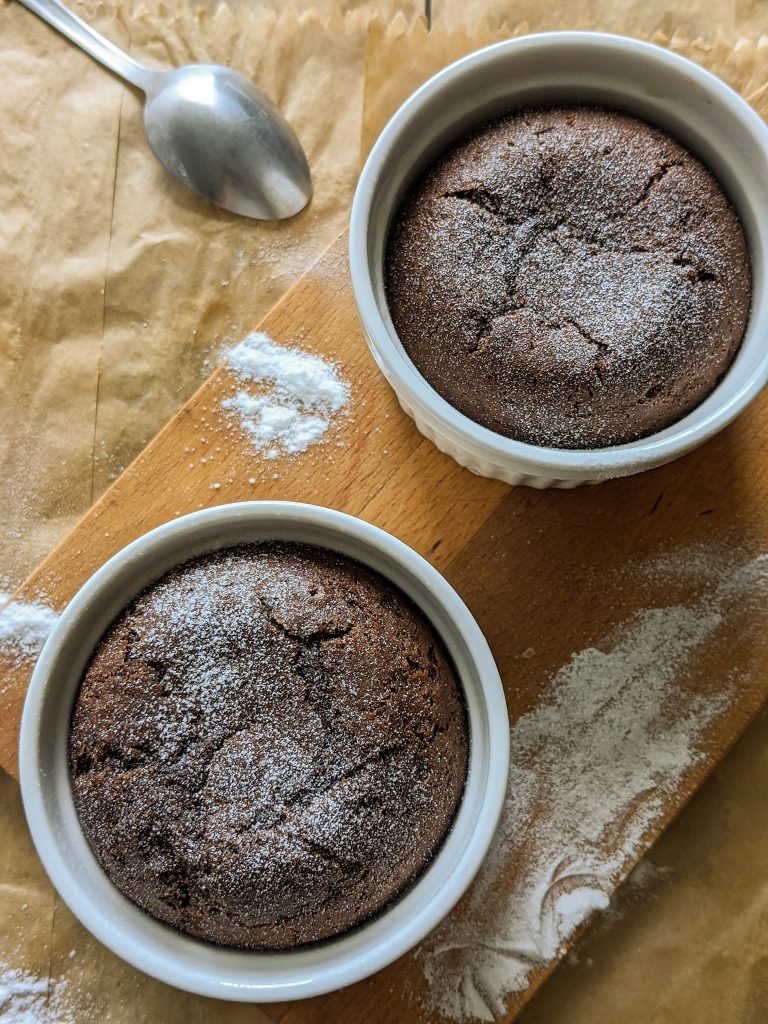 A piece of advice
If you already jumped trough the instructions, you know that this recipe is as easy as it gets. That means that there is not much for me to talk about here, so I will try to keep it brief.
When I melt the chocolate, I usually use the double boiler method. I heat some water in a large bowl and put a smaller bowl with chocolate in it. And I let it melt on low temperature.
When mixing the dry ingredients together, make sure that you break apart all the cocoa powder clumps (if there are any). The pieces of chocolate in the middle will melt in the oven and create a gooey center. So if you want more of that, you can add some more chocolate pieces.
Don't overbake the souffle, you don't want it to be too tough. These measurements make for 2 small souffle ramekins. If you need more than that, adjust the amount of ingredients accordingly. I topped them off with some powdered sugar, but you don't have to do that if you don't want to. Or you can get creative with it, but if you do, make sure to let me know.
Make sure you serve these while they are still warm. You can also serve them with some vegan whipped cream od vanilla ice cream.
Good luck and bon appetit!
Vegan chocolate souffle
Course: Sweet
Ingredients
65 g of all-purpose flour

½ tsp of baking powder

40 g of dark chocolate

4 small pieces of dark chocolate

1 tbsp of cocoa powder

65 g of hot water

4 tbsp of sugar

4 tbsp of sugar

1 tbs of olive oil

powdered sugar for decoration
Directions
In a large bowl add flour, sugar, baking powder and cocoa powder. Mix everything well together. Melt 40 g of dark chocolate. In a second bowl mix together olive oil, hot water and 2 tbsp of melted dark chocolate. Add the liquid ingredients to the dry ones and mix everything.
Grease two souffle ramekins with some olive oil. Divide the dough between the two ramekins. Take the whole pieces of chocolate and push them down in the center of the dough (2 pieces in each ramekin).
Bake them at 175 degrees Celsius for 20 minutes. Remove from the oven and sift some powdered sugar over them.
Serve the vegan chocolate souffle while it's still warm.
If you liked this recipe, make sure you check out my other recipes like:
– vegan matcha mini cheesecakes
Feel free to tell me what you think about this in the comments below, or send me the pictures of your own vegan chocolate souffle. If you did something differently, I would also like to hear that, I'd love to see the things you come up with.
P.S. for more recipes like this and a bunch of other stuff, follow me on Instagram, @margo_drobi.
Also, I recently started a Patreon page, where you can subscribe and help me create more/better content. In return, you will get an exclusive piece of content (recipe) each month. My plan is to increase the amount of that content if I gain a few subscribers. If you are interested and you want to find out more, I will leave the link to my Patreon right – here.