Lotus chocolate cake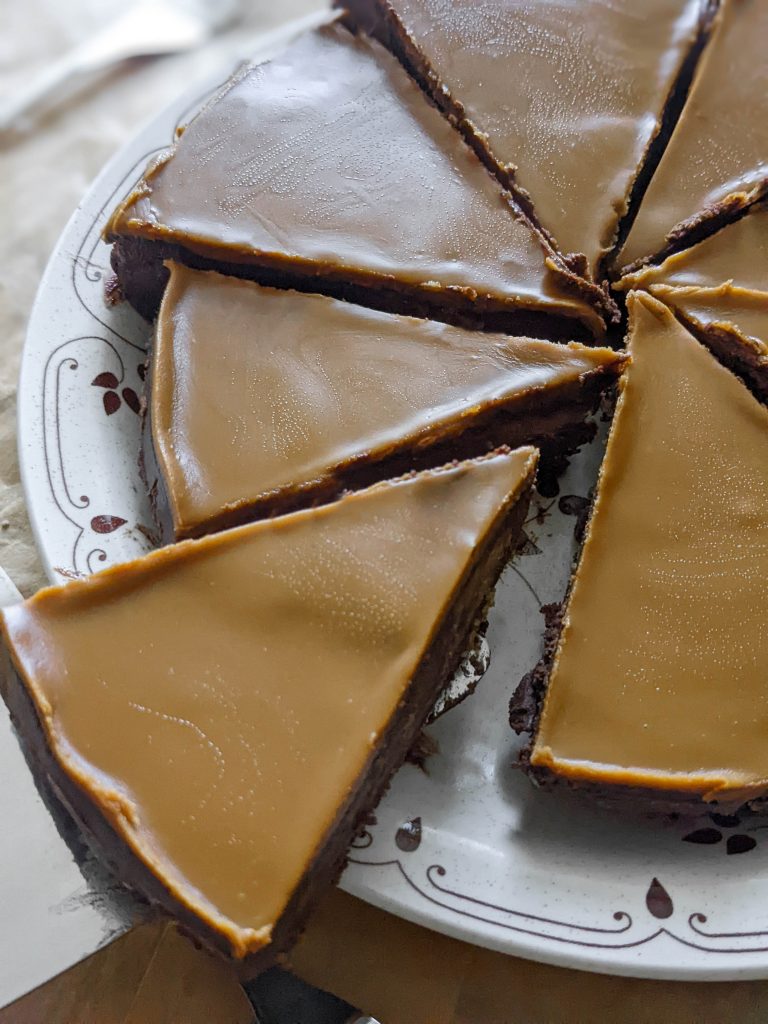 These days I've been thinking about what else I could make with the remaining Lotus cookies and spread that I have in my kitchen. I decided to do something simple. This no-bake Lotus chocolate cake requires only a few ingredients.
When compared with my other Lotus recipes, this one is beyond easy. My favorite things about it are that it is completely vegan, and that you do not need to bake it. Which is super convenient in these hot summer days. Similar cake recipes exist out there, but I have never seen one with Lotus biscoff cookies or spread. I highly recommend this one if you are feeling lazy and need to whip up something simple and yet delicious.
It is smooth and crispy and refreshing. The Lotus ingredients also give it a very subtle caramel-like taste.
Even when something is simple, I always tend to leave additional tips and tricks, to make it even easier for my readers. I have compiled them in the following section of this post.
A piece of advice
Lotus biscoff cookies and Lotus biscoff spread were always some of my favorite vegan sweets. I only discovered them when I went vegan and they are my guilty pleasure. I understand that some of my readers might have a hard time obtaining these ingredients, I always get a ton of questions about where to buy them. If you live in Europe and have a Lidl or Billa store near you, you might find them there. They can also be ordered online, so make sure you look into that. I got my most recent batch from Austria.
But if you really have no clue on where to get the Lotus products, you can swap them. Just use a different kind of cookie instead of Lotus biscoff. The glaze is optional. But if you really think you need some type of glaze, melt 100 g of chocolate with a bit of margarine and use that instead. But still, the cake is fine without it.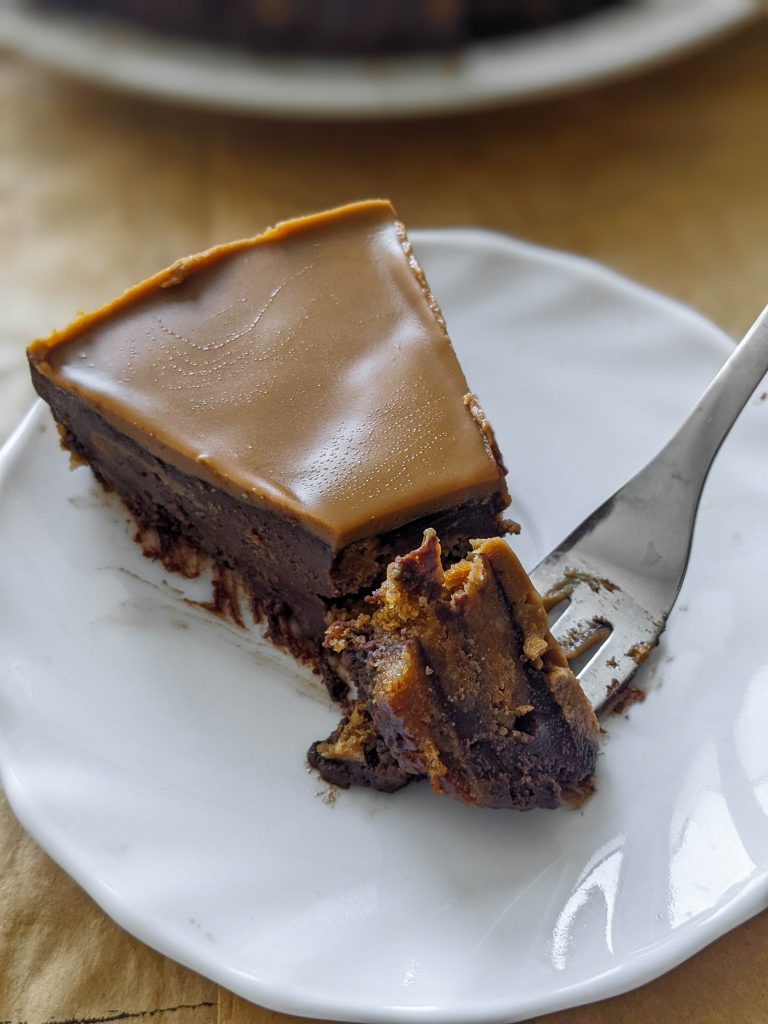 Do not use the regular coconut milk. Make sure that you buy the full-fat canned coconut milk. Also, use your favorite brand of vegan chocolate, just make sure it is real chocolate. Meaning, it contains cocoa butter.
I am not sure for how long I kept the cake in the fridge, so check on it from time to time and poke it a little bit to see if it thickened. I am usually more precise with these things, so I do apologize. The same goes for the glaze. Keep an eye on it so you don't burn it in the oven. It is ready when it becomes pourable. Keep everything in the fridge until the glaze becomes thick again.
I have come to find that this Lotus chocolate cake is even better when you let it rest for a day or two. Just keep it in the fridge and store it in an airtight container if you want to.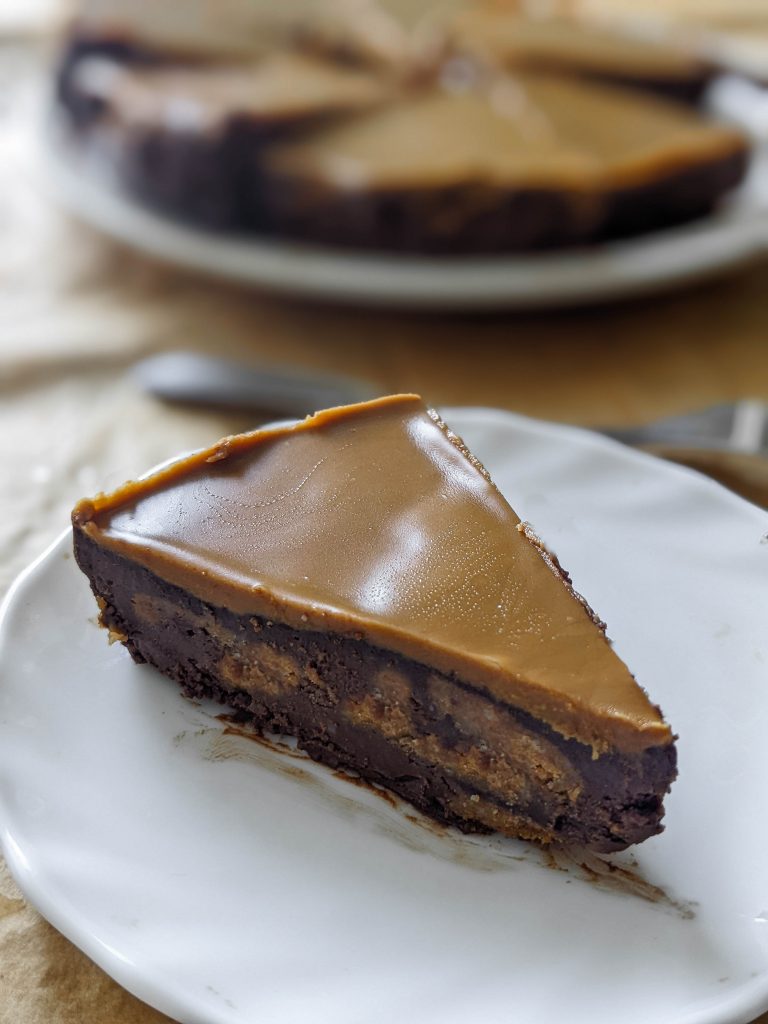 Lotus chocolate cake
Course: Sweet, Sweet
Ingredients
100 g of  vegan chocolate

200 ml of full-fat coconut milk

60 g of peanut butter

100 g of Lotus biscoff cookies

Lotus biscoff spread
Directions
Start off by preparing all of the ingredients. Break the chocolate and the cookies into small pieces.
Put the chocolate and the peanut butter in a large bowl. Pour the full-fat coconut milk in a saucepan and bring it to boil. Take the milk off the stove and pour it over the chocolate and peanut butter. Mix everything until the chocolate has melted and the ingredients are well combined. Add the Lotus cookie pieces into the mix and give it a stir.
Line a baking dish with some parchment paper. Pour the cake mix into the baking dish, even the surface out with a spoon and put it in the fridge. Leave it there for a few hours, until it becomes solid and you can slice it with a knife.
Meanwhile, prepare the Lotus glaze. Put the Lotus biscoff spread in a heat-proof ramekin or bowl. Heat the oven to 180 degrees Celsius (356 F) and place the ramekin in the oven. Let the spread heat up for a minute or two, or until it becomes liquid/runny.  Take it out of the oven.
Take the baking dish with the cake out of the fridge. Pour the Lotus glaze on top of it and give it a whirl (or spread it out with a spoon evenly). Return the cake to the fridge and leave it there until the surface thickens.
When that happens, gently remove the Lotus chocolate cake from the dish, cut it into pieces and serve. Keep the leftover cake in the fridge.
If you liked this recipe, make sure you check out my other recipes like:
Feel free to tell me what you think about this in the comments below, or send me the pictures of your own vegan Lotus chocolate cake. If you did something differently, I would also like to hear that, I'd love to see the things you come up with.
P.S. for more recipes like this and a bunch of other stuff, follow me on Instagram, @margo_drobi.
Also, I recently started a Patreon page, where you can subscribe and help me create more/better content. In return, you will get an exclusive piece of content (recipe) each month. My plan is to increase the amount of that content if I gain a few subscribers. If you are interested and you want to find out more, I will leave the link to my Patreon right –here.