Sweet potato sesame balls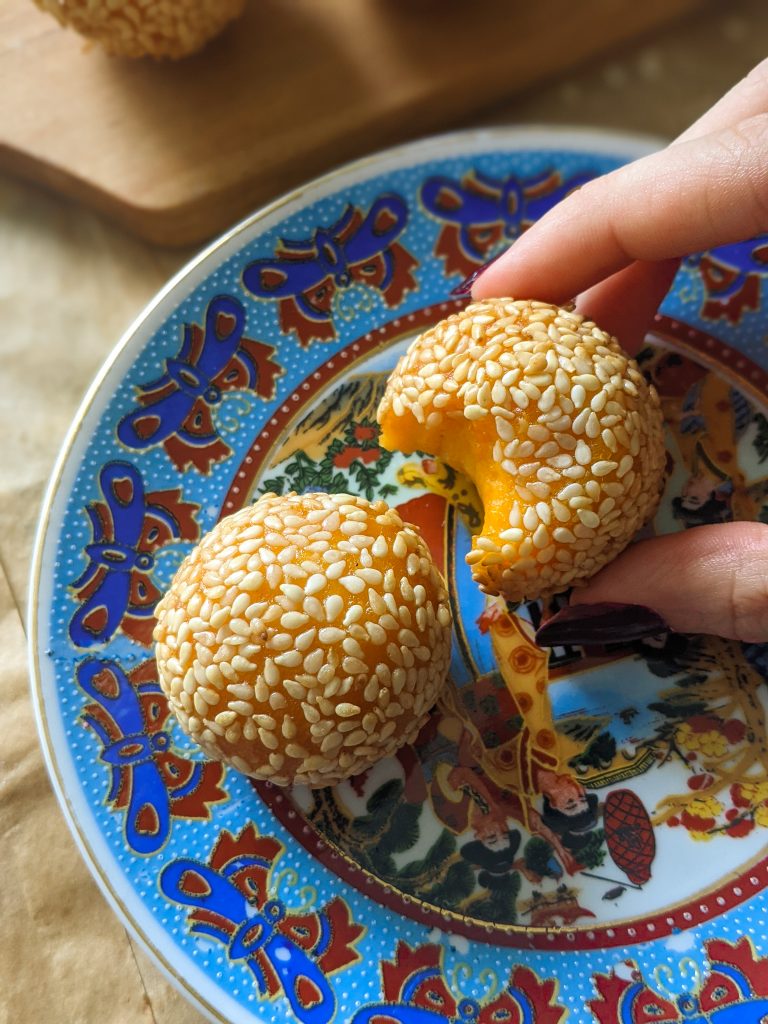 I was so happy to write this post because I finally got my hands on a glutinous rice flour bag (multiple tbh). The first thing I wanted to make with it is this – Chinese sweet potato sesame balls! And they turned out amazing, I absolutely loved them. I also loved the process because they are so easy to make.
They are soft, a bit crispy on the outside and have this lovely sesame flavor. I still can't figure out if this is a sweet or savory snack, but I don't even care. They are just so delicious, and on top of that – vegan.
Since I got a few cool ingredients during my trip to Serbia you can expect similar recipes in the near future.
A piece of advice
As you can probably tell by a first glance, this recipe is very simple. You don't need a large number of ingredients, and most of the preparation time is spent on cooking the potato in the oven. However, there are a few things you must pay attention to in order for this recipe to work out, and I am going to discuss them in this part of the post (as always).
The main thing I always want to point out in recipes like these is – use GLUTINOUS rice flour. Plain rice flour will not result in these soft, sticky dumplings and you will just have to throw everything away. Glutinous rice flour on the other hand is sticky, soft, and mainly used for mochi and similar desserts. For my readers from the Balkans, I should let you know that I bought this flour in Belgrade in a Chinese food store. I did not find it in my hometown in Bosnia, but it could be hiding in some healthy food stores.
This is a very small batch, I made only 6 sesame balls, but if you need more than that, feel free to double or triple the ingredient measurements. The baking time of the sweet potato depends largely on its size. So the baking might take a bit longer if the potato is really big or it can be short if the potato is small. In any case, check on it a few times, try to go through it with a fork to see if it is done.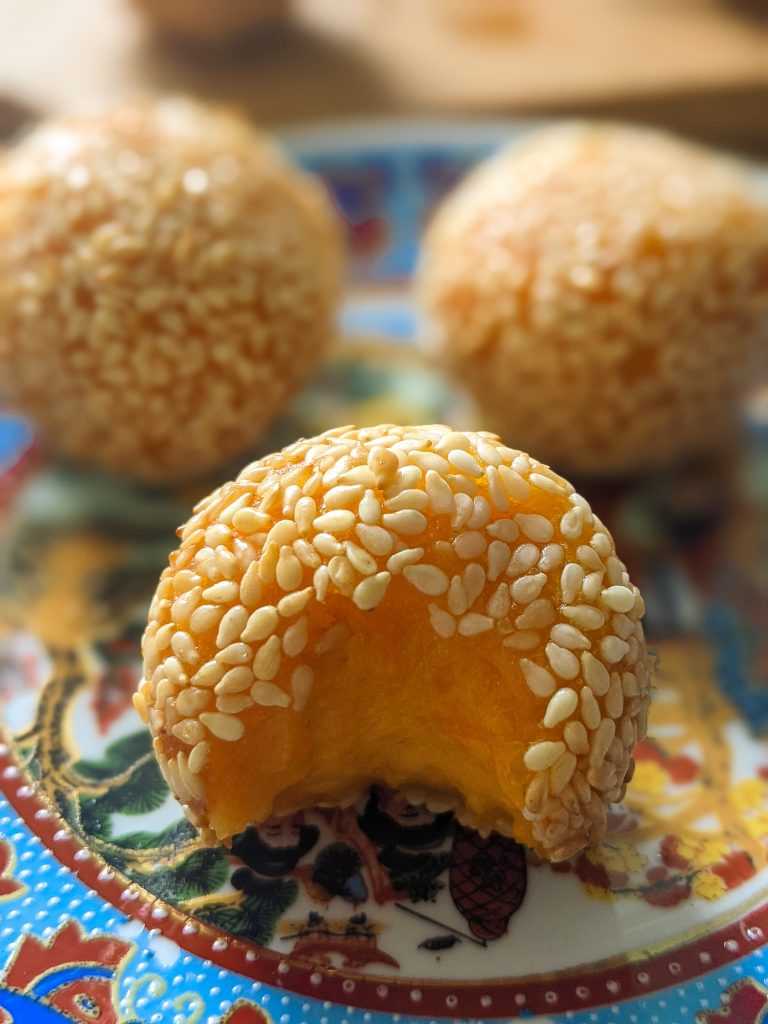 Also, the amount of glutinous rice flour you will need may vary. This is mainly because every potato has a different amount of water content. Make sure you add the flour gradually while mixing until you achieve the desired texture. The dough should be smooth and soft, but not too sticky.
Be careful with the cooking oil. Try not to overheat it, you might accidentally burn it. Use a thermometer to check the temperature, I used my thermometer for liquids, it worked just fine. If you are making one small batch like me, then you're good. But if you have multiple batches to fry, make sure you bring (or lower) the temperature to 125 degrees Celsius (250 F) once again before placing the sweet potato sesame balls in the oil.
I served these while they were still warm, but they are just as nice when they cool down.
Sweet potato sesame balls
Ingredients
1 sweet potato (130 g)

60 g of glutinous rice flour

1 tbsp of sugar

2 tbsp of sesame seeds

1 tbsp of glutinous rice flour

½ cup of water

600 ml of oil
Directions
Stab the sweet potato with a fork several times. Heat the oven to 200 degrees Celsius (392 F). Bake the potato in the oven for about 1 hour. It is cooked when it becomes very soft and you can easily go through it with a fork. Take it out of the oven, cut it in half (lengthwise) and use a spoon to scoop it out into a large bowl. Throw away the sweet potato skin.
Use a potato masher to mash the sweet potato into a puree. Add the sugar and gradually add the glutinous rice flour while mixing. Knead the dough with your hands. If it is too sticky, add some more rice flour until you get a smooth, soft (but not too sticky) dough.
Divide the dough into 6 pieces and roll them into balls. In a small bowl mix together 1 tbsp of glutinous rice flour with ½ cup of water. Put the sesame seeds in a different small bowl. Take each ball, dip it into the flour/water mix and then place into the sesame seed bowl. Move the bowl in circular motion until your sweet potato ball is completely covered with sesame seeds. Do this with all of the dough balls.
Pour the oil into a non stick pan. Heat it to 125 degrees Celsius (250 F) and then reduce the heat to medium. Put the sweet potato sesame balls in the pan. Cook them while gently turning them from time to time and pushing down with a spoon when they reach the surface until they become bright orange from all sides, like in the pictures.
Remove the sweet potato sesame balls from the pan and serve.
If you liked this recipe, make sure you check out my other recipes like:
Feel free to tell me what you think about this in the comments below, or send me the pictures of your own vegan sweet potato sesame balls. If you did something differently, I would also like to hear that, I'd love to see the things you come up with.
P.S. for more recipes like this and a bunch of other stuff, follow me on Instagram, @margo_drobi.
Also, I recently started a Patreon page, where you can subscribe and help me create more/better content. In return, you will get an exclusive piece of content (recipe) each month. My plan is to increase the amount of that content if I gain a few subscribers. If you are interested and you want to find out more, I will leave the link to my Patreon right – here.