Strawberry poppy cakes
I always feel like strawberries are around for a really short amount of time every year. So this time around, I want to make the most out of them before other berries take their place. Which is why I made these vegan strawberry poppy cakes!
A sweet, soft strawberry cake with a lemony poppy crust and a juicy strawberry center. It is not the most simple recipe ever, but it is most definitely my spring favorite (and totally worth the effort).
Some health benefits
Besides being delicious, sweet, red truffles sent from heaven, strawberries can also be really good for you. They are a good source of vitamin C, manganese, folate (vitamin B9), and potassium. They contain small amounts of several other vitamins and minerals. Strawberries are loaded with antioxidants and very low in calories (they can help you lose weight).
Studies have found a relationship between berries or berry anthocyanins and improved heart health. Large observational studies in thousands of people link berry consumption to a lower risk of heart-related deaths. According to a study in middle-aged people with well-established risk factors for heart disease, berries may improve HDL cholesterol, blood pressure, and blood platelets function.
They are also found to have a role in regulating blood sugar, and a number of studies suggest that berries may help prevent several types of cancer through their ability to fight oxidative stress and inflammation.
Those are only some of the reasons you may want to incorporate berries into your diet.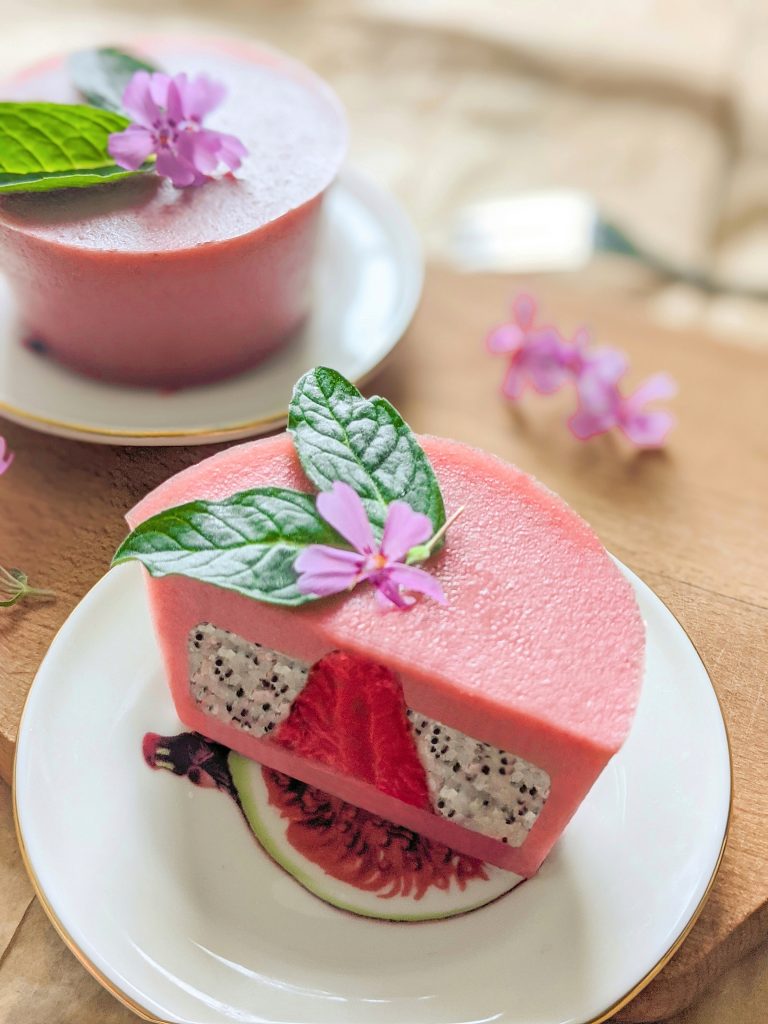 A piece of advice
The first thing that I would like to mention is, don't get stressed if you don't have both silicone muffin molds and a muffin baking tray. I just happened to have both of those in the same size. You can bake the cake crust in a regular small baking dish and then cut out circle shaped crusts to fit your silicone cake molds.
I usually use silicone molds for such cakes because it is easy to pop them out when they set, without causing any damage.
When making bothe the panna cotta bottom or top layer, make sure you bring the mixture to a boil over medium heat both times. Don't overheat them and don't boil them longer than two to three minutes. Before adding agar agar and starch to the warm mixture make sure you mix them with some water. Otherwise they might create lumps and ruin your strawberry layer.
Strawberry poppy cake
Course: Sweet
Ingredients

Bottom layer:

80 ml of full-fat coconut milk

25 g of vegan white chocolate

15 g of sugar

1 tbsp of corn starch

 3 large strawberries

1/2 tsp of red beet powder

1/2 tsp of agar agar

Poppy seed cake:

60 g of all-purpose flour

50 g of sugar

7 g of poppy seeds

1/2 tsp of baking powder

¼ tsp of baking soda

45 ml of vegan yogurt

45 ml of fresh lemon juice

30 g of melted vegan butter

6 small strawberries

Top layer:

 300 ml of full fat coconut milk

30 g of sugar

60 g of vegan white chocolate

 1 + 1/2 tbsp of corn starch

 1 + 1/2 tsp of red beet powder

1 tsp of agar agar

 6 strawberries
Directions
Make the thin bottom layer first. Prepare the ingredients. Melt the vegan white chocolate, set aside. Cut the strawberries up, put them in a blender and blend them until you get a puree with no large chunks.  Mix both agar agar and corn starch with a little bit of water.
Put the coconut milk and the sugar in a saucepan and heat them over medium heat. Add the melted white chocolate and mix until everything is well combined. Then add the corn starch, red beet powder, strawberry puree and stir. Then add the agar agar, mix well, and let the mixture boil on medium heat. Let it bubble for 2 minutes. Remove the saucepan from the stove.
Pour a small amount of this mixture in the bottoms of 6 silicone panna cotta molds. Let it cool completely on room temperature and then put it in the fridge. Prepare the poppy seed cake next.
In a deep bowl combine all of the dry ingredients for poppy seed crust and mix. Add the yogurt, melted butter and lemon juice and combine everything with a silicone spatula.  Grease a muffin tray and divide the mixture between 6 muffin molds. Ideally they should be smaller or same size as the silicone molds you used previously. Cut the bottoms off of 6 strawberries and place one in the each muffin mold, in the center of the poppy cake dough. Bake them in the oven on 170 degrees Celsius (347 F) for about 30 minutes.
Take the muffin tray out and let the poppy crusts cool completely. Meanwhile, prepare the top layer. Just follow the first part of the recipe that you already did. The ingredients are the same, just with different measurements.  Take the silicone molds out of the fridge, the bottom layer should be solid by now. Place the poppy seed crust on top of the bottom layer. Pour the liquid top layer that you just made on top of that until everything is completely covered. Let everything cool down and then place them in the fridge for a few hours to set.
These measurements make 6 small strawberry poppy cakes.
If you liked this recipe, make sure you check out my other recipes like:
Feel free to tell me what you think about this in the comments below, or send me the pictures of your own strawberry poppy cakes. If you did something differently, I would also like to hear that, I'd love to see the things you come up with.
P.S. for more recipes like this and a bunch of other stuff, follow me on Instagram, @margo_drobi.
Also, I recently started a Patreon page, where you can subscribe and help me create more/better content. In return, you will get an exclusive piece of content (recipe) each month. My plan is to increase the amount of that content if I gain a few subscribers. If you are interested and you want to find out more, I will leave the link to my Patreon right – here.
And that was it for today, if you are using Pinterest make sure you follow me on there, and if you want, pin this image: