Vegan chai donuts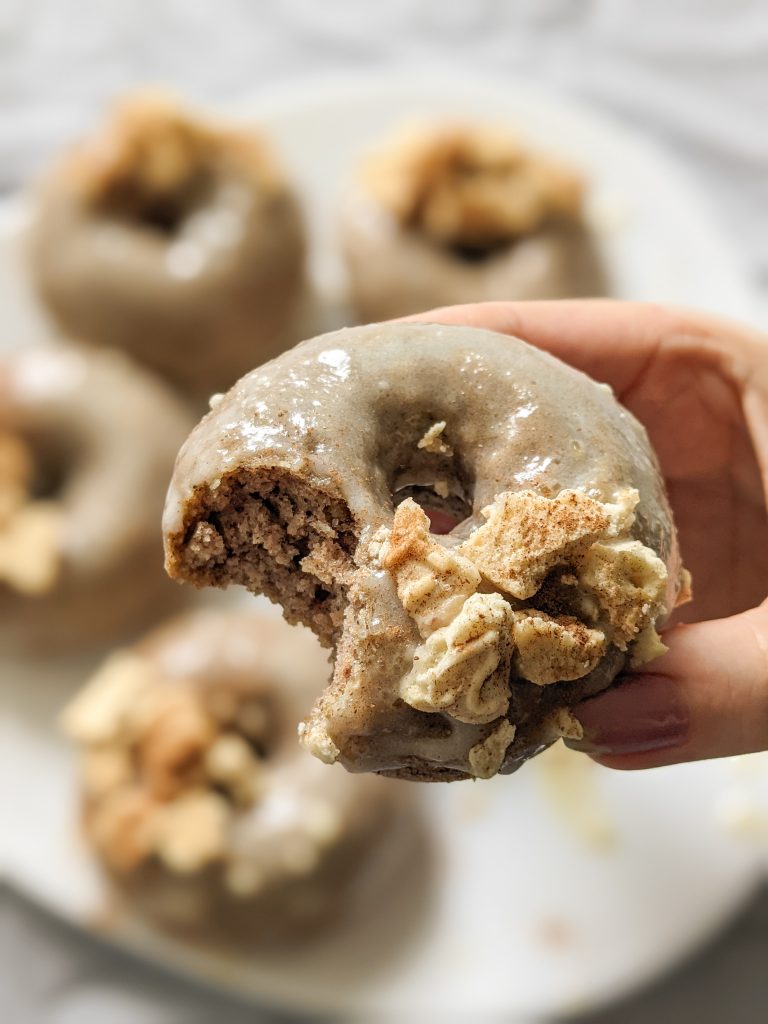 It has been a year since I've had this blog and I honestly can't believe that I never posted one donut recipe. In order to correct that horrible mistake, I am posting my favorite one today – vegan chai donuts. It is not my favorite chai mix recipe, but it sure is the best baked donut recipe I know of.
These donuts are soft, fluffy, sweet, oven-baked, and they contain a much smaller amount of oil than your average donut. It is also so easy to make them, you probably already have most of the ingredients in your kitchen. You are going to need a donut pan, but if you don't have one consider making some chai cupcakes.
The chai spice mix gives these donuts a lovely smell and taste. However, if you don't like it you can just make the recipe without them and get some regular baked donuts as a result. But keep the nutmeg, it really does something special for this dessert.
In order to get more tips and tricks for this lovely recipe and to find out how I make it, keep reading.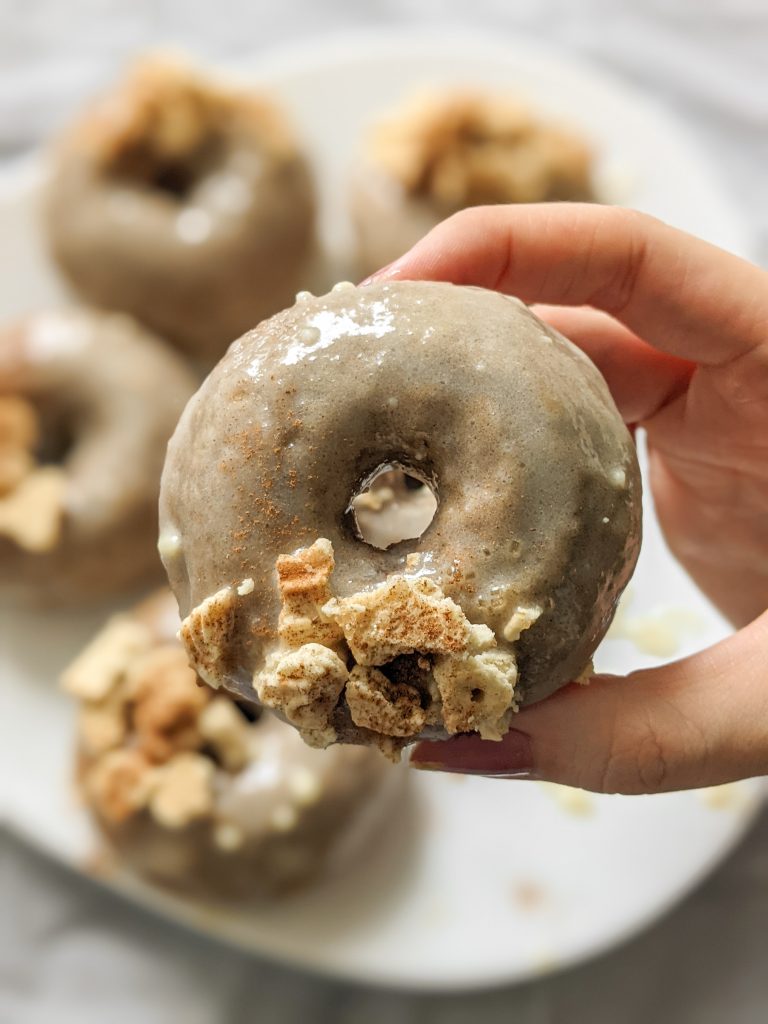 A piece of advice
This recipe is pretty easy, if you ever made a vegan muffin you won't have any problems with this. But just in case there are a few beginners reading this post, I will write down a few tips and tricks.
First of all, you can use any plant based milk that you want, it does not have to be soy milk. Also, don't forget to grease the donut pan, either with a non-stick spray, vegan butter or regular oil. That way the dough will not stick to the molds when you try to take them out and they will look much better. Make sure you are using fresh ingredients (for example baking powder/soda). If they have been sitting in your pantry for a while, this might affect your final results.
When you mix plant-based milk and apple cider vinegar, you get something called vegan buttermilk. It is mainly used for pancakes and cakes. Just make sure that you set it aside for a few minutes before you use it (5 at least).
When mixing the liquid and solid ingredients together, make sure that you don't overmix, it is better to just combine them. You also don't have to have a piping bag in order to pipe the dough into the molds. I like to use a zip-lock bag. Just roll it back, transfer the dough in the bag, let the air out, twist it and cut one corner off to make a piping hole. To be sure that the vegan chai donuts are baked, poke them with a toothpick. If it comes out clean, you're good to go. If not, let them bake for a few more minutes.
Let the chai donuts cool down before you dip them into the icing. This icing is optional if you want to avoid all that powdered sugar. You can also melt some vegan white chocolate and mix it with this icing, and you can get creative with other toppings.
These measurements make about 12 small vegan chai donuts, but that also depends on the size of your molds in the donut pan.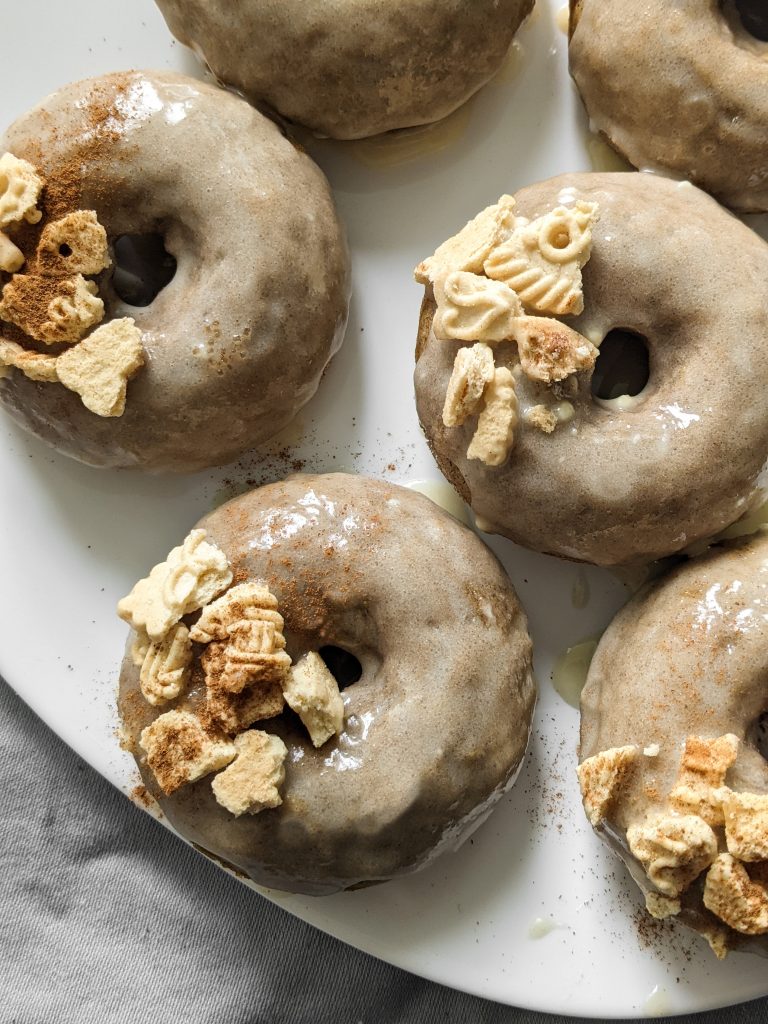 Vegan chai donuts
Ingredients
260 g of all-purpose flour

85 g of brown sugar

1 tsp of baking soda

2 tsp of nutmeg

½ tsp of cardamom

1 tsp of cinnamon

1 tsp of ginger powder

a small pinch of cloves

200 ml of soy milk

30 ml of oil

20 ml of apple cider vinegar

1 tsp of vanilla extract

For the glaze:

130 g of powdered sugar

a splash of soy milk

crushed up cookies (specuaas or Lotus)

cinnamon

brown sugar
Directions
In a deep bowl mix the flour, sugar, baking soda, nutmeg, cloves, cinnamon, cardamom and ginger. Mix until everything is well combined. In a separate bowl mix the plant-based milk with apple cider vinegar and let it sit for a few minutes.
Add that, oil and the vanilla extract to the dry ingredient mix. Stir everything in order to combine the ingredients, but don't mix too much. Transfer the mix to a piping bag. Grease the donut pan with some non-stick spray. Pipe the dough into the pan, but you can leave some space at the top of the molds, since it is going to rise.
Heat the oven on 190 degrees Celsius (375 F). Put the donut pan in the oven and bake for about 10 to 12 minutes. Take them out of the oven and let them cool down. Meanwhile, prepare the icing.
Mix the powdered sugar with a splash of plant-based milk. Stir until you get a thick icing. Take the donuts out of the pan and dip each one into the icing. Then dip them into crushed up cookies and top off with some cinnamon and brown sugar.
Keep them in the fridge. These measurements make 12 small vegan chai donuts.
If you liked this recipe, make sure you check out my other recipes like:
Feel free to tell me what you think about this in the comments below, or send me the pictures of your own vegan chai donuts. If you did something differently, I would also like to hear that, I'd love to see the things you come up with.
P.S. for more recipes like this and a bunch of other stuff, follow me on Instagram, @margo_drobi.
Also, I recently started a Patreon page, where you can subscribe and help me create more/better content. In return, you will get an exclusive piece of content (recipe) each month. My plan is to increase the amount of that content if I gain a few subscribers. If you are interested and you want to find out more, I will leave the link to my Patreon right – here.
And that was it for today, if you are using Pinterest make sure you follow me on there, and if you want, pin this image: