Mitarashi dango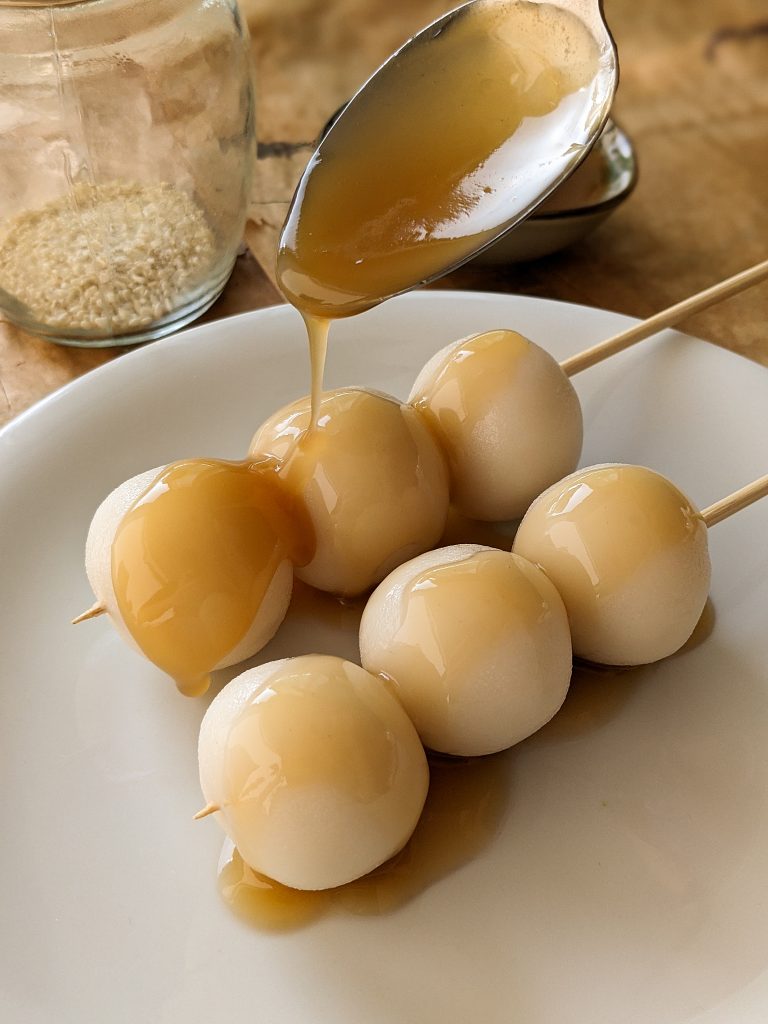 Mitarashi dango is a popular Japanese treat, served on bamboo sticks, covered mainly with sticky soy sauce or sweet bean paste. It is a popular treat served at festivals, and also something you may have noticed among your instagram emojis (as I just realized the other day).
Since I had all of the ingredients I needed, I decided to make these cute skewers. And it really wasn't difficult at all. They are not quite as sticky as mochi, mainly because there is an equal amount of non-glutinous rice flour in them. Also, unlike other rice cakes I made so far, you don't have to steam them, you can just cook them.
Typically, there are 3 to 5 small dumplings on each bamboo stick, and sometimes they come in different colors, mainly green, red and yellow. Today I made the most simple version of mitarashi dango, without any color.
A piece of advice
Much like the other Japanese treats I made recently, this recipe is super simple. But as always, I have to mention a few things that could make it even easier for you. As I mentioned, you won't need a steamer for this one, but you will need some bamboo sticks and ice. And I also used chopsticks to mix everything, but if you don't have any, that's okay. You can just use a regular or a wooden spoon.
First of all, this dough may dry out pretty fast, but that is not a big deal. If you find it difficult to shape the dumplings, just wet your hands with some water. You can do the same to fix some cracks and lumps if there are any. And cover the dough you are not using with a kitchen towel so it doesn't dry out.
Dango in green, white and pink color is also very popular. You can make this by dividing the flour into 3 bowls. Add a teaspoon of matcha powder to one, a teaspoon of red beet powder to the second one and leave the third one as it is. Then form the dango dumplings as you normaly would, just divide the water into 3 equal parts. I didn't have any matcha at this time so I decided to skip this step and make the white ones. And you can skip it as well, since it will not affect the taste of dango.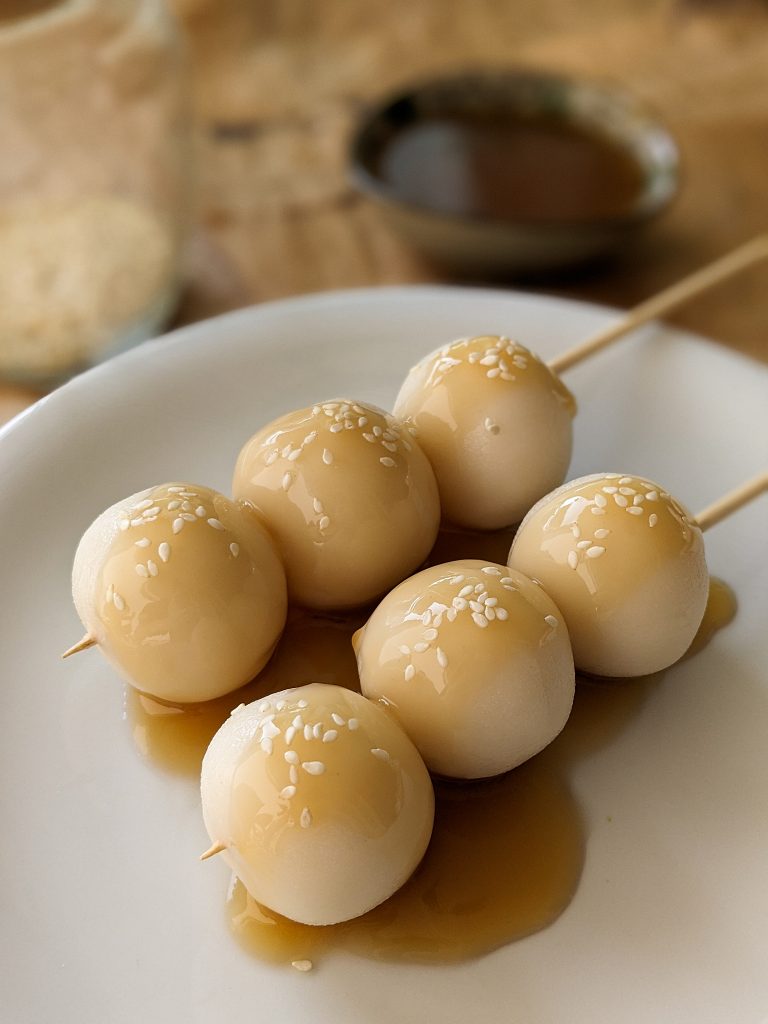 When the dango has cooled down in iced water and while you're making the sauce, leave the dumplings on a wet surface or a wet plate. This way the vegan mitarashi dango will not stick to the surface.
I used these measurements to make 2 skewers for myself, with 3 dumplings each. However, if you need more (4-5), double the measurements.
Mix all the sauce ingredients in a small saucepan before putting it on the stove. Heat the sauce on medium heat while mixing constantly. If you mix the ingredients on a warm stove, some lumps will form, and you don't want that to happen. As you heat the sauce it will become thicker. Remove from stove when you are satisfied with the texture.
You can either dip the dumplings in it or pour the sauce over them, it is up to you. These dumplings are also served with sweet bean paste (anko), so you can either purchase or make some if that is something you prefer.
Mitarashi dango
Course: Sweet
Ingredients
50 g of rice flour (Joshinko)

50 g of glutinous rice flour (sweet rice flour)

40 g of sugar

75 ml of warm water

2 bamboo sticks

For the sauce

75 ml of water

1 tbsp of corn starch

3 tbsp of soy sauce

2 tbsp of sugar
Directions
In a deep bowl mix together the rice flour, sugar and glutinous rice flour. Gradually add the warm water while mixing (using chopsticks). When everything is well combined and lumps start to form, start kneading the dough.
Transfer it onto a flat surface and knead into a smooth and soft dough. divide it in 6 equal pieces (for 2 skewers). Roll each piece into a ball. Cover them with a kitchen towel or a plastic wrapper and bring a pot of water to boil.
Put all of the balls in the pot and let them cook. Mix frequently with a pair of chopsticks so they don't stick to the bottom of the pot. When the dumplings rise to the top, they are cooked.
Put some water and a few ice cubes in a large bowl. Put the dumplings in the water and let them cool down completely. After they have cooled, gently put three of them on each bamboo stick. Put them on a wet surface or plate so they don't stick to it.
Meanwhile, prepare the sticky soy sauce. Put all of the ingredients in a small pot. Mix everything together. Stir slowly and constantly on medium heat. As the heat increases, the sauce will become thicker. When it is thick enough for your taste, remove from the heat. Pour the sticky soy sauce over the vegan mitarashi dango.
Serve them while they are warm. These measurements make 2 skewers with 3 dumplings on each bamboo stick.
If you liked this recipe, make sure you check out my other recipes like:
Feel free to tell me what you think about this in the comments below, or send me the pictures of your own vegan mitarashi dango. If you did something differently, I would also like to hear that, I'd love to see the things you come up with.
P.S. for more recipes like this and a bunch of other stuff, follow me on Instagram, @margo_drobi.
Also, I recently started a Patreon page, where you can subscribe and help me create more/better content. In return, you will get an exclusive piece of content (recipe) each month. My plan is to increase the amount of that content if I gain a few subscribers. If you are interested and you want to find out more, I will leave the link to my Patreon right – here.