Imam bayıldı (the imam fainted)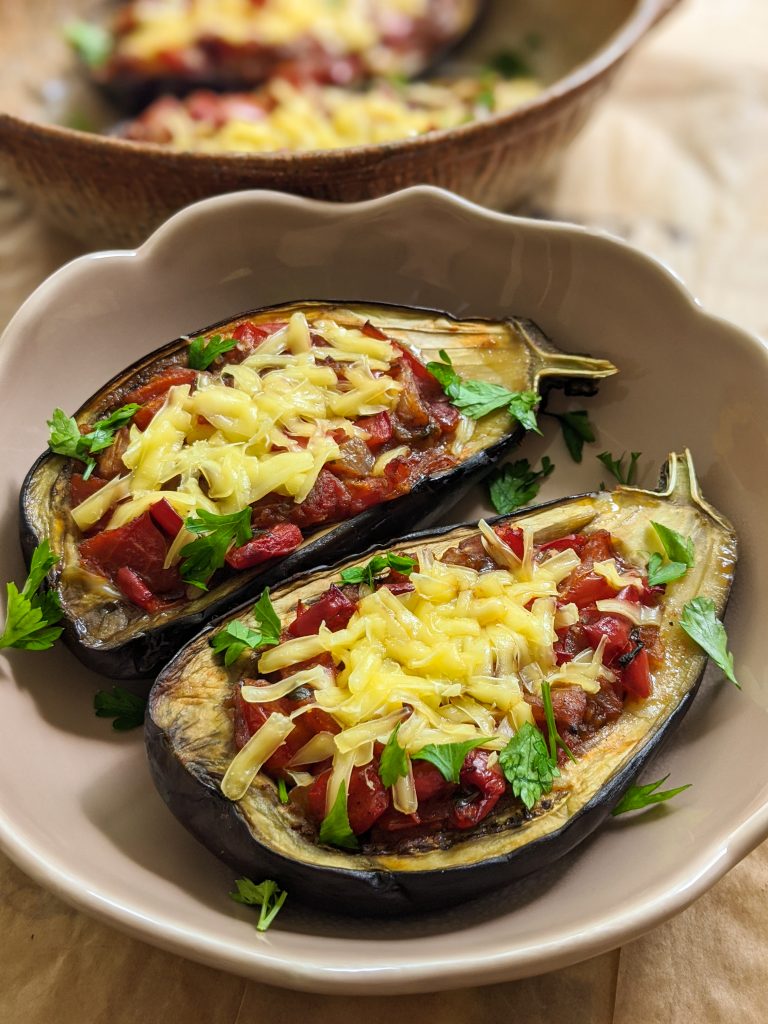 Imam bayıldı is a classic Turkish recipe. I found out about it while watching a travel vlog on youtube, and I felt like I missed out on a good thing on my visit to Istanbul last year. Since it looked really good, I got curious about the way it's prepared. While researching that, I learned about an interesting story tied to this dish.
From what I gathered, the name of the dish literaly means "imam fainted" in Turkish. A really long time ago, the smell of this wonderful stuffed eggplant was spreading from a Greek house in Istanbul. When it reached the imam, he fainted and fell from the mosque minaret (he was either very hungry or the smell was way too good).  
The story is pretty dark, and while it is very unlikely that it actually happened, I tought it was kind of fitting. Because these eggplants really are drop dead delicious.
They are mainly filled with peppers, tomatoes and onions. This dish is completely vegan, and it contains quite a few healthy ingredients. I think that this recipe will make you consider trying out a few more traditional Turkish dishes. It sure had that effect on me.
Some health benefits
Eggplant provides a good amount of fiber, vitamins and minerals in few calories. They are high in anthocyanins, a pigment with antioxidant properties that can protect against cellular damage.
Some animal studies have found that eggplants may improve heart function and reduce LDL cholesterol and triglyceride levels, though human research is needed. They can help promote weight loss. It can also be used in place of higher-calorie ingredients.
Eggplants contain solasodine rhamnosyl glycosides, which test-tube studies indicate may aid in cancer treatment.
And as you might have noticed from the ingredient list, there are a few more healthy veggies included in this recipe, but more on them some other time. I think that these are some pretty good reasons to try and include eggplant into your meals every now and then. And if you are short on ideas, why not start with this wonderful imam bayıldı?
A piece of advice
The recipe is very simple, but as always, I am going to mention a few things that might help you along the way, especially if you are a beginner.
First of all, begin by cleaning the eggplants. Remove the leaves with the knife and cut them in half lengthwise. When you trace the part that you want to cut out, be careful not to cut yourself with a knife. Eggplants are soft, and the knife can go right through them easily.
Don't forget to put a few pinches of salt on top of them and set them aside. Then later wash them out with cold water. This will remove the bitterness from the eggplants.
Make sure you taste the filling towards the end of cooking and adjust the seasoning if needed.
You don't have to bake them for exactly 40 minutes. Just check every now and then if they are soft and if the veggies in the filling a properly baked. The last step with the cheese is optional. If you can't find a good vegan cheese that you can use, it's okay. Imam bayıldı will taste just as good without it.
Imam bayıldı (the imam fainted)
Ingredients
2 medium sized eggplants

1 red horn pepper

2 tomatoes

1 onion

3 tsp of fresh cilantro

2 tbsp of tomato juice

½ tsp of salt

½ tsp of pepper

a pinch of cinnamon

a pinch of sugar

a pinch of cumin

olive oil

50 g of vegan cheese (optional)
Directions
Clean the eggplants and cut them in equal halves (lengthwise). Trace the part that you want to cut out from the middle of each half with a knife. Take a teaspoon and scoop out the eggplant from the middle. Put some salt over the eggplants (from the inside) and set aside. Save about a half of the eggplant that you scooped out.
Cut the onion, tomatoes, pepper and the eggplant that you scooped out into small cubes. Fry the onion on 2 tablespoons of olive oil on low heat (until soft and slightly brown). Add tomatoes, pepper, cilantro, eggplant, tomato juice and all of the spices to the pan.
Mix well and let them simmer on low heat for about 20 minutes. Heat the oven to 200 degrees Celsius.
Wash the eggplants under a stream of cold water. Remove the excess water with a paper towel. Grease a deep baking tray with some oil and add about 4 tbsp of water to the tray. Put the eggplant halves inside.
Take the filling from the pan and fill each eggplant with it. Pour 1 tablespoon of olive oil over each half. Put them in the oven and bake for about 40 minutes. Check on them from time to time.
Take the eggplants out of the oven. Grate the vegan cheese and sprinkle some on top of each half. Return to the oven and bake for another five minutes until the cheese has melted.
Serve imam bayıldı while it's still warm.
If you liked this recipe, make sure you check out my other recipes like:
Feel free to tell me what you think about this in the comments below, or send me the pictures of your own vegan imam bayıldı. If you did something differently, I would also like to hear that, I'd love to see the things you come up with.
P.S. for more recipes like this and a bunch of other stuff, follow me on instagram, @margo_drobi.
Also, I recently started a Patreon page, where you can subscribe and help me create more/better content. In return, you will get an exclusive piece of content (recipe) each month. My plan is to increase the amount of that content if I gain a few subscribers. If you are interested and you want to find out more, I will leave the link to my Patreon right – here.